A year and a half ago, Claas spun tractor operators around with the Xerion 3300. Now meet its big brother.
The Claas Xerion 3800 has many features that will catch the eye, but probably the most attention-grabbing is its ability to rotate the cab 180 degrees in less than 30 seconds.
With up to 382 hp, the Xerion 3800 is a powered-up version of the initially launched tractor in the series—the Xerion 3300. That tractor introduced a new concept in providing a variable cab position by relocating the cab into another position on the tractor body.
The series is available with three cab position options: Trac, fixed in central position; Trac VC, cab rotates 180 degrees; and Saddle Trac, fixed over position of the engine.
Powered by a Caterpillar six-cylinder engine, this tractor can be used for tillage, planting, mowing, spraying, high-capacity manure work, silage pit work and grain or silage hauling.
The Xerion 3800 features a continuously variable ZF transmission, permanent four-wheel drive, 100% front and rear differential lock and a 100% central differential lock. The Xerion provides ease in maneuverability with its intelligent four-wheel steering and a 20' turning radius. There are six steering modes to best suit the application at hand and provide efficient fuel use.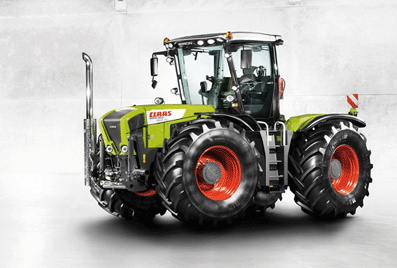 For More Information
---
...................................