There's little doubt that farming breeds a competitive spirit. Take for example, the latest world record breaking harvest times coming out of England.
The record for bushels of wheat harvested in a single eight-hour time frame was contested and triumphed twice in two weeks. Early in September, a team using a New Holland CR9090 (Class 9 machine) harvested 16,571 bu.
On September 16, a team near Nottingham, United Kingdom, set the current world record with a Claas Lexion 580 Terra Trac (Europe's version of the Lexion 595R). The Lexion 580 harvested 19,533 bu. of wheat in eight hours. This harvest stretched across six fields.
Technology played a role in this feat by recording detailed data of the harvest. Telematics showed the combine was running at 2,572 bu. per hour for the first two hours, but slowed to 2,351 bu. per hour for three hours and then increased back to 2,572 bu. per hour for the rest of the time allotment. The average hourly yield was 2,444 bu.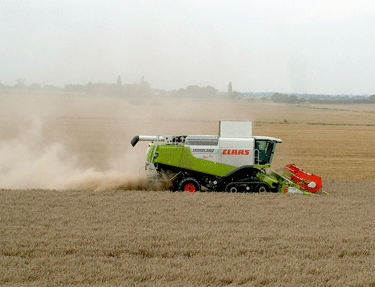 For More Information
---