The following information is a Web Extra from the pages of Farm Journal. It corresponds with the article "On the New Ag Frontier" by Charles Johnson. You can find the article on page 54 of the September 2008 issue.
Farming is quickly changing in Ukraine, says Melania Ivanivka who milks 500 cows and farms 6,700 hectares of crops in partnership with her brother, Vitaly Ivanovich. "In the Soviet Union days, we had bad equipment and things were so dirty. People worked on the farm from morning to night. Today we have good equipment and it's air conditioned. Our workers get paid the highest salaries in all the region. Things are much better today," she says.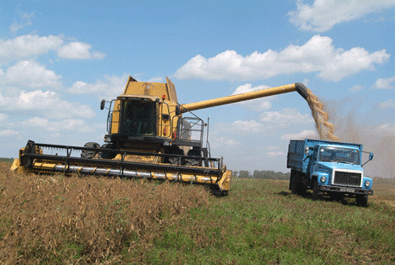 A modern combine harvests peas on Ivanivka's farm. "We have no GPS systems in the machinery on this farm. We do have some computer programs I use to help us plan better what to do. To be an ag powerhouse, we need help from the government. Everything is really expensive now: seed and fertilizer and other things. If the government won't give money, that could be hard for us. It would be nice to be sure what happens tomorrow and next year," she says.
                                                                                                 
                                                                                                -- Charles Johnson.

Look for more articles and photos about Ukraine and other countries featured in the Top Producer Frontier Study Tour in the September issue of Top Producer and October issues of Farm Journal and Top Producer.