There is growing concern across the Midwest that corn is suffering from nutrient deficiencies as crops appear to be discolored and are slow growing. For the most part, University of Illinois agronomist Fabián Fernández says patience needs to be practiced and these problems will take care of themselves.
"It's often difficult to tell what nutrient may be deficient. The reason for that is the plants have been stressed a little bit because of the weather conditions which have limited the ability of the plants to take up nutrients. In some cases it's obvious, but more often than not what we are seeing now is related to the weather conditions we've had."
If a full rate of nitrogen has already been applied, then the crop is likely OK. Fernández says most of the problem lies in the fact that root systems haven't grown rapidly and are unable to reach the nutrients. With warmer temperatures and more sunshine in the forecast, this problem should take care of itself.
"What I would recommend with weather conditions improving—we are getting more sunshine and warmer temperatures—if you're still seeing these problems in a week or 10 days from now, I'd worry that you are seeing deficiency. I would suspect in most cases what we're seeing right now will just disappear," Fernández says.
The cooler, wet weather has also created the need for soil microbes that would normally turn the plants a more healthy color to move to breaking down last year's crop residue, particularly in fields on a corn following corn rotation.
Sidedressing
Fernández is also fielding several questions about sidedressing nitrogen. The answer is the same: If you've applied a full rate, you're likely OK.  
"If you have not applied your full rate of nitrogen yet, I would recommend doing that. If you have applied a full rate of nitrogen, the nitrogen is there, it's just that the plant hasn't had the ability to get to it yet," he says.
Fall-applied N
If nitrogen was applied in the fall, there is the perpetual concern that it has been lost, particularly in areas where the ground did not receive a hard freeze this winter.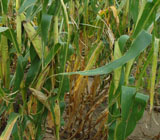 "I suspect for this year we have not seen as much nitrogen leaching or denitrification as we did this last spring or the spring before that. This year, yes, we had warm temperatures in early April for a little bit. But by and large, temperatures were not so warm that denitrification was happening," Fernández says.