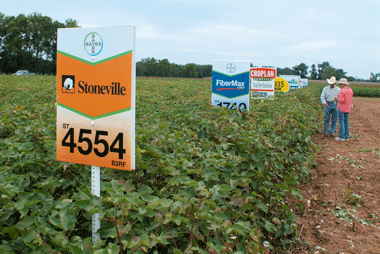 Variety turnover in cotton genetics is faster than ever, cycling on and off the market within just a few years. That makes solid evaluation based on a large pool of data especially important.

Selecting the right varieties puts a solid footing under everything you do. With all the new cotton germplasm coming on the market, however, putting the perfect varieties in your planter becomes more challenging each year.
"Variety selection is the most critical decision you'll make. If you start out with a dog, you're going to stay with a dog," advises Tom Barber, Arkansas Extension cotton specialist.
In addition to selecting varieties for yield potential, you can now make choices based on quality characteristics such as fiber length and strength, micronaire and color, he says.
"Yield pays the bills, but we're to the point where we need to focus on the quality side of things. On average, genetics accounts for 81% of length and 82% of strength but only 41% of micronaire and 21% of color. The rest depends on environment," Barber says.
Now you can use a combination of factors when choosing varieties. Look at university official variety tests and figure in county variety tests closer to your location, along with company trials. In addition, you should strongly consider putting in your own on-farm test to get an idea of how varieties will perform with your management scheme and on your soils.
"You can combine these factors together to get a lot of power. It's extremely important today to do this. There's a lot going on in the seed business now. Varieties are going to come and go faster. Transgenics are driving the thing," explains Sandy Stewart, Louisiana Extension cotton specialist.
"I don't think cotton growers will have much of a new-versus-old choice to make. The available varieties will change so fast the 'new' varieties will be all that is available. I suspect we are heading toward a time in which a cotton variety is only available for three or maybe four years," Stewart says. "It will be extremely important for growers to pay attention to as many sources of variety trial information as possible."
The time frame for evaluating new varieties will be compressed, forcing growers to make quick decisions.
"Variety selection decisions will be made on one-year and, in some cases, two-year data that are drawn from a variety of sources. I don't say this is a good thing; I just think it will be the reality. A cotton grower should be trying at least one 'new' variety on a small acreage each year. Two is better, if possible," Stewart says.
An on-farm variety test plot helps Stephen Logan of Gilliam, La., decide what to plant. "We plant a test plot every year and generally use that data to make decisions. This year, we had 18 different varieties. We're looking at irrigated varieties from several seed companies. We usually plant four or five varieties each year. You don't know when one will hiccup or do something unusual," he says.
More space, data. Most observers say on-farm test plots, done correctly, give farmers the best idea how varieties will perform under specific conditions and management regimes. Some of the cottonseed companies have taken this idea one step further, with large-scale on-farm plots.
For example, Bayer CropScience's Cotton Agronomic Performance (CAP) trials are large-scale, typically four to eight rows 800' to 1,200' long, with varieties targeted to specific regions. Growers plant, manage and harvest these varieties as they do the rest of their cotton.
"The 150 CAP trials across the country have our proven commercial varieties, newly released varieties, experimental varieties and competitors' 'checks' side-by-side to see how they stack up," says Steve Nichols, Bayer CropScience's U.S. agronomic services manager.
"There are 12 to 15 varieties out there, about a half-acre per variety, depending on the fields. These are larger-scale than the university official variety trial tests. It gives growers an opportunity to see what varieties will do on the larger scale."
Delta and Pine Land Company (D&PL) runs its own larger-scale on-farm trials across the Cotton Belt. "These are module-sized trials, bigger than our strip trials. They have fewer varieties, usually three varieties, and let growers and consultants experience something bigger than a strip. They run probably five acres, 10 or 12 bales to run through their gin. These trials are very critical as we learn new varieties. Growers need to step up to larger trials, taken all the way to the gin and on to ultimate value," says Dave Albers, D&PL's cotton germplasm manager.
Large on-farm plots are key to determining how varieties perform, says Terry Campbell, general manager of Americot, which provides seed for module-sized on-farm trials.
"These go all the way through the classing office just like regular fiber. It's harvested with that grower's equipment and gives him an opportunity to manage it on his soil type and treat it like the rest of his production," he says.
Growers should pay attention to programs such as the systems trials in Texas, Campbell says, where Extension specialists and grower committees oversee large replicated tests of varieties based on regional conditions. "This data is very good. It's on-farm and ginned through their local gins. It's almost like official variety trial replicated tests," he says.
To make informed variety decisions in these fast-changing times, you need to gather all the data you can from all the sources you can.
"The timing to market is real short," says Bayer's Nichols. "We're going to see varieties introduced to the market, then three or four years later, they're gone and you're looking at another set of varieties. You need a lot of sources of data. You need to look for consistency across trials. You need to introduce new varieties on the farm in limited acreage; then, if they do well, increase them the following year. You can use the same strategy for evaluating varieties as in the past, but you need more sources of data."
---
You can e-mail Charles Johnson at
[email protected]
.