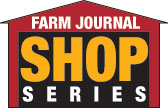 Shivering in the prairie wind and barely able to hear because of a roaring grain conveyor, Frank Kovacevich was in no mood for a prank call or a telemarketer. So, when a Farm Journal editor informed him he had won the 2008 Welding University drawing, he answered, "OK," and went back to loading a grain truck.

When Greg Risenmay received a similar call, his wife's grandparents were skeptical. "Tell Greg not to spend any money," they cautioned.

But the phone calls were for real. Out of 4,406 entries, Kovacevich, of Ottawa, Ill.; Risenmay, of Idaho Falls, Idaho; and Jason Bockey of Delphos, Ohio, won the grand prize—welding training, equipment and gear.

After a two-day all-expense-paid trip to Miller Electric Manufacturing Company's headquarters in Appleton, Wis., the three farmers headed home with practical stick- and MIG-welding and plasma-cutting tips, their choice of a Bobcat 250 welder/generator or a combination of a Millermatic 212 MIG welder and a Spectrum 625 plasma cutter, a Miller auto-darkening helmet and Arc Armor protective welding apparel.

Slick stick tricks. All of the winners had stick welding experience; but at Welding University, they learned several new techniques.

"The instructor showed me a couple techniques I hadn't seen before," Kovacevich says. "One of them was the whip technique [moving the rod out and away from the puddle, then 'whipping' it back in]. I had only learned the circle technique [rotating the rod counter-clockwise, pushing it back into the puddle, rotating to the front and then again pushing back into the puddle]."

Working with center-pivot irrigation equipment on his farm, Risenmay told Miller welding engineer John Granato that he often has to weld rusty, thin metal. "Be sure to use the right electrode—either 6011 or 6013," Granato advised. "The 6011 electrode was made to run on DC current. But it can also run on AC power for less penetration."

Plasma cutting was a new experience—which prompted Bockey to rethink which prize he selected. "I thought the Spectrum 625 could only cut 3⁄16"-thick metal, but Ric Armstrong, the instructor, cut ½"."

"I was impressed with how a plasma cutter conducts less heat than a torch, leading to less warping of metal," Risenmay says.

Kovacevich was intrigued to learn that when equipped with a special tip, or "gouger," a plasma cutter could be used to remove old weld metal when repairing equipment. "That could save a lot of grinding," he observes.

At the conclusion of the training, "I was walking around in a state of awe because of all the things I'd learned," Risenmay says.

Also impressive to the winners was the Miller plant tour, which included insights into the company's management philosophy. "I was impressed with how workers on the line are empowered to make decisions to improve efficiency," Kovacevich says.

Farm Journal columnist and "U.S. Farm Report" host John Phipps, who accompanied the winners in Appleton, noted Miller is thriving, while many other manufacturers are moving jobs overseas in an attempt to lower labor costs.
"Miller shows success is not about government involvement but about making good decisions about how to do things," he says. "It's an example that could be carried into other industries."

At the conclusion of the event, the winners chose their prizes. Risenmay selected the Millermatic 212 MIG welder and Spectrum 625 plasma cutter. "I didn't have a plasma cutter," he says. "And we do a lot of repairs and fabrication, so it will be nice to have a second MIG welder."

Kovacevich and Bockey chose the Bobcat 250. "Being able to attach a MIG welder to my Bobcat generator will be pretty nice," Kovacevich says. "That will give me the capability to weld stainless steel and aluminum. The portability is attractive, too."

Kovacevich and Bockey agreed that with the welder/generator in their shop they could purchase additional tools later to plug into it.

Miller and Farm Journal plan to sponsor the Welding University again in 2009. Entry information will be released in December 2008. 

Additional Winners

Three first-prize winners received an auto-darkening welding helmet. Those winners are Calvin Boyd, Medicine Lodge, Kan.; David Dingmann, Richmond, Minn.; and Walt Krafft, Yellville, Ark.

Ten second-prize winners received Miller welding gloves. Those winners are Stan Thessen, Jefferson City, Mo.; Richard Traynor, Ellsworth, Wis.; Rick Lange, Hoskins, Neb.; Roger Martzahn, Greene, Iowa; Jeremy Cobin, Christopher, Ill.; John S. Tosh Jr., Rising Sun, Md.; Bill Clewien, Berlin, Wis.; Jim Finderup, Fresno, Calif.; Derek Zuhlke, Plainview, Neb.; and Brad Vieke, Vincennes, Ind.

You can e-mail Darrell Smith at [email protected].