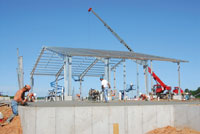 Keeping your credit score above 720 will give your lender less cause for concern when approving an expansion loan.
One of the most important partners you have in your agricultural business is your banker. David Kohl, professor emeritus of agricultural and applied economics at Virginia Tech University, offers the following suggestions for shoring up your relationship with your lender:
Present a written business plan. A business plan is more than just a financial plan. It's also where you explain your goals and vision for the business. Along with information on marketing and operations, the document should include an exit plan, Kohl says.
"It's not that you don't have confidence in your business," he explains. "But you never know what's going to happen. It's important, especially in a family business, to have everything laid out in the event things don't work out."
Utilize up-to-date, accurate balance sheets. Overvaluing assets by 10% or more is a common misstep
in the ag lender/ag producer rela-tionship, Kohl says. "It's something that will raise a few questions for the lender," he adds. He advises being especially diligent about including capital leases, accounts payable and credit card debt on balance sheets.
Provide cash flow projections and variance analysis. "A lot of bankers are getting frustrated with producers saying that they can't plan in this environment," Kohl says. "You have to plan, period."
 
He notes that traditional planning tools like three-year historical averages lose punch in volatile economic times. One example from earlier this spring: "Fertilizer prices jumped by $100/ton in just a week's time. That has huge implications for planning purposes."
Provide accrual adjusted income statements. "It's critical in a period like this where you have changing
prices and costs," Kohl says. "It doesn't take long for inventories, payables and receivables to get juggled around."
Hire an accountant to do financial records. Using an accountant only to minimize tax liabilities is a common mistake. A better use of an accountant's skills and time is utilizing the hard numbers he or she can generate to analyze your business and identify the cost centers.
 
"It gives you an opportunity to perform the kind of variance analysis that allows you to channel your money, time and effort to areas of the business where you'll get the biggest bang for your buck," Kohl says.
Make your lender part of the dairy advisory team. This shows you recognize the importance of associating with other professionals to secure the information you need. A typical advisory team would be made up of a lender, accountant, nutritionist and/or veterinarian, one or two peer producers and maybe an attorney.
 
"If you're planning an expansion project or dealing with a problem like low breeding rates or a disease outbreak, add people with expertise in those areas for a meeting or two," Kohl says. He recommends holding meetings once a quarter, off-site to avoid distractions, and paying members on a per-meeting rather than hourly basis.
Keep your credit score above 720. Lenders utilize credit scores to determine interest rates on loans. Keeping your score above the 720 mark puts you in a better position to negotiate favorable rates.
If your score slips to the 675 range, the lender is more likely to "go under the hood" and ask for detailed information, Kohl says. Regardless of age, you should check your credit score (and your spouse's) at least once a year. 
---
Bonus content:
To access your credit score, go to www.annualcreditreport.com.
To read columns by David Kohl on a variety of economic/financial management topics, follow this link.
You are reading an extended version of this story that appeared in the September issue of Dairy Today.