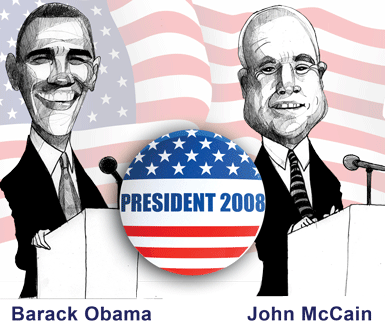 VITAL STATS:
BARACK OBAMA

Born:
Aug. 3, 1961, in Honolulu, Hawaii.

Education:
Received a bachelor's degree in political science from Columbia University in 1983; graduated magna cum laude from Harvard Law School in 1991.

Career:
Served as a project coordinator and a professor at the University of Chicago Law School.

Political Career:
Served as an Illinois state senator from 1997 to 2005 and elected to the U.S. Senate in 2004.
JOHN McCAIN

Born: Aug. 29, 1936, in the Panama Canal Zone.

Education: Graduated from the U.S. Naval Academy in 1958 and the National War College in 1974.

Career: Served in the U.S. military as a naval aviator from 1958 to 1980, including being a prisoner of war from 1968 to 1973. He was the director of the Navy Senate Liaison Office from 1977 to 1981.

Political Career: Elected to the Senate in 1986. Made unsuccessful bid for Republican presidential nominee in 2000.

---

FARM POLICY


BARACK OBAMA



-Pledges to ensure strong farm programs targeted to family
farmers and to end payments to millionaire farmers.
-Pledges to issue regulations for what constitutes undue price
discrimination and says his
administration will enforce the law.
-Opposes packer ownership of livestock.
-Promises to strengthen anti-
monopoly laws and change federal agriculture policy to strengthen producer protection from fraud, abuse and market manipulation.
-Promises that the Environmental Protection Agency (EPA) will strictly monitor and regulate pollution from concentrated animal feeding operations, with fines for those who violate air- and water-quality standards.
-Supports efforts to ensure meaningful local control.
JOHN McCAIN

-Pledges to end farm subsidies that are not based on clear need.
-Promises to enact reasonable reforms to the crop insurance
program and counter-cyclical and direct payments.
-Backs policies to help small farmers succeed and rural communities to survive and flourish.
-Supports USDA's development of drought-resistant, high-yielding crops.
---
TRADE
BARACK OBAMA
--Pledges to ensure trade
agreements contain strong and
enforceable standards for labor, environment and health and safety protection.
--Vows to broaden export promotion programs to include export training and workshops.
--Promises to help ag producers develop global marketing networks through the use of new electronic transaction systems and special promotion programs.
JOHN McCAIN

--Pledges to expand access for U.S. farmers to foreign markets and to seek an end to all agricultural tariffs.
--Vows to protect the interests and safety of consumers by holding all of our trading partners to the commitments they have made under trade agreements in existence.
--Promises that the U.S. will honor all of its current trade agreements, including North American Free Trade Agreement.
--Promises to help developing countries by sharing technologies, supporting microcredit banking programs in Africa and elsewhere and by setting an example of fair dealing with other nations.
--Pledges to work for a Doha Round World Trade Organization deal.
---
BIOFUELS
BARACK OBAMA
--Plans to increase the Renewable Fuels Standard to 60 billion gallons by 2030.
--Pledges to work for incentives for local communities to invest in bio-fuel refineries, including expanding federal tax credit programs and providing technical advice to rural communities. As a part of that, he plans to provide an additional subsidy per gallon of ethanol produced from new facilities that have a minimum of 25% local capital.
--Pledges to pursue additional loan guarantees for advanced ethanol production facilities that contain local investments.
--Vows to ensure that all new vehicles have flexible-fuel capability by the end of his first term in office.
JOHN McCAIN

--Opposes tariffs and price supports that subsidize corn-based ethanol.
--Pledges to have EPA exercise its authority to waive this mandate or restructure it to ease the unintended consequences it will have on
America's economy.
--Does not support the second-generation production of ethanol from cellulosic sources.
--Supports pushing automakers to move faster at reaching a current target of 50% of vehicles being
flex-fuel vehicles by 2012.
--The Republican Party platform approved at their convention calls for an end to ethanol mandates like the Renewable Fuels Standard.
---
ENERGY
BARACK OBAMA
--Vows to enact a windfall profits tax, providing a $1,000 emergency energy rebate to consumers.
--Pledges to crack down on excessive energy market speculations and plans to tap into the Strategic Petroleum Reserve. 
-- Promises to adopt a use-it-or-lose-it approach on existing oil and gas leases and promote responsible domestic oil and gas production.
JOHN McCAIN

--Supports additional domestic production of oil and natural gas, including offshore drilling, along with building the infrastructure needed to transport natural gas.

--Pledges to have 45 new nuclear plants by 2030 with an eventual 100-plant goal. Wants a system of tax credits that would be available until the industry reaches a point where the renewable energy can stand on its own.


---
GREENHOUSE GAS
BARACK OBAMA
--Pledges to implement an economy-wide cap-and-trade program to reduce greenhouse gas emissions 80% by 2050 and to re-engage with the U.N. Framework Convention on Climate Change.
--Promises to reduce regulations.
--Vows to upgrade our national grid.
JOHN McCAIN

--Backs a cap-and-trade mechanism that would set a limit on greenhouse gas emissions similar to the successful acid rain trading program of the early 1990s, letting the market decide and encourage the lowest-cost compliance options
.


---
HEALTH
BARACK OBAMA
--Proposes a new national health plan that would have guaranteed eligibility, benefits similar to that offered through the Federal Employees Health Benefits Program and affordable premiums. It would also provide health care subsidies for individuals who do not qualify for Medicaid or the State Children's Health Insurance Program but who still need financial assistance. Plus, consumers could move from job to job without losing health insurance.

JOHN McCAIN
--Promises to work with governors to develop a best-practice model that states can follow—a Guaranteed Access Plan—that would reflect the best experience of the states to ensure that patients have access to health coverage. Under this plan, every family would receive a direct refundable tax credit of $2,500 for individuals and $5,000 for families to offset the cost of insurance. Families could choose the insurance provider that suits them best, with the funds given to the provider, and would be able to deposit the unused remainder in health savings
accounts.



**Note: Passage of the 2008 farm bill has addressed many of the issues these candidates have staked out on ag policy. It's important to note, however, that neither candidate actually voted on the bill—either for or against it. Obama signaled that he backed the legislation, while McCain said he would have vetoed the bill. But neither candidate can say he voted on the legislation itself.