Spend any time in Ukraine and you quickly see a cultural tug-of-war. Statues of Vladimir Lenin, father of the now-defunct Soviet Union, stand in nearly every city center and Soviet tanks and MIG fighters poise atop pedestals in places of honor. At least some Ukrainians, clad in Nikes, Levis and Izod shirts, say they ignore these symbols. If so, the question must be asked why they remain.
It's clear in its 17th year of independence that Ukraine keeps one eye on the materialistic appeal of Europe and another on the old militaristic days embodied by Russia.
Pro-Western President Viktor Yushchenko leads the country's drive to join NATO and the European Union (EU) as the uneasy alliance with Russia grows ever more tenuous, a situation underscored by Russia's attack on Georgia, another former Soviet republic. The trampling of Georgia's democracy shows there may be little to gain in crossing swords with these hard-driving 21st-century Russians.
Meanwhile, Ukrainian Prime Minister Yulia Tymoshenko, an emerging political rival to Yushchenko, appears to favor closer ties with Russia.
Considering Ukraine's ag potential, how it all plays out should be of interest to anyone concerned with the world's food supply. With its network of highways and railroads, a legacy of the Soviet years, as well as thriving ports on the Black Sea, Ukraine's farm products could quickly arrive in EU markets.
Western pull.
Recently, the country gained the attention of European ag financiers and U.S. entrepreneurs. Europe's bio-diesel market is a natural fit for Ukraine's high-quality sunflower oil. Western technology is common on Ukraine's larger farms. If the country continues to adopt Western technology and expertise, it could become a formidable competitor in Europe.
So far, the EU has not invited Ukraine to join its group of nations, although in early September, it promised to build stronger ties with the former breadbasket of Europe.
With all this in mind, Ukraine, already a World Trade Organization member, now debates whether to join the EU if invited. Opinions among Ukraine's farmers vary widely.
But whatever happens with its politics, change is now the byword for Ukraine's agriculture.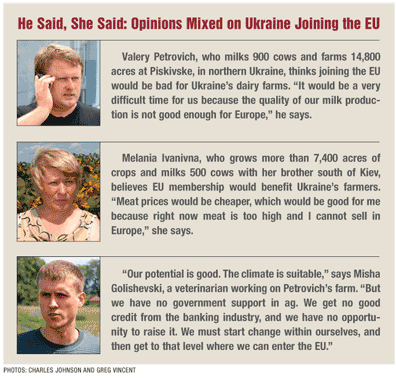 To contact Charles Johnson, e-mail
CJohnson@farmjournal.com
.
---
Top Producer, October 2008