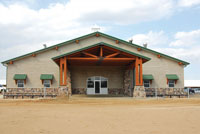 Spending a bit more on an attractive entrance adds to curb appeal for visitors and neighbors.
Add public relations manager to the list of job skills a dairy producer needs in order to be successful in today's business climate.
When potato and vegetable grower Jim Wysocki and a group of partners started planning to build a 3,000-cow Central Sands Dairy near Nekoosa, Wis., a few years back, they knew the project might generate opposition.
The partners had heard more than a few horror stories about large dairies becoming entangled with neighbors and other groups over proposed building projects. The Central Sands group chose to meet the challenge head-on by creating an extensive public relations/education campaign aimed at winning public support.
"We knew siting a 3,000-cow dairy was not going to be an easy proposition," Wysocki says. "We understood that some people, given a choice, would probably rather not have a large dairy facility built in their area. We could have gone ahead by just doing things our way and ignoring the neighbors.
"But that would have meant facing a bunch of opposition down the road and then having to do a lot of work to overcome it. We thought it would be best to do the work on the front end."
Patience
was a major part of the Central Sands strategy. After four full years of planning, Wysocki and his partners felt they were ready to approach the township about obtaining a permit in late 2005. One wrinkle: Wisconsin state legislators at the time were working on a controversial new livestock facility siting law. (See "Siting Success," page 31.)
"We didn't want get into the permit process and suddenly find out we were dealing with a whole new set of rules and regulations because of the new law," Wysocki says. "We also didn't want to become a poster child for a debate over the law. It made more sense to be patient."
The Central Sands group took neighborhood acceptance into account when it came to designing and planning their new facilities. Some key components:
Picking a location. Wysocki was farming more than 7,500 acres in his cropping operation when the partners started mulling over options for siting the dairy. "We had a lot of options on where to build," he says. "We wanted a location that was near our farm ground so we could easily handle feed and manure from the dairy without getting on the main roads. "But we also wanted to be as far away as possible from neighbors. At the site we eventually chose [80 acres], we're over a quarter-mile from the nearest house. And there are only 11 houses within a one-mile radius of the dairy. That gives us a good cushion to work with."
Emphasizing facility appearances. "We made sure we put up nice-looking buildings and did the site work right," Wysocki says. "We probably put a fancier front on the milking parlor than we needed. But it presents a good image of our business to people coming in here, and we think that's important."
Constructing a methane digester. "It [the digester] may make us money sometime in the future," Wysocki says. "But at the start, it didn't really pencil out economically. We decided to go ahead and do it anyway because it would be good for the neighbors. It will help reduce odors and pathogens, and it keeps our overall neighborhood footprint small."
While waiting for the legislature to act on the siting law, the partners began contacting government officials about the project. "We sat down with everyone from the governor's office to the local town board members," Wysocki says. "Our basic approach was, 'Here's an FYI on what we're proposing to do.' We didn't want to catch anybody by surprise."
Next, they launched a campaign to educate township residents about the project. The first step was going door-to-door to discuss the project with 50 neighbors living within a two-mile radius of the dairy. About 10 days before they started knocking on doors, they sent out postcards letting residents know they would be stopping by. "Our goal was to show people we weren't trying to sneak anything by them," Wysocki says. Only three or four people turned the dairy down on the offer to talk.
"We encouraged them to ask questions even if they disagreed with us. Throughout the whole process we tried to look at this through their eyes. The basic question was, 'If I were living next door to a proposed large dairy, wouldn't I want to hear specifics firsthand from the people involved rather than from someone else?'"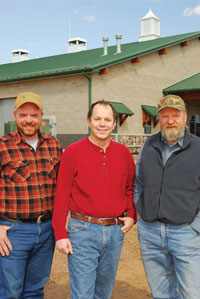 (From left) Jeff Sommers, Jim Wysocki and Gordy Jones launched a public relations campaign for neighbor acceptance long before construction of the 3,000-cow dairy began.
The Wisconsin legislature passed the new siting law on May 1, 2006. Central Sands applied for its permit with Armenia Township nine days later. Over the next several months, the dairy followed up by sending out a series of informational mailings to a list of 250 people. The dairy used the mailings to keep people posted about progress on the project, to remind them about upcoming meetings and to invite comments and questions.
Central Sands also arranged two charter bus trips to take neighbors and township officials to visit the Fair Oaks Farms Dairy Adventure in Fair Oaks, Ind. The goal was to give people an up-close look at a well-managed and environmentally friendly large-scale (30,000 cows at 10 milking sites) dairy.
About 70 people went on the trips. "It was a lot of time on the bus [six hours in each direction], but that was good too," Wysocki says. "We got to know people better and they got to know us better. It cost us $1,500 or so to hire the buses each trip, but we consider that money well spent. It really helped get the neighborhood to understand our project."
The overall success
of the dairy's front-end public relations effort can be measured in a variety of ways, Wysocki says. He points out that the Wisconsin siting law gives townships up to 45 days to accept a permit application as complete. In the case of Central Sands, the township acted in 30 days.
Also, at two public hearings on the dairy's permit in July 2006, about 85% of the public comments were favorable. Most important, the town voted to give the dairy the final go-ahead for construction in August 2006. "Throughout the whole thing, we were treated fairly by everyone involved, even those who were absolutely against us," Wysocki says. "I think a lot of that is due to the fact that we decided at the start to treat everyone with respect."
Wysocki notes that the goodwill generated during the permitting stage of the project has carried over now that Central Sands is up and running (first cows were milked in September 2007). "Now that we're milking, we've had a constant parade of cars driving in here so people can see things for themselves," he says.
"We've heard a lot of positive things from people in the area about how what we're doing is good for local business," Wysocki adds. "We haven't seen any signs in the area saying, 'Go away, farmers,' and there hasn't been any vandalism on our property."
Even so, Wysocki and his partners realize that maintaining neighborhood goodwill requires an ongoing commitment. "We won't really know if we've succeeded for a few years," he says. "Up to this point, people have been willing to give us their trust. We understand that it's up to us to keep earning that trust."
Bonus content: