Alan Levitt
When U.S. stock markets crashed to nearly a three-year low in mid-September over fresh turmoil in the investment banking sector, it prompted a sell-off in stocks around the world.
In Tokyo, the Nikkei 225 Stock Average fell to its lowest in three years. Korea, China, Hong Kong, Taiwan, India, Malaysia, Singapore and Indonesia all saw stock indexes drop 2% to 5% in a single day.
In dairy, international markets were already trending lower. It bears watching to see how the global economy fares in the months ahead. It was a lifetime ago, but during the Asian economic crisis of 1997, dairy imports in the region dropped precipitously and it took several years of low prices before markets recovered.
Retail dairy prices are up by double-digit percentages in most of the world this year, resulting in a pushback in demand. Since mid-July, European dairy export prices are down 20% to 25% and Oceania export prices are down 10% to 20%.
Meanwhile, global dairy markets will be shaken by the revelation of tainted infant formula milk powder in China. China is one of the world's largest buyers of dairy ingredients, importing more than 650 million pounds of whey proteins, milk powder and lactose last year. About one-third of the whey and skim milk powder the Chinese use, and almost half of the lactose, goes into infant formula. If anxious mothers stop buying the stuff, our exports will take a hit.
These events occur against a backdrop in which U.S. milk production has grown by at least 2% for four straight years. An unbroken stretch of expansion like this hasn't happened since the early 1980s. It's fair to say that cheese, butterfat, milk powder and whey protein exports have been critical to keeping U.S. dairy markets strong and enabling dairy producers to expand.
In the first seven months of 2008, U.S. exporters shipped out nearly twice as much milk powder, cheese and butterfat as the prior year. Meanwhile, U.S. domestic consumption flattened, making newfound overseas customers all the more important.
About 11% of U.S. milk solids production was exported in the first half of 2008, double the share of exports seen just five years ago. As supplies back up on the global market and U.S. exports continue to slow, more of that production will have to find a home on the U.S. market. Be warned: This could be just the thing to break the bull market cycle.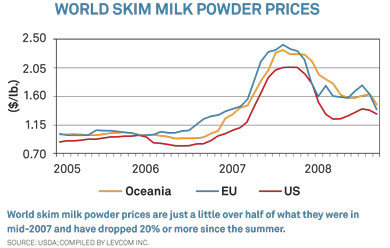 Bonus content: