via a special arrangement with Informa Economics, Inc.
Mega changes in oil production have caused major impacts in transportation needs – and more ahead
---
NOTE: This column is copyrighted material, therefore reproduction or retransmission is prohibited under U.S. copyright laws.
---
In its latest edition of The Main Street Economist, the Federal Reserve Bank of Kansas City examines the challenges that the US petroleum oil industry faces in getting oil from newly opened fields in the middle of the country to refineries. Following is an edited summary of that article (link).
Getting Crude to Market: Central US Oil Transportation Challenges by Chad Wilkerson, vice president and Oklahoma City branch executive, and Nida Cakir Melek, economist
Oil transportation in the central US is undergoing an historic realignment in response to the recent shale oil boom. Rising oil production in the middle of the country has increased inventories due to inadequate pipeline capacity, which caused a spread between the benchmark US crude oil price in Cushing, Okla., and the global benchmark, Brent. These in turn have motivated the usage of alternate but costlier modes of transportation, such as rail, as well as increased pipeline capacity.
Oil glut and price spread. But even as pipeline capacity has risen, continual growth in oil production has caused the oil glut and the price spread to persist. As such, usage of alternate transport modes has grown, providing a boost to economic activity in areas where it occurs. And if new shale "plays" are tapped in other places not connected to pipelines, the trend in the usage of alternate transport modes could continue for some time.
Meanwhile, some safety and environmental concerns have emerged about both pipelines and oil-by-rail transport. These concerns, along with restrictions on US oil exports, have created some uncertainty about how long the central US oil glut might persist.
Perspective: From early 2010, when the current surge in US crude oil production started, to the end of 2013, US production of crude oil rose nearly 40 percent. By 2016, production is expected to increase another 25 percent, which would make the US the world's largest oil producer.
However, increased production has created a supply bottleneck because most existing oil pipelines are not able to handle the added volume. The bottleneck has both pushed down central US crude prices relative to world prices and significantly increased the use of alternate modes of oil transport.
This production surge has led to a glut of oil, especially at Cushing, Okla., where most central US oil pipelines meet and where the price is set for US benchmark West Texas Intermediate (WTI) crude. From 2009 to 2013, petroleum stocks at US storage facilities increased 10 percent, with two-thirds of the increase occurring at Cushing alone. Stocks at Cushing increased 50 percent in the period as it received more oil from the north and southwest than it was able to ship by pipeline to refiners on the Gulf Coast or elsewhere.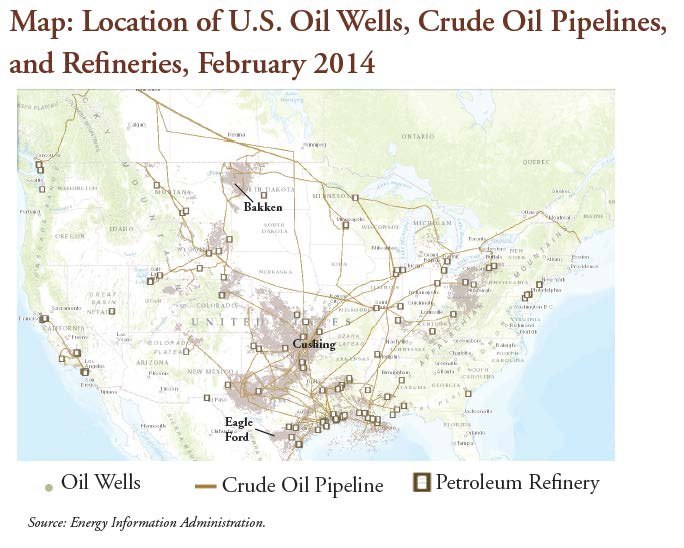 Infrastructure wanting. As the supply bottleneck and price discounting intensified at Cushing, it became clear the nation's oil pipeline, storage and refining infrastructure needed upgrading.
To address these infrastructure needs, billions of dollars' worth of new projects — primarily pipelines and storage facilities — are planned or have started. For example, 1,165 miles of oil pipeline and related projects were set to be completed in the US in 2013; completion of 2,597 miles is expected in 2014. An additional 1,734 miles of pipeline are planned to start in 2014 and be finished in 2015 or later.
Some progress noted. These new pipelines and facilities, and changes in the direction of flows, have begun to loosen some of the bottlenecks, and early evidence suggests that process may continue. However, these projects — especially new pipelines and refineries — beyond requiring significant investment and time, are by their nature fixed in place. They also typically require long-term contracts with producers to ensure cash flow for the duration of an expensive project. Such assurances are somewhat difficult to obtain given the nature of the current oil boom. Wells in the shale and tight oil plays that account for the bulk of recent production growth typically have much faster rates of decline than traditional fields, and thus may not be as long-lasting. As such, alternate modes of oil transportation — with higher operating costs but lower capital costs and greater flexibility — have emerged to take advantage of the price spread. These modes include barge, truck and rail transportation
Big pickup in trucking. Oil transportation by truck, the alternative with the lowest startup costs and broadest potential geographic coverage, grew more than 30 percent in 2011. Despite offering a short-term solution, truck transportation has the highest operating costs of the alternate modes and, given its small capacity per shipment, is the most energy-intensive mode. 
The fastest-growing alternate mode of oil transportation has been railroads. Rail transportation is somewhat more expensive than barges, and not quite as flexible as trucks. But overall, as an option during pipeline construction and periods of high oil-price differential, rail may have the best combination of attributes of the alternative modes. The use of rail grew much faster than either barges or trucks in 2012 and that strong growth continued in 2013, according to industry data. And as other shale plays emerge, especially if they are far from the coasts, rail may become even more important to the oil transportation network.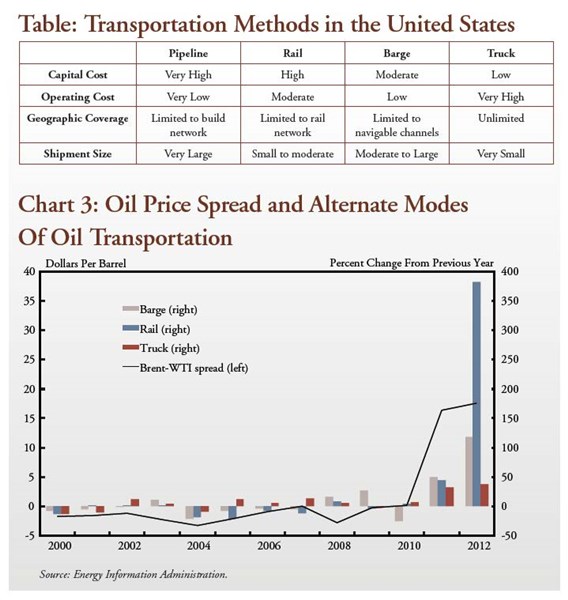 Safety concerns. As each mode of oil transportation has grown, so have concerns about safety and the effect of each on the environment.
Responses to concerns about oil-by-rail safety have come recently from the rail industry and governments. Rail car manufacturers have greatly ramped up production of safer cars, and some railroads have raised their own standards for the cars they use to carry oil. Some officials now expect new standards for oil tank cars to be implemented by the end of 2014. These actions may affect rail transportation of oil in the near term, as well as modify how refineries receive crude oil or even temporarily disrupt its flow — potentially affecting gasoline prices.
Refineries and oil transporters also face uncertainty over possible changes to US laws that restrict ocean shipments of petroleum and petroleum products. US exports of crude oil have been prohibited since the 1970s, and coastal shipments between US ports must be made by US ships carrying just US products. As such, some analysts expect a glut of US oil to persist until refineries are able to refine all of the oil coming out of the central US. Although there have been congressional hearings this year about easing restrictions, most analysts do not expect any significant changes in 2014.
---
Comments: An already important and needed debate about US infrastructure now has even more importance. That many sectors were woefully caught unaware of logistical needs following the mega changes in the US oil industry is now clear. And, the agriculture industry is also feeling the brunt of many years of inadequate funding to the transportation sector at all levels – water, rail and port, etc. And with the mega changes in the business of agriculture expected to continue in the years and decades ahead, with the "rise of the rest" leading to more demand-pull markets and the need for imports, especially from the United States, this will make investments in all types of transportation necessary. That means some funding priorities will likely have to take place ahead – and the ag sector is not used to having to decide on priorities especially outside of individual farmer safety net programs, what with a nearly trillion farm bill having just been completed. Also, with the rising population and demand-pull markets likely ahead, that means the need for higher yields and more US farm production. That means even more pressure on an already weakened transportation sector.
---
NOTE: This column is copyrighted material, therefore reproduction or retransmission is prohibited under U.S. copyright laws.
---
---