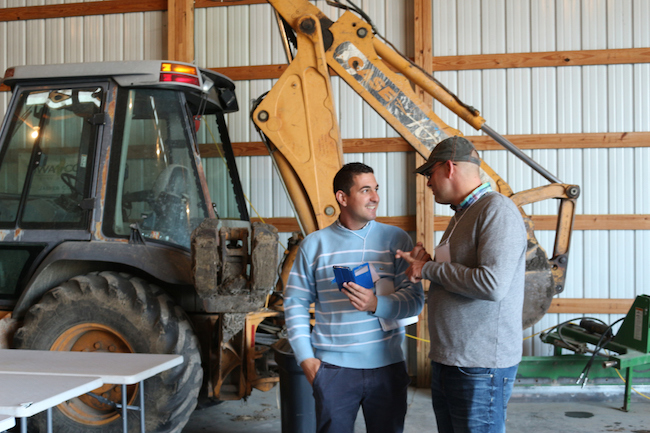 By Nora Faris
DES MOINES, Iowa — Farmers once prided themselves on the length of their days and the strength of their work ethics. But one Canadian dairy farmer said the sun is setting on the days when farmers worked from dawn to dusk.
Joas van Oord, 36, cultivates about 200 acres of cropland and milks 55 cows twice a day, every day. But he says all work and no play would make him dull. While Van Oord's dad measured his farm's success by the work he put in, Joas measures his success by the work he doesn't put in — and the amount of time he gets to spend hiking, fishing and enjoying his family.
"Younger generations are really more concerned about having a good work-life balance, and young farmers are no exception," van Oord said.
Van Oord was the first farmer in New Brunswick to adopt a fully automated milking and feeding system in his dairy. The technology cut his daily chore time in half.
Van Oord said he fears that youth don't pursue production agriculture careers because they equate farming with drudgery and hard work. He acknowledges that earning his bread and butter from the dairy industry still isn't an easy job, but it is profitable.
"We have to stop being afraid to say we're profitable as farmers," van Oord said. "When young people see opportunity in the industry, they'll be more likely to take the risk and get into it."
In 2012, the average age of a U.S. farmer was 58 years old. But as farmers age and retire, proactive succession planning could be the key to ensuring success for the next farming generation because for some young people a home on the range can be out of the price range, another factor steering them away from production agriculture.
The average value of U.S. cropland was $4,130 per acre in 2015. Coupled with equipment and capital investments, land purchases can bankrupt prospective farmers before they've even begun farming.
Ellie Grossnickle, an FFA officer and college student from Maryland, grew up on a dairy farm. She said she's contemplated staying on the farm, but her brother will most likely be the one to continue the operation.
Grossnickle said she knows peers who've abandoned their career plans in production agriculture because of the expense of starting a farm.
"If the farm's not handed down to you through family, then it's nearly impossible to go in on your own and start out," Grossnickle said.
Van Oord was able to buy his farm from his parents when he was 28 and his dad was 52. His dad was chided by family friends, who laughed at his "early retirement."
But van Oord still remembers his dad's words of wisdom and foresight: "Yes, I may be too young to retire, but soon, my son will be too old to take over."
Van Oord said retiring farmers have the opportunity to help youth begin their operations.
"Most farms are going to have to transfer hands in the next 10 years," van Oord said. "The older generation is going to very quickly see that they can't charge full dollar for their operation. They're going to have to give someone a hand."
By reaching out to youth, current farmers can help grow opportunities for our world's future food producers.
This story is published in collaboration with the University of Missouri. Read more about their reporting project at the World Food Prize here.