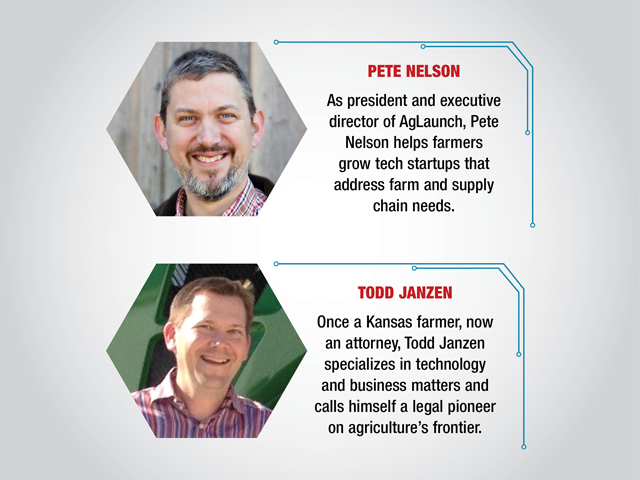 Q: What ag tech tools and trends do you see on the horizon in the next one to five years?
Pete Nelson
As president and executive director of AgLaunch, Pete Nelson helps farmers grow tech startups that address farm and supply chain needs.
A: Although it's a difficult time in agriculture, the industry is on the cusp of its next revolution in which the relationship between the farmer and consumer will change. This will drive a new range of more specialized row crops, such as organic grains, high oleic sunflowers and high tannin grain sorghums, and new-to-market grains, such as quinoa. Higher value commodities will expand driven by lower costs for genetics, new market access tools and automated labor. As market opportunities, technology and new business models converge, row crop farmers can expect the following:
Non-commodity revenue sources, such as monetization of data, soil health and carbon sequestration, driven by big data and new trading platforms.
New tools to address key problems such as spray drift, herbicide resistant weeds, nitrogen efficiency and water management.
Semi-autonomous vehicles, robotic applications in the supply chain and other solutions will increase efficiency and lower labor costs.
New financial tools to help manage risks for growing more diverse crops, trying new production systems or penetrating new markets.
Simpler data solutions that are more realistic in terms of how the data can be used. Equipment and precision ag companies will do their part to make variable-rate and other technologies easier to use.
Value propositions for producing organically certified grains and beans will be validated and adopted on a wider acreage basis.
The average farmer's day-to-day will change, which means he or she should work to obtain the skills to take advantage of these changes and partner with startups that provide added value.
Todd Janzen
Once a Kansas farmer, now an attorney, Todd Janzen specializes in technology and business matters and calls himself a legal pioneer on agriculture's frontier. 
A: Harvesting and analyzing data help farmers understand what drives productivity to make evidence-based decisions. The following advancements will shape the farm of the future, which is sure to look and operate different than today:  
The internet of things, which boils down to the ability to connect everything on the farm using sensors in the field and on equipment, for example, will get easier. The real value will come when the activity of collecting results in analytics and execution.  
All eyes are on soil health and nutrient management. Soil diagnostic platforms will continue to become more sophisticated, pulling measurements for nitrogen, phosphorus, potassium, soil moisture, pH, temperature and barometric pressure.
The cloud will continue to play a bigger role in how farmers store, process, share and even sell their data. Software programs that can be coupled with the cloud will ensure farmers actually use their years and layers of data to make various decisions.   
Blockchain has real potential for row crops but exactly how is yet to be fully determined. The technology can help simplify record keeping, documentation of payment and traceability. Reducing these burdens on agriculture should decrease transaction costs, and as a result, ultimately return more money to the farmer. Blockchain needs connectivity to work, though, and rural America's lack of connectivity will be the technology's Achilles heel.
Amazon has disrupted many traditional brick and mortar businesses. Companies that thought their customers would never desert them for an online retailer have gone out of business. Farmers have been slower to purchase seed and chemicals online, but that's changing.