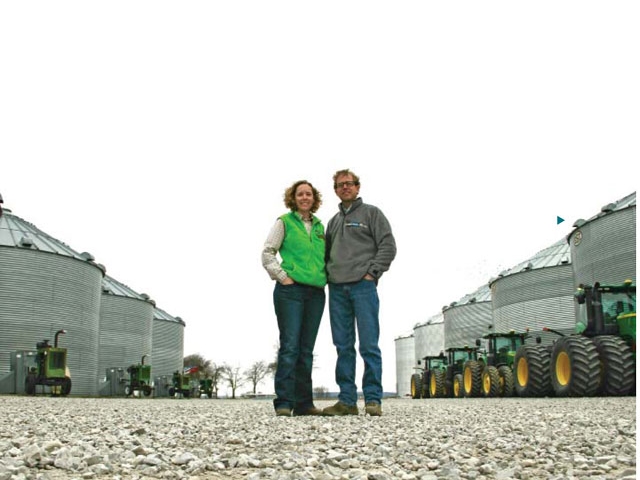 Willow & Co.'s present profit is anchored in the past
At the northern edge of the Cotton Belt, two Missouri Bootheel farmers are racing down a lonesome Stoddard County road in a pair of silver and white Ford F-150 trucks to check on a duck pit ideally hidden in the heart of the Mississippi Flyway. Brake lights pop as the vehicles pull onto a turn row lining a shimmering, flooded rice paddy set against the pale gray of a cold January sky. In unison, out of the cabs spill a match of tousled hair, blue eyes and easy manner belonging to what might be the most unique brother and sister farming operation in the U.S.
Will Hunter, 39, and Laura Collins, 36, grow 6,000 acres of corn, cotton, rice, soybeans and wheat outside of Bell City, Mo., on a remarkably tight and clean operation. Graded fields await spring planting; a central farm shop is a hive of winter work; a manicured equipment yard is neatly lined with vehicles; a grain elevator churns out loads at a staccato pace; and the main office hovers over it all like a vigilant pit boss. A place for everything; everything in its place.

Will and Laura run Willow & Co., a well-oiled farming machine squeezing every drop of profit from a shrinking commodity barrel. Pennies and nickels are precious in an anemic market, and the duo adheres to a strict regimen of efficiency, diversification and adjustment. The overall machine is geared for present gain, but the parts are deeply rooted to the past. 

Sikeston Ridge stands guard over the Mississippi River to the east of the operation, and Crowley's Ridge rises to the west, shaping the ground between into a shallow depression. 

There is a ghost always watching and whispering from the field's edge at Willow & Co. It's the echo of 
William Pinnell (W.P.) Hunter, Will and Laura's grandfather, and no decision is made or action taken without paying respect to his foresight and memory. W.P. is an enduring patriarch and as with thousands of family farms, legacy looms largest at Willow & Co. The inescapable duality of a farming legacy is a comfort and a road map to success for Hunter and Collins.
In 1938, W.P. alongside wife, Frances, settled in Sikeston. He initially cleared ground with mule teams to the northwest of town in the Bell City area (commonly tagged Toppertown). He acquired 40-acre tracts with seven-year farming leases, contingent on cleared ground. 

Working around stumps in forgiving clay loam, W.P. attained phenomenal 1- to 1.5-bale cotton right out of the gate. His initial stake grew into a sea of sharecropper houses with a general store, fertilizer warehouse, cotton gin and delinter building. Later, he used the row-crop business to finance a 2,500-head cattle operation. Both businesses seldom hit big profits in the same year, but they served as counterbalancing fail-safes in lean times.

In the early 1980s, W.P. maintained a breakneck pace down the back roads of Stoddard County, and a young Will rode shotgun in the truck, soaking in a work ethic and the intangibles of farming. Fait accompli, Will would take the farming reins. He breathes; he farms. 

"I was my grandfather's shadow and his lifestyle fascinated me. Even as a tiny kid, he and I both knew I was going to farm. Period," Will says.

Bringing up the caboose of the family chain, Laura was born with grit to match Will's, and she clung stubbornly to his heels. "I was with Will unless he was with our grandfather. I wasn't sure what I wanted to do with my life, but I knew I had to be outside," she says.

Outside, indeed. By 15, Laura had her own summer lawn care business. Three and a half years older, Will set off for Mississippi State University (MSU) and graduated in 1999 with a degree in agricultural economics. 

At the time, Will and Laura's father, Sam Hunter, managed the family's land. A veterinarian by trade, Sam had a keen instinct for overseeing the farm, and was the linchpin of the pair's initial success. 

Eyes on the prize of farming, Will was allowed to work 160 acres and run the elevator with a sweetener: Succeed on 160 and get lease access to more land. Year one, he sold $6 soybeans and $5 rice. Tight margins, but he cinched his belt, steadied his nerve and farmed 2,200 acres by year four.

On the surface, Will was cutting a deep row by himself, but he felt a sibling bond was key to long-term success. "Laura and I connected as we grew up," Will recalls. "That's a connection that goes unexplained; it simply is."

In May of 2002, Laura was closing in on an agricultural business degree as a junior at MSU, intent on a career in ag sales. Her phone rang on a Monday at 6:30 a.m. Will was on the other end of the horn, laying out a plan for a joint farming operation. "Who could I trust more? I needed a partner to grow the operation," Will says.
A year later, Laura graduated and returned to Sikeston. She spent two days handing out resumes to ag businesses, but no phone calls came. As she walked away from retail onto the farm, Will closed the proverbial door behind her and Willow & Co. was born. "I called Laura 'Lolo' as a kid. We took my first name and combined it with Lolo to get Willow & Co.," he says.

Acreage was growing, but the technical side was lacking. After three years in the field, Will was beginning to grasp agronomy, but he lacked technological prowess, a role Laura would tackle. In addition, the operation's steadfast bookkeeper, David Dalton, was transitioning to retirement and Laura would slot into the accounting role. She was also ready to hop on a tractor at a moment's notice. "Will wanted me as an equal partner, and we drew no lines around roles," she says.

"Laura has one of the hardest jobs on the farm keeping up with accounting and books. At the same time, she's out of the office in an instant drilling rice," describes Donnie Jolliff, Southeast Co-op manager at the Morehouse, Mo., branch.
Timing makes or breaks a farming operation. Willow & Co. began increasing grain storage in 2005 and ended up in a harvest race when Hurricane Katrina approached in late August. They added six grain bins and began filling them with rice before the last bolts were placed. As Katrina destroyed transport along the Mississippi River, they filled bins and sheds with grain, even placing walls in the old delinter building and dumping corn until it poured out of the cracks. Despite Katrina's destruction, Will and Laura navigated a storage crisis and marketed grain accordingly, a major stepping stone for the duo. Today, they store 100% of their grain and have 575,000 bu. in storage capacity.

Several years after Katrina, another business benchmark arrived. When Frances passed in 2009, the family land became wrapped in legal entities between Sam, an aunt and two uncles. "It was time to buy ground. Better to be an owner than in the renter's seat long-term," Will says. He and Laura bought stock and become primary holders in Toppertown, Inc., the farming corporation set up by W.P. and gifted to his children.

Will and Laura kept their sights on acquiring the entire trust structure and four years later, the move from tenants to landowners was completed. In fall 2013, Will, Laura and Sam became sole owners of the family land.

The grand misnomer of an off-season in agriculture is put to shame at Willow & Co. In winter, the schedule eases from a seven-day to a five-day work week. The elevator answers to a buyer's call market. When calls come in for grain, the bins fire up, and the first truck is on the road within an hour. 

"They farm big acres with great efficiency and track all the moving pieces. They also have a reputation as stellar people away from farming," describes ag pilot Peter Malone, owner of Ag Air in Sikeston.

"They keep their word, and that's not as common as people think," adds Ethan Vasquez, a salesman at Southeast Co-op. 

Any regrets? "We wish we would have listened better in marketing class," Will laughs. 

"We haven't done a bad job, but nobody I know does an exceptional job," Laura echoes. In 2017, they hired a consulting company to take over marketing and put constant eyes on puts and calls. "When margins were bigger, we had room for error. Now we use a pro to watch the market full time because so much is at stake," she adds.
Farming requires escape routes, particularly in low commodity stretches, and Willow & Co. continues to diversify. They grew 500 acres of white corn in 2016, and added peanuts to the roster with longtime neighbors and friends as tenants. Duck hunting leases expanded in 2016 with customized pits (16'x5'x5' with two dog boxes) on eight fields, with plans to build two more.

Eighteen years on for Will, and 14 total as Willow & Co., and following marriages with highly supportive spouses and two kids each, Laura and Will are supremely proud of a legacy preserved. Anchored to their grandfather's vision, their long-term goal is to continue growing the farm and preserving the family chain. "It's overwhelming to realize you hold someone's past in your hands," Will says.

The mantle of leadership and legacy is heavy, but that's the nature of farming. In the case of Will and Laura, they farm by choice and lift the weight together—always together.

Land is never truly owned, but merely borrowed from future generations, and it's safe to say W.P. is watching from the periphery, well pleased with his grandchildren as they work ground at the Bootheel farm between the ridges.