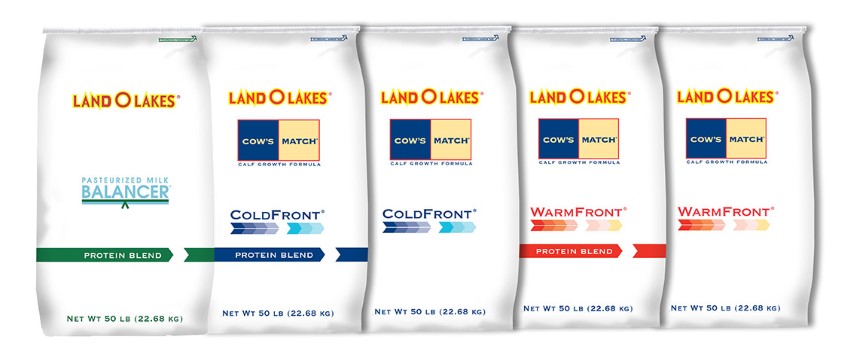 Land O'Lakes Animal Milk Products introduces a new approach to calf milk replacer formulation with protein blend calf milk replacers.
Growing demand for whey protein drives both milk prices and the input costs of calf milk replacer protein – an opportunity for dairy producers and a challenge for the dairy industry.
"Not long ago, whey protein was a waste product of cheese manufacturing," says Dr. Tom Earleywine, director of nutritional services, Land O'Lakes Animal Milk Products. "Today, whey is one of the dairy industry's most valuable products being used in sports drinks, energy bars, shakes and supplements. Consumer demand for these products continues to grow."
Seeing this challenge, as a leader in the market, Land O'Lakes Animal Milk Products made it a research priority to develop calf milk replacer formulations featuring a blend of proteins that can save on dairy producers' and calf and heifer raisers' investment cost without sacrificing calf performance. The new protein blend formulation utilizes a similar approach as is used in baby formulas and is based on a blend of highly digestible proteins that complement each other.
Research conducted by Land O'Lakes Animal Milk Products showed equal performance with their full potential protein blend calf milk replacers compared to the original formulation.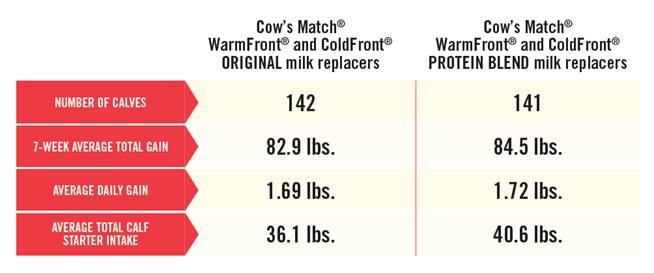 In addition to providing the same performance, this new protein blend formulation approach decreased the cost of feeding Cow's Match® ColdFront® and WarmFront® milk replacer's original formulations substantially.
"These protein blends offer a more economical opportunity to feed calves to their full potential," says Dr. Earleywine. "A growing body of research shows that calves provided more nutrients from milk or milk replacer early in life, are more likely to be productive as adult cows."
For more information on the new protein blend calf milk replacers or how to feed your calves a full potential diet, visit www.lolmilkreplacer.com or call 800-618-6455.
Since 1951, when Land O'Lakes Animal Milk Products Company developed the first calf milk replacer, the company has been committed to creating the best milk replacers from the best technologies and quality ingredients. Land O'Lakes Animal Milk Products Company is a division of Land O'Lakes, Inc. a national farmer-owned food and agricultural organization.
Source: Land O'Lakes Animal Milk Products