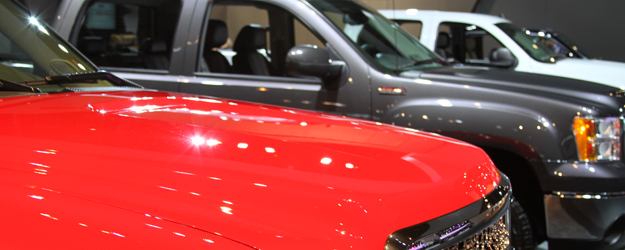 High-tech and high-function trucks for the farm   
The truck industry heavily relies on farmer feedback to design and build a high-tech, high-function farm pickup. 

"Truck manufacturers have added more uses for PTOs on transmissions on heavy-duty three-quarter-ton and one-ton pickups," says truck industry insider H. Kent Sundling, also known as Mr. Truck. "For example, Ram has their 6.4-liter gas Hemi with Aisin transmission that can run a PTO off the transmission with just four cylinders of a V8. This saves fuel using the PTO to run hydraulic pumps." 

Looking at the 2015 lineup of full-size pickups, high-tech efficiency and durability are high priorities.  

Under the new aluminum skin, the Ford F-150 has two new engines: the 2.7-liter EcoBoost V6 and the 3.5-liter V6 Ti-VCT. Weighing 700 lb. lighter than previous models, the 2.7-liter V6 engine is rated to tow 8,500 lb. The F-150 sports auto start-stop technology. 

Ford also re-engineered the Power Stroke diesel engine for 2015 to include a larger turbocharger and a dedicated exhaust brake button. New injector tips and larger turbocharger give the Power Stroke more power with an additional 40 hp (up to 440 hp) and 60 lb.-ft. torque (up to 860 lb.-ft.)

The 2015 heavy-duty GMC Sierras and Chevy Silverados sport the same body style first featured on 2014 half-ton models. The pickups also offer improved payload and towing, rider comfort and remodeled longer, front-hinged rear doors. 

Under the hood, the gas models are rated at 360 hp and 380 lb.-ft. of torque. The CNG option is rated at 
301 hp and 333 lb.-ft. of torque, and the Duramax diesel is rated at 397 hp and 765 lb.-ft. of torque. 

The 2015 models also feature Lane Departure, which vibrates your seat left and right when you cross the line. For those who tow trailers, an integrated electric-over-hydraulic trailer brake is offered for the first time.
---
What's Coming Down the Line in 2015
As an industry insider, H. Kent Sundling, also known as Mr. Truck, has been testing pickups, trailers and accessories for 15 years. He says major truck manufacturers will announce the following in 2015:
1. 2016 Ford Super Duty with aluminum body
2. A bigger Duramax diesel from GM
3. A truck that will park a trailer by itself
4. An 8-speed transmission from Ford, Chevy or GMC
5. More diesel half-tons
6. Adaptive cruise control on more brands
7. 3" gooseneck ball option