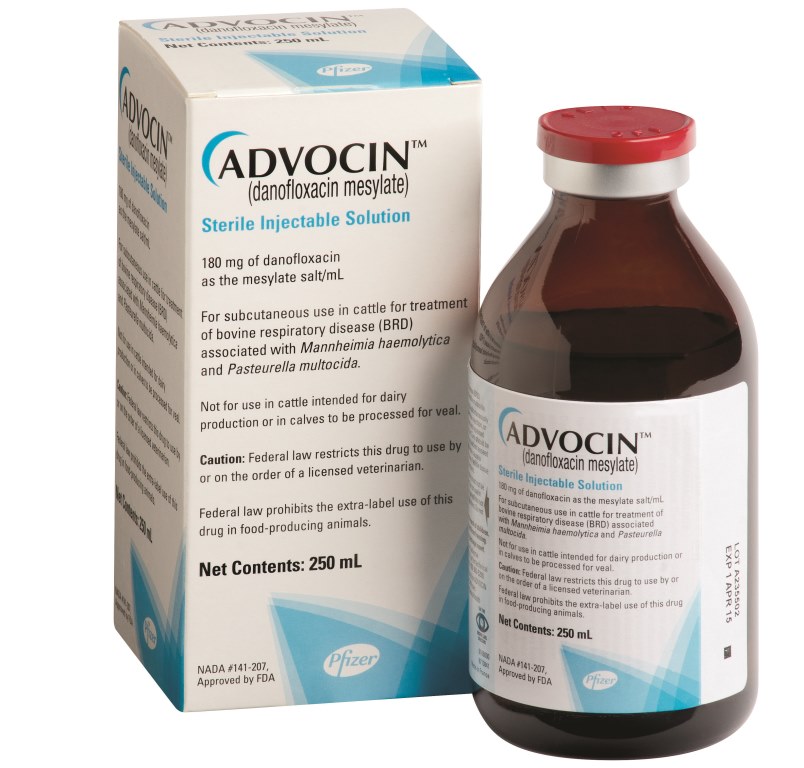 Zoetis announced a new label claim for ADVOCIN® (danofloxacin mesylate) Sterile Injectable Solution for control of bovine respiratory disease (BRD) in high-risk cattle. Previously approved for treatment of BRD, a large multi-site study demonstrated that ADVOCIN was safe and effective for the control of BRD in beef cattle at high risk of developing BRD.
ADVOCIN offers a convenient alternative for veterinarians and producers managing BRD. Producers can now use ADVOCIN for control of BRD in high-risk cattle on arrival or take advantage of the short, four-day withdrawal time for treating respiratory disease late in the feeding period. ADVOCIN delivers what veterinarians expect from a fluoroquinolone and now offers added flexibility to use the product in two ways.
"The new ADVOCIN claim helps provide another way to control BRD with the fast-acting fluoroquinolone power of ADVOCIN," said Jeffrey Sarchet, DVM, Beef Technical Services, Zoetis. "BRD remains one of the most economically impactful challenges facing the beef industry and is extremely difficult to diagnose. Choosing the right antimicrobials that help control and treat subclinical BRD is critical to cattle health, performance and the bottom line of any operation."
ADVOCIN is part of the comprehensive and versatile portfolio of leading BRD Management Solutions from Zoetis, which also includes DRAXXIN®(tulathromycin) Injectable Solution and EXCEDE® (ceftiofur crystalline free acid) Sterile Suspension.
"The advantages of a comprehensive BRD management program can make or break an operation," Dr. Sarchet said. "The new ADVOCIN claim for control adds another tool to help effectively control BRD in beef cattle."
To learn more about using ADVOCIN to manage BRD, talk to your veterinarian or Zoetis representative.
IMPORTANT SAFETY INFORMATION FOR ADVOCIN: Extra-label use of ADVOCIN in food-producing animals is prohibited. Do not use in cattle intended for dairy production or in calves to be processed for veal. ADVOCIN has a pre-slaughter withdrawal time of four days. See full Prescribing Information at www.advocin.com/PI.
IMPORTANT SAFETY INFORMATION FOR DRAXXIN: DRAXXIN has a pre-slaughter withdrawal time of 18 days. Do not use in dairy cattle 20 months of age or older. Do not use in animals known to be hypersensitive to the product. See full Prescribing Information at www.draxxin.com/PI.
IMPORTANT SAFETY INFORMATION FOR EXCEDE: People with known hypersensitivity to penicillin or cephalosporins should avoid exposure to EXCEDE. EXCEDE is contraindicated in animals with known allergy to ceftiofur or to the ß-lactam group (penicillins and cephalosporins) of antimicrobials. Inadvertent intra-arterial injection is possible and fatal. Do not use in calves to be processed for veal. Pre-slaughter withdrawal time is 13 days following the last dose. See full Prescribing Information at www.excede.com/PI.

Source: Zoetis