640Drive uses farm data to open new avenues for profitability
Corbett Kull believes too much farmer data dies a needless death in the field—left behind and never recorded. With 640Drive technology, he says data analytics, mobile applications and wire communications are opening new avenues for profitability on the farm.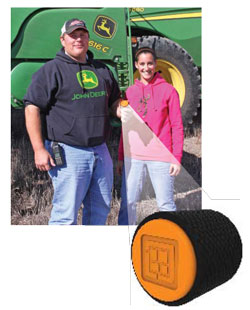 To get a handle on their data, Brian Downing and Calli Ridder of SPH Farms in Colby, Kan., use 640 Drive.
The 640Drive plugs into the 9-pin diagnostic port on tractors, combines or any type of farm machinery and pairs with a laptop, tablet or smartphone, enabling a farmer to see data in real-time as it's recorded to the farmer's account on the Cloud. 

Installation and connectivity with a browsing device takes minutes. The 640Drive captures machinery and agronomic data and presents it in a dash-board—simple and fast access for a farmer to know what's happening on his land.

"If a farmer can operate a Bluetooth headset, he can use 640Drive," says Kull, who cofounded 640 Labs with fellow engineer Craig Rupp.  

Matthew Schweigert, Cuba City, Wis., uses 640Drives on John Deere tractors, Oxbo seed corn harvesters, Kinze planters and Hagie sprayers. "The 640Drive tracks the tractor, rpms, fuel use and wheel slippage, as well as the implement attached, such as a planter," Schweigert says. "It pulls all the information off the planter you normally see on the display and wirelessly transfers the data to the Cloud."
A farmer can jump online, view the data instantly and see precisely what operators are seeing. "From my chair, I can work with operators to help catch problems literally before they happen," Schweigert says.

640 Labs analyzes the data to give the farmer a better understanding of precisely what's taking place in the field, including machine data such as tractor performance and fuel consumption. However, it also covers seed population, fertilizer amounts and yield. 640 Labs is in the process of building prescriptive analytic capabilities to further understand data points.

"The 640Drive has changed some of my growing practices," Schweigert says. "We can add acres on to a day or take some off, helping to prioritize field schedules. Checking on pace is great, but we can now also monitor the quality of our work, and that's the big one because we're catching far more details than we caught in the past."

A 640Drive costs $500 and can be installed and connected with a tablet or smartphone in a matter of minutes. At some point in the future, 640 Labs will have fees for prescriptive analytics, but currently, there are no annual fees. "It's $500 for a 640Drive; the farmer creates a 640 Labs account—and away he goes," Kull explains.
When it comes to data privacy, farmers maintain ownership of their data and grant 640 Labs a license to work with that data. A farmer can grant access for consultants or advisers to view data as well. "We own the 640 Labs Cloud, and we're an independent company," Kull says. "We'll let a farmer use data as he chooses. If a farmer isn't happy with us and wants out after a couple of months, we will delete the account and even give back the $500."

Headquartered in Chicago, half of 640 Labs' employees grew up on farms and their families still farm today. "By using our knowledge of technology and our expertise in other areas, we can make a tangible impact on agriculture," Kull says.