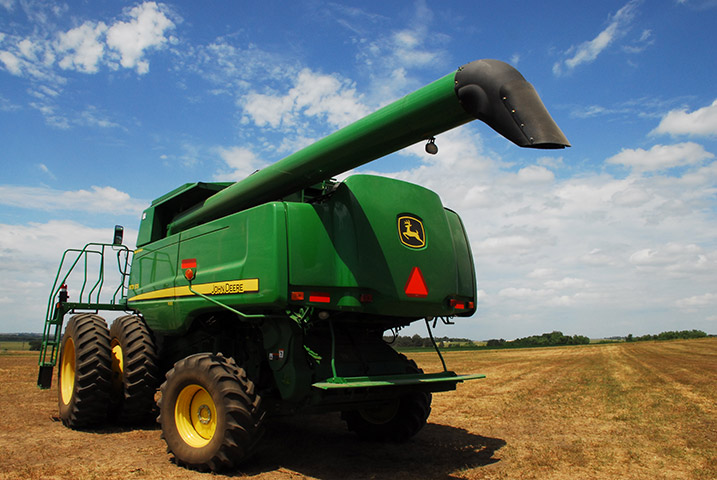 Tractor sales are up. Tractor sales are down. Both of these statements are true, but how can that be? It's all in how you look at the numbers.
According to recent reporting by the Association of Equipment Manufacturers (AEM), tractor sales have definitely been a bit of a mixed bag. Four-wheel drive farm tractor sales are down 15% this year, and combine sales are down 17% this year. But other categories are showing modest gains, according to AEM ag sector lead Charlie O'Brien.
"Smaller horsepower tractors, under 40 horsepower, are up 8.7%, and horsepower at 40-100 are up 7%," he says, speculating that demand from the dairy sector could be partly fueling these increases.
AEM also looks at net farm income as it could relate to future equipment sales, explains AEM market intelligence analyst Benjamin Duyck.
"When we look at farm income business income, we can get a better sense where farm income is expected to increase and decrease," he says.
The areas hit hardest by reduced farm income include the Northern Great Plains (-14.8%), the Heartland (-16.4%) and the Mississippi portal (a/k/a the Mid-South, -27.5%). Duyck says the big question right now is how long the downturn in farm income will last. According to USDA analysis, a gentle decline in export values and farm cash receipts could continue through 2016, and increase after that.
And while lower commodity prices remain the driving force behind these changes, Duyck says other factors are also in play. First of all, he says capital expenditures on machinery are expected to decrease from past highs due to a change in tax incentives and subsidies. Second, farmland values are rising slowly enough that they can limit a farmer's ability to use it as collateral, thus reducing capacity to get credit. Third, Duyck says the used equipment market has become inflated in recent years.
"The large inventory of used equipment sitting on dealer lots is not only decreasing the ability of the dealers to purchase and finance new equipment, but is also lowering the value of the trade-ins farmers tend to use when buying new equipment," he says.
Duyck predicts farm equipment sales will experience a "multi-year adjustment" from historical highs. O'Brien adds that he is hopeful most farmers are still carrying strong balance sheets from prior years, and that the need for increased productivity and efficiency is ever-present.
"We continue to need the technology that our equipment offers," he says.