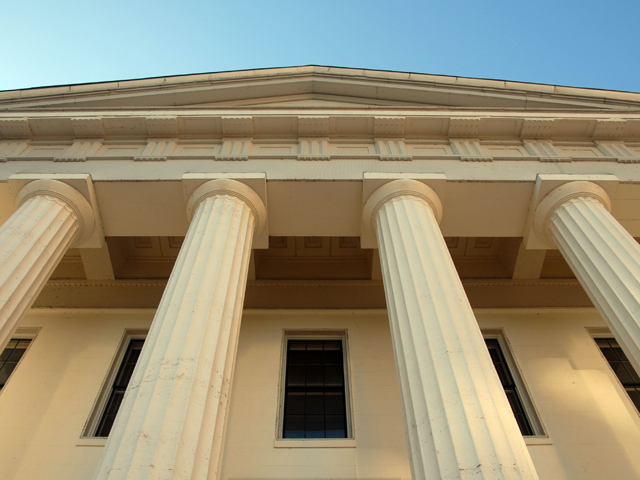 Vital legal issues at stake for agriculture in 2015
Farmers are a patient lot and tolerate the caprices of weather and commodity prices with consistent fortitude. However, their tolerance doesn't extend to an exhausting march of regulation. Weather and markets fluctuate, but the grip of government control invariably grows tighter.

In 2015, farmers and ranchers are facing a pick-your-poison year of legal battles that will bolster or undercut private land rights and ownership. Water issues weigh heaviest and are at the heart of several pending cases.
The Clean Water Act remains a focal point of concern. The Environmental Protection Agency's (EPA)  extension of muscle and authority through new rule proposals might serve as a passport to private land. The semantic haze of "significant nexus" and "Waters of the United States" leaves agriculture exposed to massive loopholes—affording EPA substantial latitude and the cover of ambiguity. 

"Any state with agriculture ditches that lead to more ditches that run on to streams should pay close attention," advises Gary Baise, attorney, Olsson Frank Weeda Terman Matz Law Firm, Washington, D.C. "All 
water runs downhill, and EPA claims jurisdiction over anything with a significant nexus. In essence, that can mean anything EPA wants it to mean."

How far onto farms can EPA reach with a significant nexus rationale? No water spot on a farm would escape 
potential regulation: creek, pond, irrigation ditch, riparian area or slough.
Gulf Restoration Network v. EPA, a Mississippi River Basin case, carries massive consequences for farmers in more than a dozen states. The Gulf Restoration Network, an environmental activist group, claims EPA is required to establish numeric nutrient controls for the Mississippi River Basin. That would mean setting a quota on how much nitrogen and phosphorous could go into the river. 

"If EPA loses at the next court level, they possibly will head to numeric nutrient control regulation," says John Dillard, Farm Journal legal columnist and attorney with Olsson Frank Weeda Terman Matz Law Firm. "This isn't a case of an overly aggressive EPA, but rather an example of activist groups prodding EPA into more regulation."

A related water case is brewing in the U.S. Court of Appeals for the Third Circuit: American Farm Bureau Federation v. EPA. The case deals with total maximum daily loads (TMDL) and how many pollutants a body of water can receive and still maintain quality standards. According to EPA, agriculture is allowing too much phosphorous, nitrogen and potash to run into streams. EPA wants to set up TMDLs and force watershed implementation work plans like those in place in Virginia and Maryland. 

"This is about an aggressive EPA," Dillard says. "Their chosen route to cleaning up Chesapeake Bay—which is also what they'd like to do in the Mississippi River Basin—is through TMDLs, which have more flexibility than numeric nutrient controls." 

Essentially, this case will decide if EPA has the authority to establish large-scale TMDLs. A court decision will probably come down in the first half of 2015.
Stakes are high in the Rose Acre Farms v. EPA case in North Carolina. Pared down, EPA is claiming water that falls on the ground around agriculture buildings is not covered by the stormwater runoff exemption. 

"This is not water from inside the building, but rainwater falling from sky to ground," Baise notes. "The ramifications affect any producer involved with an animal feeding operation."
Another EPA issue, proposed ozone standards, would cut the allowable threshold for ground-level ozone to between 65 and 70 parts per billion. The current rate is 75 parts per billion. What might that mean for agriculture? 

"EPA could make farmers stop using older model diesel tractors, regulate the number of passes a farmer can make, or even regulate the amount of spraying on an operation," Baise says. 
The spread of GMO controversies will continue, with Vermont's Grocery Manufacturers Association (GMA) v. Sorrell as the spearpoint. It's a test case that raises significant First Amendment issues and Commerce Clause questions. Other states are watching as some move forward with state-level GMO labeling. The case will be decided in 2015 at the district court level with an appeal likely. Basically, GMA v. Vermont will determine whether states have the authority under the Constitution to require GMO labeling. Can a state enact labeling laws that disrupt interstate commerce?

The biotech corn battle that stems from Syngenta selling genetically engineered Agrisure Viptera seed corn to U.S. farmers will continue as well. When China slammed its import doors on MIR162, which is found in Viptera, the entire Chinese corn product market was essentially shuttered to U.S. export firms. Cargill, Trans Coastal Supply Co. and farmers are claiming losses of more than $2 billion. 
The U.S is appealing a WTO decision that found COOL disrupted trade with Canada and Mexico. A reversal is unlikely, though. By mid-2015, a ruling will come down and if it's upheld, by the fall of 2015, Canada and Mexico can begin levying retaliatory tariffs on U.S. products. "The tariffs are not just limited to agricultural products, and I suspect Canada and Mexico will be strategic in choosing where to levy tariffs in order to create the most pain for legislators who support COOL," Dillard says. "Beyond meat, we expect agriculture goods such as wheat products to be targeted."
Relatively new fracking bans have unique facets, but they all prohibit oil and gas production. The bans face legal challenges from the oil and gas industry and from landowners who want the right to enter into leases. 

The fracking controversy is distinct because agriculture is on both sides of the issue. "Some agricultural proponents don't want oil and gas production in farming and ranching areas due to concerns over water quality and environmental issues," says Tiffany Lashmet, agricultural law specialist, Texas A&M University. "At the same time, other farmers and ranchers want the option to supplement their income with oil and gas leases. This is a nationwide issue, and there's a whole lot more that's going to play out in court." 

It might not be a year of resolution for farming's ongoing legal issues, but the fighting will be thick across the 
industry. Water, property rights, private ownership, government encroachment, biotechnology and constitutional interpretation—the stakes couldn't be much higher for U.S. farmers.