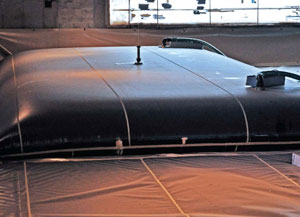 Indiana farmer looks at a unique storage solution
Storing liquid fertilizer can be a hassle—and expensive. It bothered Bryan Corn enough that he  began looking for an alternative that didn't involve erecting concrete silos and retaining walls. Corn is operations manager for New Carlisle, Ind.–based Wykoff Brothers Farms.
Just 20 miles away in South Bend, Ind., GTA Containers, Inc., manufactures rugged but mobile collapsible storage containers for military and industrial clients. The company takes base nylon or polyester fabrics and applies one of several custom coatings to create the end product, says Simon Addicott, general manager. The fabrics are durable enough to store relatively corrosive materials such as diesel fuel.
The other advantage is size versatility. The company can build containers that hold between 3,000 gal. and 210,000 gal. Height determines how much pressure the fabric has to bear, Addicott explains, so the designs tend to be long and low—up to 100' long, but just a few feet high.
All of this led Addicott to believe there might be some useful applications in agriculture. That's where Corn and Jason Wykoff entered the picture.
"We talked to a few farmers, and Bryan and Jason were the first ones who took off and ran with it," Addicott says.
It was easy for Addicott to convince Corn, who had experience using similar types of containers.
"I spent 11 years in the military, so I've seen the ones that store diesel fuel," Corn says. "GTA did tests at their facility to see if it could bear the weight and corrosion of liquid fertilizer. It could, so we gave it a try."
A good fit. The result was three custom-built storage containers, the largest of which has a 130,000-gal. capacity. The containers are stored in an abandoned hog barn, safe from the elements. It took 12 people to unfold and install the containers, but after setup was complete, Corn began to see benefits almost immediately.
"We estimated a 25% or more increase in efficiency," he says. "Last year, we had a lot of problems getting everything we needed in a timely manner. Now, we're able to get up and running whether or not the co-op is open or closed, and there's no more waiting in line."
Addicott notes that storing the containers inside was probably a good idea—UV exposure is a primary factor in degradation of the fabric's life span.
"The military fuel and water tanks made from the same general construction are used outside in some pretty brutal conditions," he says. "In Iraq, experience has shown that even with extreme exposure to UV radiation, tanks can last as long as 10 years. We expect fertilizer tanks to last five to 10 years outdoors and from eight to 15 years or more if located inside."
The setup includes a depression in the ground, covered with a liner supplied by GTA. Drains are installed in the liner to remove rainwater.
For now, the converted hog barn is the ideal place for the containers, but their mobility offers a unique advantage if they ever need to be moved.
Storing fertilizer is just one potential agricultural use of the containers, Addicott says. He speculates that farmers could use them to blow in grain for storage or to hold onto large quantities of water for irrigation.
Wide Range of Uses
Simon Addicott, general manager of GTA Containers, Inc., says his company's storage containers have seen an interesting mix of military and industrial uses over the years, including:
diesel fuel storage

wine transport

strategic water placement for firefighters

salt-brine storage for winter ice removal

miner safety tents
You can e-mail Ben Potter at bpotter@farmjournal.com.