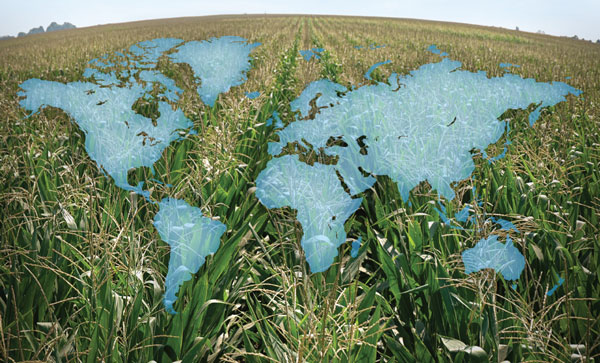 Seed production abroad supports domestic output 
The lion's share of corn seed for U.S. farmers is produced in the heart of the Corn Belt, but that's not the only place. In recent years, seed companies have made increasingly hefty investments in South America as a buffer against short production years. A sharp spike in imported seed occurred in 2012, not surprisingly, as a result of the historic drought that hit the U.S.

"Our first year with non-U.S. production was 1988 because of that year's drought that curtailed U.S. seed corn production," says Deb Scarpino, head of DuPont Pioneer's supply, management, planning and logistics. 

While it began as a hedge against a short U.S. crop, today South American production is used to speed up the research process for new hybrids and biotech traits, Scarpino adds. Still, the vast majority of DuPont Pioneer's corn seed is grown by U.S. farmers. 

Southern comfort. Craig Newman, president and CEO of AgReliant Genetics, says his company relies on Chile and Argentina for all of its winter production needs, a move it made six years ago. As a result, the company is able to achieve two production seasons each calendar year, which is important for the development of new genetics. Plus, it helps guarantee ample seed for U.S. farmers in years of poor yields.

"We doubled our South American acreage the winters of 2011-12 and 2012-13," Newman says. "In 2012-13, 15% of our production came from South America, but typically it's only half that or less. 

"It's unbelievably expensive to get seed corn from Chile and Argentina to the U.S.," Newman adds, with little margin for error. 

For example, seed corn grown in South America might not be available until February or March. If timely shipping is a concern, companies have to fly seed to the U.S. instead of using a more cost-effective method, such as a boat, or risk not having the seed in time for planting season. 

If seed has to be flown to the U.S., it can cost as much as $100 per bag just for the flight to Philadelphia, Newman says. 

Delivery by boat from South America to the U.S. can take anywhere from 21 to 24 days to as little as 12 days, reports DuPont Pioneer, which uses bulk ship containers to transport seed.

Chile and Argentina represent the bulk of off-shore production for major seed companies, but seed was imported from a total of 19 countries in 2013 compared with 17 in 2012. Some years, seed comes from unlikely countries such as New Zealand, Vietnam and Switzerland. In 2013, the majority of imported corn seed came from five countries: Chile, 3,084,836 bu.; Argentina, 1,853,972 bu.; Serbia, 1,337,832 bu.; Turkey, 1,137,281 bu.; and Canada, 786,061 bu. It's interesting to note, corn seed imports from Romania increased from 3,858 bu. in 2012 to 389,645 bu. in 2013.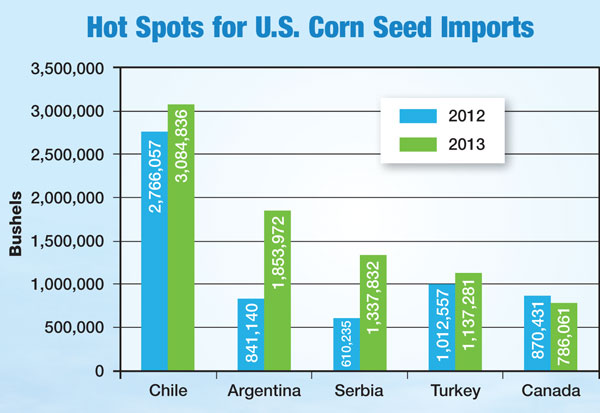 The U.S. imported corn seed from 19 countries in 2013, but 75% came from just two countries, Chile and Argentina. Roughly 90% of all U.S. corn seed is still grown by U.S. farmers, though it changes year to year based on current growing conditions. 
Not all seed corn providers agree that overseas production will continue to increase in importance. Winter production has been used to supplement corn seed supplies in difficult years but has evolved into a more standard practice to meet the industry's needs, notes Chuck Lee, head of corn, North America, Syngenta. 

"But its importance is expected to decline as cost advantages in Chile and Argentina diminish," he adds.

The primary reason Monsanto produces seed in South America is to get the latest genetics into the pipe-line faster, explains Mark Martino, vice president, North America/Latin America supply chain for the company. Secondly, he says, it provides a workable solution in problem years. One reason why Monsanto has chosen South America is that in areas such as Europe, SmartStax traits are not used. All told, though, less than 10% of Monsanto's U.S. corn seed comes from Argentina and Chile. 

"It's not that huge, but it helps some," Martino says. 

Regardless of where winter production takes place, seed companies have to be geared up to make final decisions in a hurry. 

"If by September and October it looks like we're going to be short in the U.S., we have to pull the winter production trigger," notes DuPont Pioneer's Scarpino. 
---
For a full list of the countries that grow corn seed for the U.S. market, visit www.FarmJournal.com/seed_corn