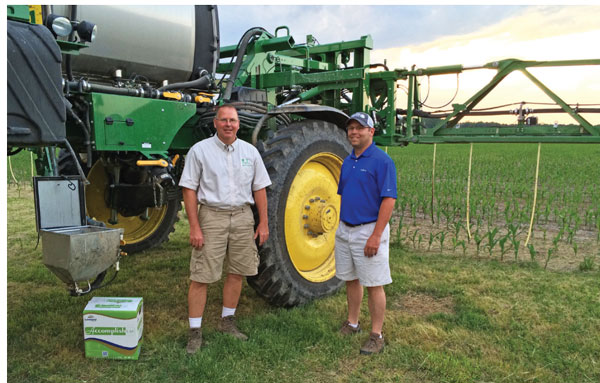 Virginia farmer yields big with early season focus
Farming under the watchful eye of millions of urbanites and a host of state and federal regulatory agencies around the politically and environmentally sensitive Chesapeake Bay is one thing, but knocking out award-winning corn yields in a "zero-till" operation on the outskirts of historic Williamsburg and Richmond, Va. is quite another.

Dave Hula, Charles City, Va., did just that in 2013 in a part of Virginia that usually sees dryland corn yields of 150 bu. per acre. His no-till, irrigated Pioneer contest corn yielded 454.9 bu. per acre in the 2013 National Corn Growers Association yield contest.

Hula farms about 2,000 acres of corn in a 4,000-acre no-till corn, wheat and soybean rotation that usually yields three crops in two years. 

"It [2013] was a good year for corn in eastern Virginia with a lot of dryland yields over 200 bu. per acre," explains crop consultant Jimmy Ward, a sales representative with Crop Production Services in Aylett, Va. 

Hula pulls irrigation water through several center-pivot sprinklers as needed, but he's adamant about not disturbing the soil with tillage.

"The yields Dave produced were products of a lot of little management things," Ward explains, noting he has worked closely with Hula for 13 years and calls him a student of corn.

"Tissue sampling is one of his favorite tools, and he does it weekly, where many producers may use it only once before sidedressing corn at the V5 or V6 stage," Ward explains. "Dave knows what his plants need on nearly a daily basis because he's willing to pay attention to those details."

High-yield RX. Hula says you can't have high yields without consistent stands, and that includes taking every precaution to protect seed and its yield potential at every turn.

To mitigate any compromise to yield, Hula does everything he can to stack the deck in the seed's favor.

"We pay particular attention to getting a uniform emergence (shooting for all the corn in the field to emerge within 12 to 24 hours)," he says. "We over-treat by adding additional fungicides to combat disease potentials we have in our no-till environment.

"We also add a Pentilix fertilizer product and seed exciter to stimulate root development because we've seen enhanced germination by doing this," Hula explains. 

Because his area has problems with wireworms and grubs, and sometimes billbugs (despite his robust crop rotation schedule), Hula says his seed treatment also includes Poncho 1250 insecticide. University and commercial research has shown the insecticide (active ingredient clothianidin, a neonicotinoid) seed treatment is good for additional yield bumps as well as the fungicide treatments. 

At planting, Hula wants to make sure his corn has sufficient fertility to get it through the V7 stage, so he uses an in-furrow fertilizer solution that includes several biological products and humic acid. 

"We also band 65 lb. of nitrogen and 33 lb. of phosphate about 3" from the furrow and down about 2" so the corn can get into it as soon as possible," Hula says. 

"I also add some sugar to the mix," he laughs. "I like a little sweet stuff, and I figure the plant does too." 

The sugar's high carbon content is aimed at feeding soil microorganisms and providing additional carbon for the corn. The mix is usually about 50 lb. of sugar to 1,000 gal. of liquid fertilizer solution.

Ward says Hula seeks to leverage the microbial activity in his fields at every turn. "The microbes in the soil are key to mineralizing nutrients bound up in the soil. Since, with zero-till management, we aren't incorporating anything, other than knifing in some nutrients, keeping soil organisms thriving is essential," he explains.
---
 To learn more about Dave Hula's approach to farming with microbes, visit www.FarmJournal.com/microbes