Harsewinkel, Germany is the worldwide hub for the international farm machinery company Claas. Started by August Claas, today the company makes self-propelled combines for corn, soybeans, rice and small grains; self-propelled forage harvesters; haying equipment; and tractors. The family-owned company is led by its second and third generation: Helmut Claas and Cathrina Claas-Mühlhäuser
Total, the company has 9,000 employees with 14 factories and production facilities. Claas has invested in new facilities in Omaha, Neb., Russia, and India with the purpose to producing machines where they will be used.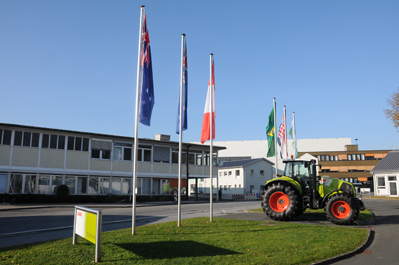 In Harsewinkel, the company has manufacturing, engineering, marketing and corporate leadership.
The manufacturing facilities there produce self-propelled forage harvesters, Xerion machines, and combines for western Europe as well as threshing modules for other markets.
The automated paint process runs 24 hours a day and includes 13 dips tanks with assembly frames that hold up to 22,000 lb. The power coat paint is set in a dryer that is 356 degree F. There are 132 pounds of paint on a Lexion combine, and 66 pounds of paint on a Jaguar forage harvester.
Parts and components are hung on conveyor systems that feature 3 levels of moving lines totaling 8 miles.
There are two assembly lines for combines (one for small frame machines, one for large frame machines), and one combine is started every 30 minutes. It takes one day's time to assembly a combine, and the factory produces 18 to 19 combines a day. A Lexion has 40,000 parts and components. Each completed machine is tested for 15 minutes.
There is a one assembly line dedicated to Jaguar forage harvesters, and there are 16 machines on the assembly at a time. It takes 1,280 minutes to complete the assembly, and the company produces about seven a day. Each completed machine undergoes 80 minutes of testing.
The company produces 300 to 500 Xerion machines a year. The series is available with three cab position options: Trac, fixed in central position; Trac VC, cab rotates 180°; and Saddle Trac, fixed over position of the engine. Powered by a Caterpillar six-cylinder engine, this tractor can be used for tillage, planting, mowing, spraying, high-capacity manure work, silage pit work and grain or silage hauling. The Xerion 3800 features a continuously variable ZF transmission, permanent four-wheel drive, 100% front and rear differential lock and a 100% central differential lock.
Since they are not marketed in the U.S. some farmers do not know Claas makes tractors. The company acquired French tractor company Renault in 2003, and today they make 12,000 to 14,000 tractors a year. Models range from 60 hp to 400+ hp.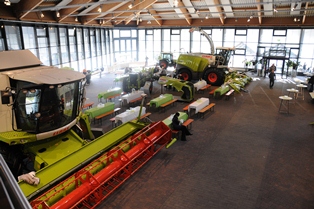 The company welcomes up to 27,000 visitors every year. The TechnoPark visitor's center including displays of current machinery models as well as the Claas Museum.
This Claas Super is a 1949 model year and machine No. 1926. There were 65,000 Super machines were produced and sold worldwide between 1946 and 1987.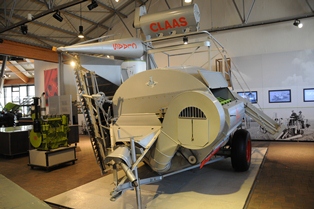 The Claas Hercules was the first self-propelled combine developed and manufactured in Europe. This is machine No. 13 and model year 1953.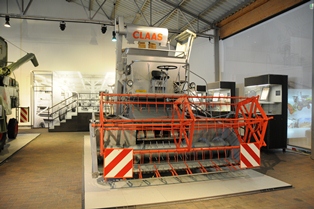 The Claas HuckePack was designed as a multi-tasking machine as a combine harvester, implement carrier and tractor. It was the world's first of its kind. This is a 1957 model and is machine No. 52. A total of 32,000 machines were produced.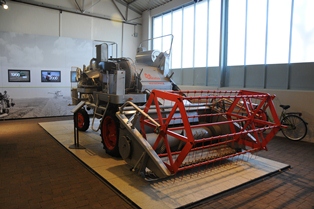 The Claas Consul combine was produced from 1967 to 1981. This 1968 machine was restored in 2008 and 2009.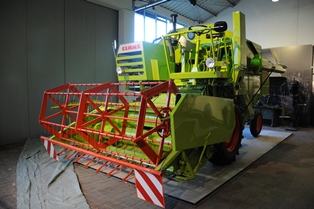 The Claas Giant Matador combine series was built from 1960 to 1969 and a total of 17,441 machines were built.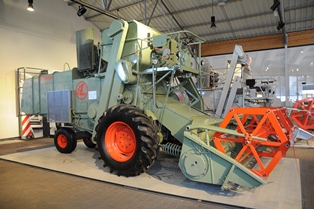 1913 – August Claas started his company
1919 – Built first Claas building in Harsewinkel
1921 – 1st patent , the ClaasKnotter (Today the company has 6000+ patents)
1934 – Built 1st pick-up baler
1936 – Engineered and manufactured the 1st combine for Germany
1946 – Production began for the Claas Super combine
1953 – Produced its 1st self-propelled combine
1973 – Made its 1st self-propelled forage harvester
1995 – Introduced Lexion combines
2001 – Opened Omaha manufacturing facility
2003 – Opened production of tractors in Le Mans, France
2005 – Opened Russian factory
2008 – Opened production in Chandigarh, India for rice combines
2010 – 1000th Xerion produced
2013 – Will be the 100th anniversary for the company