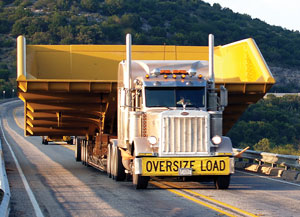 Ports-to-plains corridor is on a roll
Any farmer from a rural western town knows a thing or two about self-reliance and hope. The endless sweeping vistas are a simple reminder that it's a long way to a market.
A general lack of opportunity forces many to search for sunshine on their shoulders in other parts of the U.S., but that is starting to change. The wild west is getting restless again on the coat tails of the North American Free Trade Agreement (NAFTA), the energy boom and a consensus in Washington that we need to address our nation's aging infrastructure.
The ports-to-plains trade corridor (PPTC), a boots-and-18-wheeler version of Asia's Silk Road, comprises three major two- and four-lane expressways running north and south. Hooked together, they form a 2,333-mile trade route from Laredo, Texas, to Canada at the Port of Raymond in Montana.
Where transportation leads, investments and prosperity soon follow, says Joe Kiely, vice president of operations for the Ports-to-Plains Alliance, a bipartisan nonprofit organization that promotes policy, trade and investment priorities in the PPTC.
"When we looked at the economics and what moves along that corridor, we saw that energy and agriculture were the major products," says Kiely, who oversees the Heartland Expressway, which runs from Limon and Denver, Colo., to Rapid City, S.D.
The $105 billion transportation bill signed into law in July, an extension of the bill passed in 2005, provides two years of funding for corridor projects. This should benefit PPTC roadways from Texas to Montana by widening highways and adding passing and entry lanes in congested traffic areas such as North Dakota's oil fields.

Kiely says the goal is to have four lanes running the full length of the corridor: one safe and smooth expressway to carry petroleum, gas and agricultural products from Mexico to Canada.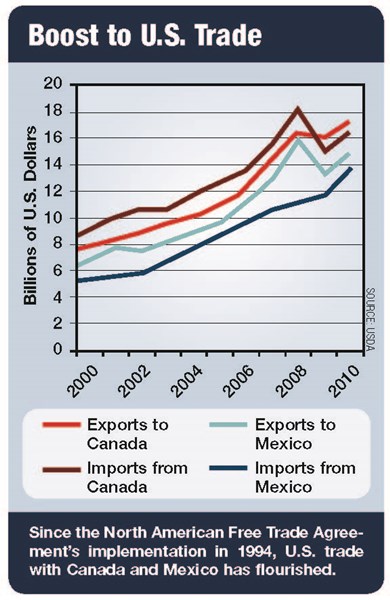 It was NAFTA's promise of open enterprise, free of regulations, and the success of a trade corridor segment of I-35 that runs from Laredo to Oklahoma City that created the impetus for a north-south trade route, according to Michael Reeves, president of the Ports-to-Plains Alliance. NAFTA's north-south trade orientation created a catch-up situation. "Most of the interstate [highway] system was built east-west, so there was a lack of north-south corridors, especially in the western part of the continent."
NAFTA imports and exports for Canada, the U.S. and Mexico have steadily climbed. In 18 years, the U.S, has more than tripled exports to its trade partners. That means a lot more trucks on the roads and railcars on the tracks.
"NAFTA has been a large benefit for Texas producers," says Steelee Fischbacher of Texas Wheat Producers. "We export half of the wheat we grow in Texas, and building that export demand provides a boost in farm prices."
Steve Mercer of U.S. Wheat Associates agrees. "Mexico is consistently one of our bigger customers. The U.S. exports an awful lot of wheat into Mexico via rail, which is a very efficient way to move wheat from one NAFTA country to another." Average sales to Mexico run 2.8 million metric tons per year, he adds.
Energy boom. Reeves gushes about Texas energy sources such as the oil wells now pumping overtime in the Permian Basin. With the advent of hydraulic fracking, he says, there is more exploration into new areas.
"Further south, we're seeing a ton of Eagle Ford Shale development, which is having a huge impact on the region," he says. As in North Dakota, road upgrades and an expanded work force are needed.
This expertise in extracting oil and gas from reserves and the manufacture of pumps, pipes and other equipment has created a market in Canada. "The amount of oil and gas trade between Alberta and Texas is amazing. Alberta's economy is so hot that there's a labor shortage. They have to ship pumps and steel in from Texas," Reeves says. "About 170 Texas companies supply equipment, parts and services."
Another natural resource that the PPTC is taking advantage of is wind. Reeves says the wind power industry is developing within the PPTC region, though it has slowed with the recession and the expiration of tax credits.
He says there is a wind turbine manufacturing opportunity because of the size of turbine parts and the expense of shipping them. "The parts are so large that you have an advantage manufacturing near the final destination." Texas has its own power grid through the Electric Reliability Council of Texas, but the wind doesn't blow where the grid resides. The state of Texas recently committed money to build transmission lines to carry wind-generated electricity.
Heartland Expressway. In Kiely's territory, the economic activity is all about supporting traffic between the Canadian and Mexican markets with a truck-stop steak dinner and a fill-up.
"We're certainly seeing more trucks. Lincoln County [Limon, Colo.] has the second highest per capita retail sales in the state of Colorado," Kiely says. That comes from all the services associated with trucking, such as gas, restaurants, motels and quick-stop shops.
The excitement hasn't bypassed Colorado. "It's just booming," Kiely says. "We're seeing a significant number of wells being drilled in Lincoln County, and there hasn't been oil activity here in 20-plus years."
Road rage. The Theodore Roosevelt Expressway is a heavily traveled, mostly two-lane road that stretches from Rapid City, S.D., to the Montana-Canada border. The mix of tourist and agriculture-related traffic, with ever-increasing truckloads from the oil fields, is creating a dangerous situation, says Cal Klewin, executive director of government relations for Bowman, N.D., and project coordinator for this portion of the PPTC.
The issuing of overweight-overwidth permits has increased by a third in the last year, according to state transportation records. Klewin says it's not uncommon to see fed-up drivers improvise a third lane on the two-lane stretches.
With all the growing pains, Klewin sees a silver lining: "Our agricultural trade has more than doubled to both Canada and Mexico. We can't sit here and eat each other's hamburger—it has to be shipped somewhere."
While many states face budget deficits, rural towns in the Dakotas and Montana are prospering. It's not only the luck of having oil and gas fields in their backyard, but the commitment of chambers of commerce, rural banks and other civic cheerleaders to go after federal money and outside investment.
Washington-based United Grain Corporation is constructing an $18 million elevator and shuttle train facility in southwest North Dakota, says Ashley Alderson, executive director of the Bowman County Development Corporation. This should help the grain basis for local farmers (but also a competitive wage problem between the oil and agriculture industries).
"For years, we were worried about migration of the young," Alderson says. "Now everyone is proud of what's happening and excited about what it means for rural communities."
To learn more about the importance and challenges of maintaining America's infrastructure and how that impacts agriculture, go to www.FarmJournal.com/from_field_to_port
---