The annual harvest dance of combines, grain wagons, semi trucks, bins, dryers, trains, barges and ships requires new choreography each year. On-farm logistics are determined by both your crop and field conditions and by local and even national and international factors that may lead to unexpected basis levels.
Basis has been erratic in many areas (see "Market Strategy,", for one example). "Some of the basis differences are due to quality," says Diana Klemme of Grain Service Corporation, a consultant to elevators. "The Gulf is buried under barges that are less than No. 2 yellow corn, waiting for better corn to blend in. That pushes barge freight rates higher, which weakens upriver basis."
These aberrations are occurring in a context of an overall widening, however. "From 2005 to 2008, the basis for soybeans in Nauvoo, Ill., widened from –21¢ to –78¢. At the same time, basis at the Gulf of Mexico went from +45¢ to +48¢," reports Jay O'Neil, senior ag economist at the International Grains Program at Kansas State University. Whether this is related to increased transportation costs, rising cost of doing business at elevators or a switch from a "supply push" to a "demand pull" market, it means bigger basis risk and, in some cases, more reliance on on-farm storage.
"This year's harvest likely will be 180 degrees from last year," says Jerry Gulke of the Gulke Group. "Minimum storage charges are being pushed a month earlier due to the fast maturation of the corn crop. No doubt I will harvest some No. 2 corn at 15% moisture and 56 lb. this year that I can easily store, leaving the commercial facilities sitting idle. No doubt also there will be surprises in national yield not being what it appears due to the fast maturity, rather than the prolonged kernel fill we are used to allowing for. We may see early harvest lows in September.
"I suspect that with what appears to be a record export year for the U.S. for all grains combined, barge freight and rail rates will likely explode and another segment of our agricultural food chain will benefit at the producer's expense. Our basis will reflect those increasing transportation costs," Gulke says.
   
Commercial Storage. Some of the basis variations may be related to local storage availability. "We may have the biggest total volume ever this year of corn, soybeans and wheat on hand," Klemme says.
"There probably won't be severe storage shortages on a widespread basis," adds Terry Barr, economist for CoBank. "Old crop has been moving the past 60 days. Some is still around that needs to be blended, so those harvesting good No. 2 corn early may get premium prices for it," he says. "The wheat rally has gotten some farmers to move their crop to make room for corn and beans."
Steve Beier of The Andersons, an elevator chain in Ohio, expects a split harvest, with some available in late September and some coming in the more traditional fall harvest window. "By the time the later crop comes in, the early corn may be gone, especially with good export interest," he says.
The eastern Corn Belt is accustomed to piling corn on the ground, and it is easier to move into export channels there. Elevators offer deferred pricing contracts and other tools, and farmers are used to them. In the northern and western reaches of the Corn Belt, on the other hand, storage facilities that have stood empty for years now are full to overflowing.
"Wheat acres have been shifting to corn," Klemme points out. "Western capacity was ample until recent years. In eight years, we've gone from a 1 billion bushel excess to a 1.5 billion deficit, and basis is being affected. I don't think farmers fully appreciate that this will be a continuing issue. Those signing 2011 hedged-to-arrive contracts thinking they won't see –$2 basis again may regret it next year."Elevators and farmers are building capacity to handle the added bushels from corn, but that will not happen overnight," she adds.
DeBruce Grain, headquartered in Kansas City, Mo., for example, is expanding its elevators, barge fleet and train-loading facilities in the U.S. and Mexico. The company's physical assets and new business could double in three to five years, according to management, based on the expectation that domestic and international demand will grow as fast as or faster than they have in the past five years.

Transit Needs. The U.S. lays claim to the best infrastructure in the world—and agriculture uses every feature of it, from rural roads to ocean freighters. Agriculture earns the top ranking as a user of transportation, accounting for 31% of all ton-miles in 2007, for example.
A recent study conducted by O'Neil Commodity Consulting for the Soy Transportation Coalition reveals just how close the tie is between transportation costs and farmgate prices. Over time, all general increases in transportation costs are primarily absorbed at interior locations, according to the study of 36 soybean-loading facilities in seven states.
When transportation costs rise, basis at inland locations worsens (see graph below). The same does not hold true at the export terminals, such as New Orleans, where basis tends to move in the same direction as transportation costs. Not only does the inverse relationship appear at all interior locations studied, but it is true of all modes of transportation.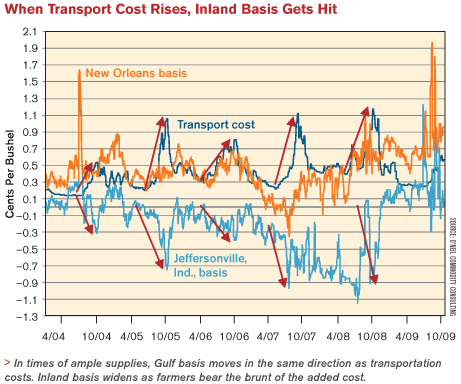 This summer, diesel prices are running 15% more than the same time last year, putting an upward bias on transportation costs.

Supply or Demand. There is a difference in basis effects between years of supply push versus demand pull, however, reports Kansas State's O'Neil, who is also a principal at the consulting firm. During demand pull periods, the rural locations didn't suffer the entire increase in transportation cost, the study found. During supply push periods, on the other hand, the basis drop was greater than the change in transportation cost.
"It makes perfect sense that the party most in need of moving the grain pays the greatest share of the freight cost increase," O'Neil explains.

Trucks. Trucking is critical for American agriculture, carrying 70% of the agricultural, food and forest products; alcohols; and fertilizers. Trucks link farmers, ranchers, manufacturers and service industries to grain elevators, ethanol plants, processors, feedlots, markets and ports.
Forty-four percent of farmers own a grain-hauling truck other than a semi and 33% own semis, found a 2009 Farm Journal Media survey with more than 500 respondents.
That may be a good thing this year. Since the recession began, a number of semi-truck carriers sold their equipment and went out of business, reports Tuck Jasper, CEO of Covered Logistics & Transpor-tation. "Much of this equipment is not available for use now as the very slow recovery takes place. This has created an equipment capacity shortage, which in turn has caused higher rates per mile compared to last year's harvest. The best advice is to plan as far ahead as practical for equipment needs," he says.
 
If, on the other hand, you have a semi and labor available, you may be able to serve unmet demand.

Rails. The rapid consolidation of the railroad industry has resulted in greater efficiency, profits and better health of the industry but a reduction in competition and less flexibility in routes. Almost 75% of USDA's crop-reporting districts lost rail competition from 1992 to 2007.
In a recent USDA study, railroad fuel surcharges more than covered increased fuel costs—by 55% to 137%. Nationally, rail rates for grain and oilseeds are higher than those for other commodities and the rates have increased more rapidly since 2003. For example, between 2003 and 2007, rail rates for grain and oilseeds rose 46%, while all other commodities rose 32%.
Prior to the recession that began in late 2007, rail capacity constraints were common. Now, weaker demand for rail freight transportation has resulted in adequate rail capacity for agricultural products.

Barges. Barges move more than a third of our corn exports and 17% of our soybean exports down the Mississippi River and Illinois Waterway to New Orleans. The market share of grain moving by barges has been slowly shrinking for a number of years, and traffic on these waterways has declined.
When 1980s tax breaks brought many new barges into the fleet, the resulting surplus depressed rates, and because barges are designed to last 25 to 30 years, the surplus period lasted a long time. As barges were damaged by Hurricane Katrina and as they reached their life expectancy and were retired, they have not been replaced, causing rates to rise in recent years.
Given the smaller fleet, barge rates can be volatile as they react to sudden increases in demand and competition. Volatility and costs have skyrocketed since 2004.
Ships and Ports. U.S. ocean ports provide the gateway for an estimated 70% of U.S. ag exports. About 49% of the total quantity—notably grain and frozen poultry—moves through the U.S. Gulf region, which is followed by the Pacific Northwest.
As a result of record export demand in 2008, ocean freight rates dramatically rose to levels not seen in a decade. Then, in the first half of 2009, the worldwide economic downturn caused rates to significantly drop. By early 2010, however, rates began to rebound to approach their pre-2008 levels.
The industry order book for new vessels and new building activity indicates continued growth in the fleet, however. Grain-suitable dry bulk vessels on order until 2015 equal about 63% of the existing fleet. As a result, USDA reports, vessel supply will likely continue to increase, keeping the cost of shipping in check until the recession-stalled demand growth catches up.
---
Top Producer, September 2010