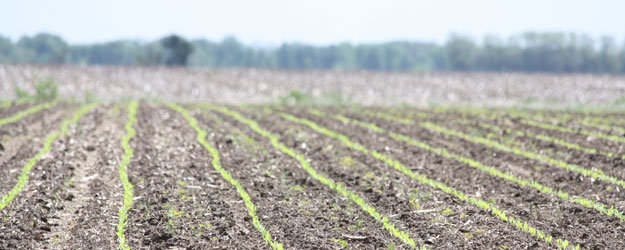 It was a mixed week in the grain markets as corn and wheat ended the week with solid gains, while soybeans closed almost $.25 lower for the week.

The corn market started the week with solid technical action, as Monday's trade resulted in a reversal higher. Followthrough on Tuesday stopped at the 100-day moving average; however, the violation of that area on Wednesday lead to a sharply higher close of up $.20. Wednesday's trade was aided by talk of a high pressure ridge that may threaten Midwest growing conditions. Late-week trade was dominated by a broad-based selloff that saw the Dow slide nearly 400 points lower and gold trade nearly $100 lower on Thursday.

As the trade resumes next week, much of the attention will be focused on next Friday's Grain Stocks and Acreage reports. Friday's reports will not answer all questions however, especially as it relates to U.S. acreage. Producers will receive an official number that they can work into their balance sheets in order to formalize a marketing plan. However, given the late pace to planting, especially in the Northeastern Corn Belt, there is a strong potential for a re-survey to be announced for the latest affected states.

The official prevented planting data will also be available later this summer.

In addition to next week's report, traders and producers will be watching closely the positioning of the high pressure ridge currently out West. The mid-day maps had that ridge located over the Rocky Mountain region, which should allow rain chances for the Northern and Eastern Corn Belts. Any forecasts that indicate movement of this ridge further east over the next few weeks will grab the attention of the market and could see significant weather premium added to prices. Producers that do not have enough new crop inventory priced should look to take advantage of these rallies over the next few weeks.

Meanwhile, producers that are aggressively priced to date can look at early-week weakness to use short-dated options as upside protection from heat and dryness in July. Volatility and marketing emotions will undoubtedly be high over the next couple of months. Producers should use the tools available to reduce some of that emotion and get to a comfortable level in which to ride out the swings associated with a summer weather market.
(Click to see larger image)