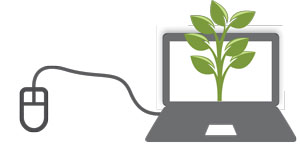 By Rhonda McCurry
Schools provide range of agribusiness courses
Three titles best fit Tracy Brunner of Ramona, Kan. He is a farmer, a rancher and an agribusinessman. That third designation is held by a growing group of ag professionals who turn to online classes to advance their careers.  
After earning a bachelor's in agriculture from Kansas State University, Brunner began managing his farm and ranch full-time. In 2000, he realized he needed to enhance his business sense but did not have time to return to campus. Instead, he enrolled in an online master's in agribusiness (MAB) program from his alma mater. 

"I had never considered myself graduate school material, but the professors and staff were all very patient and helpful," says Brunner, who manages Cow Camp Ranch with his brothers, Mark and Kent, and a nephew, Nolan. "The MAB education has helped me form a better business decision-oriented approach, a global perspective and a true return on investment evaluation process. I consider myself not just a worker but also a manager with alternatives and choices to evaluate and directions to choose for our family farm and business."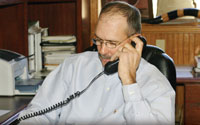 Enrolling in the online master's in agribusiness program at Kansas State University enabled rancher Tracy Brunner to learn management skills while working full-time on his family's cattle operation in Ramona, Kan. 
Across the country, schools provide Internet-based opportunities for farm executives to gain a competitive edge through education at the undergraduate and graduate levels. 

Among those institutions are Kansas State and Penn State University, two schools whose programs illustrate the diverse options available to top producers looking to build their skills.

Distance courses were a perfect fit for the busy Brunner, whose family's operation features a diversified seed stock and commercial cattle program with purebred Simmental and Angus as well as SimAngus cows. In addition to managing nearly 600 head of cow-calf pairs, the family grows crops and manages an 8,500-head-capacity feedlot as well as a bonded cattle-dealer business. 

The agribusiness program at Kansas State began in 1998 with a class of 12 students mostly from the Great Plains. By fall 2013, enrollment had increased to 45 students from around the world. The program has educated students from 40 states and 35 countries, program director Allen Featherstone says. 

At 2 ½ years in length, the program spreads out coursework to be manageable for students with full-time jobs. Quantitative courses challenge students to think critically and manage risk. Classes cover subjects such as logistics and food supply-chain management. 

"Our goal was to fit the need for those who want to enhance their economic skills and make better decisions for the sector they're in," Featherstone says. "There wasn't much to model after in 1998, when we went fully online, so we listened to food and agribusiness companies and put together basic concepts in contact with the food system. We modified the traditional MBA in theory to make it fit with the food, ag and technology sector."
"The mab education has helped me form a better business decision-oriented approach."— Tracy Brunner
The program also requires students to write a thesis about a challenge that an agribusiness faces. They must analyze the issue and propose a solution using concepts learned during their studies. Doing so helps graduates think critically, anticipate potential issues, and master time management and decision-making skills. 

"One student, who was a producer, said he used to farm to minimize his taxes," Featherstone explains. "After the program, he realized that was not a way to manage a farm. A lot of students come to us from the food-production sector with issues to solve. As the population grows around the world, we are paying a lot of attention to what students are interested in and modifying the courses and the program to address those issues." 

Students from the U.S. and abroad enroll in the online Penn State World Campus, from which it will soon be possible to earn a bachelor of science in agribusiness management. The program also is provided on-site at Penn State University. The university began to offer online degrees and certificates 15 years ago. Today, a total of 13,000 students are part of the World Campus.

"We created an online program for professional development for those who can't get a pen and paper and sit down for an hour-and-a-half course," explains Spiro Stefanou, undergraduate coordinator for the in-residence program. "They need to work at a pace that fits their schedules. We've incorporated a more structured way to use the materials students would see in class but deliver them in a useful way for online students."

Penn State's online program began this fall, and applications continued to arrive in the runup to the semester. Stefanou anticipated students from the U.S., Malaysia, Korea, Japan and the Middle East to attend. 

"We think there is big demand for the business management concept of ag and the food system," he says. "About one-fifth of U.S. gross domestic product is coming from the agri-food system. Much of what a farmer produces goes to other markets, food manufacturers, processors, distributors, food retailers and, finally, consumers." 

To address that demand, the program begins by exposing students to principles and concepts of agribusiness and marketing. A quantification course helps students implement what they have learned. Next, more in-depth courses provide insights into consumer behavior, food marketing, global agribusiness, decision-making, price forecasting and futures markets. The program integrates information about supply chains, marketing, management and finance, and concludes with a capstone in which students identify market opportunities for agribusinesses based on company objectives. 

The program is designed so students can pick up courses on weeknights and weekends, and students do not have to complete their degree within a specified time frame. "If someone is coming in with credits, we are flexible to allow their previous learning experience to count toward the degree program," he says. Students often bring tangible benefits to their respective employers as part of their education. At Kansas State, one agribusiness graduate reworked the logistics of his food company's transportation model. The company changed the way it ships products from Central America to the West Coast, saving $120,000 per month in transportation costs, Featherstone recalls.

That story and others demonstrate the value of an agribusiness degree.

"It improves their decision-making and gives them more information at their fingertips to make those important decisions," Featherstone says.