The Association of Equipment Manufacturers (AEM) has released its monthly sales report for the U.S. (for the full report, click here)
Total unit sales are below the five-year average but higher than in the previous three years.
For the month of September 2012, total two-wheel-drive tractor sales were up 2.8% compared with data from 2011. Four-wheel-drive tractor sales were up 4.9% compared with 2011, while combine sales rose 7.9 percent.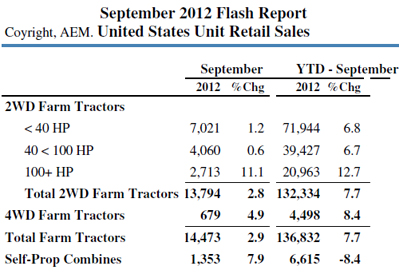 A year-to-date comparison shows total farm tractor sales are up 7.7% and combine sales are down 8.4%.