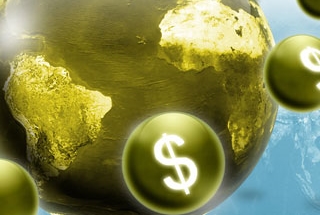 How does North American ag feel? Cautiously optimistic, says Dave Kohl, ag economist, Virginia Tech University.
"Ag is in transition," Kohl notes. "That's not all bad. What we are coming off is the great commodity super cycle that hit rural areas and ag areas worldwide."

Kohl explains the ag economy has had four super cycles since 1910. The first happened about the time of World War I, and the second occurred after World War II when President Eisenhower introduced the interstate system, sent GIs to school and reconstructed Japan. The third super cycle occurred in 1970s, when then-U.S. Secretary of Agriculture Earl Butz said, "Plant fence row to fence row."
That kicked off commodities worldwide ahead of the debt crisis of the 1980s, Kohl explains. "The next super cycle started in 2002 and lasted a full decade." Headed out of that super cycle, here are three of the issues producers should monitor as they do strategic planning this year:
Slowing Economies In Emerging Nations. The countries of Brazil, Russia, India and China (BRIC) along with South Africa, South Korea, Mexico and Turkey represent 53% of world economic growth. In recent years, they demanded food, fiber and fuel. U.S. farmers responded with higher agricultural production. Yet emerging nations that once enjoyed economic growth up to 9% now grow at 4%, indicating a slowdown. As a result, the health of commodities such as oil, copper and steel will be affected.
Biofuels And Ethanol. These products proved game changers. Yet the recent decline in oil prices is worrisome to Kohl. "Since the '60s, in every major economic recession, oil has had a role," he says.
Central Bank Stimulus. Fully 40% of farmland value has been linked to central bank stimulus. "They devalue the dollar and keep interest rates low artificially," Kohl explains. "In 2007, I could not have predicted interest rates would stay low for seven years. It has kept land value high and ignited commodity values. Europe and Japan headed for deflation. That has strengthened dollar, and that impacts your bottom line." 
---
Market Stories Want more? AgWeb readers are sharing fresh marketing insights every day. Click here to join the conversation, or to start your own.