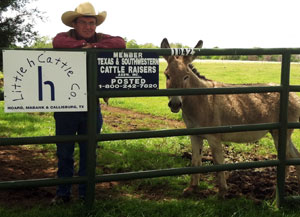 Financing your farm doesn't have to be complicated. Start by finding the right bank and the right loan officer for your needs.
By Joel Harlow

I have been fortunate enough to spend my 30-year career in banking, chiefly agricultural banking, originating agricultural real estate and operating loans. With the changes in the banking industry, agricultural finance is a challenge. As Texas urbanizes, there are fewer and fewer banks with the willingness or desire to serve the agricultural sector. In the areas of Texas where banks are headquartered in urban areas and have branches in the rural areas, many no longer have the staff expertise to make and service these loans. Many consider agricultural lending too risky, too time consuming, and just not worth the trouble. There are easier loans to make, and it is not easy money. Many banks would rather make standard consumer, commercial and real estate loans than devote the resources necessary to service the agriculture community.

I have enjoyed agricultural lending both on large scale and small scale, and I do not consider these loans any riskier than any other type of commercial loans. The loan is as good as the borrower. If the borrower has managerial ability, character and adequate financial resources to weather downturns in the market, the loan is as low risk as any other commercial loan.

That being said, as a producer, here are some guidelines for financing your operation:
 
Choose the Right Bank and the Right Banker.
One of the first and most important issues pertaining to agriculture finance is finding the institution that fits your operation and the lender who understands your operation and what you are trying to accomplish. If you are looking to finance a multi-million dollar operation, you are going to want to go with a bank with the resources and capital to meet your needs, especially if expansion is in your future. One good way to see if a bank is right for you is to look at their annual reports; commercial banks can be found on the FDIC website (www.fdic.gov). If dealing with a Farm Credit System Association, the associations publish their annual and quarterly reports on their respective websites.

Look and see how involved the bank is in agricultural loans. What is their agricultural loan volume compared to their volume in other types of lending?

Visit the Bank
Visit the bank and ascertain their maximum lending limit to one customer and the comfort level of the institution in approaching this limit with one customer. If your credit needs are close to the maximum lending limit of an institution or you feel that additional credit in the future will be needed that will exceed their lending limit, you will be better served to find a lender with a larger lending limit.

If you have a smaller operation, say, with a credit need of $1,000,000 or less, most community banks in rural areas will have the ability to meet your needs. There are larger community banks that are very comfortable with agricultural lending and can handle a lot larger lines. However, a producer needs to see whether or not the bank has the expertise in agricultural lending and whether they are comfortable with agricultural loans. This can be determined by visiting with the loan officer with whom you will be dealing. Explain your operation, your credit needs and your future plans. You will know within a few minutes whether or not the loan officer has the knowledge, background, expertise, and desire to finance your operation by the questions he or she asks, his/her look and demeanor, and the amount of interest shown.

If you receive negative feedback, say, "Thank you for your time," walk away and find another source of financing. Your gut will tell you whether they have any interest or not, and do not waste time if the interest, ability and experience are not there. They may wind up making the loan; however, they will never be comfortable with it, and if the lender is not comfortable, there is no basis for a relationship.
Talk with Fellow Producers
Find out what kind of relationship they have developed with a particular lender and whether that lender is the type that will stay with you when times get rough. A good agricultural lender will work with a producer in times of market downturns, droughts, etc. Do not get with a "fair weather" lender. These lenders will loan when market conditions are good but will not stay with you when there is a downturn. Good agricultural lenders know that all markets are cyclical and will stay with a producer as long as there is light at the end of the tunnel.

However, this does not mean a lender is obligated to keep funding a non-viable operation. If an operation is viable and having a short-term downturn that can be resolved, he or she knows the best action that can be taken is to try to work out a plan because liquidation usually results in a loss. But fully expect that any lender will take action as necessary to protect their money if an operation cannot pull out of a downturn. He or she has an obligation to minimize the loss to their institution, whether it is by restructuring loans for a viable operation or seeking liquidation if the operation is not viable.

It is desirable, if not crucial, that your loan officer have some agricultural background. It is even better if your loan officer actually owns an agricultural operation because they will follow the market, the news, and will understand the ups and downs of the market. During my career, I have been responsible for hiring many loan officers to originate and service agricultural loans. I would take a loan officer with an agriculture degree (in any discipline of agriculture) who grew up on a farming operation, possessed mathematical ability, analytical skills and people skills over an Ivy League graduate with an MBA in finance, any day of the week. The ability to analyze the financial data on an agricultural operation and make a loan decision can be taught a lot easier than teaching the agricultural industry. Unfortunately, this line of thinking is not as prevalent in the industry as it was 10 to 15 years ago. I know the value of a loan officer who understands agriculture after hearing too many stories of loan officers structuring agricultural loans with monthly payments when the income stream was on an annual basis.
Go for a Good Fit
Stay away from the lender who wants to tell you how to run your operation. You are there every day and know the operation much better than the lender. Explain your operation and your plans to the lender. If he or she is in agreement with your plans, has a comfort level with your financial condition and the loan request fits the bank, then they should make the loan and stay out of the way. If they do not agree with it, then they should not make the loan.

If a lender does not agree with you, this does not mean the lender does not know what they are doing. It may be that your operation is just not a good fit in their lending institution. (Producers do not even agree with each other on management.) It is better to find another lender who is in agreement with your plan of operation than to have a lender who wants to tell you how to manage it. This does not mean the lender should not have a lot of questions for you and ask you why you are taking a certain action. But you will be able to tell by the questions he or she asks whether or not they have a comfort level with you, whether your respective philosophies on agriculture are in agreement and whether they have an adequate knowledge of the agricultural industry.
Look for a Quick Response
Make sure your loan officer has the authority to make day-to-day decisions regarding simple or minor requests you may have, and make sure they are available after banking hours. All producers I finance have my cellphone number and my home phone number and know they are welcome to call me any time if they have an issue. I actually end up talking to my agricultural customers after hours and on weekends more than I do during normal business hours. If they are at an auction and need to buy cattle or equipment, I have the ability to get them an answer within a short amount of time, even if the request is above my authority. It is a red flag if you call your loan officer with a relatively simple request and he or she responds, "I will need to take that to committee and see whether we can approve that or not."

A good loan officer may have to "call the boss" to get a simple request approved, but the loan officer should have a relationship with management that would allow a response in a reasonable amount of time. That being said, do not expect that the loan officer will be able to approve a major request on the spot, but he or she should be able to handle those day-to-day issues within a few hours.

In summary, choose a bank that is comfortable with agricultural loans, has the ability and size to finance your operation, and has the knowledge, background, and experience on staff to meet your needs. Make sure your loan officer has a good relationship with bank management so that decisions can be made in a timely manner, is available after hours to assist you, understands the ups and downs of the market, and will stick with you as long as there is light at the end of the tunnel.