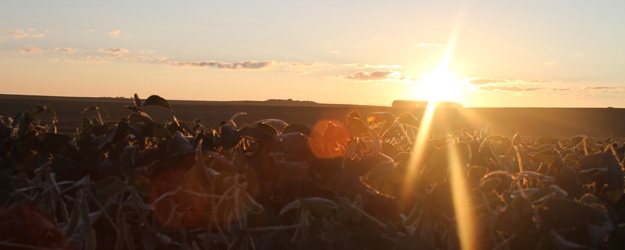 High crop prices and stable inputs could add up to strong farm incomes in 2013
If current trends continue -- prices for corn and soybeans remain high and input prices hold steady -- farmers could wind up having a "very good year" in 2013, according to Gary Schnitkey, an agricultural economist at the University of Illinois.
Schnitkey recently ran the numbers for a theoretical 1,200-acre farm in central Illinois with above-average soil conditions and 60% cash rents. He'd expect this small commercial farm to produce corn at 187 bushels per acre, based on a 20-year, straight-line historical projection, and soybeans at 54 bushels per acre.
"Sitting here today, using trend-line yields and [anticipated] prices for the futures market, we're looking at a high income yield for 2013," he said. Specifically, Schnitkey's hypothetical farm should produce $298,000 in net income next year, an improvement over $228,000 in 2012, assuming the farm took out high-level insurance and didn't do pre-harvest marketing.
The 2013 forecast is based on a relatively conservative price of $5.80 a bushel for corn -- the price of current futures contracts minus 30 basis points for safety's sake – and $12.80 for soybeans. The economist projects that non-land costs will be essentially flat next year: Seed costs may increase, but fertilizer costs may fall. He also expects insurance costs, which are based on 20-year actuarial tables, to hold steady.
Schnitkey's 2013 forecast assumes that farmers will take out "high-level" crop insurance, which was the secret to success in 2012. His analysis shows that farmers who did that, and didn't hedge too much of their crop in the spring, should wind up having a pretty good year in 2012, despite the drought.
"One of the things causing large payouts this year is that the policies that most people took were revenue protection policies that had a guarantee increase in it," he said. "It operated exactly as it should. The guarantee went up and the price went up."
Schnitkey estimates that about 60% of farmland acreage in Illinois was covered with high-level insurance, which he defines as revenue protection of 75% or higher or a drift policy that will offset yield declines. Of the 20% that wasn't insured, most of the land was owned by share-rent landlords. The remaining 20% was insured but not a high level.
2012 returns, which of course won't be known until early next year, will be dramatically influenced by how much hedging went on in the spring. The economist can't fault farmers for making a spring sale at $5 to $5.40. "In May, it looked like we were coming for a pretty good year," he said.
Aside from neglecting to secure insurance, falling crop prices are the big downside risk to Schnitkey's 2013 income projections. Corn prices, which have averaged $4.33 per bushel since 2006, were of course well above this baseline in 2012.
"Just to give you a feel, in 2009 our average price in Illinois was $3.53. That may seem like a long time ago, but we can get low prices."
Schnitkey doesn't expect prices to fluctuate much between now and February, though. During the last 20 years, corn prices have fluctuated at most 10% from December through February; soybeans no more than 18%. History, he says, suggests that corn prices will top $6.00 and soybean prices will come in above $12.75.
Schnitkey expects cash rents to rise again next year, though the rate of increase may slow. He expects cash rents in Illinois, based on USDA data, to rise from $183 to $212 per acre. Farms with average cash rents have "little chance" of losses in 2013.
Under Schnitkey's worst-case scenario, which foresees a big revenue decline likely stemming from lower prices, income still comes in at about $47,000, assuming an 80% revenue-protection policy. The forecast also assumes no increases in input prices.
The biggest danger to projected income in 2013 is falling prices, not yields, Schnitkey says. Lower yields would probably just push up prices and protect incomes. "As you've seen from this year, low yields aren't necessarily bad for incomes, once you have crop insurance."

For More Information
Determine your cost of production for next year by using AgWeb's Corn Margins Calculator and Soybean Margins Calculator.
---