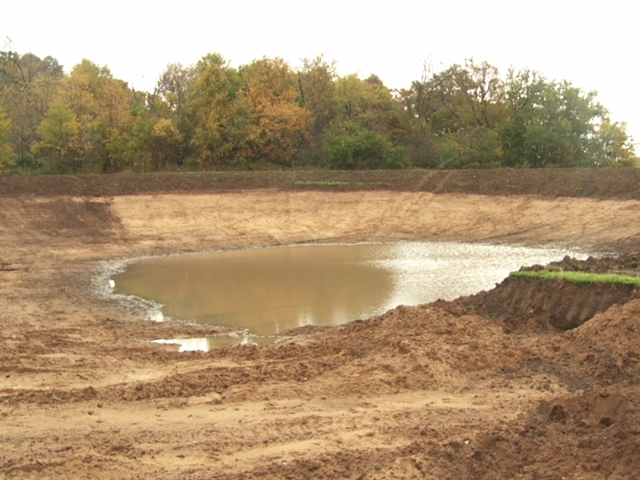 Creating a pond takes time, money, permits, and to do it right, more thought than you might expect.
This area of Jason Wykoff's farm is always underwater. So, he decided to dig.
"Because it's been a hole and water and has always sat out there, we thought we should build a pond out there. We should do something," said northern Indiana farmer Jason Wykoff.
Before the Indiana farmer sunk an acre of land, he met with a contractor for help.
"He brought equipment over and we took some shots of how water levels could be and how big we could make it," said Wykoff.
Watch the AgDay report here:
That contractor, Mike Kelley with KFex Incorporated, says no matter how big you want your pond, it needs to be deep, especially to keep ecosystems alive. "Here it freezes pretty hard. You would want it at least 10 feet," said Kelley. For low-lying areas, that's even deeper. "We've dug a lot of ponds 12 feet deep. We come back a year later and the whole pond as risen four feet," said Kelley.
The next step and one of the biggest problems is preventing fertilizer run-off. "We build a berm up around it and it was his opinion to have a bank a vegetation bank, to keep it from running over the top," said Wykoff.
Then there's a problem with pests. "You want to keep your banks slightly sloped as possible, especially around here because of muskrats. If banks are too steep, the musk rats will get in and undermine your banks. If there is sand below, you'll have to use a liner like clay," said Kelley.
If you pick a liner like this one, the bottom needs to be level. "That liner will have to be glued and taped together, so we want it as good as we can for that purpose," said Kelley.
Kelley says it's a good idea to have water ready before the liner goes in. "If the liner gets in and you have a big wind, it could be a bad day," said Kelley.
Once it's finished a well-built pond can pay off in a multitude of ways. "We just never got around to it until we needed dirt. Now this project has worked and worked out really well," said Wykoff.
Kelley advises if you are digging a pond, to make sure you have an area to get rid of the soil. It's a big expense if it needs to be trucked far, but he doesn't advise farmers to use the sand they might dig up for top soil.