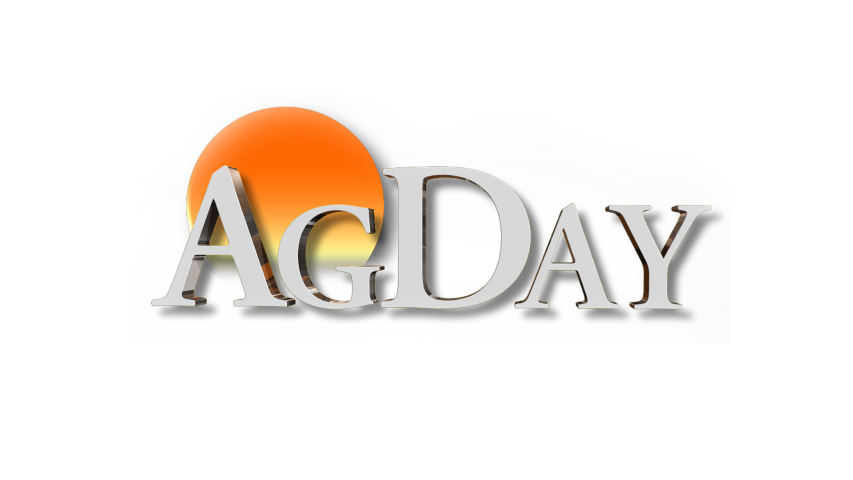 TODAY ON AGDAY
AUGUST 29, 2017

HEADLINES
HARVEY ROLLS INTO TEXAS--WE'LL LOOK AT THE IMPACTS TO FARM COUNTRY. PLUS, THE LATEST CROP PROGRESS NUMBERS FROM USDA. IN AGRIBUSINESS...IS THERE A STORY CAPABLE OF SPARKING A SOYBEAN RALLY? MACHINERY PETE SHOWS US HOW TO ZOOM IN ON PRICE TRENDS AND FOCUSING ON SOIL RESEARCH IN TENNESSEE  AGDAY - PRESENTED BY CHEVY SILVERADO. HIGH-STRENGTH STEEL FOR HIGH-STRENGTH DEPENDABILITY.

HURRICANE HARVEY
GOOD MORNING I'M CLINTON GRIFFITHS. MORE RAIN AND MORE MISERY IN TEXAS  AND LOUISIANA AS THE REMNANTS OF HARVEY CONTINUE TO BATTER PARTS OF  THE GULF COAST. THIS STORY CONTINUES TO CHANGE BY THE HOUR AS SEARCH AND RESCUE  EFFORTS CONTINUE ACROSS A WIDE SWATH FROM SOUTHEAST TEXAS INTO  LOUISIANA. HARVEY CREATING CATASTROPHIC FLOODING AND HEARTACHE. BUT IT'S ALSO  REVEALING HERCULEAN EFFORTS TO SAVE COUNTLESS PEOPLE IN THE NATION'S  FOURTH LARGEST CITY. THE LOSSES ARE ALSO MOUNTING IN TEXAS FARM COUNTRY.  BETSY JIBBEN TALKED WITH SOME IN THE COTTON INDUSTRY ABOUT THE IMPACT  IN SOUTH TEXAS.  HARVEY MADE LANDFALL IN AN AREA OF TEXAS WHERE COTTON GROWERS  EXPECTED RECORD YIELDS.  MANY GINS THERE EXPECTING TO BREAK THEIR OWN RECORDS AS FAR AS  GINNING BALES THIS YEAR.  BUT AFTER THE STORM, SOME COTTON GINS MAY NOT OPERATE FOR THE REST  OF THE SEASON.  WHILE MANY IMAGES FROM HURRICANE HARVEY FOCUS ON FLOODED CITY  STREETS LIKE HOUSTON IT'S ACRES OF FLOODED FIELDS, OUTSIDE OF THE SUBURBS.  COTTON BALES BLOWN AND SATURATED THIS GIN NEAR WOODSBORO, TEXAS DESTROYED IN THE STORM.  HARVEY IS LEAVING ITS MARK ON THE AG. COMMUNITY.  IT'S JUST THAT WE WERE LUCKY ENOUGH THAT THE GIN GOT OUR COTTON OUT OF HTE AREA BEFORE IT  HIT. 59"FLOERKE SAYS HE FARMS NORTH OF WHERE THE EYE HIT. HE GOT MOST OF HIS  COTTON OUT OF THE FIELD AND COVERED BUT NOT ALL. "WE STILL HAVE COTTON IN THE FIELD IN ROUNDBALES IN PLACES, JUST NOT WHERE THERE WAS 125  MILE AND HOUR WIND."HE SAYS MOST OF THE ROUND BALES ARE IN BETTER SHAPE,  SOME WITH  MINIMAL WATER DAMAGE.  BUT A LOT OF THE CONVENTIONAL MODULES ARE  DAMAGED OR GONE.  'I DON'T HAVE A GOOD FEEL ON THE AMOUNT OF ACREAGE NOT HARVESTED.  CORPUS AREA, MOST  OF HTE COTTON WAS HARVESTED. THEY ONLY HAD A SMALL PERCENTAGE STILL AT THE FIELD. YOU GET TO  UPPER COAST, PROBABLY 50 PERCENT IS STILL LEFT OUT ON THE FIELD."4:50 THEY WERE WORKING HARD TO  GET THAT COTTON OUT. A LOT OF PRODUCERS WERE HARVESTING 24 HOURS A DAY ONCE THEY KNEW THAT  STORM WAS COMING IN." WILLIAMS SAYS AS OF THURSDAY- THERE SEEMS TO BE MIMINAL DAMAGE TO  WAREHOUSES."THERE'S NOT AS MANY WAREHOUSES AS GINS. WAREHOUSES IN GALVESTON, I HAVEN'T HEARD OF  FLOODING OR ANYTHING. I DON'T THINK THE WAREHOUSE IN CORPUS CHRISTI IS FLOODED AS FAR AS I KNOW - THOSE ARE THE BIG WAREHOUESE."I CALLED MULTIPLE GIN MANAGERS INSIDE AND OUTSIDE OF THE FLOODING  AREA. THEY SAY THEY JUST STARTED GINNING OR PLAN TO BEGIN IN A WEEK OR  TWO AND WITH SUCH A BIG CROP, THEY EXPECT TO BE BUSY.  DURING A MAJOR CRISIS LIKE THIS, AMERICANS ARE WILLING TO HELP. THE  AMERICAN RED CROSS IS THE LEAD AGENCY IN HELPING PEOPLE IN NEED. FOR RANCHERS AND FARMERS IN TEXAS, THE TEXAS DEPARTMENT OF  AGRICULTURE CAN ALSO PROVIDE ASSISTANCE DURING A NATURAL DISASTER.  IT'S CALLED THE 'STAR' FUND - "STATE OF TEXAS AGRICUILTURE RELIEF FUND". THE STATE AG DEPARTMENT SAYS IT IS ACCEPTING MONETARY DONATIONS TO  HELP PRODUCERS WHO WERE IMPACTED BY THE STORM. GO TO TEXAS-AGRICULTURE-DOT COME TO LEARN MORE ABOUT 'STAR'.

CROP PROGRESS
MEANWHILE, USDA IS ROLLING OUT ITS LATEST CROP PROGRESS NUMBERS. IT SHOWS DWINDLING CONDITIONS IN THE EASTERN CORN BELT FOR BOTH CORN  AND SOYBEAN CROPS. OVERALL 62% OF CORN IS GOOD TO EXCELLENT - UNCHANGED FROM LAST WEEK. SOYBEANS TICKED A POINT HIGHER - 61% RATED GOOD TO EXCELLENT. STARTING WITH SOYBEANS, ILLINOIS HAD A THREE POINT DROP. INDIANA WAS  UNCHANGED. IN THE WEST IOWA IS UP TWO POINTS, NEBRASKA IS UP FOUR, AND SOUTH  DAKOTA SOY SEEING A SEVEN POINT IMPROVEMENT. STATE BY STATE ON CORN - ILLINOIS, INDIANA, IOWA AND OHIO ALL SEEING  DECLINES IN CORN. MINNESOTA AND NEBRASKA ARE UNCHANGED. BUT SOUTH DAKOTA SEEING A  FOUR POINT JUMP. SIX PERCENT OF CORN IS CALLED MATURE, FOUR POINTS BEHIND AVERAGE. FOLLOWING FRIDAY'S RELEASE OF YIELD EXPECTATIONS  FROM PRO FARMER-- AG MARKETS SAW MINIMAL REACTION. CORN ENDING MONDAY'S FUTURE'S SESSION DOWN JUST A COUPLE CENTS. SOYBEANS OVERCOMING A DROP EARLIER IN THE DAY TO FINISH MOSTLY  POSITIVE.

NAFTA, TPP, TRADE
NEGOTIATORS OF THE NORTH AMERICAN FREE TRADE AGREEMENT ARE  PREPARING TO MEET AGAIN LATER THIS WEEK IN MEXICO. OVER THE WEEKEND PRESIDENT TRUMP TWEETING ONCE AGAIN HIS DISLIKE FOR  THE AGREEMENT AND PROGRESS THUS FAR...CALLING THE OTHER NEGOTIATORS  DIFFICULT. MEANWHILE, SENIOR OFFICIALS FROM ELEVEN COUNTRIES ARE MEETING IN  SYDNEY, AUSTRALIA, OVER THE NEXT FEW DAYS. THEIR FOCUS, THE TRANS-PACIFIC PARTNERSHIP. THE GATHERING FOCUSING ON A TRADE DEAL FOR THE PACIFIC RIM REGION. LEADERS HOPE TO FINISH THE MEETING BY NOVEMBER. THE U.S. PULLED OUT OF THE PACT SOON AFTER PRESIDENT TRUMP TOOK  OFFICE. MEANWHILE, CHINA AND INDIA ARE PROPOSING TO THE WORLD TRADE  ORGANIZATION THAT THE U.S.,  E-U AND OTHER WEALTHY COUNTRIES CUT THEIR  FARM SUBSIDIES. SAYING THAT THE $160 BILLION DOLLARS IN SUPPORT DISTORTS GLOBAL FARM  TRADE. CHINA AND INDIA ARE EXPECTED TO PUSH THE IDEA TO THE 164 MEMBERS OF  THE WTO. THE GROUP PREPARING TO MEET IN ARGENTINA THIS DECEMBER. BACK HOME, USDA RELEASING IT'S LATEST CATTLE ON FEED REPORT. CATTLE AND CALVES AT THE NATION'S LARGEST FEEDLOTS TOTALED 10 POINT 6  MILLION HEAD. THAT'S UP 4 PERCENT OVER LAST YEAR. PLACEMENT ROSE 3 PERCENT (1.62 MILLION) WHILE MARKETING CAME IN AT 1 POINT 78 MILLION--ALSO 4 PERCENT HIGHER. CATTLE MARKETS TRADED HIGHER ON MONDAY--FOLLOWING THE REPORT.

CROP COMMENTS
LETS GET A CLOSER LOOK AT WHAT'S GOING IN FARM COUNTRY. FOR THAT WE TURN TO OUR OWN METEORLOGIST MIKE HOFFMAN WITH TODAY'S  CROP COMMENTS. GOOD MORNING, CLINTON.  TODAY'S CROP COMMENT COMES FROM CODY GOODKNIGHT IN SOUTHWEST  OKLAHOMA. HE SAYS SORGHUM HARVEST IS IN FULL SWING. HE'S CUT ABOUT 400  OUT OF 16-HUNDRED ACRES SO FAR. GOODKNIGHT SAYS YIELDS ARE OK. HE  HOPES THE LATER PLANTED CROP WILL BE BETTER.  AND NOW HERE ARE SOME HOMETOWN TEMPS. 

TEASE
IS THERE A STORY CAPABLE OF PUSHING SOYBEANS HIGHER? WE'LL ASK THE  EXPERTS FROM CROP TOUR UP NEXT. PLUS...MACHINERY PETE STAY TUNED FOLKS COMING UP I'M GOING TO TELL YOU ABOUT MY THEORY OF THE WIDE LENS AND THE  ZOOM LENS FOR USED MACHINERY VALUES.AND WE LOOK BELOW GROUND TO SEE THE BENEFITS OF NATIVE GRASSES. DETAILS AS WE HEAD IN THE COUNTRY.

FLOOR OF THE CME
IN AGRIBUSINESS IT WAS MIXED DAY FOR MARKETS INCLUDING SOME LATE  SESSION MOVES. LETS GET DETAILS FROM THE FLOOR OF THE CME. SOYBEANS WERE STEADY FOR ABOUT A 12 CENT RANGE PRETTY DECENT COMPARED TO WHAT WAS  HAPPENING ON FRIDAY. THE FUTURES ARE CONSOLIDATING AS TRADERS ARE REALLY WAITING FOR NEWS TO  GIVE IT A LITTLE DIRECTION OF THE MARKET. BUT IT'S STILL HOLDING RELATIVELY STRONG. THE WEEKLY  EXPORTS WERE STRONG AND THE REPORT OF THE 2017 18 BRAZIL CROP CAME OUT. THEY EXPECT THAT TO  BE A LITTLE BIT BIGGER AND THAT WOULD NORMALLY PUT SOME PRESSURE ON THAT SOYBEAN MARKET BUT  NOTHING DOING. WHEAT ALSO WAS DOWN AGAIN AND REALLY A LOT MORE THAN WE EXPECTED. I THINK  THAT TROPICAL STORM HARVEY WELL IT'S A HURRICANE AT ONE POINT HAS REALLY HALTED ALL THE RAIL  SHIPMENTS DOWN SOUTH AND THAT DEFINITELY PUT A DAMPER ON PRICES. IT ADDED MUCH TO A  BEARISH PRESSURE ONTO THE FUTURES ALL THE WAY DOWN. AS A MATTER OF FACT WE'RE INTO AN AREA  WHERE A KANSAS CITY WHEAT IS NOW HOLDING AND LOW THAT WE HAVEN'T SEEN IN 11 YEARS. AND  THAT IS SUCH A SURPRISE SEEING THAT WE HAD WE HAD A HIGH JUST TWO MONTHS AGO CATTLE WAS  HIGHER. REALLY GOT A BIG LIFT FROM THE FRIDAY'S USDA CATTLE ON FEED REPORT. IT REALLY GAVE  FUTURES SOME BULLISH SUPPORT AND WE WERE OFF TO THE RACES OF OVER $2 REALLY AT ONE POINT RIGHT  NOW BUILDING SOME MOMENTUM. THAT'S ALL FROM THE FLOOR AT THE CME GROUP IN VIRGINIA.  MCGATHEY. 

AGRIBUSINESS
FOLLOWING LAST WEEK'S CROP TOUR, TYNE MORGAN JOINS US FOR A LOOK THE  PRICING STORY SOYBEANS ARE MAKING AS 2017 RACES TO A CLOSE. TYNE  HERE NOW WITH PETE MEYER OF S&P GLOBAL PETE YOU WENT ON TOUR LAST  WEEK YOU WERE CHECKING OUT POD COUNTS YOU WERE CHECKING OUT THE  CORE. IT JUST SEEMED LIKE THIS SWEEPING CROP OUT THERE ISN'T WHAT WE  THOUGHT. I MEAN THE POD COUNTS ARE DOWN THIS YEAR. WELL I MEAN MY I HAVE AN OBJECTIVE MODEL THAT'S BEEN HANGING AROUND 47  47 FOR THE WHOLE YEAR OR SO AND SO DID IT REALLY WASN'T A SURPRISE. AND  FOR ME THE REASON IT WASN'T A SURPRISE BECAUSE WE SPENT A LOT OF TIME  OUT THERE EARLIER IN THE YEAR WE SAW THE EMERGENCE ISSUES WE SAW  THE MOISTURE THAT YOU HAVE HERE ON TOP OF IT. SO IT'S YOU KNOW AND THEN  THE PROBLEM IS WHEN YOU TALK TO SOYBEAN PRODUCERS THEY WILL TELL YOU  THAT THEY CAN PRODUCE THE BEST YIELDS WHEN THEY GET IT IN IN AN EARLY  AND THEY DID NOT GET THE SOYBEAN CROP IN EARLY ENOUGH THIS YEAR AND I  THINK WE'RE SEEING THE RAMIFICATIONS OF THAT. YEAH I MEAN WE WERE IN IOWA IN SOME OF THOSE WESTERN DISTRICTS. I MEAN  WE SAW POD COUNT. PERCENTAGE WISE DOWN DOUBLE DIGITS FOR FROM FROM  LAST YEAR. SO DO YOU THINK THIS CAN CREATE SOME MOMENTUM IN THE  MARKET. I HOPE IT CAN BECAUSE IN MY OPINION THERE'S A THERE'S A REALLY REALLY  REALLY GOOD SOYBEAN DEMAND STORY. AND I THINK THAT YOU KNOW WE'VE  SEEN THAT THIS YEAR WHEN THE CHINESE AND OTHER CONSUMERS COME TO  US VERY LATE IN THE SEASON RATHER THAT RATHER THAN GO TO BRAZIL AND  THE SOUTH AMERICAN PRODUCERS. YOU KNOW I THINK THERE'S A REALLY  REALLY GREAT STORY THERE. SO MOVING FORWARD I MEAN WHEN COULD WE SEE THIS HIT THE MARKET I  MEAN ARE WE IN THE NEXT THREE MONTHS FOUR MONTHS. ARE WE NOT TALKING  UNTIL 2018 THAT WE SEE THAT HIT. I THINK YOU REALLY START TO SEE IT HIT IN JANUARY AFTER THE QUARTERLY  STOCKS REPORT BECAUSE THEN WE WILL KNOW HOW BIG THIS CROP IS. I THINK  THE VARIABILITY IN THE CROP WHETHER WE'RE TALKING ABOUT BEANS  WHETHER IT BE IN BEANS AND CORN TELLS YOU THAT WE WILL NOT REALLY  KNOW AND UNTIL WE SEE THE QUARTER WE STOCKS REPORT MAYBE EVEN THE  SECOND QUARTER IN MARCH WHERE WE TAKE A LOOK AT IT AND SEE EXACTLY  WHAT THE STOCKS ARE THEN WE WILL KNOW MORE DEFINITIVELY WHAT SIZE AND  WHAT WHAT THE SIZE OF A CROP WAS. AND FOR CORN PRICES SAKE DO WE NEED MORE ACRES TO GO INTO BEANS  NEXT YEAR. YOU KNOW WHERE WE ARE WHERE WE ARE NOW. I WOULD I WOULD HOPE. BUT I DON'T I DON'T NECESSARILY THINK THAT'S THE DRIVING FACTOR I THINK  THAT UNLESS CORN PRICES REBOUND STRONGLY I THINK THAT THE BANKERS  ARE GOING TO CONTROL THE SOYBEAN ACREAGE WE PLANT. WE SAW IT A LITTLE  BIT THIS YEAR I THINK WE'RE GOING TO SEE MORE NEXT YEAR AND HOPEFULLY  WE'RE GOING TO PLAY MORE SLOWLY BEING ACRE'S NEXT YEAR AND CORN. YOU  REALLY DON'T NEED EXTRA CORN AT THIS POINT. YEAH. PETE MEYER ALL RIGHT. THANKS SO MUCH. STAY WITH US WE'LL BE BACK WITH  MORE IN JUST A MOMENT.

WEATHER
WELCOME BACK TO AGDAY HERE WITH METEOROLOGIST MIKE HOFFMAN AND MIKE AS WE LOOK AT THE  REMNANTS OF HARVEY HERE. JUST AN INCREDIBLE STORM IS UNBELIEVABLE. IT IS. EVEN THOUGH OUR  COMPUTER MODELS WERE SHOWING 25 30 INCHES PLUS THAT ARE GOING TO BE UNDERDONE. I MEAN  THAT'S SEE THIS THAT'S JUST AMAZING WHEN YOU THINK ABOUT IT AND IT'S ALL BECAUSE HARVEY HAS  JUST BEEN SITTING IN THE SAME GENERAL AREA FOR FOUR OR FIVE DAYS AND THAT WILL ALWAYS PUT DOWN  HUGE AMOUNTS OF RAIN. I'M ALSO SHOWING A TROPICAL STORM OFF THE EAST COAST. MODELS ARE  PROJECTING THAT TO BE ONE AS IT HEADS MAINLY OUT TO SEA BUT IT IS GOING TO AFFECT THE OUTER  BANKS OF NORTH CAROLINA AND ALSO THE EASTERN SECTIONS OF NORTH CAROLINA. SO WE HAVE A  WEAKENING SYSTEM ONE THAT'S JUST KIND OF FALLING APART CLOSE TO CHICAGO THAT STILL HAS SOME  SCATTERED SHOWERS AND THUNDERSTORMS WITH IT AS WE HEAD THROUGH THE DAY TODAY AND ENDING  SEE HARVEY STARTS TO COME NORTHWARD. SOME COMPUTER MODELS ARE A LITTLE SLOWER THAN OURS  BUT THIS ONE IS BRINGING IT RIGHT UP THROUGH LOUISIANA DURING THE NIGHTTIME HOURS TONIGHT. IT  BECOMES NOT TROPICAL ANYMORE SO JUST A VERY WET AREA OF LOW PRESSURE OVER LOUISIANA AND  THAT MEANS HEAVY AMOUNTS OF RAIN HEADING UP THE SOUTHERN HALF OF THE MISSISSIPPI RIVER  VALLEY. HOW FAR NORTH IT COMES BEFORE IT STARTS TO MOVE EAST IS STILL UP IN THE AIR A LITTLE BIT. WE DO HAVE ANOTHER COLD FRONT KIND OF COMING SOUTHWARD INTO THE NORTHERN GREAT LAKES AS WE  HEAD THROUGH THE DAY TOMORROW AND THAT WE'LL HAVE SOME SHOWERS AND THUNDERSTORMS ON.  SO STILL A LOT OF QUESTIONS ON WHETHER REMNANTS OF HARVEY ACTUALLY GO. BUT LOOK AT THE RAIN  AMOUNTS STILL PROJECTED OVER THE PAST 24 HOURS WE'VE SEEN THE HUGE AMOUNTS OBVIOUSLY AND  THIS IS WHERE OUR COMPUTER MODEL TAKES IT OVER THE NEXT 36 HOURS. AND SOME OF THESE NUMBERS HERE ARE IN THE EIGHT TO 10 INCH CATEGORY EVEN INTO ARKANSAS. WHEN YOU GET TROPICAL  MOISTURE COMING NORTH WITH A SYSTEM LIKE THIS IT CAN PUT DOWN HUGE AMOUNTS OF RAIN WAY  AWAY FROM THE GULF OF MEXICO OR THE ATLANTIC IN A DIFFERENT SITUATION. HIGH TEMPERATURES TODAY  LOTS OF 70S NORTHERN MISSISSIPPI A GREAT LAKES EVEN SOME 60S FOR HIGHS IN PARTS OF THE  NORTHEAST BUT THE HEAT IS ON OUT WEST SOME TRIPLE DIGIT NUMBERS IN PLACES YOU TYPICALLY DON'T  SEE IT LOW TEMPERATURES TOMORROW MORNING VERY PLEASANT AND COMFORTABLE ACROSS THE  NORTHEAST QUADRANT OF THE COUNTRY EVEN SOME LOW 50S SHOWING UP IN NORTHERN PORTIONS OF  MAINE. HIGH TEMPERATURES TOMORROW AFTERNOON LOOK AT THE 70S LOTS OF 70S ACROSS THE CORN  BELT NORTHWARD AND THEN YOU CAN SEE THE HEAT CONTINUES WAY TO THE SOUTH IN SOUTHERN AREAS.  BUT IT IS MUGGY IN THE SOUTHERN PORTIONS OF THE COUNTRY. THERE'S THE JET STREAM AND YOU CAN  SEE A TROUGH KIND OF HANGING ON THERE. NOW WHETHER THIS IS THE REMNANTS OF HARVEY. I'M NOT  SURE EITHER WAY EACH ONE OF THESE TROUGHS IF HARVEY COMES TOO FAR NORTH IT'S GOING TO GET  KICKED TO THE EAST AT SOME POINT. AND WE DON'T KNOW THE EXACT TRACK BUT BY THE MIDDLE OF  NEXT WEEK LOOK AT THAT COLD SHOT OF AIR FOR MUCH OF THE MIDWEST. THAT'S A LOOK ACROSS THE  COUNTRY. NOW LET'S TAKE A LOOK AT SOME LOCAL FORECASTS. FIRST OF ALL SPOKANE WASHINGTON  SUNNY AND EXTREMELY HOT TODAY. HIGH OF 100. CLINTON OKLAHOMA A GOOD DEAL OF SUNSHINE AND  PLEASANT HIGH OF 84 IN MANSFIELD OHIO A MIXTURE OF CLOUDS AND SUNSHINE SHOWER  THUNDERSTORM POSSIBLE HIGH 75.

TEASE
MACHINERY PETE IS NOT ONLY A LEADING EXPERT IN USED FARM EQUIPMENT,  HE''S ALSO A "SHUTTER BUG" OF SORTS. WE'LL EXPLAIN NEXT ON AGDAY. PLUS  SOIL BENEFITS BEYOND FORAGE. "I'M CHARLES DENNEY. WHAT'S GROWING NATURALLY IN OUR FIEIDLS COULD BE  GOOD FOR THE SOIL AND A SOURCE OF NUITRITION FOR TENNESSEE CATTLE  PRODUCERS. THAT STORY FROM SPRINGHILL, TENNESSEE, COMING UP ON  AGDAY.

MACHINERY PETE
"MACHINERY PETE IS BROUGHT TO YOU BY JOHN DEERE…WHERE CAN YOU FIND THE MOST  COMPREHENSIVE INVENTORY OF JOHN DEERE CERTIFIED PRE-OWNED TRACTORS, COMBINES AND  SPRAYERS?  MACHINE FINDER-DOT-COM … SOMETIMES THE BEST NEW ADDITION TO YOUR FLEET ISN'T  NEW!" ) GREG PETERSON GLEANS PLENTY OF KNOWLEDGE FROM HIS TRIP TO THE  AUCTION. TODAY HE SHOWS US HOW TO ZOOM ON PRICING TRENDS. WHEN IT COMES TO USE FARM MACHINERY VALUES FOLKS. I'VE ALWAYS THOUGHT IN TERMS OF A WIDE  LENS AND A ZOOM LENS. NOW LET'S TAKE A COMMON EXAMPLE SAY A CASE AGE 8940 MAGNUM  TRACTOR. NOW CASE IH MADE THIS MODEL WAS VERY POPULAR BACK IN THE LATE 90S FOR JUST A  COUPLE OF YEARS JUST OVER 200 HORSE. NOW IF WE TOOK THE LAST 22 THAT HAVE SOLD AT AUCTION THE  AVERAGE SALE PRICE IS FORTY THOUSAND EIGHT HUNDRED FORTY THREE DOLLARS. SO THERE'S OUR BIG  PICTURE BUT LET'S SAY WE'RE TRYING TO VALUE AN 8940 IN REAL NICE SHAPE WITH LOW HOURS. WELL  OVER THOSE LAST 22 SOLD FOUR OF THE PREVIOUS FIVE HIGHEST PRICES BEFORE LAST WEEK FELL IN THE  RANGE FROM 55000 TO 61000 AND WE SAW TWO SOLD LAST WEEK THAT ALSO FELL RIGHT IN THIS RANGE.  HERE'S A PICTURE OF THE FIRST 1997 MODEL 8940 HAD 2920 HOURS ON IT SOLD IN A FARM AUCTION IN  NORTH CENTRAL IOWA LAST TUESDAY BROUGHT FIFTY SIX THOUSAND DOLLARS AND THE NEXT DAY IN WEST  CENTRAL ILLINOIS ON A CONSIGNMENT AUCTION. THIS 1998 MODEL LADY 8940 WITH THIRTY TWO HUNDRED  NINETY EIGHT HOURS ON IT BROUGHT 59250. SO THERE IS A ZOOMED IN PICTURE ON THE VALUE OF A  NICE ONE. NOW REMEMBER FOLKS IF YOU'RE TRYING TO FIND A USED PIECE OF EQUIPMENT OR TRYING TO  GET A VALUE YOU KNOW WHERE TO GO. COME JOIN ME AT MACHINERY PETE DOT COM. 

IN THE COUNTRY
IN THE COUNTRY - BROUGHT TO YOU BY KUBOTA'S M7 SERIES.  LEARN MORE ABOUT THE LARGEST  TRACTOR IN KUBOTA HISTORY AT KUBOTA.COM.NATIVE GRASSES MAKE EXCELLENT FORAGE FOR CATTLE FARMERS – AND NOW  THERE'S INCREASING EVIDENCE THESE GRASSES ARE ALSO GOOD FOR THE  SOIL. THAT'S FROM AN ONGOING STUDY BY UNIVERSITY OF TENNESSEE'S  INSTITUTE OF AGRICULTURE. IN THIS REPORT PROVIDED BY U-T, CHARLES DENNEY SHOWS US HOW THIS  RESEARCH LOOKS BELOW GROUND FOR SCIENTIFIC ANSWERS.  A BEEF HERD GRAZES CONTENTLY AT UT'S AGRESEARCH CENTER IN SPRING HILL. BUT BEFORE THESE  COWS CAN ENJOY THEIR BREAKFAST, HAY MUST GROW. AND THAT'S WHERE FERTILE GROUND COMES IN – PRODUCING THIS LUSH PASTURE OF FESCUE GRASS.  KEVIN THOMPSON: "WE'RE BLESSED TO HAVE FESCUE. FESCUE HAS ITS PLACE, BUT WE ALSO BEING  PROPER MANAGERS OF OUR FORAGE, NEED TO PULL THEM OFF THOSE FESCUE PASTURES AND GO TO OTHER  THINGS THAT CAN BETTER SERVE THE NUTRIENT REQUIREMENTS OF OUR BEEF CATTLE HERDS." SO WHAT ELSE  WOULD BE GOOD FOR CATTLE TO EAT? THIS LAND ALSO INCLUDES BIG BLUE STEM FORAGE AND  SWITCHGRASS, NATIVE GRASSES BEING STUDIED BY UT'S INSTITUTE OF AGRICULTURE. THE RESEARCH  LOOKS AT IMPROVING THE NUTRITIONAL VALUE OF THE FORAGE, DROUGHT TOLERANCE, THE ECONOMIC  BENEFITS TO FARMERS, AND HOW NATIVE GRASSES THRIVE – EVEN IN LOW NUTRIENT SOILS. CHARLES  DENNEY: "THIS RESEARCH PROJECT IS HAPPENING HERE IN SPRING HILL ON SOME OF TENNESSEE'S  RICHEST FARMLAND, AND THREE OTHER LOCATIONS ACROSS THE STATE. UT EXPERTS ALSO SAY IT'S  IMPORTANT TO LOOK AT THE NATIVE GRASSES OVER TIME. AND THIS EFFORT IS FUNDED THROUGH 2020." DR.  PAT KEYSER IS DIRECTOR OF UT'S CENTER FOR NATIVE GRASSLANDS MANAGEMENT, AND LEADER OF THIS  STUDY.  "WHAT WE'RE SEEING FROM OUR RESEARCH IS THAT THESE NATIVE GRASSES MAKE AN AWFUL LOT OF  SENSE. THEY PRODUCE A LOT, CATTLE LIKE THEM, THEY PROVIDE EXCELLENT GAINS, BUT THEY ALSO GET  BY ON VERY LOW FERTILITY." KEYSER SAYS SOME OF THESE GRASSES ARE JUST A FOOT TALL, BUT HAVE  ROOTS THAT GO DOWN EIGHT OR NINE FEET. THOSE ROOTS, IN TURN, CREATE AN UNDERGROUND  CIVILIZATION, PUTTING ORGANIC MATTER AND CARBON OUT, WHICH IS GOOD FOR SOIL BIODIVERSITY. PAT  KEYSER: "YOU KNOW ONE OF THE THINGS WE'VE LEARNED ABOUT HEALTHY SOILS IS IT'S ALL ABOUT  ORGANIC MATTER. AND MORE SPECIFICALLY IT'S ABOUT ROOTS. ROOTS IS WHERE THE LIFE IN THE SOIL  CONGREGATES. IT'S LIKE THE RIVERS, THE STREAMS, THE PONDS OF THE UNDERGROUND WORLD." THESE  NATIVE GRASSES SHOULD KEEP GROWING THROUGH THE END OF AUGUST. WE'RE TALKING COWS HERE, BUT  IT'S A CLASSIC CHICKEN OR THE EGG ARGUMENT. WHICH COMES FIRST, THE GOOD GROUND OR THE  HEALTHY FORAGE? REGARDLESS, RESEARCH SHOWS THEY GO TOGETHER NICELY. THIS IS CHARLES DENNEY REPORTING.

CLOSE
THAT'S ALL THE TIME WE HAVE THIS MORNING. WE'RE GLAD YOU TUNED IN.  FOR BETSY, TYNE AND MIKE I'M CLINTON GRIFFITHS. HAVE A GREAT DAY. AGDAY IS POWERED BY RAM TRUCKS - AMERICA'S LONGEST LASTING PICKUPS.