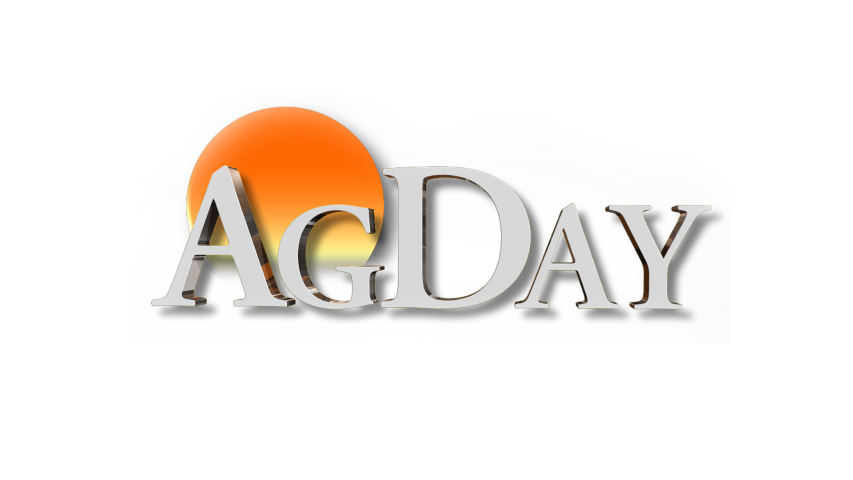 TODAY ON AGDAY
AUGUST 28, 2017

HEADLINES
AFTER LOGGING THOUSANDS OF MILES, CRISS- CROSSING THE MIDWEST.  AND AFTER COLLECTING 14-HUNDRED SAMPLES FROM  CORN AND SOYBEAN FIELDS IN SEVEN STATES, PRO FARMER RELEASES IT'S  FINAL PROJECTIONS. WE'LL HAVE ANALYSIS FROM TOUR LEADS... PLUS, ANALYZING THE AGRONOMICS OF THE 2017 CROP. PLUS, "I'M BETSY JIBBEN . WE'RE HERE IN LYMAN COUNTY, SOUTH DAKOTA. WE'LL SHOW YOU FIRSTHAND  HOW THE DROUGHT IS IMPACTING FARMERS AHEAD ON THE SHOW." AND CROP TOUR CONTINUING TO PULL INTERNATIONAL ATTENTION. AGDAY - PRESENTED BY CHEVY SILVERADO. HIGH-STRENGTH STEEL FOR HIGH-STRENGTH DEPENDABILITY.

PRO FARMER CROP TOUR RESULTS
GOOD MORNING I'M CLINTON GRIFFITHS.  DESCRIPTORS OF MIDWEST CROPS  THIS YEAR ARE NOT VERY FLATTERING. SCOUTS ON THE FARM JOURNAL CROP TOUR TOSSING OUT WORDS AND  PHRASES LIKE IMMATURE AND VARIABLE TO DESCRIBE THE CORN CROP IN THE  EAST. AND "SHOCKINGLY LOW" AND "DISAPPOINTING" POD COUNTS IN THE  SOYBEAN CROP TO THE WEST. TO THAT END, OUR PARTNERS AT PROFARMER HAVE RELEASED THEIR EXCLUSIVE  NATIONAL ESTIMATE OF THE CORN AND SOYBEAN CROPS. PROFARMER IS ESTIMATING THIS YEARS CORN CROP AT 13-POINT-9-5 BILLION  BUSHELS ON AN AVERAGE YIELD OF 167 BUSHELS AN ACRE. YOU CAN COMPARE THAT TO USDA'S AUGUST FORECAST OF 14=POINT-TWO BILLION BUSHELS. AND AN AVERAGE YIELD TWO BUSHELS HIGHER THAN  PROFARMER. PROFARMER'S SOYBEAN ESTIMATE COMES IN AT FOUR-POINT-THREE-THREE  BILLION BUSHELS. AND AN AVERAGE YIELD OF 48-AND-A HALF BUSHELS TO THE  ACRE.   THAT PRODUCTION ESTIMATE IS SLIGHTLY SMALLER THAN USDA'S  ESTIMATE EARLIER THIS MONTH. PROFARMER'S ESTIMATE IS BASED ON ASSUMPTIONS FOR "NORMAL" WEATHER  THROUGH SEPTEMBER. THE ANALYSTS USE DATA COLLECTED DURING CROP TOUR FOR PART OF THEIR  NATIONAL ESTIMATE, BUT THEY ALSO FACTOR IN DATA FROM OTHER STATES  OUTSIDE THE TOUR AND HISTORICAL DIFFERENCES. STATE BY STATE, IT'S CLEAR THAT THE EASTERN CORNBELT TOOK A PUNCH FROM  MOTHER NATURE. HEADING WEST THE STATEWIDE YIELD AVERAGES IMPROVED, BUT AS  PROFARMER DESCRIBES THE ILLINOIS CROP "IMPRESSIVE YIELDS WERE  SCARCE". AND SOUTH DAKOTA CLEARLY HAS DROUGHT ISSUES. IN SOYBEANS - OHIO WAS THE ONLY STATE OF THE SEVEN ON TOUR WHERE POD  COUNTS WENT UP FROM LAST YEAR. BUT THEY NEED WARMTH AND WATER TO  FINISH. WESTERN PARTS OF THE MIDWEST DISAPPOINTED CROP SCOUTS WITH THE POD COUNTS....AND PROFARMER'S YIELD ESTIMATES REFLECT THAT IN EACH STATE.

MINNESOTA YIELDS
MINNESOTA LEADING ALL STATES ON THE TOUR IN PROJECTED CORN YIELD-- ALTHOUGH SOYBEANS SIT TOWARD THE BOTTOM OF THE LIST.  TYNE MORGAN TAKES US TO THE LAND OF TEN THOUSAND LAKES FOR A LOOK AT THIS YEAR'S CROP. STROLLING THROUGH SOUTHERN MINNESOTA'S CORN FIELDS… WE'RE LOOKING MAINLY 16 AROUOND FOR ROWS AND ON THIS COB YOU'RE OBVIOUSLY NOT FILLED OUT ALL  THE WAY TO THE END. CROPS LOOK PROMISING. "I THINK WE'RE LOOKING AT 200 PLUS FOR AN AVERAGE HOPEFULLY, WE STILL HAVE A LONG WAYS TO GO  BUT HOPEFULLY. I THINK IT'S GOING TO BE AN AVERAGE YEAR, PROBABLY NOT ABOVE AVERAGE." WHILE IT'S NOT AN ENCORE PERFORMANCE TO THE RECORD SOME FARMERS  SAW IN 2015 AND 2016, PETERSON SAYS CORN HAD A STRONG START. "IT'S A LITTLE HARD TO TELL AT THI POINTS BECAUSE I'D SAY WE'RE ALITTLE BEHIND IN MATURITY AND HOW  FAR ALONG THE CROP IS,   BUT FOR SOYBEANS.. THERE'S DEFINITELY PLENTY OF PODS THE SPRING WASN'T AS FAVORABLE. "A LOT OF IT LAST YEAR WAS SPRING WAS A LITTLE BETTER SO IT GOT OFF OTA BETTER START. THE BEANS  DIDN'T LOOK IMPRESSIVE UNTIL END OF JUNE , EARLY JULY. THEY WERE REALLY SHORT LIKE THEY WEREN'T  REALLY GROWING." WHILE YIELDS ARE GOOD, PETERSON STILL THINKS HE'S NOT STANDING IN  RECORD BEANS. FOR EASTERN LEG AGRONOMIST MARK BERNARD.. OVERALL ID SAY WE ARE IN PRETTY DARN GOOD SHAPE. HE LIKES WHAT HE SEES, BUT AGREES A RECORD CROP MAY NOT BE IN THE  CARDS FOR AREA FARMERS. "MY INITIAL REACTION IS IT'S NOT GOING TO BE ON A PAR QUITE WITH LAST YEAR, 2016 WAS KIND OF OUR  HIGH WATER MARK FOR MOST FALKS. 2015 WAS NOTHING TO SNEEZE AT. EITHER WAY, IF WE COULD GET  CLOES TO A 2015 CROP, WE'D SAY WE'LL TAKE IT"> WITH NOT A LOT OF HIGH HEAT, BERNARD SAYS WEATHER DURING KEY  POLLINATION TIME WAS JUST WHAT THE CROP ORDERED. "YOU COULDN'T ADD FOR MUCH BETTER IN TERMS OF TEMPERATURES. IF YOU LOOK AT THESE EARS FILLED  RIGHT TO THE TIP. AND ESPECIALLY IN THOSE AREAS WHERE THEY HAD ADEQUATE MOISTURE. IT REALLY  LOOKS GOOD MILD MANNERED SUMMER WEATHER THAT COULD BREW TROUBLE THIS FALL."I'M ALWAYS WORRIED ABOUT AN EARLY FROST. AND WITH THIS WEATHER WE'VE HAD IT'S ALWAYS IN THE  BACK OF YOUR MIND. AND IF YOU WAKE UP ONE MORNING IN SPTEMBER AND YOU LOOK AT THE  THEMOTER AND IT'S 30 DEGRESS, IT'S PANIC TIME"> BERNARD SAYS RUST IN CORN AND WHITE MOLD IN BEANS POPPED UP IN  POCKETS THIS YEAR, BUT NOTHING TOO SEVERE. REPORTING FROM  NORTHFIELD, MINNESOTA, I'M TYNE MORGAN FOR AGDAY.) A BIG REASON CROP TOUR DATA IS COMPARABLE TO PREVIOUS YEARS IS  BECAUSE OF CONSISTENCY.  

SOUTH DAKOTA YIELDS
SCOUTS ALWAYS TRAVEL THE SAME ROUTES BUT PICK FIELDS AT RANDOM. IN SOUTH DAKOTA SCOUTS ONLY TAKE SAMPLES IN THE SOUTHEAST CORNER OF  THE STATE.  BUT THIS YEAR, THE WESTERN AND CENTRAL PORTIONS OF THAT STATE ARE  FACING DROUGHT. BETSY JIBBEN LOOKS AT WHAT THE TOUR DIDN'T SEE.  A  TOUGH YEAR DOESN'T EVEN DESCRIBE WHAT THIS GROWING SEASON HAS BEEN LIKE FOR WESTERN SOUTH DAKOTA PRODUCERS. I CAN'T REMEMBER A YEAR LIKE THIS A DRY WINTER, AND A  HOT AND RAINLESS SUMMER SHUT SOME PLANTS DOWN… THOSE ONES THAT ARE BLISTERING, I DON'T THINK THEY'RE GOING TO MAKE IT. I THINK THE YELLOW MATURE CORN IS GOING TO MAKE IT. BUT YOU'LL HAVE SO MUCH OF THIS THAT'S  WHITE, I DON'T KNOW IF WE'LL FULLY MAKE IT FOR SURE PUT TWO-THIRDS OF THE STATE IN A MODERATE DROUGHT, NEARLY HALF IN A  SEVERE. NOTHING IS GOING TO BE IN ALL OF THOSE SPOTS. AND PRESHO PRODUCER, DENNIS STANLEY IS IN MIDDLE OF IT. SEE IN THE SAME FIELD, YOU GOT EARS LIKE THIS- HEAR HIM OPENING EAR. AND THEY JUST STARTED UP  WHEN WE GOT SOME RAIN.  THE AREA RECEIVED ROUGHLY 4 INCHES OF RAIN – EARLIER IN THE MONTH.  MANY WONDER IF IT CAME OUT OF TIME. IT CAME TOO LATE FOR THE ROW CROP I THINK BUT IT DOES GIVE US HOPE. DENNIS SAYS HE WILL HARVEST THIS FIELD. HE HOPES A LATE FREEZE WILL ADD  BUSHELS IF OUR CORN COULD DO 70, WE'D ALL BE THRILLED AT THIS POINT." IF I HAD CATTLE I'D CUT ALL OF IT FOR SILAGE, I'D SAY. THE PASTURES ARE STARTING TO GREEN UP.. AFTER MANY PRODUCERS BAILED  THOUSANDS OF ACRES OF WHEAT. HALF OF THIS SORGHUM IS MATURING WHILE THE REST IS  BEHIND.   DOES THAT HAVE ANY CHANCE OF MAKING IT? THERE'S NO WAY THIS IS GOING TO MAKE SEED. IT DOESN'T LOOK LIKE THERE'S A LOT OF FEED VALUE HERE BECAUSE IT'S SO SHORT BUT PEOPLE ARE SO  DESPERATE FOR HAY THIS YEAR AND FOR FEED I'M SURE HE'D BALE IT.  MILES EAST, THE FARMERS SAY THE CORN IS STILL BEHIND IN MATURITY BUT THEY'RE PLEASED WITH HOW IT  LOOKS. YEP IT'S PHEMONIAL WITH THE SHORTAGE OF RAIN HOW THIS HAS FILLED OUT ALMOST COMPLETELY TO THE  END. YEP, THAT WILL MAKE CORN.  RELIANCE, SOUTH DAKOTA PRODUCER THAD SCHINDLER SAYS  AUGUST RAINS  HELPED AND LUCKILY THOSE SHOWERS FOUND HIM. MILES DOWN THE ROAD, THEY DIDN'T GET NOTHING. IN FACT, IT COMPLETELY CHANGED HIS PLANS TO CHOP THE CROP FOR SILAGE- PLANS HE HAD JUST A MONTH AGO. WHAT WE THOUGHT WE WERE GOING TO CUT FOR SILAGE IS GOING TO MAKE GOOD CORN NOW. I DON'T KNOW IF YOU'RE GOING TO SEE MUCH BETTER THAN THIS WHEN YOU GO WEST. ALL THROUGH JUNE , IT WAS ALL OVER 100 DEGREE DAYS AND JUST NO RAIN, IT'S PHEMONIAL HOW THEY  CAME OUT OF IT. I'VE NEVER SEEN ANYTHING LIKE IT.  SCHINDLER SAYS THE SOYBEANS ARE EVEN HOLDING UP WELL FOR WHAT IT'S  BEEN THROUGH. YEP, IT'S INCREDIBLE WITH THE SHORTAGE OF RAIN. BOTH PRODUCERS SAY THIS DROUGHT IN THEIR AREA IS WORSE THAN 2012,  PARTLY BECAUSE THEY DIDN'T HAVE MUCH MOISTURE COMING INTO THE  SPRING  OF 2017. EVEN THOUGH IT WAS A DROUGHT YEAR, IT WAS A GOOD YEAR FOR US. 2012 AND 2013 AND GOO DYEARS, WE'LL HAVE TO DIP INTO THAT RIGHT NOW.  A WORSE YEAR FOR CONDITIONS.. ANOTHER REASON IS CROP INSURANCE.. THE  ECONOMIC TIMES ARE NOT THE SAME. OUR CROP INSURANCE PRICES WERE CLOSE TO 6 DOLLARS. WE'RE NOT GOING TO BE 4 DOLLARS THIS YEAR. WE'RE NOT GOING TO HAVE ANYTHING CLOSE TO OUR GUARANTEES.  PRODUCERS SAY THE HARD YEAR MAY BE OVER… WHERE I FARM, I'D SAY IT'S ABOUT OVER. IF WE GO ANOTHER MONTH WITHOUT RAIN, IT'S PROBABLY BACK  AGAIN. THEY'LL KEEP 2017 AS A MEMORY IN THESE FIELDS BUT HOPE IT DOESN'T REPEAT  AGAIN.REPORTING IN RELIANCE AND PRESHO SOUTH DAKOTA, I'M BETSY JIBBEN. THANKS BETSY.

TEASE
WHEN WE COME BACK, TYNE MORGAN JOINS US FROM THE END OF THE TRAIL TO  DISCUSS FINDINGS FROM THIS YEAR'S FARM JOURNAL MIDWEST CROP TOUR AND  WHAT IT MAY MEAN FOR MARKETS IN THE WEEKS AHEAD. AND LATER THE INFLUENCE OF THE CROP TOUR REACHES BEYOND OUR U.S.  BORDERS. HERE'S THE SECRET TO SELLING OLD EQUIPMENT. PETE'S PICK OF THE WEEK LETS YOU EASILY VIEW  CURRENT MARKET PRICES. JUST TEXT PETE TO 31313 TO GET STARTED!

AGRIBUSINESS
WELCOME BACK TO THIS SPECIAL EDITION OF AGDAY .  AS SCOUTS GATHER IN ROCHESTER MINNESOTA ON THE LAST DAY, TYNE  MORGAN CAUGHT UP WITH LEADERS CHIP FLOREY AND BRIAN GRETE FOR THEIR  REACTION TO 2017 CROPS. ALL RIGHT HERE NOW CHIP FLORY AND BRIAN GRADY FRESH OFF OF CROP TO OR CHIP YOU ARE ON THE WEB.  BRIAN YOU ARE ON THE EAST BUT LET'S FLIP THIS AROUND. WHAT IS THE BIGGEST SURPRISE THAT YOU SAW COME OUT OF BRIAN'S TOUR. OK MONDAY NIGHT READ OUT THE GATE THAT OHIO IT. IT CAME IN A LITTLE BIT  BETTER THAN WHAT I EXPECTED IT TO BRIAN AND WE'LL EXPLAIN THAT IT'S BECAUSE THE IMMATURITY OF  THAT CROP OVER THERE MAY BE MEASURED A LITTLE BIT EXTRA GRAIN LIKE. AND THEN ILLINOIS THAT ILLINOIS  YIELD COMING IN. DOWN WHAT WAS IT 6.6 PERCENT FROM YEAR AGO. YEAH. WITH THE WAY THAT BRIAN'S TEAM HAS BEEN ZEROING IN ON ILLINOIS OVER THE LAST COUPLE OF YEARS COMING IN AT 180  BUSHELS THAT'S A LITTLE CONCERNING. WHAT WAS THE BIGGEST SURPRISE THAT YOU SAW OUT OF THE  WEST. CLEARLY THE POD COUNTS OUT OF WESTERN IOWA 1,4, AND 7 CROP DISTRICTS THAT WERE DOWN  SIGNIFICANTLY. I MEAN THOSE ARE YOU KNOW ATTENTION GRABBING. SO YOU KNOW WE TALK ABOUT  THESE POD COUNTS AND LAST YEAR I KNOW YOU KNOW THERE WERE A LOT OF BLOOMS STILL GOING ON A  LOT OF POTENTIAL REALLY FOR THOSE PODS TO FILL OUT. DO YOU FEEL LIKE THAT'S THE CASE THIS YEAR THAT  WE COULD SEE THIS SOYBEAN CROP STILL GROW IN YIELDS. WELL THEY CAN STILL PLUMP UP IF THEY HAVE  ENOUGH RAINFALL HERE LATE IN THE SEASON. WE DIDN'T SEE A LOT OF FLOWERING OUT THERE SO THEY  AREN'T GOING TO ADD PODS. I THINK THE BIGGEST THING FROM MY SIDE WAS WE COUNTED IN SOME OF  THESE AREAS. YOU KNOW EVERYTHING THAT'S A QUARTER INCH OR BIGGER AND WE COUNTED A FAIR  NUMBER OF QUARTER INCH HALF INCH PODS. SO FOR THOSE TO DEVELOP THEY'RE GOING TO NEED LATE  SEASON MOISTURE. THEY'RE GOING TO NEED SOME TIME. YEAH. AND WE WE ARE GOING TO ASSUME  THAT THAT WE HAVE ASSUMED THAT THAT BEAN CROP IS GOING TO GET WHAT IT NEEDS. FINISH AND  FINISH WITH AN AVERAGE SIZE. OK. THAT'S WHAT WE ARE ASSUMING. AND WHAT ABOUT WITH THE CORN  CROP WAS IT MATURE ENOUGH THAT YOU FEEL LIKE YOU ACTUALLY GOT AN ACCURATE FEEL FOR HOW BIG  THIS CORN CROP IS THIS YEAR CHIP. THERE WERE SOME REAL ISSUES WITH KERNEL DEPTH IN THE  WESTERN CORN BELT WESTERN IOWA IN PARTICULAR. SO YEAH WE MEASURED THAT THE YIELD DOWN A BIT  FROM YEAR AGO IN WESTERN IOWA. BUT WHEN I STARTED TO THINK ABOUT THE SIZE OF THE KERNELS  COMPARED TO WHAT THEY WERE A YEAR AGO MAKES ME WANT TO LEAN DOWN JUST A TOUCH MORE. OK CLOSING THOUGHTS REAL QUICK WHAT DO YOU WANT TO WRAP UP WITH. YOU KNOW IT'S A GOOD CROP IT'S  NOT A GREAT CROP. AND IN SOME OF THE AREAS IT'S A REALLY POOR CROP. AND SO WE'RE GOING TO HAVE  A BIG DIVERGENCE IN TERMS OF WHERE THE BUSHELS ARE. THIS YEAR I THINK. YEAH. YEAH. 14 15 16.  WE MEASURED YIELD. YEAH. THIS YEAR WE MEASURED A LOT OF YIELD POTENTIAL. ALL RIGHT. PLEASE  STAY WITH US. WE'LL BE BACK WITH MORE AGDAY IN JUST A MOMENT. 

WEATHER
WELCOME BACK TO THIS SPECIAL EDITION OF AGDAY NOW WITHMETEOROLOGIST MIKE HOFFMAN MIKE  WE'RE TRYING TO FIGURE OUT IF THIS CROP CAN FINISH. AND YOU'VE GOT A LITTLE BIT LONGER LOOK AT THE  FORECAST THIS WEEK. YEAH WE'RE GOING THROUGH THE 90 DAY AND I AM CONCERNED IF WE STAY IN  THE PATTERN WE'RE IN RIGHT NOW AND WE COULD BE IN TROUBLE IN PLACES BECAUSE IT'S COLDER EAST OF  THE ROCKIES. BUT I DO THINK THAT PATTERN WILL EVOLVE THAT SHOW YOU THAT COMING UP. DROUGHT  MONITOR RIGHT NOW CONTINUES TO BE EXTREMELY DRY IN THE FAR NORTHERN PLAINS EASTERN MONTANA  AND SOME MODERATE TO SEVERE DROUGHT ALSO EXTEND SOUTHEASTERN INTO PARTS OF IOWA EVEN  ILLINOIS. AS YOU CAN SEE RIGHT THERE BUT MOST OF THE LOWER 48 REALLY NOT SEEING ISSUES WITH  DROUGHT AT THIS POINT. NOW TAKING A LOOK AT THE SITUATION A MONTH AGO YOU CAN SEE WE WERE A  LITTLE BIT WORSE IN THE FAR NORTHERN PLAINS ESPECIALLY THE DAKOTAS WHERE IT HAS IMPROVED  SLIGHTLY OVER THE PAST FOUR WEEKS. NOT A LOT. YOU'VE HAD SOME RAIN BUT IT TAKES A WHILE TO GET  RID OF A AN EXTREME TO EXCEPTIONAL DROUGHT LIKE WE HAVE BEEN IN THAT AREA. ALL RIGHT HERE'S THE  WEATHER PATTERN I WAS TALKING ABOUT WHERE WE'VE HAD THE TROUGH IN THE EAST RIDGE IN THE  WEST. WE STARTED TO GO AWAY FROM IT FOR A WEEK OR TWO AND NOW WE'RE BACK TO IT. AND AS  YOU'LL SEE ON WEDNESDAY STILL KIND OF TROUGHING THIS AND EAST RIDGE IN THE WEST. WATCH WHAT  HAPPENS THE NEXT PIECE OF ENERGY JUST DIVES RIGHT ON INTO THE MIDDLE OF THE COUNTRY FOR NEXT  WEEKEND. OBVIOUSLY IT'S TOO EARLY TO BE TALKING ABOUT A FROST OR FREEZE QUITE YET BUT IF WE STAY  IN THIS PATTERN THAT WILL HAPPEN AT SOME POINT AND THAT COULD BE SOME REALLY BAD NEWS. LIKE CLINTON WAS SAYING HERE'S THE TEMPERATURES THIS WEEK THEN I'M GOING BELOW NORMAL NOW PART  OF THIS BECAUSE OF ALL THE MOISTURE WE'RE GOING TO SEE ALL THE RAIN WE'RE GOING TO SEE FROM THE  REMNANTS OF THE HURRICANE AND THAT WILL CONTINUE TO MOVE NORTHEAST SO WE'RE GOING BELOW  NORMAL FROM THE NORTHEAST INTO THE GULF COAST REGION NEAR NORMAL IN THE FAR SOUTHEAST  NORMAL NORTHWESTERN GREAT LAKES DOWN INTO NEW MEXICO AND THEN ABOVE NORMAL WEST OF  THERE. TAKE A LOOK AT PRECIPITATION THIS WEEK THEN WE'LL GO BELOW NORMAL FOR MOST OF THE WEST  YOU GET YOUR TYPICAL AMOUNTS IN THE FOUR CORNERS REGION BUT THEN OBVIOUSLY THE REMNANTS OF  HARVEY CONTINUE TO CAUSE SOME ISSUES AS IT MOVES TOWARD THE NORTHEAST EXACTLY WHERE  THAT'S HEADED IS STILL A LITTLE BIT UP IN THE AIR BUT NONETHELESS IT HAS ALREADY DROPPED A LOT IN  THE GULF COAST WESTERN GULF COAST REGION. SEPTEMBER TEMPERATURES HERE WILL START THE 90  DAY ABOVE NORMAL IN THE FAR NORTHEAST BELOW NORMAL FOR MISSOURI KANSAS SOUTHWARD ABOVE  NORMAL DAKOTAS AND MOST OF THE WEST I'M GOING NEAR NORMAL FOR THE THE CORN BELT BUT IT ONLY  TAKES ONE SNAP OF COLD WEATHER TO GIVE YOU SOME REAL ISSUES THERE AND THAT'S WHAT WE'RE  CONCERNED ABOUT OCTOBER TEMPERATURES STILL BELOW NORMAL SOUTHERN PLAINS ABOVE NORMAL  NORTHEAST AND MID-ATLANTIC AND ABOVE NORMAL OUT WEST AND KIND OF THE SAME IDEA OVERALL FOR  NOVEMBER ABOVE NORMAL EAST COAST BELOW NORMAL MIDDLE OF THE COUNTRY ABOVE NORMAL IN THE  FAR WESTERN PRECIPITATION OVER THE NEXT 90 DAYS. OBVIOUSLY THEY'RE GOING TO BE ABOVE NORMAL  AFTER AFTER HARBI IN THE SOUTHERN PORTIONS OF THE COUNTRY. BUT ABOVE NORMAL FROM THE EAST  COAST DOWN TO TEXAS NEAR NORMAL FOR MOST OF THE CENTER OF THE COUNTRY. THAT'S A LOOK ACROSS  THE COUNTRY. NOW LET'S TAKE A LOOK AT SOME LOCAL FORECASTS. FIRST OF ALL FROM FRESNO CALIFORNIA.  HOT AND HUMID LOTS OF SUNSHINE HIGH OF 105 BEMIDJI MINNESOTA PARTLY TO MOSTLY SUNNY AND  NICE HIGH OF 78 AND EVANSVILLE INDIANA VARIABLY CLOUDY A SHOWER OR THUNDERSTORM LIKELY HIGH  AROUND 82. 

TEASE
UP NEXT, AGRONOMISTS FROM THE TOUR DISCUSS THE HEALTH AND DISEASE  PRESSURE IN THE CORN BELT THIS SEASON. AND LATER THE INTERNATIONAL APPEAL OF CROP TOUR AS IT CAPTURES GLOBAL  INTEREST.

CROP TOUR PERSPECTIVES
DRIVING THOUSANDS OF MILES THROUGH THE CORN BELT GIVES SCOUTS A  GOOD IDEA ON THE CONDITION OF THE CROP. AND THIS YEAR'S LOOK YIELDED INTERESTING PERSPECTIVES AS ALWAYS...TYNE  MORGAN ONCE AGAIN WITH THE TOUR AGRONOMISTS IN ROCHESTER. HERE NOW WITH EMILY CARLIN AS WELL AS MARK BARNARD EASTERN EASTERN LEG AGRONOMISTS WESTERN LEG AGRONOMISTS ALSO WITH DUPONT PIONEER BUT WE WANT TO GET SOME INSIGHT NOW. WE  KIND OF KNOW WHAT THE NUMBERS ARE ON KROP TOUR. BUT WHAT YOU SAW IN THE FIELD ANY TROUBLE  SPOTS OF AGRINOMICALLY THAT YOU SAW ON THE WESTERN SIDE OF THAT YOU WERE EMILY. ABSOLUTELY  SO LET'S START WITH TODAY TYNE. WE WENT THROUGH MINNESOTA AND THE ONE THING THAT WE DID  NOTICE IS THAT THE ONLY PLACE WHERE I REALLY SAW ANY DISEASE PRESSURE WAS THERE IN THAT  SOYBEAN FIELDS. THE WHITE MOLD WAS REALLY STARTING TO BECOME APPARENT THE WORST ONE THAT I  SAW WAS IN THAT WAS IN WASICA COUNTY AND IN THE WHITE MOLD WAS DEFINITELY A PRESENCE  THERE. I THINK IT'S JUST THE MOISTURE THAT WE HAD AND THAT'S WHAT WE SAW. YEAH. AND MARK YOU  RESIDE HERE IN MINNESOTA. WE TALKED A LITTLE BIT ABOUT WHITE MOLD SHOWING UP A FEW WEEKS  AGO WITH YOU. RIGHT. BUT NOW I DEFINITELY SAW SOME DRIVING THROUGH THESE FIELDS. NOT THAT  YOU'D THINK THAT IT WILL DO SOME DAMAGE TO SOME OF THESE SOME OF THESE SOYBEAN YIELDS. NO  QUESTION ABOUT IT RIGHT IN THAT NECK OF THE WOODS IN PARTICULAR. BEFORE I LEFT WE COULD SEE IT  WAS REALLY STARTING TO COME ON AND I HEARD FROM CHIP AND I GOT IT AND HE SAYS HEY YOU GOT  YOU'VE GOT TO LOOK A NEW RICH LINDER AND SEE WHAT'S GOING ON. I'M AFRAID I KNOW WHAT'S GOING  ON I MEAN I'VE BEEN OUT HERE BEFORE WHEN WE'VE HAD SDS UP THE YING YANG AND AND YOU  KNOW A FEW OTHER THINGS GOING ON BUT THIS WAS ABOUT AS SMOOTH AS ANY YEAR I'VE EVER SEEN.  AND IN THAT RESPECT EMILY YOU KNOW WHAT WE'VE SEEN ON THIS TOUR IS THE MATURITY OF THE CROP.  IT JUST SEEMS SO FAR BEHIND IN YOUR MIND. HOW FAR ARE WE BEHIND IN SOME OF THIS CROP OUT  THERE. IT IS. IT'S FAR BEHIND. THE THING THAT I NOTICED IS IF YOU DID WALK INTO A FIELD THAT SEEMED A  LITTLE BIT MORE MATURE IT'S PROBABLY BECAUSE OF THE DROUGHT STRESS AREA THAT WE WENT THROUGH  IN IOWA. THAT SPOT RIGHT THERE. IF IT'S APPARENT DOWN THERE BUT THE THING IS THAT SOME OF THE OIL  THAT WE GOT IT WAS STILL SHOWING BIG YIELDS BECAUSE WE COUNT LENGTH AND WE COUNT KERNEL  ROWS AROUND. BUT YOU BREAK OPEN THAT COMBINE AND IT AND HONESTLY THE DEPTH IS NOT THERE. WITH THAT FURTHER ALONG MATURITY MATURE CORN. SO WHICH STATE ON YOUR TOUR WHICH STATE IF A  EARLY FROST HIT OR EVEN A NORMAL FROST WOULD HIT. WHICH STATE WOULD SUFFER THE MOST IN YOUR  MIND. YOU KNOW PROBABLY IOWA AT THIS POINT MINNESOTA WHO ISN'T FAR BEHIND BECAUSE WE'VE  HAD A LOT OF COOL WEATHER HERE. IT PUT THE BRAKES ON US. HERE WE WERE UP FIVE PERCENT ON OUR  GDUS NOT ALL THAT LONG AGO. WE'RE RUNNING ABOUT EVEN RIGHT NOW. LAST I KNEW THOUGH THAT  MEANS WE NEED TILL THE END OF SEPTEMBER ON A LOT OF THOSE CORN TO MAKE IT INTO THE BILL. YES A  LOT OF FLAT POTS. EMILY MARK THANKS SO MUCH FOR BEING WITH US TODAY. 

TEASE
UP NEXT, REACHING BEYOND AMERICA'S FARMS TO GRAIN BUYERS ACROSS THE  GLOBE.  

IN THE COUNTRY
IN THE COUNTRY - SPONSORED BY KUBOTA.  DISCOVER THE POWER BEHIND THE M6 SERIES AT  KUBOTA.COM.THIS YEAR, ON THE 25 ANNIVERSARY OF THE CROP TOUR, SAW  A RECORD  NUMBER OF SCOUTS--NEARLY 150 PARTICIPATED IN THE WEEK. AND AS USUAL, MANY OF THOSE SCOUTS WERE FROM OTHER COUNTRIES. PRO FARMER SAYS 26 INTERNATIONAL SCOUTS WERE ON THE TOUR THIS  YEAR...REPRESENTING 11 FOREIGN COUNTRIES. A NUMBER OF THEM WERE IN THE U.S. FOR THE VERY FIRST TIME. FOR MOST, INVESTIGATING THE SIZE AND SCOOP OF THE AMERICAN CROP IS  PART OF THEIR JOBS. I MEAN THIS CROP TOUR DOES GET WATCHED AND PEOPLE TAKE INTEREST ALL OVER THE WORLD. YOU KNOW  THE US IS ONE OF THE BIGGEST PRODUCERS AND EXPORTERS AND ITS VERY CRITICAL TO GLOBAL MARKETS. WE NEED SOME BETTER INFORMATION. ITS FOR US AN EXPERIENCE TO SEE HOW YOU DO THIS IN THE US.  ALL BRAZILIAN FARMERS ALL THE PLAYERS IN BRAZIL THEY NEED INFORMATION AND THEY WANT TO SEE  WHAT'S HAPPENING HERE.

CLOSE
THAT'S ALL THE TIME WE HAVE THIS MORNING. WE'RE GLAD YOU TUNED IN.  FOR TYNE, BETSY AND MIKE. I'M CLINTON GRIFFITHS. HAVE A GREAT DAY. AGDAY IS POWERED BY RAM TRUCKS - AMERICA'S LONGEST LASTING PICKUPS.