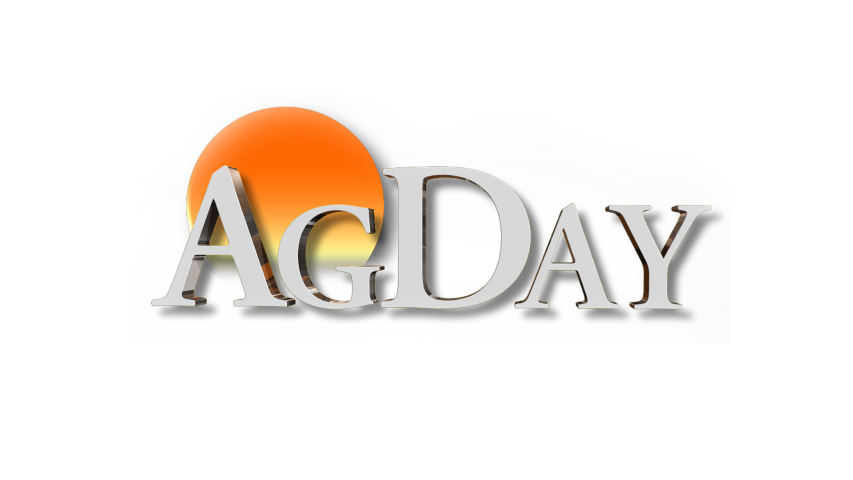 TODAY ON AGDAY
DECEMBER 8, 2016

HEADLINES
TODAY ON AGDAY - COULD THE NEW AMBASSADOR TO CHINA BE  GOOD NEWS FOR AGRICULTURAL TRADE? PLUS, "HURRICANE MATTHEW DUMPED PLENTY OF RAIN IN NORTHEAST SOUTH CAROLINA EARLIER THIS  YEAR. WE TALKED WITH FARMERS ABOUT THE STORM'S IMPACT AND THE AFTERMATH AHEAD ON THE  SHOW." IN AGRIBUSINESS...MONITORING CATTLE MARKET MOVEMENT. WE HAVE  SOME INDICATIONS THAT THE HERD REBUILDING CYCLE IS COMING TO A IT'S AT  LEAST SLOWING. AND THIS CHRISTMAS TRADITION GOT ITS START AS A CLASS  PROJECT NEARLY A CENTURY AGO. AGDAY-BROUGHT TO YOU BY THE  DEPENDABLE, LONG LASTING CHEVY SILVERADO.
TERRY BRANSTAD TO SERVE AS AMBASSADOR TO CHINA
GOOD MORNING I'M CLINTON GRIFFITHS. AGRICULTURE HAS STRESSED IT'S CONCERN FOR POSITIVE RELATIONS WITH  CHINA DURING THE NEXT ADMINISTRATION. A NEW APPOINTMENT FROM THE TRUMP TRANSITION TEAM MAY HELP. IOWA'S LONGEST SERVING GOVERNOR--TERRY BRANSTAD--HAS BEEN APPOINTED  TO SERVE AS THE AMBASSADOR TO CHINA UNDER THE NEW ADMINISTRATION. HE MET WITH THE PRESIDENT ELECT EARLIER IN THE WEEK AT TRUMP TOWER.  POLITICAL OBSERVERS SAY THE DECISION IS SEEN AS A WIN IN THE  AG WORLD. "HE'S AN INCREDIBLE SUPPORTER OF AG TRADE. HE IS KNOWN  AS SOMEONE WHO HAS A VERY PROFESSIONALLY POSITIVE IF NOT EVEN FRIENDSHIP WITH CHINESE PRESIDENT XI AND WILL BE A CALMING FORCE ESPECIALLY IF THE PRESIDENT ELECT CONTINUES WITH SOME  OF THAT ANTAGONISTIC RHETORIC. BRANSTAD HAS A HISTORY WITH CHINA. HE'S A LONGTIME FRIEND OF PRESIDENT  XI JINPING.  THE DES MOINES REGISTER REPORTING BRANSTAD HAS HAS LED FOUR TRADE  MISSIONS TO CHINA SINCE RETURNING TO OFFICE IN 2011. MOST TARGETING  IOWA'S AG EXPORTS TO THE COUNTRY. 
PURDUE AG BAROMETER
FARMERS ARE FEELING A LITTLE BETTER ABOUT THE FUTURE, AT LEAST  ACCORDING TO ONE NEW SURVEY. THE LATEST PURDUE AG ECONOMY BAROMETER REACHED AN INDEX POINT OF  116 FOR NOVEMBER, CONSIDERABLY HIGHER THAN THE OCTOBER READING OF  92. A RATING BELOW 100 IS NEGATIVE, WHILE A RATING ABOVE 100 INDICATES  POSITIVE SENTIMENT. ORGANIZERS SAY THE IMPROVED RATING CAN BE  ATTRIBUTED TO AN IMPROVEMENT IN FARMERS' PERSPECTIVE ABOUT THE  FUTURE... MOTIVATED IN PART BY BETTER CORN AND SOYBEAN PRICES.  HOWEVER, ORGANIZERS ALSO NOTE THE JUMP IN PRODUCER SENTIMENT ALSO  REFLECTED FEWER RESPONDENTS WITH A NEGATIVE OUTLOOK, RATHER THAN A  NOTABLE SHIFT TOWARD A POSITIVE OUTLOOK ON THE AGRICULTURAL ECONOMY.
SOUTH CAROLINA CHALLENGES
FOR GROWERS IN THE SOUTHEAST-- IT'S BEEN A CHALLENGING YEAR. MARION COUNTY, SOUTH CAROLINA, HAS SEEN EXTREME HEAT, TROPICAL  STORMS AND A HURRICANE THIS SEASON ALONE.   AS NATIONAL REPORTER BETSY JIBBEN SAW, FARMERS THERE REMAIN  THANKFUL THEY GOT ANY CROP AT ALL FOLLOWING MULTIPLE YEARS OF TOUGH  TIMES.  "AN UNHARVESTED FIELD OF PEANUTS..""THIS IS A COMPLETE LOSS." A WALK AND SET OF WORDS BANKERS AND GROWERS KNOW ALL TOO WELL IN  NORTHEAST SOUTH CAROLINA.  IN OUR AREA, YOU'RE GOING TO SEE A LOT OF COTTON AND PEANUT FARMERS  WHO WILL HAVE A LOSS ON THEIR CROP INSURANCE," THEY'LL BE ABLE TO PAY OFF OPERATING EXPENSES. BUT THAT'S ABOUT AS FAR AS IT WILL  GO.NORTHEAST SOUTH CAROLINA EXPERIENCED EXTREME HEAT THIS SUMMER.  THEN HURRICANE MATTHEW HIT IN OCTOBER...  JUST IN TIME FOR HARVEST. WHILE COTTON HARVEST IS NOW ALMOST COMPLETE IN THE STATE, SOME FIELDS IN MARION COUNTY ARE UNHARVESTED AND FULL ON HARDLOCK  COTTON... WE HAD A COUPLE OF FIELDS LEFT BUT THEY WEREN'T WORTH PICKING,"AND GROWERS LIKE NEAL BAXLEY CAN COUNT LOSS.  "IT'S ANYWHERE FROM ZERO TO 800 POUNDS. WE'RE PROBABLY GOING TO GET ABOUT HALF OF WHAT WE  EXPECT. WE NORMALLY FIGURE ON A 900 POUND DRYLAND CROP AND WE PROBABLY WON'T EVEN GET  THAT," HE SAYS SOYBEANS, CORN AND TOBACCO WEREN'T IMPACTED AS MUCH IN HIS  AREA. HOWEVER, COTTON AND PEANUTS TOOK A HIT. .BAXLEY IS EXPECTING  YIELDS TO BE HALF OF HIS NORMAL VIRGINA PEANUT CROP. "IT'S SO DISAPPOINTING WITH THE PEANUTS. WE HAD SUCH A PROMMISING CROP,"BUYING STATIONS ARE SEEING IT TOO. SMALL YIELDS ACROSS ALL TYPES OF  PEANUTS.  "IF YOU TAKE OUT LAST YEAR, THIS STATION WAS BUYING PRETTY MUCH 2 TONS TO THE ACRE, THIS YEAR,  WE'RE GOING TO BUY 28 HUNDRED POPUNDS TO THE ACRE. PRETTY SIGNIFICANT LOSS,""HURRICANE MATTHEW IS JUST ONE CHALLENGE. FARMERS ARE FACING TWO TOUGH GROWING SEASONS  BACK TO BACK,"2015 BROUGHT A FROST, FREEZE, DROUGHT AND FLOOD.  "WE ESTIMATED A 40 PERCENT YIELD LOSS DUE TO THE DROUGHT ALONE.EVERY CROP WE HAD, IF IT WASN'T WIPED OUT FROM THE DROUGHT, IT WAS WIPED OUT BY THE FLOOD,"SOME POCKETS RECEIVED ROUGHLY 20 INCHES OF RAIN. OTHER AREA GOT  ROUGHLY 40.  THOSE RAINS DIDN'T SHUT OFF UNTIL WELL INTO DECEMBER OF 2015.  GROWERS SAY *THIS YEAR* THE RAINS STOPPED AFTER THE HURRICANE- CREATING A BETTER YEAR WITH LESS UNHARVESTED ACRES. BUT THE TWO  YEARS COMBINED ARE PUTTING A STRAIN ON GROWERS. "IN ORDER TO BE ABLE TO WORK WITH CUSTOMERS, WE HAD TO LOOK AT EVERY LOAN, AND MAKE SOUND  CREDIT CONDITIONS TOMAKE THE FARMERS GOING AGAIN FOR ANOTHER YEAR,""I'M WORRIED A LOT OF GUYS BURNS THROUGH A LOT OF THEIR EQUITY AND WORKING CAPITAL. THEY NEED  TO GET THINGS GOING TO GET '17 STARTED,"THAT'S WHY FARMERS SAY NEXT YEAR NEEDS TO BE A PROFITABLE ONE.  "GOING INTO '17, IF WE HAVE ANOTHER DISASTER, I THINK WE'LL SEE THE  PLAN OF ACTION WILL BE SELL ASSETS IN AN EFFORT TO CONTINUE FARMING OR PAYOUT AND GO FORWARD,"REGARDLESS OF THE CHALLENGES, FARMERS HERE ARE PRESSING FORWARD....  "WE'RE OPTIMISTIC. NEXT YEAR WILL BE BETTER,"STEPPING EVER CLOSER TO A NEW SEASON AND A FRESH START.  REPORTING IN MARION COUNTY, SOUTH CAROLINA, I'M BETSY JIBBEN.  THANKS BETSY.HARD-EEE SAYS MORE ACRES WERE UNHARVESTED LAST YEAR THAN 2016.  BUT FOR SOME FARMERS THIS MARKS THREE SEASONS OF TOUGH WEATHER  CONDITIONS AND TIGHT INCOMES. 
CROP COMMENTS
"CROP COMMENTS IS POWERED BY RESICORE HERBICIDE FOR CORN, FROM  DOW AGROSCIENCES."   THIS ARCTIC BLAST IN THE NATION'S MIDSECTION  IS CREATING SOME  HAZARDOUS CONDITIONS FOR LIVESTOCK. MIKE HOFFMAN JOINS US NOW WITH A LOOK IN CROP COMMENTS. MIKE.  GOOD MORNING, CLINTON.  TAKE A LOOK AT THIS PHOTO FROM KIDDER COUNTY, NORTH DAKOTA. IT MAY BE  DIFFICULT TO SEE BUT THAT'S THE HEAD OF A SIMMENTAL CROSS  STICKING OUT OF THE SNOW. FARMER DAVID REMMICK USED A PAYLOADER TO  DIG A 70-FOOT TRENCH TO CUT THROUGH EIGHT FOOT DRIFTS TO RESCUE THE  ANIMAL. THAT PART OF THE STATE HAS RECIVED TWO FEET OF SNOW OVER THE PAST  TWO WEEKS...AND 50 MILE AN HOUR WINDS ON MONDAY AND TUESDAY. NOW TO VERNON, ALABAMA. WILL GILMER SENT US SOME PHOTOS OF THE  EVENING SKY.  DROUGHT'S BEEN A PROBLEM. BUT WILL SAYS THE AREA HAS  SEEN ABOUT FOUR NCHES OF RAIN THE PAST WEEK.  THE DROUGHT MONITOR  SAYS ALMOST 97 PERCENT OF ALABAMA IS IN AN EXTREME DROUGHT. AND  TAKING A LOOK AT THE WEATHER MAP YOU CAN SEE A BIG STORM SYSTEM OVER EASTERN CANADA CONTINUES TO PUMP IN THE COLD AIR TO THE EASTERN TWO  THIRDS OF THE COUTNRY I'LL HAVE YOUR FORECAST COMING UP BUT NOW HERE  ARE SOME HOMETOWN TEMPS.
TEASE
WHEN WE COME BACK, WE'LL TALK ABOUT CATTLE MARKETS AND WHAT TO  EXPECT IN THE MONTHS AHEAD. PLUS OUR DROVER TV REPORT FOCUSES ON TRADE FOR U.S. BEEF. AND FIND OUT HOW A POPULAR CHRISTMAS GIFT STEMS FROM A CLASSROOM  PROJECT FROM THE ROARING 20'S. ENTER FOR YOUR CHANCE TO WIN TWO REGISTRATIONS TO THE TOP  PRODUCER SEMINAR - JANUARY 24TH THROUGH THE 27TH IN CHICAGO.   PACKAGE INCLUDES A THREE-NIGHT HOTEL STAY, PLUS A TWO-HUNDRED DOLLAR  VISA GIFT CARD!  GO TO TOPPRODUCERSEMINAR.COM/SWEEPSTAKES.
FLOOR OF THE CME
AGRIBUSINESS TODAY, BROUGHT TO YOU BY YAMAHA - MAKERS OF VIKING SIDE- BY-SIDES.  YAMAHA - REAL WORLD TOUGH.  IN AGRIBUSINESS LETS SEE HOW MARKETS RESPONDED MIDWEEK FROM THE  FLOOR OF THE CME IN CHICAGO. IT FEELS LIKE WE'RE ALREADY IN THIS HOLIDAY TRADE AND OF COURSE, WHEN  WE LOOK AT CORN, CORN UNDER A LITTLE BIT OF PRESSURE BUT HAS HAD ONE  HECK OF A MOVE UP TO 3.67 BEFORE FADING BACK A LITTLE BIT HERE. I THINK  CORN LOOKS GOOD AS LONG AS WE CAN HOLD IT ABOVE 3.50 OR 3.55. I THINK  WE'RE GOING TO BE IN REAL GOOD SHAPE THERE. SOYBEANS, THEY'VE  CONTINUED A NEW RANGE. BETWEEN 18 WEEKS IN NOVEMBER BEING 9.60 AND  10.20, WE'RE NOW IN A NEW RANGE OF 10.20 TO 10.70. I THINK WE GET THE RALLY  UP AND OF COURSE NOW WE'RE NOW ON OUR WAY BACK TO TEST THAT 10.20  LEVEL HERE.  LOOK AT THE HOG MARKET, IT'S BEYOND ME WHAT'S GOING ON HERE. THERE'S  NO SELLING COMING ON AT ANY POINT. I THINK THEY HAVE TRAPPED MORE  SHORTS HERE AT THE UPPER END OF THE LEVEL HERE. I THINK THERE MAY BE  SOME NEWS WE MAY NOT HAVE HEARD YET WHICH WILL COME OUT THAT'S  KEEPING THESE MARKETS GRINDING HIGHER. THERE HAS BEEN NO SELLOFF  SINCE WE'VE BEEN BACK TO THIS WAY BOTTOM. THAT'S THE WAY I SEE IT. THIS IS  TODD BUBBA HOROWITZ FROM BUBBA TRADING.COM COMING TO YOU FROM THE  FLOOR OF THE CME GROUP IN CHICAGO. 
AGRIBUSINESS
AFTER A ROLLERCOASTER YEAR IN CATTLE MARKETS TYNE MORGAN JOINS US  WITH A LOOK AT WHERE PRICES MAY BE HEADED IN TODAY'S ANALYSIS. HERE NOW WITH JULIANE JOHNSTON OF PRO FARMER. JULIANE, LET'S DISSECT  THIS CATTLE MARKET RIGHT NOW. SHORT TERM, DO YOU THINK WE'VE PUT A  BOTTOM IN? I THINK WE HAVE FOR THE SHORT TERM. ON THE CATTLE CYCLE  SHOULD SEE A MAJOR LOW IN A YEAR THAT ENDS IN A SIX. BUT AS YOU  REMEMBER TYNE, WE HAD A HIGH THAT WAS DELAYED FOR TWO YEARS BECAUSE  OF THE EXTENDED DROUGHT. NOW THE PAST INDICATIONS THAT THE HERD  REBUILDING CYCLE IS COMING ON. IT'S AT LEAST SLOWING. WE DON'T HAVE CONFIRMATION OF THAT AND AS FAR AS THE TECHNICAL PART OF THE MARKET IS  CONCERNED, WE DON'T HAVE CONFIRMATION OF THAT TECHNICALLY IS WE NEED  TO BREAK THE DOWN TREND THE LONGER TERM DOWN TREND THAT SOME  DOLLARS AWAY STILL. SO I WOULD STILL USE THESE OPPORTUNITIES WHEN YOU  FEEL LIKE THE MARKETS PROVIDED YOU AN OPPORTUNITY OR YOU FEEL LIKE  THE MARKETS TRYING TO TURN TO START HEDGING THAT MARKET. WE'VE SEEN  SOME DECENT EXPORTS JULIANNE AND DEMAND, YOU KNOW, NOW WE'RE HERE  SEASONALLY WHERE DEMAND SHOULD PICK UP. SO IS THAT WHAT'S DRIVING  CATTLE PRICES? HIGHER AT THIS POINT IN THE SEASON? WE SAW SOME NICE  CASH CATTLE IMPROVEMENT OF THE PLAINS. PACKERS MARGINS ARE  PROFITABLE ON BOXED BEEF PRICE WAS IMPROVING AND TO KEEP THAT FIRE  GOING, WE'RE GOING TO NEED TO SEE RETAIL DEMAND. EXPORT DEMAND LOOKS  LIKE IT'S GOING TO END THE YEAR FAIRLY STRONG, DESPITE THE STRONG DOLLAR AND THAT WILL BE A WILD CARD IS WE HAD IN THE TWENTY SEVENTEEN.  BUT THE RETAIL SIDE OF THE MARKET IS WHAT CONCERNS ME THE MOST  BECAUSE AFTER THANKSGIVING THAT DEMAND ENGINE HASN'T REARED UP AS  MUCH AS I'D HOPED. IT WOULD SO THE RETAIL SIDE CONCERNS YOU MORE THAN  THE STRONG U S DOLLAR RIGHT NOW? BECAUSE RIGHT NOW WE HAVE SEEN A  SHARP DECLINE IN BOX PRICES THAT WE HADN'T SEEN THAT KIND OF PACE IN  THE RETAIL PRICE. RETAILERS ARE STILL, THE PRICES HAVE DECLINED  BUT NOT  THE PACE THE BOXED BEEF PRICES HAVE AND THE BEEF PRICES AREN'T AS  COMPETITIVE IN THE RETAIL SECTOR AS POULTRY AND PORK.SO TO GET  RETAILERS OR CONSUMERS TO BUY MORE BEEF,  WE NEED TO SEE CHEAPER  PRICES.ALL RIGHT. SO IT'S REALLY THAT RETAIL SIDE  THAT YOU THINK IS GOING TO DRIVE  THIS MARKET MOVING FORWARD? AND ANOTHER WILD CARD WOULD BE IF ECONOMY CAN REAR UP AND  STRENGTHEN TWENTY SEVENTEEN, I WILL HAVE MORE CONFIDENCE. ALRIGHT,  THANKS SO MUCH JULIANNE. I APPRECIATE IT. STAY WITH US. WE'LL HAVE MORE  AGDAY WHEN WE COME BACK.  LEARN HOW TO TRADE COMMODTIES FROM THE PROFESSIONALS AT BOWER TRADING.  CALL  800-533-8045.
WEATHER
AGDAY WEATHER - BROUGHT TO YOU BY CREDENZ SOYBEAN SEED FROM BAYER.  ) WELCOME BACK TO AGDAY HERE WITH METEOROLOGIST MIKE HOFFMAN. MIKE  COLD WEATHER, WINTER STORMS I GUESS WINTER ITS TIME IT IS DECEMBER. IT  SEEMED TO TAKE AWHILE TO GET HERE THIS YEAR BUT NOW IT'S HERE WITH A  VENGEANCE AND IT'S GOING TO BE STICKING AROUND THE WAY IT LOOKS. THE  FIRST COLD FRONTS ALREADY IN THE NORTHERN DIXIE IS YOU CAN SEE AND  THAT THIS WILL PUSH FOR REALLY COLD AIR INTO THE SOUTHEAST BUT IT IS  GOING TO BE CHILLIER THAN YOU'VE SEEN OBVIOUSLY THIS IS SOME TRUE  ARCTIC AIR BEHIND THE SECOND FRONT PUTTING A MAP INTO MOTION YOU CAN SEE THIS IS GONNA REALLY INCREASE THE LAKE EFFECT SNOW THERE'S GOING  TO BE SOME PLACES GET A FOOT OR TWO OF SNOW IN SOME OF THOSE THOSE  DOWN WIND AREAS OF THE GREAT LAKES OVER THE NEXT TWO TO THREE DAYS  STATIONARY FRONT KIND OF SEPARATING THE REALLY COLD ARCTIC AIR TO THE  EAST TO MILDER AIR OFF TO THE WEST ALTHOUGH YOU CAN SEE IN THE  MOUNTAINS IT'S STILL GOING TO BE SNOW IN UTAH AND MUCH OF THE IDAHO  EVEN INTO THE VALLEY MORE THAN LIKELY IN THAT AREA NEXT STORM SYSTEM  OFF THE COAST THE WEST COAST STILL COMING EASTWARD AND AS YOU CAN  SEE BY TOMORROW MORNING TWO DOMES OF HIGH PRESSURE KEEPING MOST  OF THE CENTER OF THE COUNTRY JUST COLD AND DRY FOR THIS TIME OF THE  YEAR. LAKE EFFECT SNOW CONTINUES IN THE GREAT LAKES FIRST COLD FRONT  ALL THE WAY DOWN INTO SOUTH FLORIDA AND THE NEXT STORM SYSTEM  STARTING TO BRING SOME RAIN AND MOUNTAIN SNOWS ONCE AGAIN TO A  NORTHERN AND CENTRAL CALIFORNIA ALL THE WAY UP THE COAST IN INTO THE  NORTHERN ROCKIES AS WELL. SO LET'S TAKE A LOOK AT PRECIPITATION  ESTIMATES OVER THE PAST TWENTY FOUR HOURS THIS IS RAIN AND MELTED  SNOW IN MANY CASES ADDING ON THE NEXT THIRTY SIX YOU CAN SEE IT'S NOT A  LOT OF MOISTURE IN ANY OF THE SNOW ACROSS THE GREAT LAKES AND PARTS  OF THE PLAINS BUT IT IS A LOT OF MOISTURE OUT WEST IN SOME OF THAT WILL  BE SNOW IN THE HIGHER ELEVATIONS CHECKING OUT THAT SNOWFALL OVER THE  PAST TWENTY FOUR HOURS YOU CAN ALREADY SEE SOME OF THE SIERRA NEVADA'S HAVE SEEN A LOT OF SNOW ADDING ON THE NEXT THIRTY SIX WILL  JUST KEEP ADDING TO THAT IN THE HIGHER ELEVATIONS OUT THERE AND REALLY  PUT DOWN SOME A GOOD SNOW FOR THE CENTRAL AND NORTHERN ROCKIES  ESPECIALLY THOSE SKI RESORTS SO GOOD NEWS FOR THE SKIERS THERE AND  GOOD NEWS IN THE GREAT LAKES IF YOU LOVE TO GO SKIING AS WELL TAKE A LOOK AT TEMPERATURES THIS AFTERNOON AND THIS IS COLD AIR NOW IT'S MORE  TYPICAL FOR THIS TIME A YEAR THAN WE'VE SEEN BUT SINGLE DIGITS HIGHS IN  PARTS OF A NORTH DAKOTA THIRTIES AND FORTIES FOR HIGHS IN THE  NORTHERN PORTIONS OF THE SOUTHEAST YOU CAN SEE LOW TEMPERATURES  TONIGHT GOING TO DROP OFF A FORTY THREE IN JACKSONVILLE STILLS CLOSE  TO SEVENTY IN MIAMI BUT YOU'RE LOOKING AT A LOT OF TEENS IN AREAS FROM  THE OHIO VALLEY CENTRAL PLAINS AND NORTHWARD WITH MINUS TWELVE OUR  COMPUTER MODEL SHOWING IN BISMARCK AND THE HIGH AND BISMARCK  TOMORROW MINUS SIX SO THAT'S SOME COLD AIR AND YOU CAN SEE THE  TWENTIES AND THIRTIES ALL THE WAY DOWN IN THE NORTHERN DIXIE THERES THE JET STREAM THAT'S THAT FIRST SHOT OF COLD AIR WATCH A SECOND ONE  COMING RIGHT OFF THE ARCTIC CIRCLE SLAMS INTO THE PLAINS GREAT LAKES IN  THE NORTHEAST SUNDAY MONDAY AND TUESDAY AND THERE'S MORE COLD AIR  COMING FROM THE NORTHEAST QUADRANT OF THE COUNTRY. IT'S GOING TO BE  MILD FOR A LOT OF FOLKS OUT WEST THOUGH. THAT'S A LOOK ACROSS THE  COUNTRY NOW LET'S TAKE A LOOK AT SOME LOCAL FORECASTS. WE HEAD TO  MORECROFT WYOMING A GOOD DEAL OF SUNSHINE VERY COLD THOUGH HIGH  TEMPERATURE OF JUST NINE. ORTONVILLE MINNESOTA BREEZY AND COLD A FEW  FLURRIES HIGH ROUND FIFTEEN AND PETERSBURG VIRGINIA PARTLY SUNNY  BREEZY AND MILD HIGH TEMPERATURE OF FIFTY ONE BUT FALLING
TEASE
WHEN WE COME OUR DROVERS TV REPORT SHOWS SOME GOOD NEWS FOR  CATTLE FEEDERS. AND LATER GIVING THE GIFT OF CHEESE AND SAUSAGE. WE'LL SEE HOW A  WISCONSIN COMPANY HELPED KICK OFF THIS TRADITION NEARLY A CENTURY  AGO-- TODAY ON IN THE COUNTRY. AGDAY - BROUGHT TO YOU BY FARMER'S EDGE.  FOR THE LATEST IN MAKING SENSE OF YOUR DATA -VISIT GROWYOURRETURNS.COM. SET THE PULSE FOR THE BEEF INDUSTRY AND JOIN DROVERS' NATIONAL PANEL OF BEEF PRODUCERS.   JUST TEXT THE WORD DROVERS TO 31313 TO SPEAK UP FOR THE BEEF INDUSTRY EACH MONTH.   DROVERS PULSE IS SUPPORTED BY MERIAL.  )
DROVERS TV
ON DROVER'S TV, A NEW PROFIT TRACKER SHOWING POSITIVE GAINS FOR A  SECOND CONSECUTIVE WEEK. AVERAGE FEEDYARD MARGINS LAST WEEK WERE JUST SHY OF 100 DOLLARS PER  HEAD. THAT'S 40 DOLLARS BETTER THAN THE PREVIOUS WEEK. THE IMPROVMENTS ON THE TAIL OF A 3 DOLLAR RALLY IN FED CATTLE PRICES. THE FIVE AREA CASH PRICE AVERAGING 114 DOLLARS. A YEAR AGO FEEDERS WERE LOSING NEARLY 500 DOLLARS PER HEAD. THE FOLKS WITH STERLING MARKETING SAY COW CALF GUYS NEED TO START  PLANNING FOR A ROUGH 2017. THEY'RE PREDICTING LOSES OF 24 DOLLARS PER HEAD. ALSO FROM DROVERS -  AFTER CHINA LIFTED A 13 YEAR BAN ON U-S BEEF  IMPORTS IN SEPTEMBER, IT OPENED THE DOORS FOR U-S BEEF TO A FIFTH OF  THE WORLD'S POPULATION. COMPANIES LIKE CARGILL ARE TAKING ADVANTAGE OF THIS MARKET BY OPENING  AN INNOVATION CENTER TO CREATE FOODS TAILORED TO CHINESE CONSUMERS. CALLED CARGILL ONE, IT WILL EMPLOY 50 EMPLOY RESEARCHERS, SCIENTISTS AND NUTRITIONISTS THAT WILL BRING TOGETHER VARIOUS PRODUCT LINES. IT'S THE FIRST CARGILL INNOVATION CENTER IN ASIA WITH THREE MAIN AREAS OF INNOVATION: TASTE AND FLAVORS, FOOD INGREDIENTS AND FOOD SAFETY.
TEASE
UP NEXT WE'LL SEE HOW A CLASS PROJECT TURNED INTO A HOLIDAY GIFT GIVING  TRADITION. STAY WITH US. PLUS, A POPULAR MAIL-ORDER CHRISTMAS GIFT  ENTER FOR YOUR CHANCE TO WIN TWO REGISTRATIONS TO THE TOP  PRODUCER SEMINAR - JANUARY 24TH THROUGH THE 27TH IN CHICAGO.   PACKAGE INCLUDES A THREE-NIGHT HOTEL STAY, PLUS A TWO-HUNDRED DOLLAR  VISA GIFT CARD!  GO TO TOPPRODUCERSEMINAR.COM/SWEEPSTAKES. 
IN THE COUNTRY
IN THE COUNTRY - BROUGHT TO YOU BY KUBOTA'S BX AND L SERIES COMPACT  TRACTORS - AVAILABLE NOW WITH A SIX-YEAR LIMITED POWERTRAIN WARRANTY.   LEARN MORE TODAY AT YOUR LOCAL KUBOTA DEALER. ) DO YOU NEED TO PURCHASE A CHRISTMAS GIFT FOR A CO-WORKER OR A FAMILY  FRIEND? IT SEEMS AT THIS TIME OF YEAR, THOSE GIFT BOXES OF CHEESE AND  SAUSAGE ARE POPULAR. ONE OF THE MOST FAMILIAR NAMES IN THAT BUSINESS IS "SWISS COLONY".  AND  AS WE FIND OUT IN THIS VIDEO PROVIDED BY THE WISCONSIN MILK MARKETING  BOARD, THE CONCEPT OF SWISS COLONY STARTED AS A COLLEGE CLASS  PROJECT....AND IT'S STILL EARNING AN "A" NEARLY A CENTURY LATER. IN 1926 RAY KUBLY, A STUDENT AT THE UNIVERSITY OF WISCONSIN – MADISON, CAME UP WITH AN  ADVERTISING CAMPAIGN AND BUSINESS MODEL FOR SELLING WISCONSIN CHEESE BY MAIL-ORDER. "I  ALWAYS UNDERSTOOD THAT RAYMOND KUBLY WAS A TRUE ENTREPRENEUR, WITH A LOT OF VISION, BUT I  THINK EVEN RAYMOND WOULD BE VERY SURPRISED AND HOPEFULLY VERY PLEASED BY HOW MUCH THE  COMPANY HAS GROWN OVER THE YEARS." NINETY YEARS LATER RAY'S TINY BUSINESS HAS EXPANDED INTO ONE OF THE LARGEST DIRECT MARKETERS  IN THE U.S. "TODAY WE HAVE A PORTFOLIO OF TEN CATALOGUE AND ON-LINE DIRECT MARKETING  BUSINESSES. WE SELL EVERYTHING FROM CHEESE AND SAUSAGE TO EXERCISE EQUIPMENT TO APPAREL  AND JEWELRY.  YOU NAME IT, WE SELL IT SOMEWHERE." HAVING RECENTLY ACQUIRED THE WISCONSIN  CHEESEMAN, WHICH HIGHLIGHTS WISCONSIN MASTER CHEESEMAKER'S PRODUCTS, COLONY BRANDS IS  GEARING UP FOR THE BUSIEST TWO MONTHS OF THE YEAR. "WITH THE SWISS COLONY CATALOGUE AND THE  WISCONSIN CHEESEMAN, THERE IS A VERY BIG SPIKE IN SALES IN NOVEMBER AND DECEMBER;  PROBABLY EIGHTY PERCENT PLUS OF THE SALES OF THOSE TWO BUSINESSES TAKES PLACE DURING THOSE  TWO MONTHS." AND IT NEVER CEASES TO AMAZE THE STAFF AT COLONY BRANDS THAT THE AMAZING  PLACE WHERE THEY WORK BEGAN IN A BASEMENT AS ONE MAN'S DREAM. "STARTING WITH A SINGLE  INDIVIDUAL WITH A VISION TO THE MULTI-FACETED BUSINESS WE ARE TODAY, AND TO THINK THAT THAT  COMPANY IS STILL HELD BY THE SAME FAMILY- THE KUBLY FAMILY. IN THIS DAY AND AGE, TO HAVE A  NINETY-YEAR RUN FOR A PRIVATELY HELD BUSINESS IS TRULY AMAZING." AND THAT'S WISCONSIN DAIRY  NEWS. 
CLOSE
THAT'S ALL THE TIME WE HAVE THIS MORNING. WE'RE GLAD YOU TUNED IN.  FOR MIKE HOFFMAN, AND ALL OF US AT AGDAY. I'M CLINTON GRIFFITHS. HAVE A GREAT DAY. HIGH STRENGTH STEEL FOR HIGH STRENGTH DEPENDABILITY, THE CHEVY SILVERADO IS THE OFFICIAL NEWS GATHERING VEHICLE OF AGDAY TELEVISION.