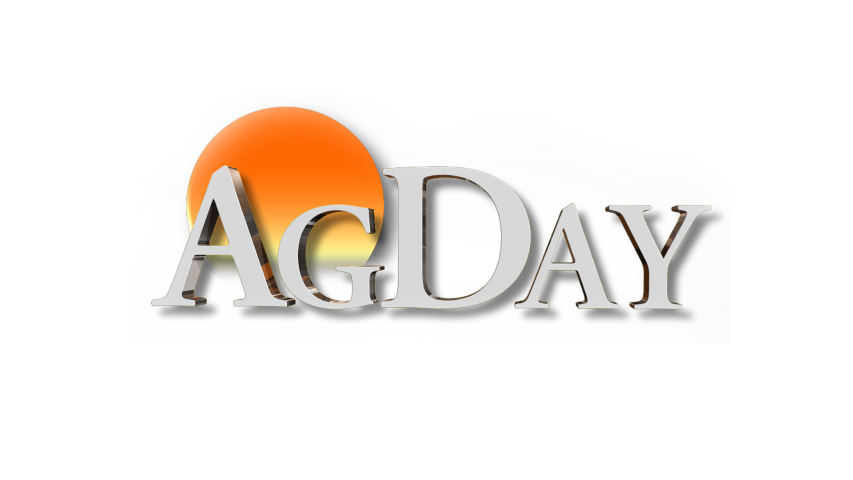 TODAY ON AGDAY
JUNE 8, 2017

HEADLINES
THE PRESIDENT CALLS FOR INVESTMENT IN HIGHWAYS AND WATERWAYS. "WE WILL  BUILD BECAUSE OUR PROSPERITY DEMANDS IT." PLUS REBUILDING FENCING IS UNDERWAY  IN THE TEXAS PANHANDLE BUT THERE'S A LOT OF WORK LEFT TO DO. IN  AGRIBUSINESS...COULD ACREAGE NUMBERS CHANGE. DROVER'S TV LOOKS AT PROFITABILITY IN THE CATTLE INDUSTRY. AND FOOD  FAILURES WORTH REMEMBERING. AGDAY-BROUGHT TO YOU BY THE DEPENDABLE, LONG LASTING CHEVY  SILVERADO.

TRUMP MAKING THE WAY FOR INFRASTRUCTURE
GOOD MORNING I'M CLINTON GRIFFITHS.  PRESIDENT TRUMP SAYS FOR THE U-S  TO WIN IN THE GLOBAL MARKETPLACE, THE COUNTRY MUST HAVE THE "BEST,  FASTEST AND MOST RELIABLE INFRASTRUCTURE IN THE WORLD." THE PRESIDENT MADE THOSE REMARKS WEDNESDAY AT THE PORT OF  CINCINNATI ALONG THE OHIO RIVER. FOCUSING ON INFRASTRUCTURE THIS WEEK, THE PRESIDENT SAYS U-S  WATERWAYS - IN PARTICULAR - NEED ADDITIONAL FUNDING FOR MAINTENANCE. TRUMP SAYS INLAND WATERWAYS AND THE NEED TO REPAIR AGING LEVEES,  DAMS, LOCKS AND PORTS ARE CRITICAL TO COMMERCE. THE PRESIDENT IS PUSHING A PLAN TO PAY FOR INFRASTRUCTURE  IMPROVEMENTS WITH 200 BILLION DOLLARS IN TAX BREAKS THAT HE HOPES WILL  LEVERAGE ONE TRILLION DOLLARS WORTH OF CONSTRUCTION OVER TIME. "I'M CALLING ON ALL DEMOCRATS AND REPUBLICANS TO JOIN TOGETHER, IF THAT'S POSSIBLE, IN THE GREAT  REBUILDING OF AMERICA. COUNTLESS AMERICAN INDUSTRY, ITS BUSINESSES AND JOBS DEPENDS ON  RIVERS, RUNWAYS, ROADS AND RAILS THAT ARE IN DIRE AND EVEN DESPERATE CONDITION."THE PRESIDENT'S PLAN RELIES ON TAX BREAKS AND PUBLIC-PRIVATE  PARTNERSHIPS. HIS PLAN WOULD ALSO PUT MORE CONTROL IN THE HANDS OF  LOCAL GOVERNMENTS...WHICH DEMOCRATS WOULD LIKELY OPPOSE. AT A RECENT MEETING OF FARM BROADCASTERS IN WASHINGTON, LAWMAKERS  ON THE HOUSE TRANSPORTATION COMMITTEE SUPPORTED THE PRESIDENT'S  INITIATIVE TO IMPROVE IMPORTANT SHIPPING CHANNELS...ESPECIALLY IN THE  MIDWEST. "I AM REALLY IMPRESSED WITH THE ADMINISTRATION'S DESIRE  TO CONTINUE TO PUSH FORTH FOR INFRASTRUCTURE INVESTMENT. IT'S SOMETHING I'VE BEEN I'VE BEEN  TOUTING SINCE BEFORE I GOT TO THIS OFFICE. SO I I THINK IT IS REALISTIC AND I'M LOOKING FORWARD TO  WORKING WITH THE ADMINISTRATION TO MAKE IT HAPPEN. AND THEN FINALLY WE'RE HOPING TO HAVE A  MAJOR INFRASTRUCTURE REINVESTMENT IN OUR NATION AGAIN IT'S TIME TO REBUILD AMERICA REBUILD RURAL  AMERICA REBUILD OUR STATES SO THAT WE LAID THE GROUNDWORK FOR SUSTAINABLE LONG TERM  ECONOMIC GROWTH. YOU NEED THOSE INFRASTRUCTURE PROJECTS TO DO IT INCLUDING WATERWAY  INFRASTRUCTURE. GIVEN THE AMOUNT OF COMMODITIES THAT FLOW UP AND DOWN THE MISSISSIPPI AND  THE OHIO AND IN OTHER INLAND WATERWAY AREAS."  MEANWHILE THE TOP AGRICULTURE LEADERS FROM THE UNITED STATES AND CANADA MET EARLIER  THIS WEEK, DISCUSSING TRADE AND THE RENEGOTIATION OF THE NAFTA. WHILE NO NEGOTIATIONS TOOK PLACE DURING THE MEETING, ACCORDING TO THE U.S. DEPARTMENT OF  AGRICULTURE, THE PAIR DID LAY OUT CONCERNS ON AGRICULTURAL TRADE ISSUES, INCLUDING DAIRY.  U.S. AGRICULTURE SECRETARY SONNY PERDUE SAID THE TWO HAD "VERY GOOD, VERY CANDID  DISCUSSIONS" THAT WERE "VERY FRANK, LIKE FAMILY MEMBERS DISCUSSING SOME THINGS THAT ARE NOT  NECESSARILY COMFORTABLE."

WILDFIRE RELIEF
WILDFIRES SWEPT THROUGH THE HIGH PLAINS IN EARLY MARCH AND BURNED  MORE THAN 1.5 MILLION OF ACRES.  BUT A STAPLE OF CATTLE COUNTRY, BURNED WITH IT - MORE THAN 18  THOUSAND MILES OF FENCING DESTROYED ACROSS THE PLAINS.  REBUILDING THAT INFRASTRUCTURE IS ONGOING.  BETSY JIBBEN REPORTS FROM THE HEART OF THE PERRYTON WILDFIRE IN THE  PANHANDLE OF TEXAS.  FARMERS IN OCHILTREE COUNTY, TEXAS ARE BUSY.. PLANTING ANOTHER CROP LIKE THEY DO EVERY YEAR.  BUT THIS ISN'T THE ONLY JOB WEIGHING ON RYAN JOHNSON THIS SEASON.  "WE LOST 10 THOUSAND ACRES,"HIS FARM AND RANCH TAKING A DIRECT HIT DURING THE MARCH WILDFIRES.  "WE LOST ABOUT 16 MILES OF FENCE.""WE'RE ABOUT 75 PERCENT DONE RIGHT NOW. WE'RE GOING BACK IN TO WHERE CEDAR POSTS HAVE  BURNED OFF AND REPLACING THEM WITH STEEL POSTS,"QUICK WORK FOR THIS CATTLE COUNTRY NECESSITY ITS LEGACY INFRASTRUCTURE FOR PRODUCERS.  SOME OF THESE POSTS STANDING SINCE TAFT WAS PRESIDENT.  "WITH THE FENCE REBUILDING EFFORTS, METAL STAKES ARE A BIG DEAL. AS YOU CAN SEE HERE TO THE  NORTH OF US, 3,4,5 METAL STAKES AND THEN IT'S A CEDAR POST. THOSE CEDAR POSTS ARE BURNED TO  THE GROUND,"WHERE THOSE POSTS ONCE STOOD, FIRE LEFT BEHIND WEAKER, BRITTLE  SPOTS IN THE WIRE - LEAVING STANDING FENCE NOT IN THE BEST SHAPE.  "NOW EVEN THOUGH SOME OF THE FENCE IS STILL STANDING, BECAUSE OF THE HEAT OF HTE FIRE, IT WILL  STILL NEED TO BE REPLACED,""THAT'S THE MAIN RECOVERY EFFORT NOW, REPLACING ALL OF THESE CEDAR STAKES WITH ACTUAL METAL  POSTS GOING INTO THE GROUND. THAT'S PROBABLY OUR BIGGEST NEED, THAT AND BARB WIRE,"BOTH AN ONGOING PROCESS, AND A STRAIN FOR THE CHECKBOOK- SOME FENCE LINES IN THE PLAINS COSTS ROUGHLY 10 THOUSAND DOLLARS  PER MILE TO BUILD- AND ALL OF IT MAY NOT BE COVERED BY INSURANCE.  WE INTERVIEWED ONE PRODUCER WHO DIDN'T WANT TO BE IDENTIFIED- HIS  OPERATION WAS AT THE FRONT OF THE FIRE.  HE SAID HUNDREDS OF MILES OF FENCE STILL NEEDS REPAIR.
CROP COMMENTS
WE'VE BEEN TALKING ABOUT DRYNESS IN THE NORTHERN PLAINS. MIKE HOFFMAN HAS CROP COMMENTS FROM THAT PART OF THE COUNTRY...THIS MORNING. HELLO MIKE. GOOD MORNING CLINTON. MATTHEW MOROG TWEETED THESE PICTURES FROM CENTRAL SOUTH DAKOTA. HE SAYS LOCAL HARD RED WINTER WHEAT CONDITIONS HAVE GOTTEN PROGRESSIVELY WORSE IN PAST 10 DAYS AS FIELDS DRY OUT. HE'S HEARING REPORTS OF UP TO 75% OF ACRES HAVE NOW BEEN ZEROED OUT  BY CROP INSURANCE ADJUSTERS. RECENT FROST AND A LACK OF MOISTURE IS REALLY TAKING ITS TOLL QUICKLY. SPRING WHEAT CONDITIONS ARE DETERIORATING IN THE NORTHERN PLAINS. THE  CROP PROGRESS REPORT RATES 55-PERCENT OF THAT CROP IS RATED AS  "GOOD" OR "EXCELLENT" – DOWN SEVEN POINTS A WEEK INE ONE WEEKS' TIME. SOUTH DAKOTA WHEAT FIELDS DROPPED 14 POINTS. NORTH DAKOTA LOST TEN.  MINNESOTA SEEING A ONE POINT DROP BUT IT'S STILL 95-PERCENT GOOD TO  EXCELLENT. AND WASHINGTON STATE SAW A TEN POINT GAIN. WE'LL SEE HOW THE MARKET IS REACTING NEXT IN OUR AGRIBUSINESS REPORT. AND NOW HERE ARE SOME HOMETOWN TEMPS. THE LOCAL WEATHER CAN HAVE A BIG IMPACT NOT ONLY ON YOUR DAY, BUT ALSO ON YOUR CROPS.  START YOUR DAY OFF RIGHT WITH YOUR LOCAL FORECAST DELIVERED RIGHT TO YOUR MOBILE PHONE, JUST TEXT  WEATHER TO 31313 TO GET STARTED!

TEASE
UP NEXT WE'LL TALK ABOUT SHIFTING ACREAGE NUMBERS AFTER THIS SPRING'S  PLANTING CHALLENGES. LATER - WHATEVER HAPPENED TO SOME OF THOSE BRAINCHILD IDEAS - LIKE  "CRYSTAL PEPSI"? YOU CAN'T FIND THEM AT THE STORE. BUT YOU  CAN FIND THEM HERE. DETAILS  WHEN WE HEAD IN THE COUNTRY. AGDAY IS POWERED BY RAM TRUCKS - AMERICA'S LONGEST LASTING PICKUPS.

FLOOR OF THE CME
IN AGRIBUSINESS MARKETS MAKING MID-WEEK INTERESTING. LETS SEE IF  GRAINS COULD HOLD THE RALLY FROM OUR FRIENDS ON THE FLOOR OF THE  CME. CORN IS SURGING. FUTURES REALLY BROKE OUT THROUGH THE RESISTANCE NUMBER AND TO A NEW 11 MONTH HIGH. THE MARKET IS REALLY SURGING THE NEXT STOP REALLY COULD BE YOU KNOW 390 DARE I SAY THAT WE'RE GOING TO GET TO THE $4 MARK. THIS WEATHER MARKET THE FORECAST IS REALLY HOT AND DRY. SO NOW WE'RE RIGHT INTO A WEATHER MARKET THAT WE KNEW WAS GOING TO HAPPEN. HERE WE ARE IN MID-JUNE. THE MARKET IS JUST GETTING POISED TO START TO MOVE HIGHER. WE'VE BEEN QUIET FOR SO LONG THAT IT MAY HAVE CAUGHT A FEW PEOPLE OFF GUARD BUT IF THIS MARKET STARTS TO GET AHEAD OF STEAM WE CAN LOOK OUT THERE THAT WE'RE GOING TO HAVE A LOT OF VOLATILITY. ACTUALLY WHEAT IS THE ONE THAT REALLY BROUGHT THE MARKET UP. WHEN WE HAD THE CROP RATINGS REPORT THAT WAS REDUCED BY ALMOST 7 PERCENT AFTER THE CLOSE ON MONDAY REALLY SPARKED THE RALLY HERE. YOU KNOW SOYBEANS WAS HAVING A DIFFICULT TIME GETTING OFF THE BOTTOM BUT IT LOOKS LIKE $9 STILL IS HOLDING UP VERY WELL THE MARKET DID CLIMB TODAY UP ALMOST 8 CENTS. CRUDE TODAY DOWN OVER TWO DOLLARS. THAT'S ALSO HELPING ALL THE COMMODITY MARKETS ACROSS THE BOARD. ALL BETS ARE OFF RIGHT NOW. HANG ON TO YOUR HAT BECAUSE WE'RE GOING TO HAVE SOME REAL VOLATILITY THESE NEXT TWO DAYS. THAT'S ALL FROM THE FLOOR OF THE CME GROUP.I'M VIRGINIA MCGATHEY.

AGRIBUSINESS
JIM MCCORMICK WITH ALLENDALE OUR GUEST HERE AT AGRIBUSINESS TODAY JIM THERE'S A LOT OF  SPECULATION AS OUR SPRING PLANNING HAS KIND OF BEEN A LITTLE BIT TURBULENT. YOU KNOW WE'VE  PLANTED AND REPLANTED AND PLANTED AGAIN. TALK A LITTLE BIT ABOUT WHAT THAT MIGHT DO TO OUR  ACREAGE NUMBERS. WILL THEY CHANGE OR WILL WE EVEN KNOW. YES WE'RE WE'RE GOING TO SEE  SOME CHANGES. PLAIN AND SIMPLE ALLENDALE GUESSING WE'RE PROBABLY GOING TO SEE A COUPLE OF  MILLION ACRES AND PREVENTED PLANT. WE'VE LOST A MILLION AND A HALF ACRES WOW. THE CORN  POTENTIALLY SO WE'RE GOING TO SEE THAT. BUT THE TRADE GOT TO UNDERSTAND WE'RE NOT GOING TO SEE  THAT RIGHT AWAY. WE DO GET SOME UPDATED WASDE NUMBERS ON FRIDAY. THEY WON'T MAKE ANY  ACREAGES ADJUSTMENTS THERE. TRADITIONALLY WE DON'T SEE HARDLY ANY ADJUSTMENTS EVEN SHOW  UP ON THE JUNE ACREAGE NUMBERS THAT ARE RELEASED AT THE END OF THE MONTH. THESE  ABANDONED ACRES THAT WE'RE LOOKING FOR YOU'RE GOING TO SEE HIM SHOW UP BUT WILL BE MORE  LIKE SEPTEMBER OCTOBER WASDE. THAT'S WHEN THEY TEND TO SHOW UP SO THEY'RE THERE. BUT IT'S  GOING TO BE A LITTLE BIT OF PATIENCE FOR THEM TO SHOW UP FOR SOME OF THE PEOPLE WANTING TO GET  THEIR MARK. THEY GET REALLY EXCITED ON ACREAGE NUMBER. YEAH WE'RE ALL KIND OF SITTING BACK  SAYING OH GOSH IF WE COULD JUST GET SOME OF THESE ACRES ADJUSTED THEN WE'LL SEE THIS RALLY IN  THE MARKET TO REALLY TAKE OFF. BUT YOU THINK IT MAY TAKE A LITTLE BIT MORE THAN IT'S GOING TO TAKE  A LOT MORE TIME THAN THAT IF TRADITION BEFORE THE GOVERNMENT STARTS TO REALLY ADJUST FOR IT. ALL  RIGHT. SO IF WE KNOW THAT'S NOT GOING TO HAPPEN HOW ARE WE GETTING PREPARED AS WE START  WORKING INTO JUNE WATCHING WEATHER WHAT WE'RE DOING IS GOING TO WATCH TO SEE WHAT THE  TREND IS. ONE OF THE METEOROLOGISTS WE LIKE TO WATCH IS ACTUALLY SAYING HE'S LOOKING FOR AN  ADJUSTMENT A TREND CHANGE FROM THIS KIND OF A COOL SPRING WET APRIL OR MAY. WE'VE HAD MORE  TO A DRIER JUNE JULY AND YOU KNOW WE TEND TO LAST SUMMER WE TEND TO WARM UP WE TEND TO  DRY OUT THE LAWNS TEND TO DRY OUT AND THAT TENDS TO GET THE MARKET EXCITED AND THAT'S WHAT  WE'RE GOING LOOK FOR AND LOOK FOR THIS MARKET TO COME UP WITH A REASON TO RALLY. HOW MUCH  EXCITEMENT ARE YOU LOOKING FOR. I'M LOOKING FOR ABOUT A 50 60 CENTS WORTH OF EXCITEMENT OF  CORN. I THINK YOU'LL GET THIS CORN BACK UP TOWARD THE 4.40 4.50. I THINK THAT'LL STOP US. I'M  OPTIMISTIC HOPEFULLY THAT WILL PULL THE BEANS BACK UP TOWARD 10. BUT I'VE GOT TO STRESS STRESS TO  VIEWERS IF YOU GET CORN UP MERE 450 YOU GET BEANS UP NEAR 10. IT IS A GOLDEN OPPORTUNITY  SILVERING PLAIN AND SIMPLE DO SOME WITH IT. ALL RIGHT JIM APPRECIATE IT. THANKS FOR THE ADVICE.  WE'LL BE BACK MORE AGDAY IN JUST A MINUTE. 

WEATHER
WELCOME BACK TO AGDAY HERE WITH METEOROLOGIST MIKE HOFFMAN AND MIKE WE'RE TALKING ABOUT  HOW THE WEATHER HAS TURNED WE'VE GONE FROM JUST A LITTLE RAIN RAIN RAIN HERE IN NORTHERN  INDIANA TO IT'S JUST SHUT OFF NOW AND THERE ARE OTHER PLACES LIKE THAT AND THAT IS A CONCERN. IF  WE GET INTO THAT PATTERN AS YOU'LL SEE ON THE JET STREAM COMING UP THOUGH WE DO SEE A BIG  SYSTEM COMING IN OUT WEST AFTER THE ONE THAT'S THERE RIGHT NOW FARTHER EAST THAT WET SYSTEM THAT CAME OUT OF THE GULF OF MEXICO NOW MOVING UP THE EASTERN SEABOARD A LOT OF THAT  MOISTURE IS GOING TO BE OFFSHORE. HIGH PRESSURE DOMINATING NEW ENGLAND DOWN INTO THE  CENTRAL PLAINS. A FEW SHOWERS AND THUNDERSTORMS ALONG THIS FRONT AS IT KIND OF DIPS A LITTLE BIT  FARTHER SOUTH BUT YOU'LL NOTICE HOW IT STALLS OUT ACROSS THE NORTH CENTRAL PLAINS BY LATER TODAY.  NEXT SYSTEM COMING INTO THE WEST COAST PRODUCING SOME DECENT RAINS IN WASHINGTON  OREGON NORTHERN CALIFORNIA HEADING THROUGH THE NIGHTTIME HOURS TONIGHT. SEE THIS SYSTEM  OVER THE GREAT LAKES AGAIN JUST SOME SCATTERED SHOWERS AND THUNDERSTORMS THERE. SOME HIT  AND MISS ACTIVITY ACROSS PARTS OF THE SOUTHERN PLAINS INTO NEW MEXICO AS WELL ALTHOUGH MORE  MISS THAN HIT. OBVIOUSLY AS IS TYPICAL HEADING THROUGH THE DAY TOMORROW YOU CAN SEE THIS  EASTERN SEABOARD SYSTEM STILL CAUSING SOME RAIN IN PARTS OF EASTERN NEW ENGLAND. A FEW  SHOWERS AND THUNDERSTORMS SCATTERED AGAIN ACROSS THE GREAT LAKES INTO BACK INTO IOWA AND  THE AFTERNOON VARIETY ACTIVITY DEVELOPING IN TEXAS WITH THAT MOISTURE CONTINUING IN THE  NORTHERN PLAINS STATES. I DIDN'T TALK MUCH ABOUT FLORIDA. YOU JUST HAVE A SLOW MOVING COLD  FRONT MOVING SOUTHWARD. YOU'VE SEEN THE MOST RAIN OVER THE PAST 24 HOURS AND YOU'RE GOING  TO SEE THE MOST OVER THE NEXT 36. NOT EVERYWHERE OBVIOUSLY BUT BOY OUR COMPUTER MODEL  CONTINUES TO SHOW SEVERAL INCHES OVER A TWO OR THREE DAY PERIOD THERE FOR MANY PARTS OF THE  STATE OF FLORIDA. ELSEWHERE IS JUST KIND OF SCATTERED IN LIGHT. HIGH TEMPERATURES TODAY 60S  AND 70S FOR THE MID-ATLANTIC IN MUCH OF THE EAST 80S BY THE TIME YOU GET INTO THE PLAINS  STATES. TRIPLE DIGITS FOR PARTS OF THE DESERT SOUTHWEST. LOW TEMPERATURES ARE NOT GOING TO  DROP OFF INTO THE PLEASANT CATEGORY LOTS OF 50S AND 60S FROM THE MID-ATLANTIC THROUGH THE CORN  BELT EVEN DOWN TO THE GULF OF MEXICO SOME 60 SHOWING UP FOR LOWS WHICH IS PRETTY NICE THIS  TIME OF THE YEAR. LOTS OF 80S AGAIN FOR THE MISSISSIPPI VALLEY INTO THE PLAINS STATES EVEN SOME  90S SHOWING UP THERE. COOLER WEATHER COMING INTO THE PACIFIC NORTHWEST AND IT REMAINS  PLEASANT FOR THE EASTERN CORN BELT INTO THE NORTHEAST. THERE'S THE JET STREAM STILL THAT CUT OFF  ALONG THE EASTERN SEABOARD. YOU CAN SEE A LITTLE BIT OF ENERGY CAN COME IN THROUGH THAT RIDGE  THERE AS WE HEAD THROUGH THE WEEKEND BUT THEN THE RIDGE BUILDS UP BIG BOWLING BALL TYPE  SYSTEM COMING IN OUT WEST AND THAT WILL START TO PRODUCE SOME RAIN BY THE MIDDLE OF NEXT  WEEK INTO MUCH OF THE WESTERN CORN BELT ANYWAY. THAT'S A LOOK ACROSS THE COUNTRY. NOW LET'S  TAKE A LOOK AT SOME LOCAL FORECASTS. FIRST OF ALL BAKERSFIELD CALIFORNIA MOSTLY SUNNY AND QUITE  WARM TODAY HIGH OF 92. DES MOINES IOWA A MIX OF SUN AND CLOUDS AND WARM HIGH OF 86. AND  FINALLY CHARLOTTE NORTH CAROLINA PARTLY SUNNY AND QUITE COMFORTABLE FOR THIS TIME OF THE YEAR.  HIGH AROUND 76 

TEASE
WHEN WE COME BACK WE'LL CHECK ON CATTLE MARKETS...FOR DROVERS TV. AND LATER FOODS THAT DIDN'T BECOME POPULAR--A NEW MUSEUM OF  MARKETING MISTAKES TODAY ON IN THE COUNTRY.

DROVERS TV
FROM OUR FRIENDS AT DROVERS, AT THE BEGINNING OF THIS YEAR CATTLE  MARKET ANALYSTS WERE OFFERING ONLY GLOOMY PROJECTIONS.  HOWEVER, REALITY HAS BEEN QUITE THE OPPOSITE.  STERLING MARKETING SAYS AT THE END OF MAY EVERY SEGMENT OF THE BEEF  INDUSTRY WAS PROFITABLE. FEEDYARD OPERATORS HAVE EXPERIENCED EXTREMELY PROFITABLE MARGINS  THROUGHOUT 2017, LARGELY THE RESULT OF LOWER BREAKEVENS DUE TO  LOWER FEEDER CATTLE PRICES. FEEDYARD PROFITS AVERAGED INCREASED TO AN AVERAGE OF NEARLY $500 PER  HEAD IN MAY. WHILE PACKERS FOUND AVERAGE OPERATING MARGINS THIS YEAR OF ABOUT $80  PER HEAD THANKS TO STRONG BEEF CUTOUT PRICES SUPPORTED BY  STRONGER-THAN-EXPECTED U.S. CONSUMER BEEF DEMAND.  BETTER THAN EXPECTED PROFITABILITY IN THE PACKING AND FEEDING SECTORS HAS RAISED THE  EXPECTATIONS FOR COW-CALF PROFITS THIS YEAR. AS THE YEAR BEGAN, STERLING MARKETING PROJECTED  COW-CALF MARGINS WOULD BE ABOUT BREAKEVEN. NOW, WITH WITH HIGHER-THAN-EXPECTED CALF AND  FEEDER CATTLE PRICES AND LOWER-THAN-EXPECTED COSTS OF PRODUCTION, NALIVKA BELIEVES RANCHERS  WILL FIND AVERAGE PROFITS OF ABOUT $100 PER CALF IN 2017.   A TECHNICAL GLITCH KEPT THE ONLINE AUCTION, THE FED CATTLE EXCHANGE  FROM RUNNING WEDNESDAY. A LACK OF PRICE DISCOVERY WEIGHED ON MARKETS. OF COURSE IT FOLLOWS A DOWN DAY TUESDAY WHEN LIVE CATTLE REVERSED  OFF OF LIFE OF CONTRACT HIGHS DUE TO INVESTMENT FUN AND TECHNICAL  SELLING PRESSURE. CATTLE PRICES WERE BUOYED IN RECENT WEEKS BY RISING WHOLESALE BEEF  PRICES AND LOWER CATTLE WEIGHTS. THE TRIAL BETWEEN SOUTH DAKOTA'S BEEF PRODUCTS INCORPORATED AND  ABC NEWS IS UNDERWAY. THE NEARLY 2 BILLION DOLLAR LAWSUIT ACCUSES ABC NEWS OF USING THE  TERM PINK SLIME TO CHARACTERIZE IT'S GROUND BEEF PRODUCT--LEAN FINELY  TEXTURED BEEF. BPI SAYS ABC NEWS DEFAMED THE COMPANY AND MADE ERRORS AND  OMISSIONS IN IT'S REPORTING. ABC SAYS IT WAS A COMMON TERM USED 38-HUNDRED TIMES PRIOR TO THEIR  REPORTS. THE TRIAL IS EXPECTED TO RUN FOR 8 WEEKS.

IN THE COUNTRY
WERE THEY MASTER PIECES THAT NEEDED MORE TIME TO CATCH ON--OR EPIC  MARKETING MISTAKES. FOOD FAILURES-- AFTER THE BREAK.

IN THE COUNTRY
IN THE COUNTRY - SPONSORED BY KUBOTA'S BV4580 ROUND BALER. LEARN MORE AT KUBOTA.COM  OR VISIT YOUR LOCAL KUBOTA DEALER TODAY. IN THE WORLD OF FOOD - THERE HAVE BEEN SOME EPIC MARKETING FAILURES.  AND MANY OF THOSE WILL LIVE-ON . . . INSIDE A MUSEUM IN SWEDEN. WELCOME TO HELSINGBORG'S MUSEUM OF FAILURE. IT SHOWCASES BRAND  INNOVATIONS THAT MISSED THE MARK. ON DISPLAY - GREEN HEINZ KETCHUP, AND FROZEN LASAGNA FROM THE  TOOTHPASTE MAKER COLGATE! THERE ARE DOZENS OF OTHER DISMAL  PRODUCTS ON DISPLAY. YOU DON'T NEED TO BE A MARKETING EXPERT TO KNOW THESE PRODUCTS  WERE NOT SUCCESSFUL. "IN INNOVATION, WE KNOW THAT 80 TO 90 PERCENT OF ALL INNOVATION PROJECTS THEY FAIL AND YOU  NEVER READ ABOUT THEM, YOU DON'T SEE THEM, PEOPLE DON'T TALK ABOUT THEM. AND IF THERE'S  ANYTHING WE CAN DO FROM THESE FAILURES IS LEARN FROM THEM. BUT, YOU CAN'T LEARN FROM THEM, IF  YOU CAN'T TALK ABOUT THEM OR SEE THEM."> OTHER PRODUCTS INCLUDE COCA-COLA'S 'BLAK' COFFEE BEVERAGE AND PEPSI'S 'CRYSTAL'  CLEAR SODA. HARLEY DAVIDSON IS ALSO ON DISPLAY. NOT ONE OF THEIR BIKES, BUT A MEN'S  COLOGNE THAT WAS LAUNCHED IN THE 1990'S. WEST CLAIMS MANY BRANDS FEATURED IN HIS COLLECTION WANT NOTHING TO  DO WITH THE MUSEUM AND REFUSED TO DONATE THEIR PRODUCTS. DESPITE THAT, THE MUSEUM SAYS SOME BIG US-BASED COMPANIES HAVE  BOOKED LARGE GROUP TRIPS TO THE EXHIBIT - PERHAPS TO LEARN FROM PAST  MISTAKES.

CLOSE
THAT'S ALL THE TIME WE HAVE THIS MORNING. WE'RE GLAD YOU TUNED IN.  FOR BETSY JIBBEN AND MIKE HOFFMAN,  I'M CLINTON GRIFFITHS. HAVE A GREAT  DAY. AGDAY IS POWERED BY RAM TRUCKS - AMERICA'S LONGEST LASTING PICKUPS.