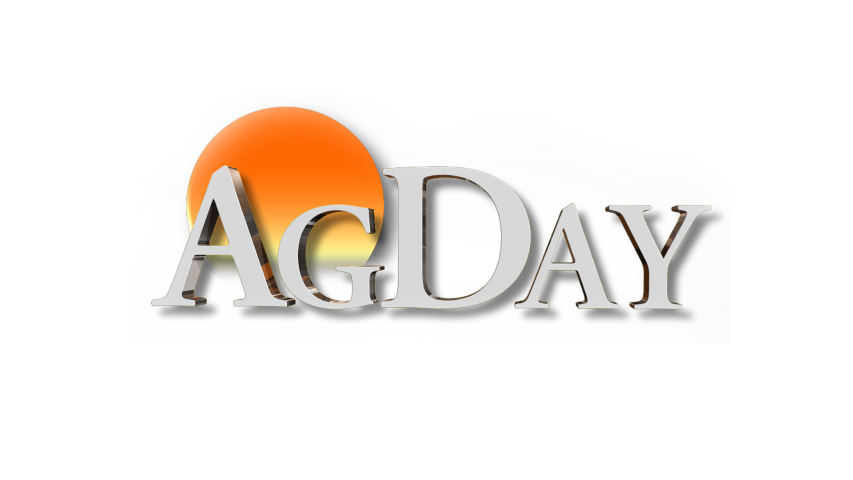 TODAY ON AGDAY
APRIL 24, 2017

HEADLINES
FARM LENDING IS DOWN--WE'LL LOOK AT THE OVERALL RURAL ECONOMY. PLUS,  SORGHUM CONTINUES TO FIND A MARKET IN CHINA. IN AGRIBUSINESS...A DOUBLE LOOK AT THE WEEK AHEAD. MACHINERY PETE  DISCUSSES CORN PICKERS AND RECENT AUCTION PRICES.  AND IF YOU'RE LOOKING FOR A PIECE OF PROPERTY--WHY NOT THIS WHOLE  TOWN IN OREGON.  AGDAY-BROUGHT TO YOU BY THE DEPENDABLE, LONG  LASTING CHEVY SILVERADO.
FARM ECONOMY OUTLOOK
GOOD MORNING I'M CLINTON GRIFFITHS. THE FARM ECONOMY CONTINUES TO  FEEL THE PRESSURE OF LOWER COMMODITY PRICES AND A TEPID OUTLOOK FOR  2017. THE LATEST LENDING REPORT FROM THE KANSAS CITY FEDERAL RESERVE  SHOWS THAT LENDING ACTIVITY IS DOWN IN THE FIRST QUARTER OF 2017...OFF  16 PERCENT COMPARED TO THE PREVIOUS YEAR. AS ECONOMIC CONDITIONS REMAIN STAGNATE BORROWERS AND LENDERS ARE  MAKING ADJUSTMENTS TO FINANCING. THE FED REPORT SAYS SOME BORROWERS ARE SPENDING LESS ON FARM  INPUTS WHILE LENDERS HAVE MADE ADJUSTMENTS TO LOAN TERMS IN  RECOGNITION OF THE HEIGHTENED RISK. BANKERS ARE EXTENDING AMORTIZATIONS FOR MOST LOANS INCLUDING THE  MATURITY PERIOD FOR OPERATING LOANS. THE MATURITY PERIOD JUMPING 22 PERCENT FROM 2016 AND NOW THREE  MONTHS LONGER THAN THEY WERE IN 2010.  THE LATEST RURAL MAINSTREET INDEX, FROM CREIGHTON UNIVERSITY-- SEEMS  TO MATCH THIS LATEST FED REPORT. THE APRIL SURVEY SHOWS THE OVERALL INDEX REMAINED BELOW GROWTH  NEUTRAL FOR THE 20TH STRAIGHT MONTH.  BETSY JIBBEN SPOKE WITH FARMERS AND THE KEY NUMBER CRUNCHER-- ABOUT  THE CURRENT ECONOMIC CLIMATE.  MATT NELSON IS A FARMER.. AND A PART-TIME BANKER IN NORTHEAST NEBRASKA.  "WE HAD GREAT YIELDS LAST YEAR SO THAT HELPED. IF THIS CONTINUES WITH PRICES NEXT YEAR, THERE  COULD BE SOME GUYS REALLY HURTING,"CREIGHTON UNIVERSITY ECONOMICS PROFESSOR, ERNIE GOSS KEEPS A PULSE  ON THE AG. ECONOMY. "2017 IS GOING TO BE THE YEAR WHERE WE KNOW MORE ABOUT THINGS. OTHERWORDS, IF WE SEE A  FIFTH YEAR OF DECLINING FARM INCOME, THAT WOULD BE TOUGH. THEN WE COULD HAVE MORE  FORECLOSURES THAN ANYONE IS PREDICTING RIGHT NOW,""NOW STILL NOT MUCH, 5 TO 10 PERCENT OVER THE LAST YEAR BUT THERE ARE RISKS THERE."USDA IS ESTIMATING 2017 WILL MARK THE FOURTH CONSECUTIVE YEAR OF DECLINING NET FARM INCOME.  GOSS SAYS FARMERS WILL HAVE TROUBLE HOLDING ON FOR TOO MANY MORE DOWN YEARS.  GOSS SAYS OVER THE LAST 12 MONTHS LIVESTOCK COMMODITY PRICES HAVE TUMBLED BY 5.8 PERCENT  AND GRAIN COMMODITY PRICES HAVE SLUMPED BY 4.5 PERCENT  "WHAT WOULD TURN THAT AROUND OUTSIDE OF WEATHER AND SUPPLIES IS A CHEAPER DOLLAR AND  GLOBAL TRADE,"GOSS SAYS IT'S LOAN VOLUME THAT'S SOARING  "ON THE OPERATING LOANS, EVEN THERE, RATES ARE RISING A BIT. THE QUALIFICATIONS ARE GETTING  TOUGHER."GOSS SAYS SOME FARMERS ARE TURNING TO COMMERICAL OR COMMUNITY  "FARM CREDIT AND OTHER GSE'S THEY'RE IMPACTED DIFFERENTLY BY RISING INTEREST RATES THAN BY A  COMMUNITY BANK IS BY RISING RATES."THE INDEX ALSO SHOWING FARMLAND PRICES ARESTILL FALLING DOWN FOR 41 STRAIGHT MONTHS  "FARMLAND VALUES WERE GROWING 15 TO 20 PERCENT A YEAR, NOT NOW. IT'S DECLINING AS MUCH AS  5 OR 6 PERCENT THIS YEAR FROM THE AVERAGE. 37 CASH RENTS, ACCORDING TO OUR SURVEY,."AS THIS FARMER AND BANKER CONTINUES ON HIS OPERATION "HOPEFUL, JUST KEEP WORKING, JUST TRY TO PAY ATTENTION TO WHAT'S OUT THERE AND PAY ATTENTION,"HE'S TRYING TO MAKE DECISIONS WHICH WILL BENEFIT HIM IN 2017 AND THE  YEARS TO COME.REPORTING FOR AGDAY, I'M BETSY JIBBEN.  THANKS BETSY.THE LAST TIME THE INDEX WAS AT OR ABOVE GROWTH NEUTRAL WAS AUGUST  2015.
MILK PRODUCTION LEVELS
A BLIZZARD IN WEST TEXAS FIFTEEN MONTHS AGO MAY BE PART OF THE REASON  WE SEE A HUGE JUMP IN THE STATE'S MILK PRODUCTION TALLY. THE LATEST USDA MILK PRODUCTION REPORT SHOWS TEXAS JUMPED NEARLY  16-AND A HALF PERCENT IN MILK PRODUCTION FROM MARCH OF 2016.  YOU MAY  REMEMBER THE AREA AROUND LUBBOCK TEXAS GOT SOCKED WITH A BLIZZARD  IN JANUARY OF LAST YEAR. EARLY ESTIMATES PUT DAIRY COW LOSSES AS HIGH  AS 30-THOUSAND HEAD. SINCE THEN, THE TEXAS DAIRY HERD HAS GROWN BY 47-THOUSAND HEAD.  NATIONALLY, MILK PRODUCTION IN THE TOP 23 STATES TOTALED 17-AND-A-HALF  BILLION POUNDS. THAT'S INCREASE OF NEARLY (1.8) TWO PERCENT FROM A YEAR  AGO.PRODUCTION PER COW IS UP BY 18 POUNDS A COW.  THE HERD SIZE HAS ALSO  GROWN. CALIFORNIA - WHICH LEADS IN MILK PRODUCTION - SAW A NEARLY THREE  PERCENT DECLINE. DAIRY INDUSTRY LEADERS FROM AUSTRALIA AND NEW ZEALAND SAY THEY  WOULD SUPPORT THE U.S. IN POTENTIAL WORLD TRADE ORGANIZATION ACTION  AGAINST CANADA.  AS WE'VE BEEN REPORTING, CANADA'S NATIONAL INGREDIENTS STRATEGY HAS - IN EFFECT - BLOCKED U-S EXPORTS OF ULTRA-FILTERED MILK. THAT CLASS OF  MILK IS USED FOR CHEESE PRODUCTION IN CANADA...LEADING SOME  PROCESSORS TO CANCEL CONTRACTS WITH U.S. DAIRY'S. LEADERS FROM AUSTRALIA AND NEW ZEALAND OFFERING TO BACK PRESIDENT  TRUMP IF HE INCLUDES THE WTO IN A TRADE DISPUTE. NEW ZEALAND TRADE MINISTER TODD MCCLAY TELLING REUTERS HIS  GOVERNMENT WAS ASSESSING THE "WTO-CONSISTENCY" OF CANADA'S DAIRY POLICY, AND RAISED CONCERNS WITH THE CANADIAN GOVERNMENT. 
U.S. SORGHUM EXPORTS TO CHINA
U.S. SORGHUM EXPORTS CONTINUES TO BE STRONG TO TO CHINA.  ACCORDING TO NATIONAL SORGHUM PRODUCERS,  CHINA PURCHASES 1-POINT-8 MILLION BUSHELS LAST WEEK, BRINGING TOTAL  COMMITMENTS TO 161 MILLION BUSHELS. THAT'S NEARLY 72 PERCENT OF THE USDA TARGET FOR THE YEAR.  "BECAUSE PRICES HAVE COLLAPSED OFTEN PEOPLE SAY CHINA MUST HAVE QUIT BUYING SORGHUM.  WELL, THEY HAVEN'T. THEY'RE STILL BUYING AND ON TRACK TO MEET OUR EXPECTATIONS FOR EXPORTS  AGAIN THIS YEAR FOR OVER 50 PERCENT OF OUR INDUSTRY. SO STILL SIGNIFFICANT EXPORTS IN OUR COUNTRY  AS WELL."N-S-P SAYS DELIVERIES ARE STRONG TO CHINA, JAPAN AND MEXICO ---ALL AHEAD  OF THE 5-YEAR AVERAGE NEEDED TO MEET USDA'S FORECAST. 
PENCE'S TRIP TO CHINA
FOLLOWING VICE PRESIDENT MIKE PENCE'S TRIP TO JAPAN LAST WEEK, THE  JAPANESE DEPUTY PRIME MINISTER SAYS THEY'RE NOT EXCITED ABOUT A  BILATERAL TRADE AGREEMENT. ADDING THAT UNDER A BILATERAL AGREEMENT COMPROMISES ARE BIGGER--AND  IT WOULD FACE PRESSURE TO OPEN UP POLITICALLY SENSITIVE MARKETS LIKE  AGRICULTURE AND BEEF. IT PREFERS TO MOVE FORWARD WITH THE TRANS-PACIFIC PARTNERSHIP.
BUFFET WILDFIRE PLEDGE
OUR PARTNERS FROM DROVERS AND THE FARM JOURNAL FOUNDATION FACE A  HUGE UNDERTAKING TO HELP RANCHING FAMILIES HIT BY A NATURAL DISASTER  IN MARCH....AND NEED YOUR HELP. THEY HAVE ACCEPTED A CHALLENGE TO RAISE ONE MILLION DOLLARS TO HELP  RANCHERS DEVASTATED BY THE WILDFIRES THAT STRUCK KANSAS, TEXAS, OKLAHOMA AND COLORADO. TENS OF THOUSANDS OF MILES OF FENCING WERE DESTROYED BY THE FIRES IN  THE FOUR STATES. IN RESPONSE THE HOWARD G BUFFETT FOUNDATION HAS  PLEDGED TO MATCH UP TO ONE MILLION DOLLARS. IF SUCCESSFUL IN THIS CHALLENGE, THERE WILL BE TWO MILLION DOLLARS TO  HELP REPLACE FENCING AND THE LABOR NEEDED TO DO THE WORK. "HOWARD BUFFETT WAS DEEPLY TOUCHED BY THE LOSS HE SAW ON SOCIAL MEDIA AND THRU NEWS REPORTS ABOUT THE MARCH WILDFIRES. THAT'S WHY HE'S PLEDGED ONE MILLION DOLLARS IN MATCHING FUNDS TO DONATIONS THRU OUR WEBSITE WILDIFRE-RELEIF-FUND.ORG."ALL DONATIONS WILL BE ADMINISTERED THROUGH THE WORKING RANCH  COWBOYS ASSOCIATION, A NATIONAL NONPROFIT DEDICATED TO ASSISTING  WORKING RANCH COWBOYS AND THEIR FAMILIES IN TIMES OF NEED. TO LEARN  MORE VISIT WILDFIRE-RELIEF-FUND-DOT-ORG.
CROP COMMENTS
CINDI CLAWSON IS IN FOR MIKE HOFFMAN ONCE AGAIN. SHE HAS AN UPDATE ON PLANTING. CINDI GOOD MORNING, CLINTON.  RAFE BANKS SAYS ARKANSAS CORN IS SHINING TODAY, BUT HIS AREA IN THE STATE COULD USE A RAIN.  USDA SAYS 75 PERCENT OF CROPLAND ACREAGE IN ARKANSAS HAS AN ADEQUATE AMOUNT OF  MOISTURE. THE DEPARTMENT COMES OUT WITH ANOTHER CROP PROGRESS REPORT LATER  TODAY. AND MARIA COX IS NO-TILLING SOYBEANS INTO CEREAL RYE IN WHITE HALL,  ILLINOIS. USDA SAYS NEARLY 3 DAYS WERE SUITABLE FOR FIELDWORK IN ILLINOIS THE WEEK ENDING APRIL 16.  AND NOW HERE'S A LOOK AT SOME HOMETOWN TEMPS HERE'S THE SECRET TO SELLING OLD EQUIPMENT. PETE'S PICK OF THE WEEK LETS YOU EASILY VIEW  CURRENT MARKET PRICES. JUST TEXT PETE TO 31313 TO GET STARTED! 
TEASE
WHEN WE COME BACK, I'LL HEAD OVER TO THE AGRIBUSINESS DESK FOR A  ROUND TABLE DISCUSSION ON WHAT TO EXPECT FROM COMMODITY MARKETS IN  THE WEEK AHEAD. AND LATER, START GATHERING YOUR SOFA MONEY -- WE'LL TAKE YOU TO A SMALL  TOWN IN SOUTHWEST OREGON WHERE FOR THE RIGHT PRICE YOU COULD OWN  YOUR TOWN.  FAST PACE WITH DESIGN-MATCHED TRANSMISSIONS FOR INTUITIVE  STEERING...PERFECT CUT FOR A CARPET-LIKE FINISH...AND SWEET RIDE WITH A  COMFORT-FOCUSED SEAT.  GRASSHOPPER MOWERS ARE COMMITTED TO THE  CUT.
AGIRBUSINESS
HERE THAT THE BUSINESS DESK I HAVE DAN HUEBER OF THE HEUBER REPORT  AND KEVIN DUELING KD INVESTORS GUYS WE WANT TO START THE WEEK OFF  WITH A LOOK AHEAD SO WE KNOW WHAT LAST WEEK DID BUT AS WE SIT DOWN  HERE MONDAY MORNING WHAT DO WE NEED TO BE WATCHING COMMODITY WISE  TO START THE WEEK WE'LL START WITH YOU DAN WELL COURSE LAST WEEK WAS  A BIT OF A DISAPPOINTING WEEK PARTICULARLY WHEN IT CAME THE GRAIN SIDE  OF THE SOYBEAN MARKET WAS REALLY PRETTY LIFELESS OVER ALL SO YOU  KNOW I THINK AS MUCH AS ANYTHING WE WE KNOW THAT THE THE THE PLANT IS  PROBABLY GONNA GET OFF TO ANY BETTER START AND HAS ALREADY IN ME THE  WEATHER FORECAST SEEMED TO KEEP THINGS WET RIGHT INTO THE FIRST TO  MAY I THINK IT 'S GONNA PROVIDE A LITTLE BIT OF AN UNDERLYING SUPPORT  START TO ITS VALUE BY MAKING THESE MARKETS WE KNOW THE SPECULATIVE  SIDE LOVE THE SHORT SIDE IN THE AG SECTOR RIGHT NOW SO A BUT EVEN  THERE YOU KNOW I THINK THEY RECOGNIZE THAT YOU WERE PROBABLY QUICKLY  REACHING A POINT WORTHY OF THE PATH OF LEAST RESISTANCE IS NOT GOING BE TO THE DOWNSIDE WITH US WERE WORKING WITH A LOT A LIVESTOCK  PRODUCER SAYING. AND MAYBE THIS IS NOT A BAD TIME TO START LOOKING A  PROTEIN NEEDS IF YOU NEED TO LOCK IN CORN FOR THE SUMMER MONTHS.  MAYBE NOT. A BAD TIME TO GET THOSE PROGRAMS INTO EFFECT HERE AT THIS  POINT IN TIME. AND WHAT DO YOU THINK KEVIN I AGREE. FIRST A FIRST LOOK IS  WHETHER MAPS OFFER A HOLD. ARE THEY NOT YOU KNOW WE LOOK BACK IN  PRIOR YEARS. WE'VE WE'VE SEEN THE MARKET BOTTOM THIS THIS WEEK. SO IF  WE SEE THAT KIND OF PRICE ACTION ARE VERY ENCOURAGED ITS OWN IS A VERY  LARGE OPPORTUNITY. WHEN YOU ADD UP THE AGGREGATE POSITION OF THE  MANAGED MONEY CROWD HEDGE FUND CROWD WITH THE RECORD SHORT ON IT  IN WHEN YOU COMBINE ALL THREE GRAINS IT 'S IT 'S INCREDIBLE SO IF WE SEE  ANY KIND OF WEATHER HICCUP ANY KIND OF A SPARK BUT IT 'S RIGHT FOR A  PRETTY QUICK MOVE UP SO I'VE GOT PEOPLE IN POSITION FOR THAT AND WATCH  AND SEE WATCH AND SEE DAN AS YOU KIND OF LOOK GLOBALLY HERE IS THERE  ANYTHING OUT THERE THAT COULD BE IN OR STORM OFF RIGHT. YOU'RE NOT  REALLY ON A GLOBAL STANCE RIGHT AT THIS POINT. WELL YOU KNOW SOUTH  AMERICA COURSE. YOU KNOW THAT WE KNOW THERE 'S SOME EXCESSIVE RAINS  THAT ARE HAPPENING IN ARGENTINA . THE BRAZILIAN CROP FOR THE MOST PART  IS HAS BEEN HARVESTED. THE SECOND CROP OF CORN HAS BEEN PLANTED. IT  SEEM TO HAVE GOTTEN OFF TO GREAT START A FEW ANALYSTS HAVE TRIMMED  THE BRAZIL ARE THE ARGENTINE SOYBEAN CROP MAY BE A MILLION METRIC  TONS. BUT IN THE GREATER SCHEME OF THINGS THAT 'S REALLY NOT A LARGE  LARGE ADJUSTMENT THERE RIGHT NOW NOW GRANTED THE BRAZILIAN FARMERS  ARE BEHIND PACE WHEN IT COMES TO SELLING BEANS  I YOU KNOW MAYBE THAT HELPED DO YOU CONTINUE TO KEEP FROM THEM AND OF THE U S HE 'S GIVING  OFF SUPPLIES AVAILABLE BUT THE LONGER TERM THAT IS GOING TO BE A PRICE  POSITIVE TYPE OF SCENARIO EITHER SO WE WE NEED THIS DEMANDED A WITH  US ALRIGHT GENTLEMEN THANK YOU SO MUCH FOR JOINING US KICKING OUR  WEEK OFF WE'LL BE BACK WITH MORE AGDAY IN JUST A FEW MINUTES.  GET THE ROOTS YOUR CROPS NEED, BY GETTING RADIATE FIRST.  VISIT LOVELAND PRODUCTS.COM SLASH RADIATE.  SEE YOUR CPS DEALER TODAY. 
WEATHER
WELCOME BACK TO AGDAY HERE WITH CINDI CLAWSON. CINDI WE GO FROM  WEST TO EAST IT LOOKS LIKE THE EAST COAST NOW A SEEING A LITTLE MORE OF  THAT DRYNESS IN THE WEST COAST. AND WE'VE BEEN WATCHING THAT OVER THE  PAST MONTH OR TWO AS WE'VE SEEN THAT DRYNESS SPREADING ESPECIALLY  INTO THE SOUTHEASTERN PART OF THE UNITED STATES. WHILE THE WESTERN  AREAS ARE REALLY SHOWING SOME GREAT IMPROVEMENT. WE'RE PARTICULARLY  LOOKING AT THE AREAS IN THE FAR SOUTHEAST ANYWHERE FROM AROUND  NORTHERN GEORGIA DOWN FOR FLORIDA. THERE HASN'T BEEN A WHOLE LOT OF  RAIN AND COULD SEE THAT ON OUR ESTIMATED RAINFALL LAST WEEK. THIS IS  FROM SATURDAY THROUGH FRIDAY AND YEA IT 'S PRETTY TRIED OUT IN THOSE  AREAS. THE BIG BULLS EYE RIGHT HERE IN THE NATION 'S MIDSECTION  SOUTHWEST MISSOURI SOUTHEAST KANSAS NORTHEAST IN FACT MUCH OF  EASTERN OKLAHOMA AND INTO NORTHWESTERN ARKANSAS WILL BE SEEING A  TON OF RAIN SOME CASES OVER FIVE INCHES OF RAIN SO YEAH IT 'S BEEN VERY  VERY WET IN THOSE AREAS ESPECIALLY AROUND THE OZARKS. HERE 'S A LOOK  AT THE JET STREAM AS WE HEAD INTO THIS WEEK WE'RE STARTING OFF WITH  MOSTLY ZONAL FLOW AS WE START THE FIRST PART A WEEK WATCH WHAT  HAPPENS AS WE GET INTO THE MIDDLE TO LATTER PART OF THE WEEK WE  REALLY SEE THE RIDGE BUILDING INTO THE EAST AND A TROUGH BUILDING IN TO  THE WEST SO THAT IS GOING TO SOME PRETTY WARM AIR ESPECIALLY FOR THAT  LAST PART OF THE WEEK AND WE'LL SEE SOME STORMY CONDITIONS MOVING  ALONG THE FRONT SIDE OF THIS TROUGH THAT MOVES THROUGH THE CORN  BELT INTO THE GREAT LAKES INTO THE EASTERN PART OF THE COUNTRY AS WE  GET INTO THE WEEKEND. ALRIGHT WHAT CAN WE HAVE TO LOOK FORWARD TO  THIS WEEK, WELL THE WARM TEMPERATURES AS WE MENTIONED IN THE  EASTERN PART OF A COUNTRY THAT INCLUDES ONLY THE SOUTHERN PART OF  THE COUNTRY AS WELL DOWN INTO THE SOUTHERN PLAINS. WE'RE EXPECTING  THOSE COOLER TEMPERATURES AND WET FROM THE UPPER MIDWEST TO THE  NORTHERN PLAINS AND INTO THE NORTHWESTERN UNITED STATES. AS FAR AS  PRECIPITATION LOOKS LIKE ABOVE NORMAL PRECIPITATION GREAT LAKES  THROUGH MUCH OF THE PLAIN STATES AND INTO THE NORTHWEST BUT  UNFORTUNATELY STILL ON THE DRY SIDE IN THE SOUTHEAST WHERE REALLY A  START AND MEET SOME OF THAT RAIN A LITTLE DRY IN SOUTHERN TEXAS AS  WELL LOOKING THIRTY DAYS OUT LOOKS LIKE THOSE WARM TEMPERATURES ARE  GOING TO BE CONTINUING FOR A LOT OF THE COUNTRY ESPECIALLY THE  EASTERN HALF AND THE SOUTHWEST UNITED STATES, LOOKS LIKE FAIRLY  NORMAL TEMPERATURES IN THE NORTHWESTERN UNITED STATES. AND AS FAR  AS PRECIPITATION NO REAL STRONG SIGNALS HERE OVER THE NEXT THIRTY  DAYS BUT IT LOOKS LIKE WE MIGHT SEE ABOVE NORMAL PRECIPITATION IN THE  GREAT LAKES INTO THE UPPER MIDWEST AND CONTINUING INTO PARTS OF THE  PACIFIC NORTHWEST A LITTLE BIT ON THE DRY SIDE IN THE SOUTHWEST  EVERYBODY ELSE HAS COME IN EQUAL CHANCES OF NORMAL ABOVE NORMAL  BELOW NORMAL SNOWFALL STRONG SIGNALS FOR A LOT OF THE COUNTRY. THAT  'S A LOOK AT YOUR NATIONAL FORECAST NOW LET 'S CHECK ON THE WEATHER  WHERE YOU ARE. SLEEPY HOLLOW WYOMING COOLER WITH SHOWERS TODAY  AND A HIGH OF FIFTY FIVE DEGREES. COFFEYVILLE ARKANSAS SUNNY AND PLEASANT WITH A HIGH OF SEVENTY FIVE AND MONDAY OHIO SUNNY AND  WARMER WITH HIGHS OF SEVENTY ONE.
TEASE
UP NEXT MACHINERY PETE IS HERE. STAY TUNED FOLKS COMING UP WE'RE GOING TO TALK CORN PICKERS AND COMBINES. AND LATER, AFTER YEARS OF SHRINKING POPULATION, THIS SMALL OREGON  TOWN IS UP FOR SALE. WE'LL TELL YOU THE PRICE ON IN THE COUNTRY.
MACHINERY PETE
IT'S NEVER TO EARLY TO BE THINKING ABOUT HARVEST EQUIPMENT. MACHINERY PETE HAS BEEN A SEVERAL AUCTIONS LATELY WHERE CORN  EQUIPMENT IS CATCHING HIS EYE.  TOP THREE THINGS I'VE SEEN AT AUCTION THE LAST WEEK NUMBER ONE FARM  AUCTION A WEEK AGO FRIDAY APRIL  14TH IN SOUTHEAST OHIO THIS NEW IDEA 324  CORN PICKER SOLD FRO 2,400 DOLLARS THAT'S TIED FOR THE THE TENTH  HIGHER AUCTION PRICE I'VE EVER SEEN ON THE SAME DAY APRIL 14TH ON A  FARM AUCTION IN EAST CENTRAL MICHIGAN THIS 2012 MODEL JOHN DEERE S660COMBINE WITH 822 HOURS ON IT SOLD FOR 172,500 DOLLARS NOW THAT FOLKS IS  A VERY STRONG PRICE IN FACT THAT'S THE HIGHEST AUCTION PRICE I'VE SEEN  ON 2012 MODEL S660 IN 27 MONTHS NOW USED COMBINE VALUES HAVE BEEN  PRETTY STRONG EARLY IN 2017 AND MORE PROOF OF THAT CAME LAST TUESDAY  ON A FARM AUCTION WAY UP IN WEST CENTRAL MANITOBA WHERE THREE  UNUSED 2017 MODELS NEW HOLLAND CR9 90S SOLD ON THIS FARM AUCTION AND  HERE'S A PICTURE OF ONE IT SOLD FOR 455,000 DOLLARS CANADIAN AND IF WE  CONVERT INTO U.S. DOLLARS IT CAME OUT TO 343,025 BUCKS NOW THE OTHER  TWO WENT FOR 327,947 DOLLARS US EACH NOW ON A HARD CASH BASIS THAT IS  SOME PRETTY STRONG MONEY AND FOLKS IF YOU'RE LOOKING FOR A USED  COMBINE CHECK OUT MACHINERY PETE DOT COM WE'VE GOT OVER 6500 OF  THEM LISTED FOR SALE TODAY.  CHANCE TO BUY YOUR OWN TOWN. WE'RE HEADED TO OREGON - AFTER THE  BREAK.
IN THE COUNTRY
IN THE COUNTRY - BROUGHT TO YOU BY KUBOTA'S M5 SERIES - BRINGING NEW  LEVELS OF COMFORT TO HARD WORK.  LEARN MORE AT KUBOTA.COM, OR VISIT  YOUR LOCAL KUBOTA DEALER TODAY.  AN ANONYMOUS BUYER HAS COME FORWARD TO PURCHASE THE TOWN OF  TILLER, OREGON. THE THREE-POINT-EIGHT MILLION DOLLAR PRICE TAG  INCLUDES THE ELEMENTARY SCHOOL, SIX HOUSES, MARKET AND GAS STATION.  THE TOWN IS LOCATED IN THE SOUTHWEST REGION OF THE STATE IN DOUGLAS  COUNTY - AN AREA ONCE KNOWN FOR ITS LOGGING INUDSTRY. NOW, IT'S IN  ESCROW AND LOCALS ARE ANXIOUS ABOUT THEIR FUTURE. GILLIAN FLACCUS HAS OUR STORY. TILLER, OREGON …"IT'S ABOUT A MILE TO DRIVE THROUGH THE TOWN." A TINY TIMBER TOWN  THAT'S BEEN DYING FOR YEARS. NOW, A GLIMMER OF HOPE. SOMEONE HAS  OFFERED TO BUY IT. GARRETT ZOLLER, PRINCIPAL BROKER, LAND AND WILDLIFE.COM: "THE TOWN  ITSELF IS $3.5 MILLION. THE SCHOOL IS OFFERED SEPARATELY FOR $350,000, SO THE TOTAL LISTED PRICE IS  $3 MILLION, 850-THOUSAND." THE TOWN IS BEING SOLD BY THE ESTATE OF THE  CASWELLS, LONG-TIME PROPERTY OWNERS HERE. THE FAMILY SNAPPED UP  PROPERTIES AS THE TIMBER MILL SHUT DOWN AND RESIDENTS MOVED. NOW,  THE DEAL INCLUDES SIX HOUSES, THE MARKET AND GAS STATION, THE  ELEMENTARY SCHOOL, THE LAND UNDER THE POST OFFICE AND SEVERAL LONG- ABANDONED BUSINESSES. NOT INCLUDED ARE THE CHURCH AND THE FIRE  STATION. GARRETT ZOLLER, PRINCIPAL BROKER, LANDANDWILDLIFE.COM:  "SO THIS IS MRS. SCHMITT'S CLASSROOM,  PRETTY STANDARD CLASSROOM. I THINK THERE'S SIX DIFFERENT CLASSROOMS HERE. STANDARD HALLWAY." THE TOWN IS NOW IN ESCROW …BUT THE POTENTIAL BUYER REMAINS  ANONYMOUS. "IT'S NOT UNCOMMON TO SEE DEER OUT HERE IN THE PLAYGROUND." THE BUYERS SAY THEY WILL  ANNOUNCE THEIR PLANS – AND THEIR IDENTITY -- ONCE THE SALE HAS CLOSED  THIS SUMMER. BUT THE MYSTERY SURROUNDING THE PURCHASE HAS BEEN  UNSETTLING FOR LOCALS. "LADYBUG!" SARAH CRUME IS ONE OF THE FEW PEOPLE  STILL RAISING CHILDREN HERE, JUST OUTSIDE THE AREA THAT'S FOR SALE. SHE'S  WATCHED THE SCHOOL AND MARKET CLOSE …THE POST OFFICE CUT BACK ITS  HOURS.  SARAH CRUME: "IT'S A LITTLE BIT SCARY, ESPECIALLY WITH RAISING OUR KIDS IN THIS  COMMUNITY THAT WE LOVE AND LOOKED FORWARD TO RAISING OUR KIDS IN. I'M JUST WONDERING WHAT  KIND OF IMPACT IT'S GOING TO HAVE." "NO! SIT! SIT!" PAULA ELLIS SPENT HER CHILDHOOD  HERE HUNTING AND RIDING HORSES …, PAULA ELLIS, RESIDENT "THIS IS RIGHT HERE ON THE RANCH … MY DAD." . AND STILL LIVES AT THE TOP OF A  NARROW DIRT ROAD NEAR TOWN. SHE REMEMBERS HOW IT WAS BEFORE CUTS  TO LOGGING IN FEDERAL FORESTS … "RALPH STOWE, WHO IS GONE BUT HIS FAMILY IS STILL  IN THE AREA …" … AND PRAYS THAT THE TOWN WON'T LOSE ITS IDENTITY.   "WE'VE JOKED ABOUT, 'WELL, IS IT TIME FOR THE FAMILY TO BE MOVING ON? ARE WE LOOKING AT WYOMING OR MONTANA OR  WHAT ARE WE DOING?' BUT NOBODY IS SERIOUS ABOUT THAT. WE LOVE IT HERE." A TOWN TORN  BETWEEN NOSTALGIA FOR THE PAST …AND HIGH HOPES FOR THE FUTURE. GILLIAN FLACCUS, ASSOCIATED PRESS, TILLER, OREGON.  )
CLOSE
THAT'S ALL THE TIME WE HAVE THIS MORNING. WE'RE GLAD YOU TUNED IN.  FOR ALL OF US AT AGDAY, I'M CLINTON GRIFFITHS. HAVE A GREAT DAY.