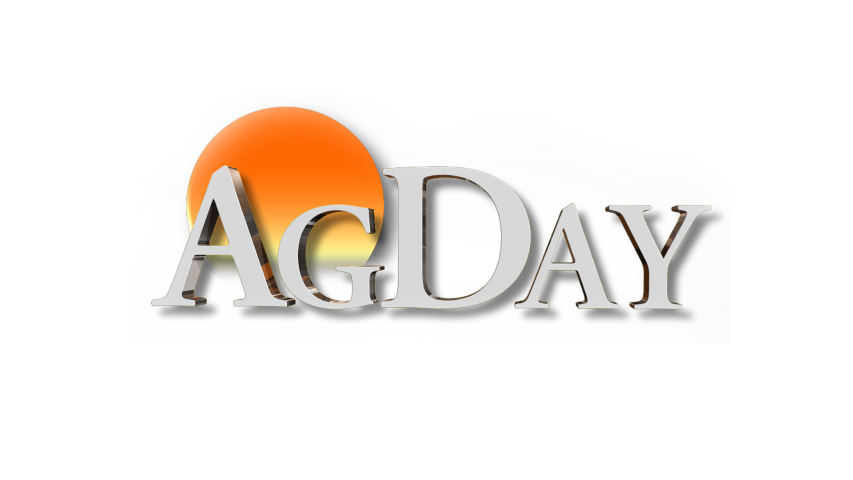 TODAY ON AGDAY
AUGUST 31, 2018

HEADLINES
USDA RAISES IT'S FORECAST FOR NET FARM INCOME-- WE'VE GOT THE NUMBERS. PLUS,  "I'M CHARLES DENNEY. DRONES ARE BEING USED MORE AND MORE TO SCOUT ROW CROP FIELDS. BUT NOW RESEARCHERS WITH UT INSTITUTE OF  AGRICULTURE HAVE MORE TECHNOLOY THAT'S FLYING HIGH. THAT STORY FROM  MILAN, TENNESSEE COMING UP ON AGDAY." IN AGRIBUSINESS... CATTLE MARKET  EXPECTATIONS. AND BUILDING A VERTICAL FARM INSIDE A TUNNEL. AGDAY - BROUGHT TO YOU BY THE CHEVY SILVERADO, THE MOST DEPENDABLE, LONGEST-LASTING FULL  SIZE PICKUPS ON THE ROAD. 

NAFTA AGREEMENTS
GOOD MORNING I'M CLINTON GRIFFITHS.  RED CONTINUES TO BE THE DOMINANT  COLOR WHEN LOOKING AT THE LATEST FARM INCOME FORECAST FROM THE AG  DEPARTMENT. USDA PROJECTING NET FARM INCOME TO DROP 13-PERCENT IN 2018. THIS BROAD MEASURE OF PROFITS WILL SLIP BY NEARLY TEN BILLION DOLLARS  TO JUST UNDER 66 BILLION. AND NET CASH FARM INCOME IS EXPECTED TO SLIDE 12 PERCENT TO 91-AND A  HALF BILLION DOLLARS. "YOU'RE NOT DOOM AND GLOOM BUT THERE'S HIGH CONCERN. THERE'S CONCERN IN THE  NEIGHBORHOOD. THE STRUGGLE BECOMES THAT EVERYONE TRIES TO BE THE BEST AND WHERE IS YOUR NEXT EFFICIENCY GAIN? WHERE DO YOU FIND HTE EFFICIENCY FOR THE NEXT YEAR AND KEEP CONTINUING?  "I THINK THE CASH RENT ARE SO TOUGH. (TAKE OUT MIDDLE START AT  59 ) IT COMES TO A POINT OF  WHERE DO YOU SQUEEZE? WHERE IS THE PINCH POINT TO KEEP EVERYONE HAPPY AND KEEP MOVING ON?" "WE HAVE TO GET SOMETHING DONE LONG-TERM TO GET OUR  PRICES BETTER TO GET  DEMAND HIGHER FOR THE CROPS THAT WE RAISE. SO IT'S A PROCESS. THIS ISN'T GOING TO HAPPEN OVERNIGHT. WE HAVE TO BE PATIENT, STICK WITH THE PLAN, GET NAFTA SIGNED, EVENTUALLY I THINK NAFTA WILL COME AROUND AND ONCE WE GET THOSE ISSUES SOLVED, I THINK WE WILL HAVE MORE MARKET  ACCESS BUT IT'S NOT GOING TO HAPPEN UNTIL THOSE ARE ALL TAKEN CARE OF," AND WHAT ABOUT THE TRADE TARIFF ASSISTANCE? USDA SAYS THESE FORECASTS DO NOT INCLUDE PAYMENTS UNDER THE JUST- ANNOUNCED 'MARKET FACILITATION PROGRAM', THE AG DEPARTMENT SAYS IT'S TOO EARLY TO TELL HOW MANY PRODUCERS  WILL TAKE PART IN THE TARIFF AID PROGRAM, AG SECRETARY SONNY PERDUE TELLING REPORTS AT FARM PROGRESS SHOW  WEDNESDAY, THAT USDA HAD TO SET IT'S PAYMENTS SO THEY WOULD STAND UP  IN A WTO COURT. "GOING FOWARD ITS BASED ON WHAT IS THE TRADE DAMAGE TARIFF DAMAGE ACTUALLY CALCULATED  THAT'S WHY YOU SEE THE DIFFERENCE BETWEEN THE CORN AWARD BECAUSE OF THE TARIFF DAMAGE. WE  HAVE TO CALCULATE THIS IN A LEGAL FASHION SO WE CAN DEFEND IT BEFORE THE WTO COURTS." "THAT'S WHAT THE CALCULATION CAME OUT. FROM THAT PUPOSES I'D LOVE FOR IT TO BE MORE EVEN  BUT THE NUMBERS ARE THE NUMBERS AND THIS IS A PROVEN METHODOLOGY OF CALCULATING THIS TYPE OF THING THAT YOU HAVE TO DEFEND IN COURT AND THAT'S THE ONE WE HAD TO GO WITH."OVERALL THE FIRST ROUND OF PAYMENTS ARE ESTIMATED TO COST LESS THAN 5  BILLION DOLLARS.  SIGNIFICANTLY BELOW THE 12 BILLION DOLLARS USDA PREVIOUSLY SAID IT HAD  ALLOCATED.  PERDUE SAYS HE WOULDN'T CONSIDER THIS JUST HALF OF A PAYMENT-- HE SAYS  ONGOING TARIFF DAMAGE MAKES CALCULATING A FINAL NUMBER A DIFFICULT  TARGET. TRADE TALKS BETWEEN THE UNITED STATES AND CANADA SEEM TO BE  CHANGING MINUTE-TO-MINUTE. NEGOTIATORS FACE A U-S DEADLINE TO REACH A DEAL BY TODAY ON A NEW  NAFTA. THAT'S BECAUSE PRESIDENT TRUMP PLANS TO OFFICIALLY NOTIFY CONGRESS THAT HE'LL SIGN A NEW TRADE PACT. OFFICIALS INDICATE THE TONE IS "INCREASINGLY OPTIMISTIC." 

DAIRY AND U.S.-CANADIAN TRADE
BLOOMBERG NEWS SAYS THE TWO KEY ISSUES FOR THE U.S. AND CANADA ARE  DAIRY AND ANTI-DUMPING DISPUTE PANELS. THE U.S. WANTS TO DISMANTLE  CANADA'S DAIRY SYSTEM AND KILL THE PANELS. CANADA HAS SIGNALED IT  WOULD COMPROMISE ON DAIRY BUT WANTS TO PRESERVE THE SO-CALLED  CHAPTER 19 PANELS. 

U.S.-CHINA TRADE
TRADE SPATS BETWEEN THE U-S AND TRADING PARTNERS LIKE CHINA ARE  REVEALING THEIR IMPACT ON THE EXPORT LEDGER SHEET. USDA'S AG EXPORT FORECAST SHOWING THE U-S TRADE SURPLUS HAS GROWN  TIGHTER. IT NOW MEASURES 18-BILLION DOLLARS, DOWN ABOUT EIGHT  PERCENT. THE DEPARTMENT PROJECTING 144-AND HALF BILLION DOLLARS OF FARM GOODS  WILL BE SHIPPED OUT. USDA EXPECTS IMPORTS TO REACH 126-AND A HALF BILLION DOLLARS. EXPORTS OF AGRICULTURAL PRODUCTS IS ONE OF THE FEW AREAS IN THE U-S  ECONOMY THAT SELLS MORE ABROAD THAN IT BRINGS IN. THE BIGGEST FACTOR IS CHINA. THE AG DEPARTMENT SAYS DUE TO THE TRADE  FIGHT WITH THE U-S, IT WILL SLIDE FROM THE NUMBER ONE BUYER OF U-S FARM  GOODS TO NUMBER THREE - BEHIND MEXICO AND CANADA. SHIPMENTS TO CHINA WILL PLUNGE FROM 19-BILLION DOLLARS TO 12 BILLION  DOLLARS. MOST OF THAT IN SOYBEANS. "THE ONE THING FOR CORN THOUGH IS THAT WE ARE EXPERIENCING SOME DECENT EXPORTS. THE  EXPORTS ARE ACTUALLY VERY VERY STRONG BUT WITH THE BIG CROP, IT'S MITIGATING THAT. THAT'S WHY THE  BEST WE CAN DO IS MOVE SIDEWAYS OR MAYBE NOT SLIP TOO MUCH."MCGATHEY SAYING TRADERS ARE WATCHING POSSIBLE TRADE NEWS ON THE NAFTA FRONT AND A DEAL WITH CHINA -BOTH COULD MOVE THE MARKET.  ANOTHER MAJOR ISSUE FACING USDA IS THE BATTLE OVER THE RENEWABLE  FUELS STANDARD. 

SEC. PERDUE ON BIOFUELS
SECRETARY PERDUE PLAYING TO A FRIENDLY BIOFUELS STATE...IN IOWA TELLING  CROWDS THE PRESIDENT IS LOOKING TO HELP. A YEAR-ROUND E15 ANNOUNCEMENT MAY BE IN THE WORKS SO SAYS THE  SECRETARY OF AG. USDA SECRETARY SONNY PERDUE TELLING THE CROWD HE SPOKE TO  PRESIDENT TRUMP ABOUT E15 THIS WEEK AND WAS TOLD "LET'S GET IT DONE." PERDUE SAYING HE'S HOPEFUL "TO HAVE AN ANNOUNCEMENT SOONER RATHER  THAN LATER" ON EXPANDING CONSUMER ACCESS TO FUEL BLENDED WITH 15%  ETHANOL.  BUT THE ADMINISTRATION IS STILL TRYING TO SORT OUT A "WIN-WIN' BETWEEN RENEWABLE FUELS AND THE OIL INDUSTRY. "THIS HAS BEEN ON THE PRESIDENT'S HEART FOR AWHILE. HE KNOWS WHAT HE COMMITTED TO  HERE IN IOWA DURING THE CAMPAIGN AND WE'VE JUST HAD SOME HICCUPS WITH REFINERY GROUP AND WE'RE LOOKING FOR THE RIGHT BALANCE TO GET THAT DONE. BUT THIS IS WHAT HE WANTS TO DO. AND HE  DOESN'T GIVE EXECUTIVE SUGGESTIONS HE GIVES EXECUTIVE ORDERS."

BSE IN FLORIDA
WE HAVE AN UPDATE NOW ON THAT CASE OF B-S-E IN FLORIDA. PUBLISHED REPORTS OUT OF SOUTH KOREA SAY THE COUNTRY'S AGRICULTURE MINISTRY HAS STRENGTHENED INSPECTIONS ON U-S BEEF IMPORTS. THE INCREASED TESTING WAS INITIATED DESPITE THE FACT THAT THE BEEF COW  TESTED POSITIVE FOR THE ATYPICAL VARIETY. USDA SAYS THE BEEF COW WAS PUT-DOWN BUT THE CARCASS DID NOT ENTER  THE FOOD CHAIN. ACCORDING TO A SOUTH KOREAN NEWSPAPER THE COUNTRY INCREASED THE AMOUNT OF BEEF INSPECTED FROM THREE PERCENT TO 30 PERCENT. RIGHT NOW SOUTH KOREA ONLY IMPORTS U-S BEEF THAT'S HARVESTED FROM  CATTLE YOUNGER THAN 30 MONTHS. 

CROP COMMENTS
DAVID HARKER IS HERE THIS MORNING. HE JOINS US NOW WITH A LOOK AT CROP  COMMENTS. GOOD MORNING, CLINTON.  CORN HARVEST IS UNDERWAY IN EASTERN ARKANSAS. JOHNATHON MORRIS SENDING US THIS PICTURE AFTER HARVESTING A FEW  ROWS IN HIS FIELD.  HE SAYS YIELDS ARE AVERAGE TO A LITTLE BELOW AVERAGE IN HIS AREA.  MOVING BACK TO THE CORN BELT,  TYSON NARJES FROM WESTERN NEBRASKA SENDING US THIS PICTURE OF DRYLAND CORN IN HIS AREA. USDA SAYING 83 PERCENT OF CORN IN THE  HUSKER STATE IS RATED GOOD TO  EXCELLENT.  LET'S TALK ABOUT THE WIND FORECAST AND WHAT YOU'LL NOTICE OVER THE NEXT COUPLE OF DAYS AS THE  WIND REALLY PICKING UP ALONG THIS NEXT SYSTEM MOVING OUT OF THE CENTRAL PLAINS AND BACK DOWN THROUGH THE OHIO RIVER VALLEY AS WELL AS THE GREAT LAKES A LITTLE WINDY CONDITIONS AT  TIMES. WE'LL HAVE A CHECK OF THE FORECAST IN MORE DETAIL COMING UP. BUT RIGHT NOW HERE ARE  SOME HOMETOWN TEMPS.  

USING SENSORS IN FIELDS
USDA SAYS THE NATION'S CORN CROP IS WELL AHEAD IN MATURITY--60 PERCENT  DENTED, AND 10 PERCENT MATURE.  ON THE RECENT PRO FARMER MIDWEST CROP TOUR, AGRITALK RADIO HOST - AND VETERAN SCOUT - CHIP FLORY SAYS CROPS ARE DRYING DOWN FAST. IT'S ALSO MAKING THE NEWLY EMERGING INDUSTRY OF CALCULATING YIELDS  BASED ON SATELLITE IMAGERY MUCH MORE DIFFICULT. BUT GETTING AN EYE IN THE SKY -- ESPECIALLY DURING THE GROWING SEASON,  IS GETTING EASIER ALL OF THE TIME. FARMERS ARE USING DRONES TO FLY OVER – AND VIEW - CROPS. TODAY, UT'S INSTITUTE OF AGRICULTURE IS WORKING ON SENSORS THAT CAN  HELP PROVIDE VALUABLE INFORMATION. CHARLES DENNEY REPORTS. AGRICULTURE VALUES A VIEW FROM ABOVE – PLANES, SATELLITES, AND IN MODERN TIMES, DRONES ARE  USED TO LOOK AT CROPS. BUT WAY BEYOND GRABBING COOL SHOTS FOR SOCIAL MEDIA, THIS DRONE IS ATTACHED WITH WHAT'S  CALLED A MULTISPECTRAL SENSOR. THE SENSOR DETECTS LIGHT REFLECTED OFF PLANTS AT VARIOUS WAVELENGTHS, PROVIDING USEFUL INFORMATION. "AND LIGHT WILL BE REFLECTED BACK FROM ANYTHING ON THE EARTH. EVERYTHING ON THE EARTH HAS WE  CALL IT A SPECTRAL RESPONSE CURVE, SO A HEALTHY PLANT, THE SPECTRAL RESPONSE WILL LOOK DIFFERENT THAN  AN UNHEALTHY PLANT." "NOW WITH THESE TYPES OF SENSORS AND THE TECHNOLOGY WE HAVE, WE CAN GRID SURVEY THESE  FIELDS AND GET AN ENTIRE PICTURE." SHAWN BUTLER IS WORKING ON HIS PH.D. WITH UTIA'S HERBERT COLLEGE OF AGRICULTURE, AND SAYS  THE DRONES WITH MULTISPECTRAL SENSORS HELPS A COTTON PLANT TELL YOU HOW IT'S FEELING. "IF YOU'RE TRYING TO FIND SOMETHING BEFORE IT HAPPENS, IF YOU'RE TRYING TO DETECT WATER STRESS BEFORE WE WOULD VISUALLY SEE IT, YEAH, AT THAT POINT YOU'RE GOING TO NEED SOMETHING THAT OUR  EYE CAN'T SEE. AND WE HAVE INFRARED SENSORS OR RED EDGE SENSORS THAT CAN PICK UP THOSE DIFFERENT  SPECTRAL WAVE LENGTHS THAT WE DON'T SEE VISUALLY." "DRONES HAVE BEEN USED IN AGRICULTURE PRETTY MUCH SINCE THEY WERE FIRST INVENTED. THESE FLYING MACHINES ARE GREAT TO GET A VIEW FROM ABOVE OF HOW A CROP IS PERFORMING, AND WHERE ANY  WEAK SPOTS MIGHT BE IN THE FIELD." EARLY DETECTION OF PLANT STRESS IS CRITICAL TO SAVING YIELDS, AND THE PINPOINT ACCURACY OF A DRONE SENSOR CAN HELP THERE. "THAT INFORMATION CAN GIVE US WHERE WE SHOULD BE APPLYING A PESTICIDE, FOR EXAMPLE. SO MAYBE THERE'S A WEED INFESTATION ONLY IN ONE AREA OF THE FIELD." "SO EVEN IF IT JUST GIVES US THAT SPOT, THAT LOCATION, WE CAN HAVE A CROP SCOUT GO THERE AND  SEE – IS IT A WEED? IS IT A BUG? IS IT A FUNGUS? AND THEN WE KNOW WE CAN GO SPOT SPRAY IN THAT  LOCATION AND NOT HAVE TO SPRAY THE WHOLE FIELD." AS FOR THE FUTURE, LOOK FOR BETTER CAMERA RESOLUTION AND EVEN MORE ACCURATE AND SENSITIVE SENSORS. DRONES WILL LIKELY BECOME COMMON TOOLS IN AG, PROVIDED THE COSTS COME DOWN A BIT MORE. HELPFUL TECHNOLOGY THAT'S FLYING HIGH. THIS IS CHARLES DENNEY REPORTING.

TEASE
WHEN WE COME BACK, WE'LL CHECK ON CATTLE MARKETS AND PRICE  EXPECTATIONS FOR THE FALL. PLUS SOUTH KOREA IS PUTTING THE FUTURE OF ITS FOOD PRODUCTION INSIDE  AN OLD HIGHWAY TUNNEL. DETAILS LATER ON AGDAY. 

AGRIBUSINESS
ALAN BRGLER OF BRUGLER MARKETING OUR GUEST TODAY AS WE TALK ABOUT THE CATTLE MARKET AND IT'S ALWAYS DYNAMIC IT SEEMS LIKE WHAT'S GOING ON IN THE LIVESTOCK SIDE. WELL WE'VE GOT HUGE NUMBER CATTLE ON FEED THE LARGEST SINCE 96 USING THE THOUSAND HEADLOCKS AS A PARAMETER THERE. WE HAVE BEEN EXPECTING TO HAVE A LOT OF PRESSURE ON THE CONSUMER PRICES BECAUSE THE GUYS IN THE CHICKEN GUYS HAVE ALSO BEEN EXPANDED. SURE ABSOLUTELY. THE GOOD NEWS IS BEEF EXPORTS HAVE BEEN PHENOMENAL YEAR TO DATE WERE UP 19 PERCENT ON COMMITMENTS. WOW. SO WE'VE MOVED A LOT OF THAT EXTRA PRODUCTION IF YOU WILL TO THE CHAIN AS WE GET INTO NOVEMBER AND DECEMBER WE'LL START TO SEE THE READY NUMBERS OF CATTLE COMING OUT OF THE FEEDLOT TIGHTEN UP QUITE A BIT. THAT'LL TAKE SOME OF THE PRESSURE OFF OF THAT MEAT SUPPLY. SO WE HAVE A TRADING CYCLE LOW DUE IN EARLY AUGUST. WE THINK WE'RE PAST THAT NOW IT'S JUST A QUESTION OF HOW FAST WE CAN FIRM UP THE BOX BEFORE. YEAH. AS WE LOOK AT THIS OVERALL LOOK AT HIS CATTLE MARKET OVERALL ARE YOU ARE YOU BULLISH OR BEARS FOR 2019. WELL IT'S IN GENERAL I'M BULLISH BECAUSE AGAIN WE THINK WE'VE HIT THAT CYCLE LOW FOR THE FOR THE CURRENT CYCLE. THE PROBLEM IS WITH THAT EXCESS SUPPLY IF IF WE HAVE ANY MORE EXPORT RESTRICTIONS ANY ANY HICCUPS IN THE TRADE NEGOTIATIONS YOU CAN HAVE A FIVE OR TEN DOLLAR DIP JUST BECAUSE JUST BECAUSE. OK SO IT'D BE SOMETHING TO WATCH TRADE ALWAYS PLAYING AND A LOT OF THIS RIGHT NOW WILL BE BACK FROM AG THEY JUST ABOUT

WEATHER
WELCOME BACK. LET'S TAKE A LOOK AT THE DROUGHT MONITOR SEE HOW THAT DROUGHT IS PERSISTING  IN LOCATIONS ALL ACROSS THE UNITED STATES UNFORTUNATELY THE FOUR CORNERS REGION WHERE IT'S  USUALLY THE MONSOONAL SEASON YOU'D EXPECT MORE MOISTURE JUST NOT GOING TO GET OUT OF THAT DROUGHT ANYTIME SOON. A LITTLE MOISTURE IS EXPECTED IN THE NEXT FEW DAYS AS WELL AS AREAS OF  KANSAS AND EVEN MISSOURI WHERE YOU SEE SOME OF THAT MORE SEVERE DROUGHT AS WELL. LET'S  SEE WHAT THE RAINFALL MAY BE LIKE ON OUR OWN. OUR BYLER MODEL AS WE MOVE TOWARD THE AFTERNOON AND EVENING HOURS FRIDAY AND THEN INTO THE DAYTIME ON SATURDAY TO ALL ACROSS THE  NATION WE DO HAVE OUR NEXT DISTURBANCE ROLLING INTO THE UPPER PLAINS STATES AS WELL AS THE  GREAT LAKES REGION ONCE WE GET TO SATURDAY. BUT MOST OF THE AREA WILL BE DRY THERE IN THE GREAT LAKES GULF MOISTURE CONTINUING TO PUSH IN. RAIN SHOWERS ON AND OFF ARE ALL AREAS  ALONG THE GULF COAST. AND THIS IS GOING TO GET MORE ACTIVE AS WE MOVE TOWARD THE PEAK OF  THE HURRICANE SEASON COMING UP HERE IN THE NEXT COUPLE OF WEEKS. YOU MAY SEE A LITTLE BIT MORE ACTIVITY ANOTHER DISTURBANCE COULD BE AFFECTING LOCATIONS THAT MAY NOT NECESSARILY NEED  THE RAIN RIGHT OFF THE BAT ESPECIALLY IN THE NORTHERN GULF COAST AS AREAS YOU MAKE YOUR WAY  OUT TOWARD THE WEST IN WHAT ARE THE DROUGHT IS YOU JUST NOT GETTING A LOT OF MOISTURE NOW AS  WE MOVE INTO SATURDAY. YOU'LL NOTICE THAT NEXT SYSTEM THAT DRAGS ALL ACROSS THE CENTRAL PLAINS  THAT NEXT LOW PRESSURE SYSTEM IT DOES GIVE SOME MOISTURE. UNFORTUNATELY JUST NOT ENOUGH IN THE GREAT LAKES REGION WE'VE GOT NEXT SYSTEM ROLLING THROUGH THAT WILL PROVIDE US WITH  SHOWERS AND THUNDERSTORMS DURING THE FIRST TO THE MIDDLE HALF OF THE DAYTIME ON SATURDAY  AND ALL UP ALONG THE EASTERN SEABOARD YOU'RE LOOKING AT SCATTERED SHOWERS. THERE'S THAT GULF  MOISTURE THAT CONTINUES TO PICK UP THROUGH THE EVENING ON SATURDAY. LET'S TALK PRECIPITATION  ESTIMATE AS WE MOVE 24 HOURS OUT FROM 7:00A.M. AND WHAT WE'VE GOT ON THE SCREEN IS MORE  OF THE YELLOW AND ORANGE IS STARTING TO POP UP IN THE IN THE EASTERN CORRIDOR OF THE NATION AS  WELL AS THE GREAT LAKES AS WE MOVE INTO THE EVENING HOURS ON SATURDAY. I THINK MOST OF THE MOISTURE WILL PROBABLY BE HELD RIGHT THERE ALONG THE COASTLINE AS JUST MENTIONED THAT GULF  MOISTURE CONTINUING TO ROLL IN WITH MORE OF AN ACTIVE WEATHER PATTERN IN THE GULF OF MEXICO  AND THE ATLANTIC OCEAN AS WELL MOVING TO THE PEAK OF THE HURRICANE SEASON. LET'S TALK TEMPERATURES THIS AFTERNOON. WE'VE GOT 90S IN THE HEART OF THE COUNTRY 100 DEGREE READING  THERE IN PHOENIX. OTHERWISE 60S ALONG THE NORTHWEST PORTIONS OF THE UNITED STATES AND 80S  IN THE FLORIDA PENINSULA. WE MOVE TO THE OVERNIGHT HOURS AND YOU'LL PROBABLY SEE TEMPERATURES COMING UP SATURDAY MORNING IN THE 50S IN AREAS OF MONTANA AS WELL AS SOUTH  DAKOTA AND NORTH DAKOTA WE'RE IN 51 IN BISMARCK 70S REIGNS SUPREME. AS YOU LOOK TO THE  SOUTHERN HALF OF THE STATES AND THE MOISTURE STILL STICKS AROUND. LET'S GO AHEAD AND TAKE A LOOK AT CONDITIONS IN YOUR AREA. START OUT WITH OREGON COTTAGE GROVE OREGON TO BE EXACT  SUNSHINE AND COMFORTABLE 77 DEGREES FOR A TEMPERATURE. WE MOVE TOWARD EL CAMPO TEXAS  77 WITH SHOWERS AND STORMS. AND IN STAUNTON VIRGINIA LOOK FOR RAIN SHOWERS AN 82. > 

TEASE
HARVEST IS QUICKLY APPROACHING AND THAT MEANS IT'S A GOOD TIME TO DO  SOME PRE-SCOUTING. WE'LL HEAR FROM MISSY BAUER NEXT. NO SOIL, NO SUN. BUT PLENTY OF PAVEMENT - THE FUTURE OF FOOD  PRODUCTION ? LATER ON AGDAY.

FARM JOURNAL COLLEGE TV
BEFORE THE COMBINES ROLL IT'S A GOOD IDEA TO SPEND A LITTLE TIME IN FIELD  COLLECTING INFORMATION FROM THE GROWING SEASON. MISSY BAUER EXPLAINS IN TODAY'S FARM JOURNAL COLLEGE TV SEGMENT. SO WHAT WE'RE TRYING TO DO HERE IS SOME OF OUR PRE HARVEST SCOUTING. SO WHAT WE'RE ONE OF  THE BIG THINGS WE WANT TO DO IS GET AN IDEA OF WHERE IS OUR EAR COUNT ACTUALLY END UP HERE  BUT FOR HARVEST'S NOT THAT WE CHANGE ANYTHING FOR THIS YEAR BUT IT'S REALLY TO HELP ME MAKE BETTER DECISIONS FOR NEXT YEAR. OK SO YOU'RE JUST TRYING TO GET A HANDLE ON WHAT'S OUT HERE.  HOW DO WE DO. I NOTICED YOUR ACCOUNT EARS. YOU'RE JUST TRYING TO FIGURE OUT YIELD'S RIGHT. WELL  PART OF WHAT I'M AFTER IS HOW MANY PLANTS PER ACRE DO I HAVE COMPARED TO EAR'S PER ACRE.  OKAY. SO WHAT'S MY LAST BETWEEN PLANT COUNT YOUR COUNT EVERY THOUSAND YEARS PER ACRE IS WORTH FIVE TO SEVEN BUSHEL. ALL RIGHT. SO IN THIS CASE HERE YOU KNOW I'VE LOST AN ENTIRE EAR  HERE WHERE THERE'S NO EAR BUT THERE'S A PLANT. SURE. SO IN MY THOUSANDS OF AN ACRE I HAVE  MARKED OUT HERE I JUST LOST FIVE TO SEVEN BUSHEL. BUT THIS PLANT ACTING THIS WAY WHEN YOU COMPARE IT ACROSS. HERE'S ANOTHER REAL SMALL EAR HERE BECAUSE IT'S A DOUBLE DROPPER TO PLANT  SPACE TO CLOSE TOGETHER AN ISSUE HERE WITH THE PLANT ITSELF A NEW WOULD. LET'S SAY WE HAVE  YEARS THAT LOOK LIKE THIS HE WOULD KILL BOTH OF THESE RIGHT. SO YOU THINK ABOUT YOU KNOW WHAT  DO WE REALLY MEAN BY YOUR ACCOUNT SURE. BOTH OF THESE ARE OUR EARS THAT ARE GOING TO GET HARVEST IN. BUT WHEN YOU LOOK AT THE INDIVIDUAL PLANT YIELD HERE THIS YEAR IS MUCH LARGER THAN  WHAT I HAVE HERE. IT COSTS ME THE SAME AMOUNT TO PRODUCE ON A PLANT THIS YEAR IT DID THIS  YEAR. SO I REALLY WANT TO REDUCE THE SMALL LOOK AND EARS YOU CAN SEE ANOTHER EXAMPLE HERE  IS A VERY SMALL EAR WHEN YOU START TO COMPARE IT TO THE EARS THAT ARE AROUND IT. SURE. SO YEAH  I'M GOING TO GET HARVESTED BUT PROBABLY NOT A FULL EAR SO MY EAR COUNT PROBABLY GIVE US ABOUT A HALF AN EAR. SO WHEN YOU LOOK AT YOUR ACCOUNTS YOU CAN KIND OF START JUDGING. SOME THINGS WE TRY TO ENCOURAGE GROWERS THAT WHEN YOU'RE DOING YOUR EAR COUNTS WHERE SHOULD YOU END  UP IF YOU'RE IN A CORN BEAN ROTATION. WE THINK THAT YOUR PLANT COUNT COMPARED TO YOUR EAR  COUNT SHOULD ON AVERAGE BE ABOUT WITHIN 2200 OF ONE ANOTHER. OK. ANY MORE LOSS THAN THAT.  WE THINK THAT'S TOO MUCH FURIN CORN AND CORN ARE DEALING WITH A LOT OF HEAVY RESIDUE. THEN WE'D SAY 2000 YEARS PER ACRE SHOULD BE YOUR LIMIT. NO MORE LOSS THAN THAT. OTHERWISE WE THINK WE'RE JUST LEAVING TOO MANY DOLLARS ON THE TABLE. 

TEASE
IF YOU WANT TO FIND THE NEXT GENERATION OF SOUTH KOREAN FOOD NEEDS - LOOK NO FURTHER THAN AN OLD HIGHWAY TUNNEL. WE'RE SPEEDING TOWARDS THE FUTURE - NEXT ON AGDAY. 

IN THE COUNTRY
IN LAND-LOCKED SOUTH KOREA, FOOD PRODUCTION IS GROWING UP, NOT OUT.  AND FOOD GROWERS ARE DOING IT WITHOUT SOIL. WHAT'S BEING CALLED THE WORLD'S FIRST-INDOOR-VERTICAL-FARM-BUILT-IN-A- TUNNEL - THAT'S PRETTY SPECIFIC - HAS BEEN CREATED IN SOUTH KOREA. FOLLOW THE PATH INSIDE A FORMER HIGHWAY TUNNEL. THERE YOU'LL FIND A  MASSIVE INDOOR FARM BATHED IN ROSE-TINTED LIGHT. FRUITS AND VEGETABLES GROW HYDROPONICALLY, WITH NO SOIL, IN  VERTICALLY STACKED LAYERS INSIDE, ILLUMINATED BY NEON-PINK LEDS INSTEAD  OF SUNLIGHT THE FACILITY IS ABOUT HALF THE SIZE OF A FOOTBALL FIELD. THE TUNNEL WAS BUILT IN 1970 FOR ONE OF SOUTH KOREA'S FIRST MAJOR HIGHWAYS. BUT IT WAS CLOSED TO TRAFFIC 15 YEARS AGO. THEY GROW 60 TYPES OF FRUITS AND VEGETABLES INSIDE. THE COMPANY SAYS IT'S GETTING MORE DIFFICULT TO FIND FARM WORKERS - SO  THIS MAY HELP SOLVE SOME OF THOSE STAFFING PROBLEMS. 

CLOSE
THAT'S ALL THE TIME WE HAVE THIS MORNING. WE'RE GLAD YOU TUNED IN.  FOR ALL OF US AT AGDAY. I'M CLINTON GRIFFITHS. HAVE A GREAT DAY.