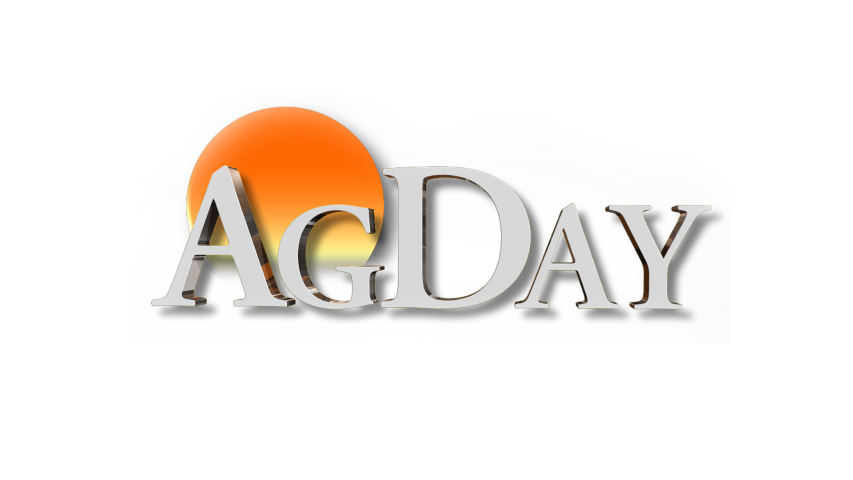 TODAY ON AGDAY
DECEMBER 11, 2017

HEADLINES
WHAT DO FARMERS THINK SHOULD HAPPEN WITH NAFTA...WHILE RUMBLINGS  RISE ABOUT THE ADMINISTRATION WALKING AWAY. IN AGRIBUSINESS...LOOKING AHEAD AT THE WEEK AND THE REST OF DECEMBER.  "YOU NEED TO SET TARGETS OUT THERE NOT JUST HEY CALL ME WHEN IT GETS  THERE BECAUSE IT'S TO QUICK YOU NEED TO BE AGRESSING SELLING THIS OLD  CROP ON RALLIES." MACHINERY PETE HAS PRICING TRENDS FOR USED COMBINES. AND WE SAY FAREWELL AND THANK YOU TO A COLLEAGUE AND FRIEND.  AGDAY - PRESENTED BY CHEVY SILVERADO. HIGH-STRENGTH STEEL FOR HIGH-STRENGTH DEPENDABILITY.

NAFTA POLL
GOOD MORNING I'M CLINTON GRIFFITHS. WHEN IT COMES TO THE NORTH  AMERICAN FREE TRADE AGREEMENT, A NEW FARM JOURNAL 'PULSE' POLL  REVEALS SOME INTERESTING POSITIONS ON THE TRADE PACT. FARM JOURNAL CONDUCTED AN UN-SCIENTIFIC. ONLINE POLL ASKING "IF THE U-S  SHOULD WITHDRAW FROM NAFTA". SURPRISINGLY, ABOUT A THIRD OF THE FARMERS SURVEYED WOULD NOT BE  CONCERNED IF NAFTA GOES AWAY. BREAKING IT DOWN FOR YOU - SEVEN PERCENT SAID THE U-S ECONOMY WOULD  BE BETTER OFF WITHOUT THE TRADE DEAL. 23-PERCENT SAID THE U-S CAN NEGOTIATE A BETTER DEAL ONE-ON-ONE,  INSTEAD OF A THREE-WAY PACT.. STILL A LARGE NUMBER - 40-PERCENT - SAY NAFTA IS CRUCIAL TO U-S FARMERS. AND A QUARTER OF THE RESPONDENTS ARE STILL UNSURE ABOUT THEIR VIEWS  OF NAFTA. BUT MOST FARMERS WE TALK TO URGE THE PRESIDENT TO KEEP THE 24 YEAR  OLD TRADE DEAL. " IF THAT GETS MESSED UP, THEN WE HAVEN'T SEEN ANYTHING YET WITH LOW PRICES, I DON'T THINK,""I REALLY HOPE THAT WE CONTINUE TO STRESS THE IMPORTANCE OF FREE GLOBAL TRADE BECAUSE AS FAR  AS CORN PRODUCERS AND SOYBEAN PRODUCERS ARE CONCERNED, THE INTERNATIONAL MARKETS ARE  VERY IMPORTANT FOR US. I HOPE TO SEE THE FREE TRADE AGREEMENTS WE HAVE IN THE BOOKS, STAY ON  THE BOOKS AND WE CAN EXPAND THAT IN THE NEXT COUPLE OF YEARS HERE,"MEANWHILE FARM GROUPS ARE USING THE TWITTER-VERSE TO COMMUNICATE  WITH PRESIDENT TRUMP ABOUT THE IMPORTANCE OF NAFTA. THE PRESIDENT -OF  COURSE - IS A BIG USER OF TWITTER. THEY HOPE #FARMERS4NAFTA CATCHES HIS ATTENTION. HERE ARE A FEW OF THE TWEETS. DAVID CLEAVINGER IS A TEXAS WHEAT  GROWER. HE URGES FARMERS AND RANCHERS TO CALL THE WHITE HOUSE AND  TELL THE PRESIDENT NOT ONLY TO KEEP THE U-S IN NAFTA BUT TO LOOK FOR  OTHER TRADE DEALS. AND THE AMERICAN SOYBEAN ASSOCIATION SAYS SOYBEAN EXPORTS HAVE  INCREASED FOUR-FOLD UNDER NAFTA. IN AN INTERVIEW WITH BLOOMBERG NEWS, CANADA'S AMBASSADOR TO THE U-S.  SAID HE THINKS A DEAL CAN BE ACCOMPLISHED BUT NOT BEFORE MARCH.  HOWEVER AMBASSAOR DAVID MACNAUGHTON SAYS NEGOTIATORS MUST STILL  OVERCOME THORNY ISSUES LIKE AMERICAN DEMANDS FOR TOUGHER AUTO  QUOTAS. LAST WEEK,  MEXICO'S AMBASSADOR TO THE U-S SAID THE ODDS ARE 50-50 THAT THE NAFTA  TALKS COULD END WITH THE U-S WALKING AWAY FROM THE TABLE. STILL, AMBASSADOR GERÓNIMO GUTIÉRREZ SAYS HE REMAINS "MODERATELY  OPTIMISTIC" THE THREE COUNTRIES CAN REACH AN AGREEMENT IN THE NEXT  FEW MONTHS. BUT U-S TRADE REPRESENTATIVE ROBERT LIGHTHIZER SAID FOLLOWING THE  CONCLUSION OF TALKS THAT HE'S "CONCERNED ABOUT THE LACK OF HEADWAY". THE TALKS RESUME JANUARY 23RD. ECONOMISTS AT GOLDMAN SACHS ARE NOT AS OPTIMISTIC ABOUT THE FUTURE  OF NAFTA.  IN A "NOTE" PUBLISHED LAST WEEK, THE INVESTMENT BANKING FIRM  SAID IT EXPECTS THE TRUMP ADMINISTRATION TO ANNOUNCE ITS INTENT TO  WITHDRAW FROM NAFTA IN THE COMING MONTHS. GOLDMAN SACHS ECONOMISTS SAY  "THE U.S. HAS MADE DEMANDS ON SEVERAL  ISSUES THAT APPEAR TO BE NONSTARTERS FOR CANADA AND MEXICO. " THE INVESTMENT FIRM BELIEVES THE POSITIONS WILL ULTIMATELY LEAD TO AN  IMPASSE AND THE US WILL ANNOUNCE ITS INTENTION TO PULLOUT OF THE  AGREEMENT.

RFS CRITICISM
LAST WEEK, THE PRESIDENT MEETING WITH TED CRUZ AND OTHER CRITICS OF  THE RFS. THE RESULT--PRESIDENT TRUMP URGING THE REPUBLICANS TO SETTLE THEIR  DIFFERENCES AND MOVE ON. BOTH EPA CHIEF SCOTT PRUITT AND AG SECRETARY SONNY PERDUE WERE ON  HAND FOR THE MEETING. THERE WAS ALSO TALK OF PUTTING A PRICE CAP ON THE RENEWABLE  IDENTIFICATION NUMBERS OR RINS SENATOR CRUZ INSISTING ON THE GATHERING BEFORE HE WILL STOP BLOCKING  A VOTE ON THE NOMINATION OF IOWA'S BILL NORTHEY TO BE AN  UNDERSECRETARY OF AGRICULTURE. 

TAX BILL DIFFERENCES
ALSO IN WASHINGTON, HOUSE AND SENATE LEADERS HAVE APPOINTED  NEGOTIATORS TO WORK OUT DIFFERENCES BETWEEN THE TWO BODIES' TAX  BILLS. BOTH BILLS CREATE NEW, BUT DIFFERENT, TAX BREAKS FOR SMALL BUSINESSES  THAT FILE AS INDIVIDUALS THAT  INCLUDES 94-PERCENT OF FARMS. OTHER PROVISIONS POPULAR WITH PRODUCERS—CASH ACCOUNTING, AND  FASTER EXPENSING OF LAND, EQUIPMENT AND FACILITIES. BOTH BILLS DOUBLE THE ESTATE TAX EXEMPTION, WHILE THE HOUSE VERSION  ENDS THE TAX BY 2024. REGARDLESS OF WHAT HAPPENS IN WASHINGTON, SOME FARMERS ARE  ALREADY TRYING TO GET AHEAD OF THE BILL. "MY WIFE AND I MADE A COMMITMENT BEFORE THIS PASSED THROUGH THE HOUSE AND THE SENATE  TO GO AHEAD AND DO ESTATE PLANNING AND WE'RE TRYING TO MINIMIZE THE TAX BURDEN DOWN THE  ROAD BECAUSE THE LAW IS A MOVING TARGET . 15 BUT IT WOULD BE HELPFUL FOR FARM FAMILIES TO DO  AWAY WITH THE ESTATE TAX."HOWEY SAYS THINGS LIKE, CAPPING THE AMOUNT OF PROPERTY TAX YOU CAN  DEDUCT OR CAPPING MORTGAGE INTEREST OR FARM INTEREST WOULD BE  DETRIMENTAL TO HIS OPERATION.

ANTIBIOTIC USAGE DROPS
USAGE OF ANTIBIOTICS ON FARMS HAS DROPPED FOR THE FIRST TIME SINCE FDA  STARTED KEEPING RECORDS IN 2009.  THE AGENCY SAYS SALES OF MEDICALLY IMPORTANT ANTIMICROBIALS FOR  LIVESTOCK AND POULTRY FELL BY 10 PERCENT IN 2016.  THE DECLINE HAPPENING IN WAKE OF NEW RESTRICTIONS ON ANTIBIOTIC USE  THAT TOOK EFFECT IN JANUARY. FARMERS NOW NEED VETERINARIAN OVERSIGHT TO ADMINISTER THOSE  MEDICALLY IMPORTANT ANTIBIOTICS, AND THE DRUGS CAN NO LONGER BE SOLD  FOR GROWTH PROMOTION. 

SOUTHERN CROPS
USDA SAYS ALMOST ALL OF THE U.S. COTTON CROP HAS BEEN PICKED. NOW THE  GINS ARE HARD AT WORK.  HOKE ROBESON GIN LOCATED IN RED SPRINGS, NORTH CAROLINA JUST  REACHED  ITS 50-THOUSAND BALE MARK FOR THE SEASON LATE LAST WEEK.  WORKERS SAY THEY ANTICIPATE TO GIN 55 TO 57 THOUSAND BALES BY THE END  OF THIS YEAR. EDGAR EDENS WITH THE COMPANY SAYS THE COTTON IS PRODUCING ONE OF  THE BEST YIELDS HE CAN REMEMBER FOR THE AREA. "IT'S BEEN A GREAT HARVEST SEASON, A GREAT GINNING SEASON AND EVERYBODY'S YIELDS HAVE  BEEN SPECTACULAR. THE QUALITY OF THE COTTON IS SPECTACULAR. GOOD COTTON GINS GOOD."72-THOUSAND BALES IS A RECORD FOR THE GIN. EDENS SAYS A LOT OF COTTON FARMERS IN THE AREA HAVE CALLED IT QUITS  DUE TO FINANCIAL REASONS. SOME FARMERS ARE SWITCHING AND GROWING  PEANUTS AS WELL. 

DROUGHT MONITOR
DROUGHT CONTINUES TO INTENSIFY ON THE U.S. DROUGHT MONITOR THE SOUTHWEST, PLAINS, LOWER MIDWEST AND SOUTHEAST SEEING THE  BIGGEST DETERORIATION. THE MONITOR SHOWS OCTOBER AND NOVEMBER WERE VERY DRY IN VARIOUS  REGIONS WITH THE SOUTH EXPERIENCING ITS 11 DRIEST ON RECORD AND THE  SOUTHWEST ITS 6TH DRIEST. NEARLY 3-4THS OF NORTH CAROLINA IS ADNORMALLY DRY, MOSTLY 22 PERCENT  OF THE STATE IS IN A MODERATE DROUGHT.  ONE PRODUCER SAYS THE WINTER WHEAT NEEDS SOME MOISTURE.  "NOW IT'S GETTING SERIOUS WITH OUR WINTER WHEAT. WE JUST GOT A FEW TENTHS IN THE LAST DAY BUT WE ARE REALLY BEHIND IN MOISTURE. 54 POND LEVELS ARE REALLY LOW, SUBSOIL MOISTURE IS NOT  EXISTENT HERE. IT'S GOING TO BE CRITICAL FOR US TO GET RAINS FOR THIS COMING YEAR. WE COULD BE IN A  DEVASTATING DROUGHT IF IT CONTINUES LIKE THIS ALL WINTER."THE SOUTHEAST IS EXPECTED TO RECEIVE SOME FLURRIES OR SNOW. THE DROUGHT MONITOR MAY CHANGE BY NEXT WEEK. 

CROP COMMENTS
TODAY IS ALL ABOUT OUR FUTURE FARMERS OUT ON THE FARM. MIKE HOFFMAN  HAS AN UPDATE IN CROP COMMENTS THIS MORNING.  GOOD MORNING, CLINTON.  WE'LL START OFF IN WARREN COUNTY, NORTH CAROLINA.  JOHN SKINNER SENDING UP A PICTURE OF HIS SON CHRIS, ALSO KNOWN AS HIS   QUALITY CONTROL SUPERVISOR HARD AT WORK! JOHN SAYS CHRIS HAS A KNACK FOR FARMING AND HOPES HE WILL CONTINUE TO  HOLD THAT PASSION.  LET'S MOVE OVER TO SEDALIA, MISSOURI.  BRITTANY WILBANKS SENDING US A PICTURE OF ANOTHER FUTURE FARMER. THIS  LITTLE ONE IS FEEDING AND WEANING CALVES WITH A UNICORN IN TOW.  AND TAKING A LOOK AT THE WEATHER MAP TODAY YEAH THAT'S COLD FOR THE  EASTERN PART OF THE COUNTRY AND WARM OUT WEST NOW THERE ARE SOME  SIGNS THAT THAT MAY AHH GIVE WAY TO A LITTLE BIT OF A CHANGE IN ABOUT 10  DAYS WE'LL TALK MORE ABOUT THAT WITH MY FORECAST AND ALSO HAVE YOUR  THIRTY DAY OUTLOOK COMING UP  FIRST HERE ARE SOME HOMETOWN TEMPS.  FARM JOURNAL ON AIR IS THE GO-TO APP FOR AMERICAN AGRICULTURE.  AGDAY, AGRITALK, U.S.  FARM REPORT AND MORE - 24/7 ACCESS TO ALL OF YOUR FAVORITE SHOWS. TV AND RADIO...IN YOUR HANDS, ON DEMAND.  FARM JOURNAL ON AIR - DOWNLOAD THE APP TODAY. 

TEASE
UP NEXT WE'LL KICK OFF A NEW WEEK WITH PERSPECTIVE AND EXPECTATIONS  FOR COMMODITY MARKETS IN DECEMBER. AND MACHINERY PETE JOINS US FROM THE ROAD TO TALK ABOUT USED COMBINE  PRICES AND TRENDS HE'S BEEN WATCHING FOR A DECADE OR MORE. AND BIDDING FAREWELL TO FELLOW FARM BROADCASTER AS HE BEGINS A NEW  CHAPTER.

FLOOR OF THE CME
RECEIVE A FREE TRIAL OF THE DAILY GRAIN PLAN NEWS LETTER FROM ROACH AG MARKETING.  TEXT  ROACH TO 31313.  START YOUR SUBSCRIPTION BY TEXTING ROACH TO 31313.  IN AGRIBUSINESS IT WAS MIXED DAY FOR MARKETS TO CLOSE OUT THE WEEK.  LETS GET THE NUMBERS FROM THE FLOOR OF THE CME IN CHICAGO. TODAY.BEANS WERE LOWER. THE FUTURE'S REALLY CONTINUED TO SLIP AS THE TECHNICAL SIGNALS REALLY  START TO PRESS THESE MARKETS. TRADERS ARE STILL UNWINDING THAT LONG POSITION THAT THEY PLAYED  THAT WAS AGAINST THE WEATHER IN SOUTH AMERICA SPECIFICALLY IN ARGENTINA. BUT THE WEATHER IS  IMPROVING THERE SO LIQUIDATING SOME OF THEIR POSITION IS REALLY STARTING TO SEND THE MARKET A  LITTLE BIT LOWER AND OF COURSE YOU KNOW SLIPPING BELOW TEN DOLLARS IS GOING TO BE VERY  SIGNIFICANT. BUT THERE'S STILL MORE ROOM TO FALL SO WE'RE STILL GOING TO BE LOOKING FORWARD TO THE  REPORT ON TUESDAY. TODAY CATTLE WAS MIXED REALLY TRADED ON BOTH SIDES OF THE MARKET TODAY.  FUTURES REMAIN WEAK BUT THEY'RE OVERSOLD CONDITIONS THAT STILL EXIST. AND SO THAT'S GIVING A  LITTLE MORE YOU KNOW A LITTLE MORE SOMETHING TO THE MARKET SO IT'S KEEPING IT FROM KIND OF LIKE  REALLY SLIPPING LOWER. SHORT COVERING FROM TAKING SOME OF THE PROFITS OFF THE TABLE BECAUSE THE  MARKET HAS REALLY BEEN DROPPED QUITE A BIT OVER THE LAST THREE OR FOUR DAYS. SOME OF THE  TRADERS ARE BALANCING THEIR POSITIONS AND I EXPECT THAT THIS IS GOING TO BE HAPPENING FOR THE  REST OF DECEMBER. THAT'S ALL FROM THE FLOOR AT THE CME GROUP HERE IN CHICAGO. I'M VIRGINIA  MACGATHEY.

AGRIBUSINESS
DUWAYNE BOSSE HERE THE AGRIBUSINESS DESK TALKING ABOUT WHAT'S HAPPENING IN THE MARKETS  THIS WEEK. IS THERE ANYTHING THAT YOU LEARNED LAST WEEK THAT YOU CAN TAKE AND YOU KNOW USE  IN THE MONTH AHEAD OR WHEN WE JUST NEED TO TALK FOOTBALL. FOOTBALL YOU KNOW JACKS BASKETBALL ANYTHING ANYTHING ELSE THAT WE NEED TO TALK. WELL YEAH WE'LL BE RECOVERING FROM  THAT. JAGS FOOTBALL GAME I'M GOING TO TOMORROW I'M SURE. BUT ANYWAY LAST WEEK WHAT I REALLY  LEARNED AND I THINK I ALREADY KNEW IT BUT IT NEEDED TO GET DRILLED IN MY HEAD AGAIN. FARMERS  CERTAINLY WILL BE VERY HIGH AND AGGRESSIVE ON RALLIES. WE GOT A 360 MARCH CORN BOOM RIGHT  BACK DOWN BECAUSE FARMERS SOLD 10 10 JANUARY BEANS BOOM RIGHT BACK DOWN. SO WHAT I  STARTED TO DO IS REALLY CALL CLIENTS AND TELL THEM YOU NEED TO SET TARGETS OUT THERE. NOT JUST HEY  CALL ME WHEN IT GETS THERE BECAUSE IT'S TOO QUICK. YOU NEED TO BE AGGRESSIVE SELLING THIS OLD  CROP ON RALLIES. YEAH. YOU KNOW DECEMBER IS KIND OF AN INTERESTING MONTH. END OF THE YEAR.  WE'VE JUST WRAPPED UP ALL OF THIS HARVEST WORK. THINGS ARE GETTING PUT AWAY AND STORED  AWAY. PLUS WE'RE DOING TAXES AND ALL THOSE OTHER THINGS WHAT YOU TAKE FOR THE REST OF THIS  MONTH AS WE TRY TO WRAP UP ITS 2017. I WISH I HAD SOMETHING FUN TO SAY ABOUT DECEMBER  TRADING BUT IT IS A LITTLE BIT DULLER A LOT OF DECEMBER TO ME IS LIQUIDATION. PEOPLE SQUARING UP  POSITIONS REMEMBER FUNDS KNOW IF THEY WANT TO SHOW A PROFIT IF THEY'VE GOT A PROFIT POSITION  THEY NEED TO GET OUT OF THAT POSITION THAN IT LOOKED MAKES THEIR BOOKS LOOK BETTER THEY GET  THEIR CHRISTMAS BONUS AS WELL SO THEY MIGHT BE EXITING THINGS LIKE LIVE CATTLE FOR EXAMPLE JUST  GETTING OUT OF POSITIONS TAKING THEIR PROFITS. NO MATTER WHAT THE DEMAND OR SUPPLIES. SO A LOT  OF POSITIONS SQUARING A LOT OF SQUIRRELLY TRADE DURING THE MONTH OF DECEMBER. ANYTHING YOU'RE  HANGING YOUR HAT ON FOR 2018 FOR 2018 I GUESS GENERALLY FRIENDLY. I JUST CAN'T BE BEARISH CORN  AT THIS PRICE I CAN'T BE BEARISH. WE DID THIS BRACE WHICH IS A DOOMSDAY TO SAY A THING TO SAY  BUT GENERALLY FRIENDLY ESPECIALLY THE CORN MARKET. I THINK FARMERS ARE GOING TO BE MORE  AGGRESSIVE SELLING THIS OLD CROP MUCH MORE THAN LAST YEAR. AND ONCE THAT HAPPENS YOU KNOW  GOOD FRIEND WHO I JUST MET BOB UTTERBACK TOLD ME ABOUT A YEAR AGO. ONCE THE FARMERS SELL  THEIR CROP THEN YOU CAN HAVE A RALLY. SO WE'RE NOT IT'S NOT GOING TO HAPPEN IN THE FIRST QUARTER  OF 18 BUT YOU GET TO ABOUT SUMMERTIME YOU CAN HAVE A NICE RALLY IN THE CORN MARKET. LET'S  LOOK FORWARD SOMETHING POSITIVE. MERRY CHRISTMAS FROM THE PRESIDENT. WE'LL BE BACK WITH  MORE IN JUST A MINUTE.  AGDAY - BROUGHT TO YOU BY THE ENLIST WEED CONTROL SYSTEM.  MORE WEED CONTROL.  LESS  DRIFT AND VOLATILITY.  MAXIMUM YIELD POTENTIAL. 

WEATHER
WELCOME BACK TO AGDAY HERE WITH METEOROLOGIST. MIKE HOFFMAN LOOKING AT THE JET STREAM  HERE. AND MIKE LAST WEEK PLACES LIKE HOUSTON ALL THE WAY DOWN TO THE GULF COAST GETTING  SNOW. WHAT ABOUT THIS WEEK. YEAH THOSE AREAS GOT SNOW BEFORE A GOOD CHUNK OF THE  MIDWEST THIS YEAR. YEAH. WELL THIS WEEK WE ARE LOOKING AT THE COLD CONTINUING AT LEAST  THROUGH MOST OF THE WEEK. AND THIS IS WHAT WE'VE BEEN TALKING ABOUT FOR A WHILE. THE BIG  TROUGH IN THE EASTERN TWO THIRDS OF THE COUNTRY BASICALLY EAST OF THE CONTINENTAL DIVIDE YOU  CAN SEE THIS IS A STABLE WEATHER PATTERN THAT TYPICALLY HOLDS FOR A WHILE AND THAT'S WHAT IT'S  DOING THERE IS THROUGH THE MIDDLE OF THE WEEK. WE'RE STILL SEEING THE WINDS COMING RIGHT OFF  THE ARCTIC CIRCLE IN THE UPPER ATMOSPHERE RIGHT INTO THE GREAT LAKES. YOU CAN SEE HOW THE  TROUGH CONTINUES RIGHT THROUGH THE WEEK RIDGE CONTINUES OUT WEST WHICH MEANS NO STORMS  ARE COMING INTO THE WEST COAST AND YOU WILL CONTINUE TO SEE PRETTY WARM WEATHER OUT THERE.  NOW HERE'S WHERE IT GETS INTERESTING OUR MODEL WASN'T SHOWING THIS BEFORE BUT ALL OF A  SUDDEN IT'S SHOWING A QUICK TROUGH COMING IN OUT WEST AND A RIDGE IN THE EAST. I THINK EVEN IF  THIS DOES HAPPEN EARLY NEXT WEEK IT'LL QUICKLY GO BACK TO ANOTHER TROUGH BY LATER NEXT WEEK.  BUT WE'LL WAIT AND SEE ON THAT. THIS IS A CHANGE FROM WHAT THE MODEL WAS SHOWING BEFORE  TEMPERATURES THIS WEEK WERE GOING BELOW NORMAL BASICALLY FROM THE MISSISSIPPI VALLEY  EASTWARD TO THE EASTERN SEABOARD ABOVE NORMAL TEMPERATURES FOR MOST OF NEBRASKA KANSAS  OKLAHOMA WEST TO THE WEST COAST ALTHOUGH WE'LL KEEP IT NEAR NORMAL FOR WESTERN WASHINGTON  AND WESTERN OREGON AS FAR AS PRECIPITATION THIS WEEK WILL ONLY GO ABOVE NORMAL AND THAT'S  BARELY ABOVE NORMAL FOR NORTHERN MINNESOTA ACROSS THE CENTRAL GREAT LAKES INTO THE EASTERN  GREAT LAKES. PART OF THAT'S BECAUSE OF LAKE EFFECT SNOW YOU'LL GET A COUPLE OF TIMES THIS  WEEK. BUT MOST OF THE LOWER 48 EXPECTED TO BE BELOW NORMAL ALL THE WAY FROM THE MID- ATLANTIC THE OHIO RIVER VALLEY SOUTHERN MISSISSIPPI VALLEY AND ALMOST THE ENTIRE EXCUSE ME  WESTERN PORTIONS OF THE COUNTRY EXCEPT FOR THE FAR NORTHWEST HERE'S A 30 DAY OUTLOOK FOR  TEMPERATURES GOING BELOW NORMAL AS I DO EXPECT THAT TROUGH TO READ BEGIN FOR MOST OF THE  REST OF DECEMBER ANYWAY AND SEE BELOW NORMAL PRETTY MUCH EAST OF THE CONTINENTAL DIVIDE  EXCEPT FOR CENTRAL AND SOUTH FLORIDA ABOVE NORMAL FOR THE FOUR CORNERS REGION THROUGH  CALIFORNIA SOUTHERN OREGON PRECIPITATION OVER THE NEXT 30 DAYS FROM EASTERN IOWA AND  NORTHEASTERN MISSOURI ALL THE WAY INTO EASTERN CANADA ABOVE NORMAL AND ALSO THE PACIFIC  NORTHWEST ABOVE NORMAL SOUTHERN TIER OF STATES. LOOK BELOW NORMAL TO ME OVER THE NEXT 30  DAYS. THAT'S A LOOK ACROSS THE COUNTRY. NOW LET'S TAKE A LOOK AT SOME LOCAL FORECASTS. FIRST OF  ALL FOR MORECROFT WYOMING LOTS OF SUNSHINE AND CHILLY HIGH TEMPERATURE AROUND 40 DEGREES.  CAIRO ILLINOIS BREEZY WITH A MIX OF SUN AND CLOUDS HIGH OF 54. AND FINALLY A LITTLE COLDER WATERTOWN NEW YORK CLOUDY WITH LIGHT SNOW AT TIMES HIGH OF JUST 24. 

TEASE
COULD WE SEE THE PRICE OF A USED COMBINE TOP A MILLION DOLLARS?  MACHINERY PETE TRACKS HISTORICAL PRICES--UP NEXT. AND LATER, WE'LL SAY GOODBYE TO FRIEND AND COWORKER AS MIKE ADAMS  PASSES THE AGRITALK MICROPHONE TO A NEW HOST.

MACHINERY PETE
"MACHINERY PETE IS BROUGHT TO YOU BY JOHN DEERE…WHERE CAN YOU FIND THE MOST  COMPREHENSIVE INVENTORY OF JOHN DEERE CERTIFIED PRE-OWNED TRACTORS, COMBINES AND  SPRAYERS?  MACHINE FINDER-DOT-COM … SOMETIMES THE BEST NEW ADDITION TO YOUR FLEET ISN'T  NEW!" MACHINERY PETE HAS BEEN TRACKING USED VALUES A LONG TIME, TODAY HE  LOOKS SPECIFICALLY AT HOW MUCH USED COMBINE VALUES HAVE RISEN OVER  THE PAST 2 DECADES. ALL RIGHT FOLKS TODAY OUR TOPIC IS USE COMBINE VALUES. NOW WE ALL KNOW THE RISING PRICE OF NEW  COMBINES OF COURSE HAS PULLED UP ON THE VALUE OF USED OVER THE YEARS. NOW ON THIS VERY  TOPIC I WAS RECENTLY WRITING A COLUMN FOR TOP PRODUCER MAGAZINE THAT WENT INTO OUR AUCTION  PRICE DATA AND I WENT BACK 17 YEARS. I PULLED OUT THE HIGHEST AUCTION PRICE FOR EVERY CALENDAR  YEAR. NOW WHAT WOULD YOU GUESS WAS THE HIGHEST PRICE PAID FOR A COMBINE IN THE YEAR 2000.  IT'S ACTUALLY 121 THOUSAND BUCKS AND IT WAS JULY 12TH 2000 SALE IN CENTRAL NORTH DAKOTA OR A  2000 MODEL CASE IH 2388 FOR 121000. NOW IT TOOK SEVEN YEARS UNTIL WE CROSSED THE 200000  MARK. I WAS UP IN THE YEAR 2007 AND THEN IT TOOK ANOTHER SEVEN YEARS. SO WE HAD 2014 AND  WE CROSSED THE 300000 DOLLAR MARK. AND IT WAS A SALE. DECEMBER 17TH 2014 WEST CENTRAL  OHIO. 2012 JOHN DEERE S690 SAW FOR 340000 STILL THE HIGHEST PRICE I'VE EVER SEEN IN THE  U.S.. NOW WHAT'S INTERESTING IS FOR 14 YEARS IN A ROW THAT USED THAT HIGHEST PRICE WENT UP BUT  THE LAST THREE YEARS HAS ACTUALLY GONE DOWN JUST A LITTLE BIT. SO ARE WE PLATEAUING OR 15 YEARS  FROM NOW WHEN WE ALMOST TRIPLE AGAIN UP TO A MILLION BUCKS FOR A USED COMBINE. STAY TUNED. 

TEASE
WHEN WE COME BACK, WE'LL WISH A GOOD FRIEND AND COWORKER MIKE  ADAMS FAREWELL AS HE STARTS A NEW CHAPTER.

IN THE COUNTRY
IN THE COUNTRY - BROUGHT TO YOU BY KUBOTA.  CHECK OUT KUBOTA'S RTV-X-1140, A RUGGED  UTILITY VEHICLE WITH SEATING FOR FOUR.  SYOP BY YOUR LOCAL DEALER TODAY, OR VISIT KUBOTA.COM.  AS WE CLOSE OUT THE SHOW THIS MONDAY MORNING, WE WANT TO GIVE A BIG  "THANK YOU" TO FARM JOURNAL COLLEAGUE AND LONG TIME FARM  BROADCASTER MIKE ADAMS. MIKE STEPPED OUT OF THE RADIO BOOTH ONE LAST TIME ON FRIDAY AS HOST OF  "AGRITALK". AGRITALK IS OUR DAILY, LIVE NATIONAL ONE-HOUR SYNDICATED RADIO  PROGRAM. IT LAUNCHED IN 1994. MIKE STARTED HOSTING THE SHOW IN 2001. ON FRIDAY, HE BID FAREWELL TO HIS FAITHFUL LISTENERS. "SO NOW IT'S TIME FOR ME TO WRAP UP MY LAST AGRITALK SHOW. AND I KNOW I LEAVE THE SHOW IN IN  GOOD HANDS. I WISH CHIP FLORY AND THE FARM JOURNAL TEAM THE VERY BEST IN THE FUTURE. THANK  YOU ALL FOR A GREAT 16 YEARS. I WANT TO CLOSE THE WAY I CLOSE A LOT OF MY SPEECHES WHEN I GET  A CHANCE TO TALK WITH AUDIENCES AROUND THE COUNTRY. JUST A REMINDER TO ALL OF US ON YOUR  WORST DAY YOU ARE NEVER BEYOND THE REACH OF GOD'S GRACE AND ON YOUR BEST DAY YOU ARE  NEVER BEYOND THE NEED OF GOD'S GRACE. SO LONG EVERYONE. IT'S BEEN A WONDERFUL 16 YEARS.  MERRY CHRISTMAS. HAVE A GREAT WONDERFUL HOLIDAY SEASON. THANK YOU SO MUCH."STARTING JANUARY SECOND CHIP FLORY - WHOM YOU MAY KNOW FROM THE  PROFARMER CROP TOUR,  PROFARMER NEWSLETTER AND MARKET RALLY RADIO - WILL TAKE OVER AT  AGRITALK. CHIP WILL BE ONLY THE THIRD HOST IN AGRITALK'S LONG HISTORY. MIKE ADAMS IS A RECIPIENT OF THE PRESTIGIOUS FARM BROADCASTER OF THE  YEAR AWARD. HE ALSO SERVED AS PRESIDENT OF NATIONAL ASSOCIATION OF  FARM BROADCASTING. AND WISH HIM WELL.

CLOSE
THAT'S ALL THE TIME WE HAVE THIS MORNING. WE'RE GLAD YOU TUNED IN.  FOR ALL OF US AT AGDAY. I'M CLINTON GRIFFITHS. HAVE A GREAT DAY.