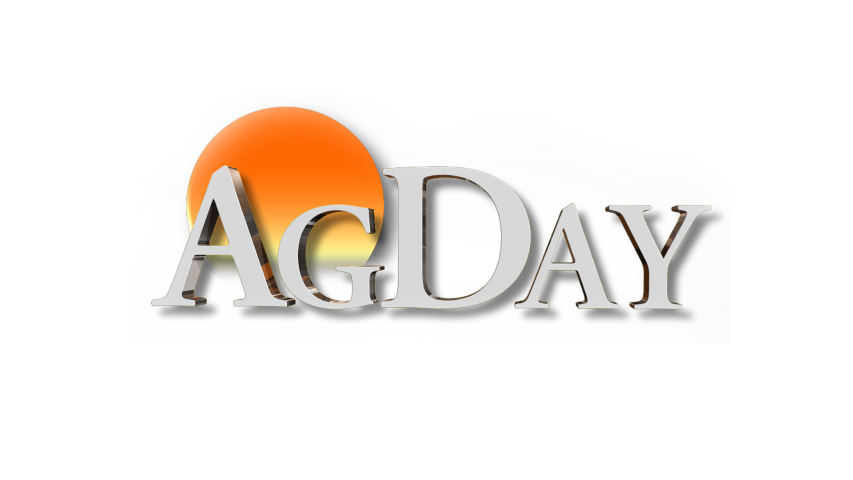 TODAY ON AGDAY
FEBRUARY 23, 2018

HEADLINES
USDA'S OUTLOOK FORUM UNVEILS IT'S PREDICTIONS FOR 2018 AND BEYOND. IN AGRIBUSINESS...WHAT TO DO WITH THE GRAIN STILL IN THE BIN? A PLANTER CHECKLIST FROM MISSY BAUER. AND AN ALTERNATIVE CROP IDEA WITH PLENTY OF BARRIERS. AGDAY - BROUGHT TO YOU BY THE CHEVY SILVERADO, THE MOST DEPENDABLE, LONGEST-LASTING FULL  SIZE PICKUPS ON THE ROAD.

USDA AG ECONOMY FORUM
GOOD MORNING I'M CLINTON GRIFFITHS. USDA'S TOP ECONOMISTS PAINT A DIM  PICTURE FOR THE AG ECONOMY AS GRAIN PRICES CONTINUE TO STAGNATE. DURING THEIR ANNUAL AG OUTLOOK FORUM, USDA ECONOMISTS GIVE THEIR  LONG-TERM PROJECTIONS FOR GRAIN AND LIVESTOCK. USDA EXPECTS CORN AND SOYBEAN WILL BOTH HIT ABOUT 90 MILLION ACRES  THIS YEAR - BUT SOY ACRES EDGE-OUT CORN.BOTH CROPS ARE BIT LOWER THAN LAST YEARS ACREAGE. USDA ECONOMISTS  BELIEVE U-S SOYBEAN ACREAGE WILL CONTINUE TO OUTPACE CORN FOR THE  NEXT DECADE BASED ON INCREASING DEMAND FROM CHINA. THE AG DEPARTMENT EXPECTS A HALF MILLION ACRE IN INCREASE IN ALL-WHEAT. USDA ECONOMISTS ALSO PROJECTING A BIGGER COTTON CROP THIS  YEAR...ABOUT 13-POINT-THREE MILLION ACRES. THAT AMOUNT IS SIMILAR TO THE NATIONAL COTTON COUNCIL'S ACREAGE  FORECAST. BETSY JIBBEN JOINS US NOW WITH MORE DETAILS FROM THE OUTLOOK FORUM.  CLINTON, USDA'S CHIEF ECONOMIST, ROBERT JOHANSSON BREAKING DOWN HIS PROJECTIONS FOR NOT JUST ACREAGE, BUT TRADE AND PRICE.  HE SAYS RISING GLOBAL STOCKS AND INCREASING GLOBAL PRODUCTION LIMITS  SOME UPSIDE POTENTIAL FOR PRICES BUT NOT FOR ALL  WHEAT PRICES ARE EXPECTED TO RISE MODESTLY TO 4.70 A BUSHEL, 2 PERCENT FROM LAST YEAR  IN PART OF DRY CONDITIONS IN THE PLAINS AND ITS SUPPORTED PRICE.USDA SAYS SOYBEANS, COTTON AND RISE HAVE THE POTENTIAL TO FALL.  SOYBEAN PRICES ARE SET TO BE 9.25 ARE SET TO BE DOWN FRACTIONALLY.  COTTON PRICES ROSE  SLIGHTLY IN 2017 AND 2018 AS PRODUCERS IN THE U.S. AND AROUND THE WORLD EXPAND EVEN THOUGH  SOMETHING IS DOWN 63 CENTS PER POUND.OVERALL, USDA SAYS NET FARM INCOME IS EXPECTED TO CONTINUE TO FALL IN  2018. WE EXPECT IT TO REMAIN FLAT AND THER EARE SEVERAL THINGS WHICH WILL CH ANGE THIS OUTLOOK.  DESPITE THE FALL, JOHANSSEN SAYS THERE IS MORE OPTIMISM THAN LAST  YEAR. SOMETIMES IT MAY SHOW OPTIMISM WHEN INDEED T HIS IS SHOWING NEGATIVE EXPECTATIONS.  NONETHELESS, IT'S POSITIVE. FARMERS ARE A LITTLE BIT MORE REFLECT IVE, TRACKING MORE CLOSELY TO THE  PRICE OF CORN COMPARED TO LAST YEAR OF COURSE NET FARM INCOME, AND CROP PRICES ALL DEPEND ON WEATHER,  THE ECONOMY AND TRADE.  JOHANSSEN SAYS  FREE TRADE PARTNERS ACCOUNT FOR ALMOST 45 PERCENT OF AG EXPORTS  NOW - THAT INCLUDES CANADA, MEXICO AND OTHER LATIN AMREICAN  COUTNRIES.  U-S EXPORTS TO CHINA SHOULD EQUAL JUST OVER 21-AND A HALF BILLION DOLLARS THIS YEAR.  THANKS BETSY.

CHINA TARIFFS
USDA ECONOMISTS SAY CHINA'S LIVESTOCK SECTOR  HAS A BIG APPETITITE FOR  U-S SOYBEANS...AND THEY EXPECT IT WILL CONTINUE TO GROW. USDA PROJECTING THAT WITHIN THE NEXT TEN YEARS, CHINA WILL ACCOUNT  FOR 70-PERCENT OF ALL U-S SOYBEAN EXPORTS. THAT NEWS COMES AS THE U-S PROPOSES TARIFFS ON CHINA STEEL. THERE ARE  CONCERNS THAT CHINA WOULD RETALIATE BY HITTING SOYBEAN SHIPMENTS. WE HEAR CONVERSATION OUT OF CHINA. WE HAVE NOT SEEN ANY DIRECT RETALIATORY MEASURES YET. WE ARE HAVE TO BE MINDFUL OF THOSE ISSUES WE HAVE TO PLAN AHEAD OVER WHAT POTENTIAL RETALIATORY MEASURES THAT CHINA MAY TAKE ALTHOUGH WE'RE NOT IN CONTROL OF THAT. WE HOPE THAT THEY WILL VIEW THESE ISSUES IN A WAY THAT IS NOT THAT'S NOT RETALIATORY PARTICULARLY AGRICULTURAL SENSE ALTHOUGH WE DO KNOW REALISTICALLY THAT AGRICULTURE IS ALWAYS THE EASIEST TO RETALIATE ON.

DAIRY NUMBERS
NOW TO DAIRY - THE U-S IS PRODUCING MORE MILK THAN EVER, BUT IT'S DOING  IT WITH FEWER FARMS. IN ITS JANUARY MILK PRODUCTION REPORT, THE AG DEPARTMENT REPORTED THAT THE NUMBER OF LICENSED U-S DAIRY  FARMS DROPPED BY 16-HUNDRED FARMS IN THE PAST YEAR TO JUST OVER 40- THOUSAND THAT'S A DECLINE OF FOUR PERCENT ACCORDING TO OUR PARTNERS AT FARM JOURNAL'S MILK, THE COUNTRY HAS  LOST NEARLY 17-THOUSAND DAIRY FARMS OVER THE PAST DECADE. THAT'S A  DECLINE OF ABOUT 30%. WISCONSIN STILL HAS THE MOST NUMBER OF DAIRY FARMS WITH ABOUT 91- HUNDRED BUT IT LOST 430 FARMS LAST YEAR ALONE. CALIFORNIA PRODUCES THE MOST MILK WITH JUST 14-HUNDRED   OPERATIONS. BUT THOSE HERDS AVERAGE ABOUT 12-HUNDRED COWS WHILE  WISCONSIN FARMS AVERAGE ABOUT 140 COWS.

DROUGHT MONITOR
WHILE THE AMOUNT OVERALL OF DROUGHT AND DRYNESS GOT WORSE LAST  WEEK, -- NOW AT 40 PERCENT OF THE CONTIGUOUS UNITED STATES-- THE LATEST  DROUGHT MONITOR SHOWS MULTIPLE AREAS IMPROVED DUE TO BIG RAINS AND  SNOWS OVER THE PAST WEEK. THAT INCLUDES PARTS OF THE SOUTHEAST. "WE'VE HAD SOME RAIN OVER THE LAST FEW WEEKS WHICH PUT WATER BACK IN OUR PONDS, CREEKS  AND WE GOT SOME MOISTURE IN THE GROUND. WE ARE STILL IN A LIGHT DROUGHT BUT WE'RE NOT REALLY  SUFFERING RIGHT NOW."DAVIS SAYS HOPEFULLY HIS AREA RECEIVES MORE RAIN BY PLANTING TIME,  WHICH IS RIGHT AROUND THE CORNER FOR HIM.  THE DROUGHT MONITOR AUTHORS SAY MORE PRECIPITATION IS EXPECTED IN  THE WEEK AHEAD.  DRY IN SOME PLACES, WET IN OTHERS. TAKE A LOOK AT THIS DRONE FOOTAGE FROM BILL BAUER IN COLDWATER MICHIGAN. HE SAYS THEY HAVE WATER STANDING IN FIELDS WHERE WATER HAS NEVER  BEEN.

CROP COMMENTS
FROZEN GROUND AND 4 INCHES OF RAIN ON 20 PLUS INCHES OF SNOW IS  CAUSING MAJOR FLOODING IN THE AREA OF SOUTHERN MICHIGAN AND  NORTHERN INDIANA. MIKE HOFFMAN JOINS US NOW FOR CROP COMMENTS. GOOD MORNING, MIKE GOOD MORNING, CLINTON.  YES THAT FLOODING FOUND IT'S WAY TO NORTHERN INDIANA AS WELL. TAKE A LOOK AT THIS PHOTO FROM ST JOSEPH COUNTY INDIANA. FARM FIELDS ALL OVER THE AREA ARE NOTHING BUT STANDING WATER. MANY OF THE AREAS WATERWAYS ARE NOW FLOODING AND IT ISN'T EXPECTED  TO CREST FOR A FEW MORE DAYS. BUT THAT'S NOT STOPPING THESE GEESE FROM MAKING THEIR WAY BACK  NORTH. THE BIRDS ARE FLYING IN BY THE BUNCH AND FINDING PLENTY OF WATER ALONG  THE WAY. NOW TAKING A LOOK AT THE WIND FORECAST. NOT A WHOLE LOT AS WE START TODAY TODAY IT DOES GET  WINDIER THOUGH AS WE HEAD THROUGH THE AFTERNOON HOURS IN THE SOUTHWEST IN THE EASTERN  LAKES INTO THE NORTHEAST TOMORROW THAT IS GOING TO BE A WINDIER DAY IN FACT AS WE MOVE INTO  THE AFTERNOON YOU'LL NOTICE WIDESPREAD AREAS OF WIND FROM THE WEST ALL THE WAY INTO THE  CENTRAL STATES. WE'LL TAKE A LOOK AT YOUR FORECAST COMING UP. FIRST HERE ARE SOME HOMETOWN  TEMPS.  YOUR NEXT PIECE OF EQUIPMENT IS ON MACHINERY PETE DOT COM. SEARCH EQUIPMENT FROM  DEALERSHIPS ACROSS THE COUNTRY TO FIND WHAT YOU'RE LOOKING FOR. ONLY ON MACHINERY PETE DOT  COM. 

TEASE
WHEN WE COME BACK, A LOOK AT THURSDAY'S MARKETS AND ADVICE FOR GRAIN  THAT'S STILL IN THE BIN. AND LATER, MAKING MONEY WITH AGRONOMIST MISSY BAUER AS SHE WALKS US  THROUGH SOME BRAND NEW PLANTER POINTERS ON FARM JOURNAL COLLEGE  TV. AGDAY - BROUGHT TO YOU BY TOP THIRD AG MARKETING.  FARMER-FIRST, WITH A PLAN FOR EVERY  MARKET. 

FLOOR OF THE CME
IN AGRIBUSINESS PLENTY OF MIXED MESSAGES DURING THE TRADING DAY  THURSDAY.  LETS SEE HOW MARKETS CLOSED FROM OUR FRINEDS ON THE FLOOR. SOYBEANS ARE CONCERNED THEY HAVE BEEN VERY VERY STRONG OVER THE PAST COUPLE WEEKS ON  WHETHER CONCERNS FROM ARGENTINA REALLY PUTTING SOME PREMIUM INTO THAT MARKET AGAIN AND  WE'RE STARTING TO LOOK TO THE MAY CONTRACTS TO GIVE US A LITTLE BIT MORE TIME. TEN FIFTY THREE IS  THE HIGHS THAT WE'RE LOOKING AT IF WE GET OUT ABOVE THAT WE COULD SEE A LITTLE BIT OF EXTENSION.  BUT I'M NOT SURE HOW MUCH MORE THERE IS NOW AS FAR AS THE WHEAT'S CONCERNED MOSTLY  CONSOLIDATING OVER THE PAST COUPLE OF WEEKS. WE SEE A SIGNIFICANT AMOUNT OF HEADWIND FOR  THE MAY CONTRACT BETWEEN 4 79 AND FOR 82 THAT'S KIND OF THE RECENT TOP END OF THE RANGE AS  WELL AS THE 200 DAY MOVING AVERAGE. SO LONG AS THE BEARS CAN DEFEND THIS LEVEL I THINK WE  SEE THE MARKET RETREAT AND PULL BACK TOWARDS 448 THE 453 WHICH REPRESENTS THE 50 AND 100  DAY MOVING AVERAGE. SO THAT'S WHAT WE'RE LOOKING AT TO WRAP UP THE WEEK. THAT'S WHEN YOU  SHOULD BE LOOKING AT TOO. THIS HAS BEEN OLIVER SLOUP WITH BLUE LINE FUTURES FROM THE FLOOR OF  THE CME. 

AGRIBUSINESS
BEFORE YOU PUT SEED IN THE GROUND YOU MAY STILL HAVE GRAIN IN THE BIN.  TYNE MORGAN PICKS UP THE CONVERSATION IN TODAY'S ANALYSIS FROM THE  ROAD. HERE NOW WITH BOB UTTERBACK OF UTTERBACK MARKETING BOB. A LOT OF MOMENTUM AND TALK  AROUND CORN PRICES RIGHT NOW LOOKING AT A NEW CROP. BUT THAT DOES NOT FIX THE FACT THAT WE  HAVE A LOT OF CROP OUT THERE THAT STILL NEEDS TO BE PRICED RIGHT. I'VE BEEN PICKING UP A LOT OF  PEOPLE NOW ARE STARTING TO GET MOTIVATED FOUR DOLLAR CORN IS RIGHT AROUND THE CORNER FOR THE  SUMMER CORN. TEN DOLLAR BEANS WE'RE STARTING TO GET SOME SELLING WHICH IS GOOD. MY CONCERN  IS SELLING IN THE CASH WITH NO DEFENSE AGAINST THAT 20 25 30 PERCENT CHANCE OF A WEATHER  SCARE. TENDS TO SELL AND THE MARKET GOES UP THEY WON'T BOOM. HEY CAN WE GET BACK INTO THE  GOOD BRASS RING BECAUSE IF WE DO GET THAT WEATHER EVENTS THIS YEAR IN THE SUMMER MARKET  AND THESE 19 CORN GETS IN THAT 444 50 WILL THEY HAVE THE ABILITY TO PULL THE TRIGGER  AGGRESSIVELY LIKE THEY NEED TO. SO THEN WHAT CAN YOU DO AT THIS POINT WITH THE CROP. I THINK  YOU KNOW IF IF YOU COULD SELL CASH 25 30 PERCENT. BUT THE NET WHEN YOU START MOVING ABOVE  30 PERCENT SO A NEW CROP MEANS BEANS AND MAYBE 30 PERCENT CORN I THINK YOU NEED TO BUY  DEEP IN THE MONEY PUT TO GIVE YOURSELF FLEXIBILITY. I THINK IT'S A LITTLE TOO LATE TO BUY CALLS IF YOU  DON'T BUY CALLS I WOULD WAIT FOR A CORRECTIVE WAVE BEFORE I BUY THE CALLS. SO RIGHT NOW I'M STILL  TODAY 10. I BOUGHT MY MARGIN CALL I PRE BOUGHT MY CAR I BOUGHT 11 20 PUT IN THE MONEY PUT  FOR ABOUT A BUCK THIRTY. SO I PAID A BUCK PREMIUM. BUT I HAVE TOTAL FLEXIBILITY AND I'LL GET ABOUT  40 TO 50 PERCENT OF THE RALLY FROM HERE ON IN IF IT OCCURS. I DON'T HAVE ONE POSITION TO MANAGE.  WHY ARE GROWERS RELUCTANT TO DO A STRATEGY LIKE CASH FLOW. FEAR OF BEING WRONG BUT IT'S MAINLY  THEY DON'T UNDERSTAND IT. OK. YEAH. I MEAN IT'S HARD IF YOU TRY TO KEEP TRACK OF EVERYTHING THAT  YOU DID. I MEAN I KNOW THAT'S IMPORTANT TO HAVING A MARKET ADVISER. BUT WHAT OTHER ADVICE  YOU HAVE FOR WHAT I THINK IS A SALE RIGHT NOW. I THINK CORN'S GOT SOME TIME ARGENTINE WEATHER  SCARE IF IT CONTINUES. I THINK WE PROBABLY GOT ANOTHER WEEK TO 10 DAYS OF THIS WEATHER SCARE  IN SOUTH AMERICA. TAKE ADVANTAGE OF IT AND IF YOU'VE GOT OKRA CORN HAS BEEN MOVED AND IF  YOU JUST HAVE TO BE LONG NO EXEC YOUR COSTS TO BE LONG. ALL RIGHT BOB UTTERBACK THANK YOU SO  MUCH. WE NEED TO TAKE A QUICK BREAK. AND THEN WE'LL HAVE A CHECK OF WEATHER.  AGDAY - BROUGHT TO YOU BY CREDENZ SOYBEAN SEED FROM BAYER.  DESIGNED USING SMART  GENETICS WITH TAILORED VARIETIES TO FIT ANY FIELD CONDITION.

WEATHER
AGDAY WEATHER - BROUGHT TO YOU BY RESICORE CORN HERBICIDE.  A UNIQUELY POWERFUL  FORMULATION.  EXTRAORDINARY POWER OVER WEEDS.  WELCOME BACK TO AGDAY HERE WITH METEOROLOGIST MIKE HOFFMAN MIKE IF WE LOOK AT THIS  DROUGHT MONITOR WE CAN SEE SOME PLACES PROBABLY HAVEN'T EVEN BEEN FACTORED IN YET WHERE  THEY GOT MOISTURE. YEAH I HAVE A FEELING IN PARTS OF MISSOURI ARKANSAS WILL GET EVEN BETTER  NEXT WEEK ONCE WE SEE THE LATEST RESULTS BECAUSE WE HAVE HAD A LOT OF RAIN IN MUCH OF THE  SOUTHERN MISSISSIPPI VALLEY INTO THE LOWER LAKES IN MANY PARTS OF THE SOUTHEAST SO THESE  AREAS HAVE ALREADY SHOWN IMPROVEMENT AND I THINK THERE WILL BE SOME MORE IMPROVEMENT  NEXT WEEK IN OUR DROUGHT MONITOR ONCE ALL OF THAT RAIN GETS FACTORED INTO THE EQUATION. BUT IT'S  GOTTEN WORSE IN PARTS OF THE TEXAS PANHANDLE INTO OKLAHOMA SOUTHWESTERN KANSAS AND ALSO  WORSE IN PARTS OF THE FOUR CORNERS REGION IS JUST NO MOISTURE IS ABLE TO GET IN THERE. THIS IS  WHAT IT LOOKED LIKE A MONTH AGO FOUR WEEKS AGO. YOU CAN SEE HOW THERE'S LESS RED ALL OF A  SUDDEN IN THE SOUTHEAST AND UP THE EASTERN SEABOARD BUT THERE'S MORE OF IT IN SOME OF  THOSE WESTERN AREAS THAT I JUST TALKED ABOUT ALL OF A SUDDEN JUST IN THE LAST WEEK WE'VE SEEN  A LITTLE BIT OF WORSENING CONDITIONS MAINLY THAT'S BECAUSE YOU HAVEN'T HAD RAIN IN SO LONG. I  MEAN IT'S GOING TO CONTINUE TO GET WORSE UNTIL WE CAN GET SOME MOISTURE IN THERE. WE HAVE A  COUPLE OF SYSTEMS THAT MIGHT GIVE YOU SOME. THE FIRST ONE IS COMING THROUGH THE FOUR  CORNERS REGION. SECOND ONE WE'LL DIVE INTO THE SOUTHWEST AND COME EAST AS WELL AS YOU'LL  SEE HOWEVER FARTHER EAST IS WHERE MOST OF THE MOISTURE CONTINUES TO BE FROM TEXAS INTO THE  GREAT LAKES AND THAT IS SNOW IN THE WESTERN GREAT LAKES THIS MORNING PUTTING IT DOWN PRETTY  GOOD. THAT STORM SYSTEM MOVES EASTWARD IT'LL BEGIN TO SNOW IN PARTS OF NEW ENGLAND OUT OF  THAT SYSTEM ALL THOSE GLOOMY RAIN AND A LOT OF IT AS WELL. AND AGAIN THE THE FRONT KIND OF STALLS  OUT ACROSS THE SOUTHERN MISSISSIPPI VALLEY CEOS START TO SEE MORE RAIN BEHIND THE FRONT LATER  ON TODAY AND THAT MOVES RIGHT ON UP INTO THE OHIO RIVER VALLEY AGAIN OUT AHEAD OF THE NEXT  SYSTEM COMING INTO THE PLAINS STATES THAT WILL BE ANOTHER BIG SNOWMAKER AS WE HEAD  THROUGH THE DAY TOMORROW FOR THE NORTHERN PLAINS AND A BIG RAINMAKER FOR THE CENTRAL  MISSISSIPPI VALLEY. PARTS OF THE EASTERN PLAINS AS WELL. NEXT SYSTEM DIVING SOUTHWARD ONCE  AGAIN. SO JUST KIND OF A CONTINUOUS STREAM OF MOISTURE IN THE EASTERN PORTIONS OF THE COUNTRY  ESPECIALLY FROM NORTHEAST TEXAS ALL THE WAY INTO NEW ENGLAND AS YOU CAN SEE. THESE ARE  JUST HUGE AMOUNTS OF RAIN AGAIN IN ARKANSAS PARTS OF OKLAHOMA NORTHEAST TEXAS ON UP INTO  THE OHIO RIVER VALLEY GETTING THE WORST OF IT SNOWFALL MAINLY GOING TO BE ACROSS THE WESTERN  LAKES IN THE NORTHERN PLAINS AND THE ROCKIES ADDING IN THE NEXT 36 HOURS WE'RE JUST GOING TO  ADD SOME MORE TO ALL OF THAT AREA. WE HAVE TWO STORMS IN A ROW GOING TO BE MOVING THROUGH  THAT AREA. THEY'RE VERY WARM IN THE SOUTHEAST VERY COLD IN THE NORTHERN PLAINS AND THE  NORTHERN ROCKIES. THAT TREND IS GOING TO CONTINUE OVER THE NEXT 24 HOURS AS YOU CAN SEE.  HIGH TEMPERATURES STILL VERY WARM AGAIN ALONG THE GULF COAST ALL BECAUSE OF THAT BIG RIDGE IN  THE SOUTHEAST. YOU CAN SEE HOW THAT GETS CUT DOWN A LITTLE BIT BUT A LOT OF THESE TROUGHS ARE  DIGGING IN OUT WEST AND ALL OF A SUDDEN WE SEE A LITTLE BIT OF A TROUGH DIG INTO THE EAST AS WE  HEAD INTO THE END OF NEXT WEEK. THAT'S A LOOK ACROSS THE COUNTRY. NOW LET'S TAKE A LOOK AT  SOME LOCAL FORECASTS NOW TAKING A LOOK AT GRANT. GREAT FALLS MONTANA. SUNSHINE BREEZY AND  COLD TODAY HIGH JUST 21 DEGREES ABILENE TEXAS CHILLY WITH SHOWERS MAYBE A THUNDERSTORM  HIGH OF 48 AND FRANKFORT KENTUCKY CLOUDY WITH TIMES OF RAIN THE HIGH 72. 

TEASE
WHEN WE COME BACK, PLANTER POINTERS FROM FIELD AGRONOMIST MISSY  BAUER. AND LATER, FARM SENSE INCLUDING A LOOK AT AN ALTERNATIVE CROP IDEA THAT  MIGHT SERVE A SECONDARY PURPOSE.

FARM JOURNAL COLLEGE TV
THE FARM JOURNAL COLLEGE REPORT - BROUGHT TO YOU BY INSTINCT AND N-SERVE NITROGEN  STABILIZERS - THEY DON'T JUST STABILIZE NITROGEN, THEY MAXIMIZE IT - SO CROPS DELIVER THE MAX IN  RETURN.  LEARN MORE AT MAXINMAXOUT.COM.  ON TODAY'S FARM JOURNAL COLLEGE TV, MISSY BAUER IS BREAKING DOWN THE  PLANTER IN PREPARATION FOR SPRING. TODAY A FEW TIPS ON WHY A LITTLE PRE PLANT WORK COULD PAY OFF AT  HARVEST. THIS GREAT TIME THE YEAR TO SPEND SOME TIME IN THE SHOP WORKING ON YOUR CORM PLAN OR AS  WE'RE PREPARING FOR SPRING HERE WE WANT TO MAKE SURE THAT YOUR ACCOUNT IN UNIFORM TO VEER  SIZE IS NOT HUGE LIMITING FACTOR AS THE ECONOMICS ARE TIGHT RIGHT NOW. WE JUST REALLY DON'T WANT  TO SACRIFICE BUSHELS DUE TO SOMETHING THAT IS IN OUR CONTROL WHICH IS PLANNED OR SET UP AND  PROPER OPERATION IN THE FIELD. SO I ENCOURAGE YOU TO START TO WORK THROUGH YOUR PLAN OR WHEN  WE BRING A PLANNER INTO THE SHOP WE GOT KIND OF A CHECKLIST THAT WE UTILIZE TO INSPECT IT  BASICALLY FROM THE HITCH PIN ALL THE WAY BACK TO THE CLOSING WHEELS. ONE OF THE FIRST THINGS THAT  WE START WITH IN THE SHOP IS WHAT I CALL THE TRANSMISSION SYSTEM. SO BASICALLY ANYTHING THAT  HELPS THIS METER OPERATE. YOU'VE GOT YOUR MAIN DRIVE SHAFT YOU'VE GOT THE CHAINS ON HERE  ANYTHING THAT COULD POSSIBLY HAVE VIBRATION THAT COULD BE FELT BACK TO THE METER WE WANT TO  TRY TO ELIMINATE. SO WE KIND OF TALK ABOUT SPINNING THE PLANNER PUT A LITTLE MOTOR ON THIS MAIN  DRIVE SHAFT INSPECT WHAT'S HAPPENING IN HERE AS THESE CHAINS ARE GOING THROUGH OR IF YOU'VE  GOT CABLE DRIVES THE DIFFERENT COMPONENTS SO THAT'S ONE PRETTY BIG PORTION. THE NEXT THING WE  WANT TO LOOK AT IS THE ROW UNIT ITSELF MAKING SURE THAT THOSE HAVEN'T BEEN BENT OR TWISTED AND  MAKING SURE THAT THAT'S ALL IN ALIGNMENT THERE. THE OTHER THING THAT WE TAKE A LOOK AT ON THE  UNIT ITSELF WOULD ACTUALLY BE DEALING WITH THESE DOWN PRESSURE ASSEMBLY SYSTEM. SO WHETHER  YOU'RE RUNNING SPRAINS OR AIRBAGS OR A HYDRAULIC SYSTEM WE JUST NEED TO INSPECT THAT AND  MAKE SURE THAT THERE'S NOTHING THAT'S BEEN BROKE OR WHERE WE'RE HAVING ANY POTENTIAL ISSUES  THEY'RE SETTING DOWN PRESSURE IN THE FIELD CAN BE PRETTY IMPORTANT FROM AGRANOMIC PERSPECTIVE AND MAKING SURE THE MICRO ENVIRONMENT AROUND THAT SEED IS IN GOOD SHAPE.  ANOTHER THING ON THEIR PLANTER WHILE WE'VE GOT IT IN THE SHOP THAT WE WANT TO PAY ATTENTION TO  IS GOING TO BE THAT PARALLEL ARMS THESE BOLTON BUSHINGS IF THESE START TO GET TO WARAO THEN WE  GET A LOT MORE LOOSENESS BACK HERE IN THE ROW UNIT WE'LL SEE THESE ROW UNITS OR WE'LL HAVE A  LOT MORE UP AND DOWN ACTION THAN WE REALLY NEED. CAUSE A LITTLE MORE ISSUES WITH SEEMED TO  BOUNCE OR CEDE RICOCHETING INSIDE THAT SEED TUBE. SO THE FIRST THING WE DO IS JUST PULL THESE  OUT AND INSPECT THEM IF YOU CAN SEE WHERE WE GOT THREADS THAT ARE WORN OR BUSHINGS ARE  WORN THEN WE REPLACE THEM IF THOSE LOOK GOOD THEN WE JUST GO THROUGH AND GET THEM ALL  TIGHTENED UP. THE OTHER THING ON THE PLANNER THAT WE CHECK ON THE UNIT ITSELF OR THE ROAD  CLEANERS WE RECOMMEND RUNNING FLOATING ROW CLEANERS. YOU JUST WANT TO MAKE SURE THAT  EVERYTHING IS WORKING THERE YOU DON'T GOT A BEARING OUT OR SOMETHING LIKE THAT.   > MISSY WILL CONTINUE THE CONVERSATION NEXT WEEK. AND SHE'S PLANNING TO HAVE A PLANTER CLINIC IN MARCH. YOU CAN GET MORE INFORMATION AT B-M CROP CONSULTING DOT COM.

TEASE
UP NEXT AN ALTERNATIVE ACREAGE IDEA. AGDAY - BROUGHT TO YOU BY ILEVO SEED TREATMENT FROM BAYER. PROTECT YOUR SOYBEANS FROM  SDS AND NEMATODES THIS SEASON.

IN THE COUNTRY
IN THE COUNTRY - SPONSORED BY KUBOTA.  TRACTORS, HAY TOOLS, UTILILTY VEHICLES, MOWERS AND  MORE.  VISIT KUBOTA.COM TODAY. ACCORDING TO USDA'S AG OUTLOOK, BY ALL ACCOUNTS NET FARM INCOME IS  POISED TO BE ANEMIC ONCE AGAIN IN 2018. THAT HAS FARMERS SEARCHING FOR SOMETHING ELSE TO PUT IN THE GROUND  THAT FITS THEIR SYSTEM AND MAKES THEM MONEY. ONE OF THE MOST INTERESTING IDEAS I'VE HEARD CAME THIS WEEK FROM FARM  JOURNAL WRITER CHRIS BENNETT. HIS ARTICLE ON AGWEB DOT COM KILLS THE  PROVERBIAL TWO BIRDS WITH ONE STONE...MAKE THE PROPOSED BORDER WALL  OUT OF GRASS. NO NOT THAT GRASS--THIS .. INDUSTRIAL HEMP. BENNETT REPORTING ON NUMBERS FROM HEMP PIONEER AND ADVOCATE  RICHARD ROSE. BY THE NUMBERS ROSE SAYS ONE MILLION ACRES OF HEMP COULD BUILD THAT  WALL FOR A BIG DISCOUNT. IT STARTS WITH SOMETHING CALLED HEMPCRETE-- A MIXTURE OF HYDRATED  LIME -- AS IN THE STONE-- AND HURD WHICH IS HEMP'S WOODY CORE. MIXING LIME AND HURD TOGETHER CREATES A TYPE OF CONCRETE. ROSE SAYS A WALL 30 FEET TALL AND 2 FEET WIDE ROUGHLY 19-HUNDRED MILES  LONG ON THE SOUTHERN BORDER WOULD NEED 2 POINT 3 MILLION TONS OF  HEMP FIBER. GROWING THAT MUCH GIVEN AVERAGE YIELDS OF 4 HEMP TONS PER ACRE--REQUIRES JUST SHY OF A MILLION ACRES. AT 15 CENTS PER POUND THE COST OF HEMP HURD FOR THE WALL IS A COOL 710- MILLION DOLLARS. MUCH LESS THAN THE PROJECTED 15- 70 BILLION DOLLARS A  CONCRETE STRUCTURE MIGHT COST. RULES ARE HEMP ARE LOOSENING A BIT. IN 2017 THE U.S. GREW ABOUT 25-THOUSAND ACRES OF HEMP.  LETS BE CLEAR...I'M NOT ADVOCATING ANYTHING OR DEBATING THE PROS AND  CONS OF HEMP PRODUCTION. I JUST FOUND THIS IDEA INTERESTING.  SO WHETHER AMBER WAVES MAY SOME DAY BE SWAPPED FOR HECTARES OF  HEMP LIKELY DEPENDS MORE ON POLICY IN WASHINGTON THAN ABILITY TO  PLANT AND GROW THIS ALTERNATIVE CROP. BE SURE TO READ CHRIS BENNETT'S FULL STORY ON HEMPCRETE AT AGWEB DOT  COM.

CLOSE
THAT'S ALL THE TIME WE HAVE THIS MORNING. WE'RE GLAD YOU TUNED IN.  FOR MIKE HOFFMAN, I'M CLINTON GRIFFITHS. HAVE A GREAT DAY. AGDAY - BROUGHT TO YOU BY RAM COMMERCIAL - AMERICA'S LONGEST-LASTING HEAVY DUTY  PICKUPS.