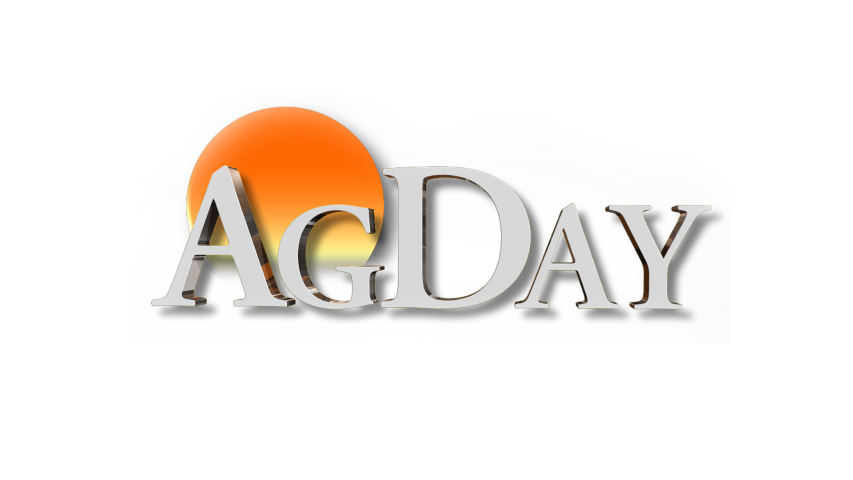 TODAY ON AGDAY
JANUARY 1, 2018

HEADLINES
LOOKING AT THE FINANCIAL HEALTH OF THE AG  ECONOMY. WE'LL HEAR FROM RURAL BANKERS ABOUT THE STRESSES OF 2017. AND DISCUSS STRATEGIES FOR THE NEW YEAR. PLUS MEET A FARM FAMILY USING CREATIVITY TO FIND NEW MARKETS FOR THEIR  BUSINESS. AGDAY-BROUGHT TO YOU BY THE DEPENDABLE, LONG LASTING CHEVY  SILVERADO.

PURDUE AG BAROMETER, RURAL MAINSTREET INDEX
HELLO AND WELCOME TO THIS NEW YEAR'S DAY SPECIAL EDITION OF AGDAY . I'M CLINTON GRIFFITHS. 2017 WILL FINISH AS A CHALLENGING BUT RELATIVELY FLAT YEAR FOR AMERICA'S  FARM FAMILIES. USDA NUMBER CRUNCHERS SAY AFTER 3 CONSECUTIVE YEARS OF DECLINE,  FARM SECTOR PROFITS ARE FORECAST TO BE RELATIVELY FLAT IN 2017.  NATIONALLY, NET FARM INCOME, IS FORECAST TO INCREASE A LITTLE LESS THAN  3 PERCENT FROM A YEAR AGO. ($63.2 BILLION -- UP 2.7 PERCENT)  AND NET CASH FARM INCOME IS FORECAST TO INCREASE NEARLY 4 PERCENT  (96.9 BILLION  UP 3.9 PERCENT). THOSE INCREASES COME MOSTLY FROM LIVESTOCK AND COTTON GROWERS  WHILE  MANY OF THE OTHER TYPES OF CROP FARMERS SAW DECLINES THIS  YEAR. THOSE SLUMPING SENTIMENTS ARE EVIDENT IN THE LAST PURDUE CME AG  BAROMETER. THE LATEST REPORT FROM NOVEMBER SHOWS THE BAROMETER DROPPING 7  POINTS AS PRODUCER OPTIMISM FALLS. "PRODUCER SENTIMENT PEAKED IN JANUARY AND HAS FALLEN BACK SOMEWHAT SINCE THEN BUT WE RETAIN SOME OPTIMISM THAT WE DIDN'T HAVE BEFORE THE ELECTION. SO EVEN THOUGH WE'VE LOST SOME OF THE OPTIMISM THAT WE HAD RIGHT AFTER THE ELECTION PRODUCER SENTIMENT REMAINS MUCH STRONGER THAN IT WAS PRIOR TO THE NOVEMBER 2016 ELECTION."ANOTHER GUAGE OF FARM COUNTRY FINANCIAL HEALTH, THE RURAL  MAINSTREET INDEX, ALSO SHOWING A SLUGGISH RURAL ECONOMY. THE LATEST RMI READING ROSE JUST A BIT FROM LAST MONTH BUT REMAINS  BELOW GROWTH NEUTRAL. WHILE THE GREATER U.S. ECONOMY IS HEATING UP, THE RURAL ECONOMY  CONTINUES TO SPUTTER. ONLY 20 PERCENT OF RURAL BANKERS SAY THEIR LOCAL ECONOMY IS  EXPANDING. ALTHOUGH THAT'S AN IMPROVEMENT FROM A YEAR AGO. "WE DON'T SEE ANY SIGNIFICANT UPTURN IN DEFAULTS DELINQUENCIES OR BANKRUPTCIES BUT THAT'S BECAUSE WE ASKED THE BANKERS WHY WE'RE NOT SEEING THAT AND THEY SAY WE'RE RESTRUCTURING THE LOANS"

ROAD INTO 2018
SO WHERE DOES 2017 LEAVE THE AG INDUSTRY? AS TYNE MORGAN REPORTS, THE ROAD INTO 2018 MAY HAVE ITS FAIR SHARE OF  POT HOLES TO AVOID. FARMERS LIKE JOE SHIRBORN ARE FACING A REALITY THAT'S GRIPPING THE  MAJORITY OF AGRICULTURE TODAY.  "YOU KNOW CORN THE PRICE OF CORN SEEMS TO BE STILL IN THAT DOWNWARD TREND."LOWER PRICES THAT JUST DON'T SEEM TO BUDGE. IT'S SOMETHING AG ECONOMISTS LIKE JACKSON TAKACH ARE WATCHING CLOSELY, AS 2018 MAY BE  MORE OF THE SAME.  "I THINK WE'RE GOING TO HAVE TO SUSTAIN A FEW MORE YEARS OF THE CURRENT  ECONOMICS. I THINK THIS YEAR AND '19 THERE'S PROBABLY NOT ENOUGH TO MOVE THE NEEDLE.  THERE'S NOT GOING TO BE ENOUGH DEMAND OVER THE NEXT TWO YEARS TO EAT UP ALL THE SUPPLIES.  WE HAVE RECORD STOCKS FOR BOTH CORN SOYBEANS AND WHEAT. SO IT'S GOING TO TAKE A FEW MORE  YEARS TO CHURN THAT OUT."  THE PURDUE AND CME AG ECONOMY BAROMETER SHOWS THE SLUMP IN  FARMERS' MOODS. AFTER PEAKING AT 153 TO KICK OFF 2017, FARMERS  SENTIMENTS SLID NEARLY 30 POINTS LOWER, REMAINING IN THAT RANGE TO  FINISH OUT THE YEAR. "AS WE WRAP UP THE YEAR 2017 AND LOOK BACK IN AGRICULTURE IT WAS A YEAR OF  CONTINUED ADJUSTMENT. AND WHEN WE TALK ABOUT CONTINUED ADJUSTMENT I THINK EVERYBODY IN  U.S. AGRICULTURE KNOWS THAT WE'VE BEEN THROUGH A BOOM CYCLE FOLLOWED BY A MODERATION  CYCLE."CHRIS HURT SAYS DESPITE NET FARM INCOME PROJECTED TO SEE A SLIGHT IMPROVEMENT IN 2017, OVERALL NET FARM INCOME HAS DROPPED 40 PERCENT  FROM THE HIGHS FARMERS SAW BETWEEN 2011 AND 2014.  "AS WE GO BACK THE TOP OF THE BOOM AND LOOK AT THE 2004 TO 2010 YEARS  THOSE AVERAGED ABOUT 75 BILLION. SO EVEN TODAY THE LOW 60S IS ABOUT 15 PERCENT LOWER THAN  THE INCOMES WE HAD FOR FARM FAMILIES BACK IN THE EARLY PART OF THE BOOM PHASE.HE SAYS 2017 HAS BEEN A YEAR OF ADJUSTMENT, WITH FARMERS TRYING TO  REALIGN THEIR OPERATIONS TO FACE THE REALITIES OF LOWER PRICES.  "WE'VE ALSO SEEN ADJUSTMENTS IN 2017 IN THE ANIMAL INDUSTRY ONCE WE BROUGHT."FEED PRICES DOWN IN 2014. AT LEAST THE 2014 CROP WE'VE SEEN VERY STRONG PROFITABILITY FOR THE  ANIMAL SECTOR. AND OF COURSE THAT PROFITABILITY HAS MEANT EXPANSION OF THE LIVESTOCK SECTOR  AND ACTUALLY REBUILDING THE REDUCED PRODUCTION WE HAD FROM ABOUT 2007 TO 2014.  EVEN WITH A BETTER PICTURE FOR LIVESTOCK, OVERALL CASH FLOWS ARE  TIGHT.  "SO FARM FAMILIES HAVE TURNED TO THEIR LENDERS AND THEY CONTINUE TO DO THAT IN 2017 TO HELP BRIDGE THE CASH FLOW AND INCOME GAP THAT WE'RE SEEING AT THIS POINT.""NOW OBVIOUSLY WE'RE LOOKING FORWARD TO 2018. WHAT DOES IT LOOK LIKE. WELL I  THINK WE'RE GOING TO SEE A CONTINUATION OF THE ADJUSTMENTS THAT WE HAVE BEEN SEEING."HURT SAYS IN ORDER TO LOOK FORWARD, AGRICULTURE NEEDS TO TAKE A HARD  LOOK AT THE PAST.  "AS WE LOOK BACK TO HISTORICAL BOOM AND MODERATION CYCLES WE SEE HAVE SOME  SENSE THAT MAYBE A FIVE TO SEVEN YEAR TIME PERIOD IS REQUIRED TO WORK THROUGH THESE  DOWNWARD ADJUSTMENTS."HE SAYS THE LAST MAJOR BOOM AND BUSY CYCLE WAS THE 1970S AND  1980S, A  TIME MANY IN AGRICULTURE ARE TRYING TO EVALUATE, TO HELP UNDERSTAND  THE SITUATION TODAY.  "IT'S REALLY ABOUT THE DEBT LEVELS AND THE INTEREST EXPENSE ON THAT DEBT. SO BACK  IN THE 80S YOU HAD RISING DEBT LEVELS BUT ALSO RISING INTEREST RATES AND IT WAS A DEADLY  COMBINATION. TODAY YOU MIGHT HAVE RISING DEBT LEVELS CERTAINLY, FARMERS HAVE NEEDED THAT  ADDITIONAL LEVERAGE TO TRY TO OFFSET SOME OF THE LOWER INCOMES. WELL YOU HAVEN'T SEEN THE  INTEREST LEVELS RISE AT ALL. SO IN 1983 THE FARMER WAS SPENDING ABOUT 35 CENTS FOR EVERY DOLLAR  THAT THEY EARN. TODAY THAT NUMBER IS 15 CENTS AND IT'S GOING TO TAKE A LOT TO GET THAT NUMBER  BACK UP TO A DEADLY LEVEL LIKE WE SAW IN THE MID 80S."PURDUE SAYS  DURING THE 1980S, IT TOOK ABOUT 6 YEARS FOR PRICES AND  OVERALL AGRICULTURE TO RECOVER.  "HOW LONG HAVE WE BEEN IN THIS MODERATION CYCLE? WELL IT SEEMS LIKE FOREVER  TO MANY FARM FAMILIES BUT ACTUALLY FOR CROPS IT WAS THE 2014 CROP WHERE WE REALLY SAW PRICES  OF GRAINS DROPPED SHARPLY BELOW COST AND PRODUCTION. SO WE'RE NOW THE 14 CROP THE 15 CROP  THE 16 CROP. AND OF COURSE NOW WE'RE THROUGH HARVEST OF THE 17 CROP AND MARKETING THAT  PARTICULARLY FOR CORN SOYBEANS AND OTHER FALL PRODUCED CROPS, WE'RE IN OUR FOURTH YEAR OF  DOWNWARD ADJUSTMENT."HE SAYS IT'S POSSIBLE AGRICULTURE IS IN YEAR 4 OF A SEVEN YEAR CYCLE,  MEANING 2018 COULD HELP AGRIUCLTURE START TO TURN A CORNER.  "SO AS WE ROLL OUT TO 2018, LET'S THINK ABOUT WHAT WE HAVE IN STORE FOR  AGRICULTURE. WE EXPECT TO SEE CONTINUED ADJUSTMENTS TRYING TO DRIVE DOWN COST OF PRODUCTION  ON THE CROPPING SIDE. EXPECT FOLLOW THROUGH TO EXPANSION OF THE LIVESTOCK NUMBERS AND  GETTING ENOUGH EXPANSION."FOR FARMERS, PRICES MAY BE OUT OF THEIR CONTROL, BUT CHANGING  ASPECTS OF THE OPERATION THEY CAN CONTROL IS NOW BECOMING TOP OF  MIND.   "THE BUSINESS SIDE. WE KNOW THAT'S VERY DIFFICULT SOME DAYS BUT WE JUST  CONTINUE TO LOOK AHEAD LIKE OUR OUR POTENTIAL OR OPPORTUNITIES IN THE MARKET MAKE SURE WE  CONTINUE TO REWARD. YEAH WE MISS OUR OPPORTUNITIES AT TIMES WHERE WE'VE GOT TO CONTINUE TO  REMIND OURSELVES TO TAKE ADVANTAGE OF THEM AND JUST CONTINUE TO WORK ON COSTS.IT'S MANAGING COSTS WHILE WORKING TO BECOME EVEN MORE EFFICIENT ON  EVERY ACRE, THAT COULD HELP FARMERS SURVIVE ANOTHER  YEAR. REPORTING FOR AGDAY, I'M TYNE MORGAN  THANKS TYNE.

TEASE
WHEN WE COME BACK WE'LL CONTINUE OUR LOOK AT 2017 FARM FINANCES WITH  A PANEL DISCUSSION MADE UP OF AG BANKERS.  AND LATER, GETTING CREATIVE WITH FARM FINANCIALS...WE'LL MEET AN IDAHO  FAMILY FINDING PROFITS OUTSIDE OF THE BOX.

AG LENDER PANEL 1
WELCOME BACK TO AGDAY I'VE GOT A FULL PANEL OF AG LENDERS WE DON'T LIKE TO SAY BANKERS WE'LL  SAY AG LENDERS HERE. JOINING US TO TALK ABOUT 2017 AND LOOKING AHEAD TO 2018 FROM A  FINANCIAL PERSPECTIVE AND WHAT IT MEANS FOR FOLKS AS THEY GET READY TO KIND OF GO THROUGH THE  BOOKS THIS WINTER TRY TO FIGURE OUT WHAT DID WE LEARN AND WHAT ARE WE PLANNING FOR IN THE YEAR  AHEAD. INTRODUCE MY GUEST REAL QUICK ALAN HOSKINS. KEITH KNUTSON AND CHRIS FLOY THANK YOU  ALL FOR BEING HERE. ALL RIGHT ALLAN LET'S START WITH YOU. LET'S TALK ABOUT. 2017. WHAT DID YOU SEE  LAST YEAR WHEN WE SAW THE 2017 END VERY WILL YIELD WISE EARLIER IN THE SUMMER. WE WERE  KIND OF QUESTIONED WHERE WE WERE GOING TO END UP BUT WE SAW ARGUABLY A RECORD DEALS AND  THERE WERE SOME PRODUCERS THAT TOOK ADVANTAGE OF SOME PRICING OPPORTUNITIES NOT AS MANY  AS WOULD HAVE LIKED BUT AS A WHOLE 2017 SEEMS TO HAVE ENDED PRETTY WELL. WE'LL KNOW MORE  AS WE GET INTO THE BALANCE SHEETS AS WE GET THE ENDING PERIOD. BUT THAT'S AT THIS POINT HOW IT  APPEARS. KEITH WHAT DID YOU SEE. WHAT STRUCK YOU. FROM 2017 WE WERE AT A POINT WHEN  WE HAD TWO MONTHS WITH NOT A DROP OF MOISTURE THAT WE WERE GETTING PRETTY CRICKET PRETTY  GOOD THE FIRST OF AUGUST AND SAW SOME GREAT RAINS COME IN AND IT WAS AMAZING HOW THESE  HYBRIDS WERE ABLE TO HANDLE THAT OR COME BACK AND WE DIDN'T HAVE RECORD YIELDS BUT WE HAD  GOOD YIELDS WHICH REALLY HELPED US OUT. SO I THINK ONE OF THE THINGS THAT WE MAYBE SAW A  LITTLE BIT OF A NEGATIVE WAS WE HAD QUITE A FEW PRODUCERS CARRY SOME GRAIN OVER NON-PRICE  FROM 16 TO 17 WHICH IS GOING TO ACTUALLY HIT THEM A LITTLE BIT MAYBE ON THE EARNINGS THIS YEAR  BUT OVERALL POSITIVE ABOUT THE YEAR. ALL RIGHT. AND CHRIS AS YOU TALK ABOUT 2017 WHAT WAS YOUR  TAKEAWAY. ANYTHING THAT STRUCK YOU FROM A LINEAR PERSPECTIVE. FOR US YOU KNOW A LOT OF ARE IN  OUR AREA WE HAD REALLY GOOD MOISTURE CAPACITY COMPARED TO SEVERAL YEARS AGO SORT OF YIELDS  WERE FAIRLY GOOD LARGER FARMERS ARE READJUSTING YOU KNOW 2016 IS PRETTY TOUGH. AND HOW TO  GET THERE WERE YOU KNOW THAT THE TRANSITION PERIOD TO THINGS THEY NEED TO FIX AND THEIR  OPERATION. AND SO I THINK SEVENTEEN'S WILL BE PRETTY POSITIVE WE HAD REALLY GOOD YIELDS AND  THIS FALLS SO WELL A LOT OF POSITIVES FROM YOU GUYS. SO IF WE LOOK AT THE FINANCIAL PICTURE YOU  KNOW WE'RE KIND OF ENDING THIS YEAR WITH SOME SOME INDICATORS THAT MAYBE SENTIMENTS ARE  DOWN PEOPLE AREN'T QUITE AS ENCOURAGED. BUT IS THERE ANYTHING ENCOURAGING. WHAT DO YOU  THINK ABOUT THE BALANCE SHEET IS WE IN 17 GOING TO BE OKAY. I THINK THE BALANCE SHEETS ARE  GOING TO AND OBVIOUSLY NOT AS STRONG AS SOMEONE LIKE BUT I THINK THE BALANCE SHEETS ARE  GOING TO END THE YEAR IN A SIMILAR POSITION PERHAPS AS WE SAW IN 2016. MAYBE A LITTLE BIT  BETTER. OBVIOUSLY YOU DON'T KNOW WHAT EFFECT THAT SOME OF THE COMING TAX CHANGES MIGHT  MAKE PEOPLE MAKE SOME BUYING DECISIONS PERHAPS BASED ON ANY TAX CHANGES BUT I THINK  THE BALANCE SHEETS AS A WHOLE WILL LOOK PRETTY DECENT AND KEITH SOME OF THEM YOU FEEL THE  SAME. NOT QUITE AS POSITIVE I THINK WE'VE HAD A LOT OF PRODUCERS THAT HAVE GONE THROUGH  MAYBE THREE YEARS OF LOSSES NOW AND NOT HUGE LOSSES IN MOST CASES BUT AS THEY CONTINUE TO  BURN THROUGH SOME WORKING CAPITAL WE'RE GOING TO SEE SOME SOME PRODUCERS THAT NEED TO  MAYBE RESTRUCTURE SOME OF THAT BACK AGAINST OTHER ASSETS. SO THAT'S A BIT OF A CHALLENGE BUT  OVERALL I THINK MOST MOST PRODUCERS HOLDING THINGS TOGETHER AT LEAST. REAL QUICK YOUR  THOUGHTS ARE PRETTY SIMILAR I THINK THERE OF COURSE WITH LAND VALUES AND EQUIPMENT VALUES  MAKES THINGS A CHALLENGE A LITTLE BIT. BUT OVERALL I THINK OUR PRODUCERS HAVE DONE PRETTY WELL  ADJUSTING AND SO WE'RE LOOKING TO BE INTEREST AND SEE HOW THAT TURNED OUT. WHEN YOU ARE  ACCOUNTED FOR. ALL RIGHT WELL STAY WITH US GUYS WE'LL BE RIGHT BACK AND TALK SOME MORE ABOUT  2018 AND WHAT TO LOOK AT IS LOOK AT AS WE MOVE FORWARD HANG WITH US MORE AGDAY IN JUST A  MINUTE.

AG LENDER PANEL 2
WELCOME BACK TO AGDAY WE'VE GOT OUR AG LENDERS WITH US TODAY. LET'S TALK ABOUT ALAN SOME OF THE BIGGEST. WE DON'T WANT TO SAY MISTAKES BUT OPPORTUNITIES ARE MISSED OPPORTUNITIES THAT YOU'VE WITNESSED THAT SOME OF OUR FARMERS AND GROWERS ARE MAKING AS THEY'RE TRYING TO FIGURE OUT THE WORLD THAT WE LIVE IN RIGHT NOW. I THINK ONE OF THE BIGGEST MISSED OPPORTUNITIES IS JUST SITTING DOWN AND ASKING QUESTIONS OF THEIR LENDERS OF THEIR SEED SALESMAN OF THEIR CROP INSURANCE SALESMAN AND UNDERSTANDING. THERE ARE SOME PERSPECTIVES OUT THERE WHEN WE HAVE A SIT DOWN WITH A CUSTOMER. HONESTLY THEY SHOULD BE DOING THE MAJORITY OF THE TALKING WE SHOULD BE DOING THE MAJORITY OF LISTENING AND I THINK THAT'S THE SINGLE BIGGEST OPPORTUNITY THAT I WOULD SAY THAT MAYBE PEOPLE HAVE MISSED IS JUST THE OPPORTUNITY TO MAXIMIZE THAT VALUE RELATIONSHIP WITH THOSE SERVICE PROVIDERS AND USE SOME OF THEIR KNOWLEDGE AND HAVE SOME BENEFIT THERE. CHRIS WHAT DO YOU THINK AS FAR AS SOME OF THE OPPORTUNITIES OR MISTAKES OR SOME THINGS WE'RE MISSING HERE. AS FAR AS AN OPPORTUNITY I THINK A LOT OF OUR CUSTOMERS THERE'S A LOT OF POTENTIAL THINGS THEY CAN DO IN THEIR OPERATION TO CHANGE IT. AND SOMETIMES THEY CAN BE KIND OF A RELUCTANT BECAUSE YOU KNOW WE'RE ALL NATURALLY DON'T LIKE CHANGE AND SO THERE'S A LITTLE DIFF THINGS WHERE YOU DON'T CHANGE YOUR COST STRUCTURE CHANGE MY ROTATION. I COULD PARTNER WITH ANOTHER FARMER TO DO SOME HELP DO SOME OPERATIONS. THERE'S A LOT OF THINGS THAT ARE THERE THAT THEY CAN WORK ON. SO SOME OF THE THINGS THAT THINK OUTSIDE THE BOX. KEITH WHAT'S YOUR THOUGHTS AND MAYBE SOME ADVICE AS WE MOVE INTO THIS NEW YEAR AND WHAT'S LIKELY TO BE KIND OF MORE OF THE SAME FROM THE BANK AND LENDER STANDPOINT I GUESS THE WHAT SOME OF THE BEST ADVICE I COULD GIVE PRODUCERS IS IF YOU DON'T REALLY AGREE WITH THE INFORMATION YOU'RE GETTING FROM YOUR LENDER OR WHAT THEIR OPINIONS ARE IT'S KIND OF LIKE GOING TO THE DOCTOR GET A SECOND OPINION. SURE THERE'S NOTHING WRONG WITH THAT. AND I REALIZE BANKEI RELATIONS THE SHIPS ARE BUILT OVER A LONG PERIOD OF TIME. BUT IF IT'S ABOUT YOUR OPERATION THEN YOU REALLY OWE IT TO YOURSELF TO MAYBE TAKE A LOOK AND GET A SECOND OPINION ON WHETHER THEY AGREE WITH YOUR CURRENT LENDER. ALL RIGHT WELL I THANK YOU ALL FOR BEING HERE AND SHARING YOUR INSIGHTS. I THINK IT'LL BE VERY USEFUL FOR THE FOLKS WATCHING THE SHOW AND WE'LL BACK WITH MORE AGDAY IN JUST A MINUTE.AFTER THE BREAK, ROUNDING OUT THIS SPECIAL REPORT WITH A LOOK AT AN  IDAHO FARM FAMILY USING CREATIVITY AND NEW MARKETS TO SHORE UP THEIR  FUTURE FINANCES.

DRISCOLL FARMS
WHILE ECONOMISTS THINK AGRICULTURE IS IN A DOWN CYCLE-- THAT COULD  LAST ANOTHER FEW YEARS-- FARMERS MAY HAVE TO THINK OUTSIDE THE BOX,  BE NIMBLE, AND FIND NEW OPPORTUNITIES TO MAKE MONEY BOTH ON AND OFF  THE FARM. TYNE MORGAN RECENTLY TRAVELED TO IDAHO WHERE ONE PRODUCER IS DOING  JUST THAT.  MAKING QUALITY HAY IS BECOMING AN EVEN BIGGER PRIORITY FOR IDAHO  FARMER KEVIN JOHNS. "WE'VE ALWAYS GROWN A LITTLE BIT OF HAY, BUT BECAUSE OF THE WHEAT MARKETS." OVER THE LASTTHREE YEARS.... "BEAUTIFUL HAY, THERE'S A LOT OF LEAF IN THERE."HE'S DIVERSIFIED AND RAMPED UP PRODUCTION TO CASH IN ON A GROWING  MARKET...   "I THINK THAT'S HOW YOU'RE GOING TO SURVIVE."THE DRISCOLL BROTHERS ARE DOING THE SAME...  "THIS YEAR WE'RE GROWING 3500 ACRES FROM THE PREVIOUS 1100 ACRES, SO WE PUT IN A LOT OF HAY  THIS YEAR."IT'S DRISCOLL AND OTHER HAY PRODUCERS IN THE WEST CASHING IN ON A  DEMAND BOOM FOR U-S HAY.  RABOBANKS SAYS SEVEN STATES PRODUCE 18 PERCENT OF THE U-S HAY  SUPPLY... ALL LOCATED IN THE WEST. THOSE SEVEN STATES ALSO ACOUNT FOR  NEARLY 90 PERCENT OF U-S HAY EXPORTS BUT THE LARGEST HAY PRODUCER, CALIFORNIA, IS SEEING ACREAGE  DISAPEAR... DECLINING 32 PERCENT IN LESS THAN 10 YEARS.  "CALIFONRIA, HAS SUFFERED SEVERALY FROM DROUGHT OVER LAST FEW YEARS AND THEY'VE SEEN  INCREASED COMPETITION FOR WATER FROM PERMANENT CROPS SUCH AS NUTS OR TREE FRUIT OR VINES AND  WE'VE ACTUALLY SEEN A DECLINE OF HAY AREA IN CALIFONRIA."WHILE WILLIAMSON THINKS IT'S UNLIKELY THOSE ACRES WILL EVER GROW HAY  AGAIN, IT'S IDAHO PRODUCER BROCK DRISCOLL BLAZING THE PATH IN FINDING  NEW DEMAND FOR HAY.  "WE JUST STARTED A NEW VENTURE ON THAT MARKETIN GINTO CHINA, THROUGH A HAY PRESS THAT WE'VE  GONE INTO PARYNERS WITH SOME PEOPLE FROM CHINA."RABOBANK SAYS AS CHINA'S MIDDLE CLASS GROWS A LARGER APPETITIE FOR  PROTEIN, THE COUNTRY CAN'T PRODUCE ENOUGH HAY DOMESTICALLY.  "CHINA IS ALREADY A BIG BUYER AND I BELIEVE THEY WILL CONTINUE TO BE A LARGE BUYER GOING  FORWARD. LAST YEAR THEY IMPORATED ABOTU 1.2, 1.3 MILLION TONNES OF HAY."IT'S THAT GROWING APPETITIE BRINGING OPPROTUNITIES FOR MORE THAN JUST  THE DRISCOLLS...  "IT STILL FOLLOWS THE AMERICAN MARKET A LITTLE BIT, BUT IT PUTS MORE PRESSURE ON IT SO IT SHOULD  INCREASE THE HAY PRODUCER WHAT HE GETS."WILLIAMSON SAYS WITH MORE DEMAND COMING ONLINE EACH YEAR, THE  UPSIDE POTENTIAL FOR HAY PRICES AND PRODUCERS IS CLEAR.  "THEY'VE STRUGGLED OVER LAST COUPLE OF YEARS GIVEN FALLING MILK PRICES AND THE INCREASED  DEMAND DOMEDSTICALLY INTERNATINALLY DUE TO INCOURAESAING MILK PRORICES AND RESTURICTIONS IN  SAUDI ARABIA WILL REALLY HELP PRICES GOING FOWRAD AND IT'LL HELP THE INDUSTRY AS A WHOLE CONTINUE  TO IMPROVE AND PROGRESS."AN AERIAL VIEW SHOWS THE PROGRESS  BEING MADE IN THIS OPEN SPACE OF  IDAHO, THANKS TO THE DRISCOLL BROTHERS... AND THEIR WILLINGNESS TO  THANK OUTSIDE THE FARM.  REPORTING FOR AGDAY, I'M TYNE MORGAN.  THANKS TYNE.

CLOSE
THAT'S ALL THE TIME WE HAVE THIS MORNING. WE'RE GLAD YOU TUNED IN.  FOR TYNE, AND ALL OF US HERE AT AGDAY, I'M CLINTON GRIFFITHS. HAVE A GREAT  YEAR IN FARM COUNTRY.