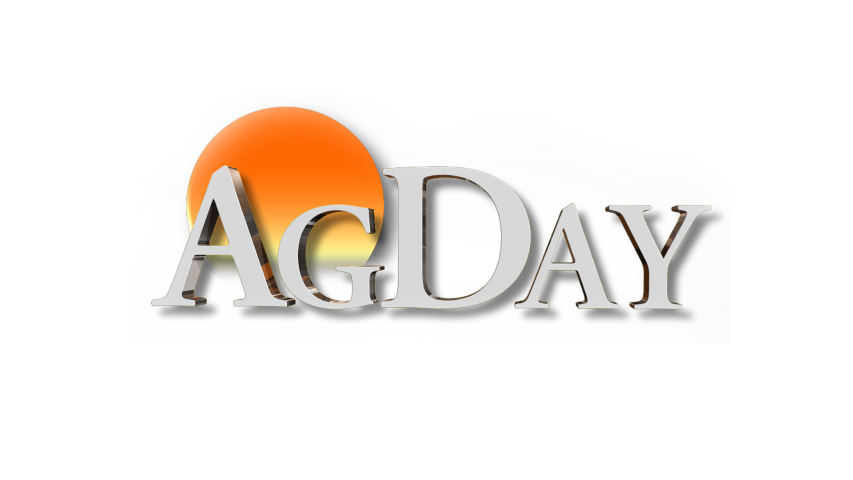 TODAY ON AGDAY
JUNE 29, 2018

HEADLINES
DROUGHT HUNKERS DOWN IN THE PLAINS. HEAVY RAINS BRING MISERY TO THE CORN BELT "SEVERAL INCHES OF RAIN FALL IN PORTIONS OF IOWA, MINNESOTA AND SOUTH DAKOTA CAUSING  FLOODING AND CROP LOSS. THE STORY COMING UP." IN AGRIBUSINESS.....CATTLE MARKETS CONTINUE TO DEAL WITH BIG NUMBERS. PLUS T-V CELEBRITY MIKE ROWE GOES TO BAT FOR AMERICAN FARMERS. AGDAY - BROUGHT TO YOU BY THE CHEVY SILVERADO, THE MOST DEPENDABLE, LONGEST-LASTING FULL  SIZE PICKUPS ON THE ROAD. 

WESTERN DROUGHT
GOOD MORNING I'M CLINTON GRIFFITHS. RAIN SHOWERS ACROSS PARTS OF THE  CENTRAL AND SOUTHERN PLAINS BROUGHT SLIGHT DROUGHT RELIEF. BUT  THOSE AREAS ARE GOING TO NEED A LOT MORE TO RECOVER. THE LATEST DROUGHT MONITOR MAP SHOWS A REDUCTION OF THE MOST  SEVERE LEVELS OF DROUGHT IN KANSAS, WESTERN OKLAHOMA AND THE TEXAS  PANHANDLE. BUT PRECIPITATION DEFICITS ARE STILL IN ABUNDANCE. "THAT CENTRAL AND SOUTHERN HIGH PLAINS DROUGHT AREA IS STARTING TO TURN THE CORNER A  LITTLE BIT. WE ARE STARTING TO GET MORE REGULAR RAINFALL. WHAT WE HAVE WORKING AGAINST US THERE  ARE TWO THINGS, CONTINUING HIGH TEMPERATURES AND SECOND, WE ARE DEALING WITH SOIL MOISTURE  SHORTAGES THAT ARE ACCUTE. EVEN THOUGH WE'RE PICKING UP RAIN, THE CROPS AND THE PASTURES, RANCHLANDS ARE USING THAT MOISTURE AND SO IT'S TOUGH TO MAKE UP THAT GROUND."RIPPEY SAYS BECAUSE THE DROUGHT GOT SO BAD EARLY-ON, IT'S GOING TOBE TOUGH TO KEEP UP WITH HEAT AND LACK OF SOIL MOISTURE HEADING INTO THE  HEART OF THE GROWING SEASON. MOTHER NATURE DROPPED FROM FIVE TO 12 PLUS INCHES OF RAIN OVER PORTIONS OF IOWA, NEBRASKA, MINNESOTA AND SOUTH DAKOTA OVER THE LAST  WEEK TO 10 DAYS. THE RESULT HAS BEEN EXCESSIVE FLOODING, WHICH HAS  WIPED OUT HUNDREDS OF ACRES OF CROPLAND AND LEFT OTHER FIELDS WITH  STANDING WATER AND PONDING. AS MICHELLE ROOK REPORTS FARMERS ARE  NOW TRYING TO ACCESS CROP LOSS AND THE AMOUNT OF DENITRIFICATION OF FERTILIZER DUE TO THE DISASTER. FARMERS IN THE NORTHWESTERN CORN BELT HAVE RECEIVED SOME NEAR RECORD RAINFALL IN JUNE. NINE  TO 12 INCHES HAVE FALLEN NEAR CENTERVILLE WHERE THE VERMILLION RIVER HAS FLOODED ADJACENT CROPLAND, LEAVING LAKES WHERE CROPS ONCE STOOD. "UNDERWATER, BETWEEN THE BOYS AND I,IT'S LIKE 400 ACRES." HOWEVER, HE SAYS THERE ARE ALSO MANY OTHER FIELDS WITH AREAS OF PONDING THAT WILL HAVE LOWER  PRODUCTION POTENTIAL. ANDERSEN, "IMPACTED IT ALL WAS, BUT I MEAN AS FOR YIELD LOSS AND EVERYTHING, WE'LL PROBABLY  SAY 25-PERCENT WITHOUT MUCH TROUBLE," SOUTHWEST MINNESOTA AND NORTHWEST IOWA WERE ALSO HIT HARD, ESPECIALLY ALONG THE FLOYD AND  ROCK RIVERS. STEVE ABMA FARMS NEAR ROCK VALLEY, IOWA WHERE THEY'VE RECEIVED OVER A FOOT  OF PRECIP IN A LITTLE OVER A WEEK. "THIS IS THE SECOND WORST I'VE SEEN AND I'VE LIVED HERE ALL MY LIFE." AS A RESULT, HE AND AREA FARMERS NOW HAVE HUNDREDS OF ACRES OF CROPLAND UNDER WATER. "THIS IS 80 ACRES HERE AND YOU'RE PROBABLY LOOKING AT HALF OF IT UNDER WATER AND THEN  WHEN WE GO THE OTHER WAY WE'VE GOT ANOTHER 100-ACRE PIECE AND YET ANOTHER 100-ACRE PIECE  BEHIND THAT THAT'S PROBABLY NEARLY TOTALLY UNDERWATER." 10 SEC SO THOSE ACRES WILL BE A COMPLETE LOSS AND MAY BE COVERED BY INSURANCE. THE OTHER LOSSES ARE UNCERTAIN. "INSURANCE WILL MAYBE COVER SOME OF IT. IT ALL DEPENDS ON HOW YOU GET IT  STRUCTURED." "MYSELF I HAVE A 70 AND 75-PERCENT COVERAGE SO I'D HAVE TO LOSE 30-PERCENT OF MY  CROP BEFORE ANYTHING WOULD HAPPEN." THE MAIN QUESTIONS FARMERS ARE ASKING NOW INCLUDE: HOW LONG CAN CROPS STAY SUBMERGED IN  WATER BEFORE THEY DIE AND ONCE THE WATER RECEDES HOW MUCH NITROGEN WILL BE LOST? AGRONOMISTS SAY THE ANSWER TO THE FIRST QUESTION DEPENDS ON CROP STAGE, AIR TEMPERATURE  AND THE NUMBER OF DAYS UNDER WATER. PIONEER FIELD AGRONOMIST CURT HOFFBECK SAYS, "TYPICALLY A COUPLE DAYS THEY'RE PROBABLY  GOING TO SURVIVE REAL WELL. THE TALLER CORN COULD PROBABLY LAST THREE, FOUR, MAYBE UP TO FIVE  DAYS, BUT IF IT'S REALLY HOT AND SUNNY AND ITS GOING TO WANT TO BAKE. YEAH YOU'RE PROBABLY  LOOKING AT TWO TO FOUR DAYS ON AVERAGE." "WE'VE SEEN DOCUMENTATION THAT YOU KNOW FIVE DAYS UP TO SEVEN DAYS SUBMERGED  SOYBEANS CAN MAKE IT." THE BIG CHALLENGE WITH SOYBEANS IS AFTER THE WATER RECEDES THEY'RE  REALLY PRONE TO DISEASES." THE OTHER ISSUE IS DENITRIFICATION, WHICH HOFFBECK SAYS VARIES AND MAKES IT HARD TO ESTIMATE  YIELD LOSS. "IF YOU'VE GOT SATURATED AREAS LIKE THIS IN A FIELD. EVERY DAY THAT THE FIELD IS  SATURATED AND WATER LOGGED LIKE THIS YOU CAN PROBABLY EXPECT FIVE PERCENT OF YOUR NITROGEN LOSS." UNFORTUNATELY, IN AREAS WHERE THE CROP IS LOST EVEN IF THE WATER RECEDES THERE ARE VERY FEW  REPLANT OPTIONS. I'M MICHELLE ROOK REPORTING FOR AGDAY . 

FARM BILL AMENDMENTS
WHAT WAS ONCE THOUGHT AS AN "EASILY PASSABLE" VERSION OF THE FARM BILL  HAS GOTTEN MORE CHALLENGING IN THE SENATE. AND THE IMPASSE STEMS FROM AMENDMENTS. THREE REPUBLICAN SENATORS INTRODUCED AN AMENDENT THAT ADDS WORK REQUIREMENTS FOR RECIPIENTS OF THE "SNAP" PROGRAM, FORMERLY KNOWN  AS FOOD STAMPS.   THE HOUSE VERSION OF THE FARM BILL HAD SIMILAR REQUIREMENTS WHICH  LAUNCHED VIGOROUS DEBATE. BUT THE FARM LEGISLATION DID NARROWLY GAIN  APPROVAL. TEXAS SENATOR JOHN CORNYN SAYS "THIS AMENDMENT WILL SAFEGUARD TAXPAYER DOLLARS BY ENCOURAGING THESE NUTRITION PROGRAMS GO TO THOSE WITH THE MOST NEED." ANOTHER AMENDMENT IS ALSO CREATING A ROADBLOCK.  SENATOR MARCO RUBIO OF FLORIDA WANTS TO BLOCK A PROVISION BY NORTH DAKOTA SENATOR  HEIDI HEITKAMP TO INCLUDE CUBA AMONG THE AGRICULTURAL EXPORT  MARKETS. 

ACREAGE REPORT
THE USDA IS EXPECTED TO ROLL OUT IT'S OFFICIAL ACREAGE ESTIMATES LATER  TODAY. AHEAD OF THAT REPORT THE AVERAGE ESTIMATES OF TRADERS PUTS 2018 CORN PLANTING AT 88.5 MILLION ACRES, SOYBEANS MORE THAN A MILLION ACRES  HIGHER AT 89.6  AND SPRING WHEAT ALSO UP NEARLY A MILLION AND A HALF  ACRES AT 12.4 MILLION COMPARED TO 2017. "ABOUT 2/3RDS CORN AND A 1/3 BEANS. WE USED TO BE 100 PERCENT CORN AND THEN SEEMED LIKE  THE MARKET NEEDED BEANS SO,"THE ACREAGE REPORT ROLLS OUT AT NOON EASTERN. IT WILL BE ACCOMPANIED WITH THE QUARTERLY STOCKS REPORT. 

CROP COMMENTS
BACK TO WEATHER, FOR A MINUTE, MIKE HOFFMAN STEPS IN FOR A LOOK AT  CROP COMMENTS. MIKE.  GOOD MORNING, CLINTON.  LET'S START OFF IN IN THE CENTRAL PART OF THE SOUTH DAKOTA IN  SULLY  COUNTY. TODD YACKLEY SAYS THE CORN WAS SHOULDER HIGH EARLIER IN THE WEEK,  THIS IS WHAT REMAINS AFTER A STORM AND HAIL. SOME FARMERS SAY THE AREA  HAILED FOR OVER AN HOUR STRAIGHT.  PATTY MANN OVER IN THE OTHER SIDE OF THE CORN BELT IN SHELBY COUNTY, OHIO SAYS  CROPS HAVE GREAT POTENTIAL. SHE SAYS EARLIEST CORN IS JUST STARTING TO  TASSEL. USDA SAYS 86 PERCENT OF THE CORN CROP IS RATED GOOD TO EXCELLENT IN  OHIO. AND TAKE A LOOK AT THE WIND SPEED FORECAST KIND OF WINDY THROUGH THE PLAINS AS WE START  TODAY HEADING THROUGH THE AFTERNOON THAT WIND WILL TRANSLATE INTO THE WESTERN PORTIONS OF THE  GREAT LAKES PARTS OF THE ROCKIES GETTING WINDY AS WELL AND HEADING INTO THE DAY TOMORROW STILL KIND OF WINDY OR AT LEAST BREEZY THROUGH PARTS OF THE PLAINS AND THE WESTERN GREAT LAKES  AND LATER ON IN THE DAY WE'LL SEE A FEW OTHER POCKETS GETTING A LITTLE BIT BREEZY AS WELL. WE'LL  HAVE YOUR FORECAST COMING UP BUT FIRST HERE ARE SOME HOMETOWN TEMPS.  

TEASE
CATTLE MARKETS CONTINUE TO DEAL WITH BIG NUMBERS--WE'LL LOOK AT  MARKET EXPECTATIONS AFTER THE BREAK. AND LATER, WE'RE OFF TO MIDSEASON CORN FIELDS TO TAKE A CLOSER LOOK AT  STALK QUALITY AHEAD OF HARVEST. AND MIKE ROWE STEPS IN FOR ADVICE ON DEALING WITH THE FOLKS THAT DON'T  SPEND THEIR LIVES ON A FARM. YOUR NEXT PIECE OF EQUIPMENT IS ON MACHINERY PETE DOT COM. SEARCH EQUIPMENT FROM  DEALERSHIPS ACROSS THE COUNTRY TO FIND WHAT YOU'RE LOOKING FOR. ONLY ON MACHINERY PETE DOT COM. 

FLOOR OF THE CME
IN AGRIBUSINESS A SLOW START FOR COMMODITIES THURSDAY. LETS SEE IF THE  PACE CHANGED FROM OUR FRIENDS ON THE FLOOR IN CHICAGO. A SLOW START FOR COMMODITIES THURSDAY. LET'S SEE IF THE PACE CHANGED FOR THIRD AND FOURTH  QUARTER. IT HAS BEEN A RELATIVELY QUIET DAY IN ALMOST A BUYERS STRIKE IN THE SENSE THAT THERE'S  NOT A WHOLE LOT OF NEW PARTICIPATION COMING INTO THE MARKET AHEAD OF TOMORROW'S BIG  IMPORTANT USA REPORT. ON TOP OF THAT GOING INTO A NEW QUARTER AND A HOLIDAY WEEK NEXT WEEK WITH JULY 4TH WE'RE HOPING THAT TOMORROW WE CAN GET SOME OF THAT NEW NEWS TO PROPEL US  AND MAYBE GET A LITTLE BIT MORE EXCITEMENT IN THIS MARKET IF THE MARKET CAN CLOSE OUT ABOVE  380 WITH A CONVICTION. I THINK THAT ENCOURAGES PROBABLY SOME SHORT COVERING AND POTENTIALLY  GIVES THIS MARKET ANOTHER 10 TO 15 CENTS HERE WITHIN THE SHORT TERM. NOW MOVING OVER TO THE SOYBEANS WE WOULD HAVE LIKED TO SEE A LOT MORE SHORT COVERING AFTER POSTING THAT LOW THERE  UNTIL JULY 19TH. THE INABILITY TO REALLY ENCOURAGE THE SHORTS TO COVER DOES HAVE A BIT OF A  CAUTION FLAG IN THE AIR. BUT IF WE CAN GET A BULLISH REPORT AND GET BACK OUT ABOVE THAT 9/11 HANDLE I THINK THAT ACCELERATES THINGS AND GETS PEOPLE EXCITED ABOUT THIS MARKET MOVING  HIGHER. YESTERDAY THE FED CATTLE EXCHANGE YOU SAW CASH COME IN AT 1 0 6 AND THEN AFTER THE  CLOSE WE GOT ADDITIONAL CASH AT 1 0 6 AND TODAY TRADING AND WE'RE BETWEEN 105 AND 1 0 8 ON  THE CASH SIDE WRAPPING THINGS UP WITH THE LEAN HOGS. IT HAS BEEN ONE CHOPPY TRADE OVER THE PAST COUPLE OF WEEKS REALLY. BUT TODAY ESPECIALLY AS WE HEAD INTO THE HOGG'S PIGS REPORT  LATER ON THIS AFTERNOON THE MARKET FOR THE AUGUST CONTRACT LOOKS LIKE THERE'S GOING TO BE A LOT  OF RESISTANCE UP TOWARDS 787 IS A KEY RETRACEMENT AND THEY KEEP MOVING AVERAGE UNTIL THE  BULLS CAN ACHIEVE CONSECUTIVE CLOSES ABOVE THIS POCKET. THE BEARS REMAIN IN CONTROL AND I WOULDN'T BE SURPRISED TO SEE A RETEST OF THE RECENT LOWS TOWARDS THAT 70 TO 50 LEVEL. SO THAT'S  A WE'RE LOOKING AT. THAT'S WHAT YOU SHOULD BE LOOKING AT TOO. THIS HAS BEEN ALL OLIVER SLOUP  WITH BLUE LINE FUTURES FROM THE FLOOR OF THE CME. 

AGRIBUSINESS
DUWYANE BOSSE BOLT MARKETING OUR GUEST HERE AT THE AGRIBUSINESS DESK TODAY DUWAYNE AS  WE LOOK AT THE CATTLE MARKETS EARLIER IN THE YEAR WE REALLY THOUGHT THERE MIGHT BE SOME  ISSUES IN THE SOUTHERN PLAINS AS FAR AS PASTURE AND DROUGHT HEAT AND MOVE IN COWS OFF PASTURE AND INTO FEEDLOTS. BUT WE GOT RAIN WE THINK THAT'S GOING TO HAPPEN OR WHERE ARE WE AT  IN THIS CATTLE MARKET. NO I YOU KNOW YEAH THERE WAS A CONCERN FOR A WHILE WE WERE GOING TO  HAVE A LOT OF COWS GOING TO MARKET A LOT OF COAL COWLS THEN FLOOD THE MARKET. NOT TO MENTION  THIS WALL OF CATTLE RIGHT. STEPHEN HAWKING OH THAT'S HOW IT WAS GOING TO BE JANUARY FEBRUARY THEN ELSE IT WILL COME JUNE IS GOING TO BE HORRIBLE. APRIL. IT'S NEVER REALLY SHOWING UP TO THE  EXTENT WE THOUGHT SO EVIDENTLY THE SUPPLY ISN'T AS BAD AS WE THOUGHT AND DEMAND IS GOOD  TOO. ONE THING ON THE CATTLE MARKET WE SHOULD WATCH APRIL WAS SO COLD UP IN MY AREA CALVING  WAS MISERABLE FOR A LOT OF PEOPLE. NO I DON'T KNOW WHAT THE DEATH LOSS WAS. NOBODY REALLY DOES IT WILL NEVER REALLY KNOW. ALL I CAN ASSUME IS IT WAS HIGHER THAN NORMAL. SO WATCH THIS  FEEDER CATTLE MARKET COMES A LATE FALL. MAYBE THERE'S NOT AS MANY FEEDERS OUT THERE AS WE  THOUGHT BUT OF COURSE WE CAN SHIP FEEDERS IN FROM MEXICO AND CANADA TOO. BUT THAT'S A  WHOLE NOTHER STORY. WELL THAT'S A WHOLE NOTHER TOPIC OF CONVERSATION. SO IS THERE ANYTHING AT THESE PRICES THESE LEVELS THAT YOU'RE SEEING THAT ARE INDICATORS THAT YOU'RE GOING TO WATCH FOR  THE NEXT FEW MONTHS. YOU KNOW I THINK A COUPLE OF WEEKS BACK WHEN WE MADE OUR LOW WHEN WE THOUGHT THE WALL OF CABLE WAS THE WORST OR THE ANTICIPATION OF IT I THINK THAT'S A LONG TERM  GOAL FOR US. I THINK MOVING FORWARD I THINK I SEE HIGHER PRICES IN CATTLE PROBABLY THROUGH YEARS  NOW. STUFF CAN HAPPEN IN THE MEANTIME. BUT NO I'M GOING TO WATCH A FEEDER MARKET CLOSE TO  THE MID TO LOW 140. THAT MIGHT BE A BUYING OPPORTUNITY IF I'M RIGHT AND THERE'S NOT AS MANY CANCEL OUT THERE AS EXPECTED. ANYTHING YOU'RE EXPECTING COME FALL BECAUSE WE KNOW WE  MOVE A LOT OF CATTLE THROUGH THESE MARKETS AND FALL. YEAH JUST DOUBLE UP AGAIN AND SAY THAT  I'M WORRIED WE'RE MIGHT BE A LITTLE BIT SHORT THE CASH. SO I'M GOING TO WATCH THE FEEDER INDEX  VERY CLOSE SEE HOW HIGH THAT CAN GO FEEDERS MAYBE BEING THE LEADERS FANCIFUL. OK. KEEP AN EYE. APPRECIATE IT. BACK MORE IN A MINUTE. 

WEATHER
WELCOME BACK TO AG DAY FIRST OF ALL WE'LL TAKE A LOOK AT THE DROUGHT MONITOR. OBVIOUSLY IT  CONTINUES TO GET DRIER AND DRIER IN SOUTHERN NOT SOUTH EASTERN TEXAS BUT LET'S SAY SOUTHWEST  TEXAS INTO THE NORTHEAST CORNER. AND ALSO IT'S ACTUALLY GOTTEN WORSE IN NORTHERN MISSOURI IN  PARTS OF EASTERN KANSAS. BUT LET'S GO BACK A MONTH. YOU CAN SEE WE DIDN'T HAVE QUITE AS MUCH ORANGE AND RED THROUGH THOSE AREAS BUT AS WE'VE GONE THROUGH THE LAST FOUR WEEKS  WE'VE JUST SEEN A LITTLE BIT MORE OF THAT DEVELOPING THE RAINS TOO MUCH AND A LOT OF CASES JUST  KEEP FALLING TO THE NORTH AND EAST OF THIS AREA AND THAT'S THE WAY IT'S BEEN SO FAR. BUT WE DO  SEE CHANCES FOR SOME MORE. AND ONE THING I WANT TO POINT OUT IS WHEN YOU LOOK HOW SPOTTY THIS IS IT'S NOT LIKE THE SOUTHWEST IT'S ALL RED. THIS IS SPOTTY BECAUSE THERE HAVE BEEN SOME  BENEFICIAL RAINS IN PLACES JUST NOT EVERYWHERE UNFORTUNATELY. THERE'S THE MAP. THIS IS ALL HOT  THROUGH THE MIDDLE OF THE COUNTRY. STORM SYSTEM UP IN SOUTH DAKOTA NORTH DAKOTA MOVING EAST ESPECIALLY IN THE NORTHERN PARTS OF THOSE AREAS WILL SEE A SHOWER OR THUNDERSTORM THIS  MORNING HEADING THROUGH THIS AFTERNOON. A FEW HIT AND MISS SHOWERS AND THUNDERSTORMS IN  THE SOUTHEAST KIND OF AN UPPER DISTURBANCE IN THOSE AREAS HELPING TO PRODUCE SOME OF THAT ACTIVITY BUNCHING SEE THE HEAT WILL NOT COME WITH THUNDERSTORMS THROUGH MOST OF THE MIDDLE  OF THE COUNTRY CENTRAL MISSISSIPPI VALLEY FEW HIT AND MISS ACTIVITY. OFF TO THE  NORTHWEST AS WELL. NOW TAKING A LOOK AT AN AREA OF LOW PRESSURE KIND OF COMING INTO THE SOUTHWEST. THIS WILL GIVE SOME CHANCES FOR POP UP SHOWERS AND THUNDERSTORMS OVER THE  NEXT COUPLE OF DAYS YOU SEE EVEN TOMORROW MORNING OUR MODEL IS SHOWING PARTS OF WEST  TEXAS GETTING A LITTLE BIT OF THUNDERSTORM ACTIVITY. NOT A LOT THROUGH THE NORTHERN TIER OF STATES  BUT A LITTLE BIT MAINLY NORTH OF THOSE FRONTAL SYSTEMS HEADING IN THROUGH THE AFTERNOON. THIS  AREA OF LOW PRESSURE MOVES INTO WEST TEXAS A LITTLE BIT FARTHER NORTHWARD IN SOME AREAS THAT ARE REALLY REALLY DRY. SO THIS COULD BE SOME GOOD NEWS FOR SOME OF YOU FOLKS HITTING THIS  ACTIVITY IN THE SOUTHEAST. THIS WON'T BE THAT WIDESPREAD AS OUR MODEL IS SHOWING THERE. AND  THIS IS ALL HIGH THROUGH THE SOUTHERN GREAT LAKES OHIO VALLEY INTO PARTS OF THE NORTHEAST.  THERE IS A PRECIPITATION ESTIMATE OVER THE PAST 24 HOURS. MOST OF IT'S BEEN THE TENNESSEE VALLEY INTO FLORIDA. THERE IS THAT ONE COMPLEX OF THUNDERSTORMS THAT MOVED THROUGH THE  CENTRAL MISSISSIPPI VALLEY ALSO NORTH DAKOTA AND NORTHERN MINNESOTA AND EASTERN PORTIONS OF  NEW ENGLAND. AS WE HEAD THROUGH THE NEXT 36 HOURS WILL ADD A LITTLE BIT MORE THROUGH THE NORTH LITTLE BIT MORE IN THE SOUTHEAST. BUT YOU KNOW IT'S JUST GOING TO BE HIT AND MISS. IT'S ALL  BECAUSE OF THE HEAT. LOTS OF 90S IF YOU 100 SHOWING UP IN THE CENTRAL PLAINS GOING TO  CONTINUE TO BE VERY MUGGY. LOOK AT CHICAGO LOW OF 80 70S ALL THE WAY DOWN TO THE GULF COAST. AND THAT HEAT JUST CONTINUES TO MOVE A LITTLE BIT EASTWARD TOMORROW ALL BECAUSE OF THE RIDGE AND THE JET STREAMING SEE A TROUGH THOUGH DIGS IN. SO BY SUNDAY MONDAY AND  TUESDAY KIND OF CUTS BACK ON THE HEAT THROUGH THE GREAT LAKES IN THE NORTHEAST BUT THE  RIDGE POPS BACK UP AS WE HEAD THROUGH THE MIDDLE OF NEXT WEEK. THAT'S A LOOK ACROSS THE  COUNTRY. NOW LET'S TAKE A LOOK AT SOME LOCAL FORECASTS. TACOMA WASHINGTON. FIRST OF ALL COOL WITH A MIX OF SUN AND CLOUDS HIGH OF 68 DEGREES POMPOUS CITY OKLAHOMA BREEZY AND HOT  WITH SUNSHINE HIGH OF 98 AND LAFAYETTE INDIANA LOTS OF SUNSHINE. HOT AND HUMID HIGH AROUND  93. WHEN WE COME BACK, OUR FIELD AGRONOMISTS WILL JOIN US TO TALK STALK  QUALITY AND THE EARLY SIGNS YOU MAY FACE A DIFFICULT HARVEST. AND LATER, COMMUNICATING WITH PEOPLE OUTSIDE OF AGRICULTURE. ADVICE AND FARM SENSE FROM MIKE ROWE. 

FARM JOURNAL COLLEGE TV
AS SUMMER TEMPERATURES CLIMB, ITS LIKELY YOUR CORN MAY START TO PULL  WATER OR NUTRIENTS FROM OTHER PARTS OF THE PLANT. TODAY ON FARM JOURNAL COLLEGE TV, THE EARLY WARNING SIGNS FOR  STANDABILITY ISSUES AT HARVEST. SOME THINGS WE NEED TO PAY ATTENTION TO FOR LATE SEASON STALK QUALITY IS REALLY THE INTEGRITY  OF THE STOCK ITSELF. SO DEPENDING ON WHAT MATURITY WE'RE AT DURING THE GROWING SEASON OR  WHAT STAGE WE'RE AT FOR EXAMPLE THESE YEARS HERE ARE JUST INTO THAT EARLY BLISTER STAGE READ EARLY BLISTER STAGE IF I SPLIT MY STOCKS OPEN AND WANT TO TAKE A LOOK AT HOW MANY NODES DO I  HAVE CLEAN DOWN HERE AND WHAT DO I MEAN BY THE NUMBER OF NODES THAT ARE CLEAN. WE START COUNTING FROM THE BOTTOM THE FIRST FOUR LEAVES OF THIS PLANT ARE ALL PACKED IN AT THE VERY TIP  HERE. THE FIRST TRUE NO THAT WE'VE SEEN COMING ACROSS HERE IS THE FIFTH NODE. SO WE'RE  ACTUALLY COUNTING THE INNER NODES IN BETWEEN HERE. SO HERE I HAVE AN INNER NODE 1 2 3 4 ON  UP THE PLANT WE WANT TO KNOW HOW MANY OF THESE ARE ACTUALLY CLEAN AT THIS GROWTH STAGE THAT WE'RE AT BY CLEAN WHAT WE MEAN IS IF YOU TAKE A LOOK AT THE CENTER OF THE STALK HERE DOES  IT HAVE WHAT WE CALL THAT COTTON PITHIE LOOK TO IT OR WHAT I WOULD CALL KIND OF THE STYROFOAM LOOK. SO THIS PLANTS NATURALLY NATURALLY GOING TO CANNIBALIZE ITSELF FROM THE TOP COMING DOWN  IN THE BOTTOM. ONCE THAT STOCK IS CANNIBALIZED IT HAS MORE A STYROFOAM LOOK TO IT AND NOT AS  MUCH OF THE PLANT JUICES IN HERE ANYMORE. SO IF THAT COMES DOWN THE PLANT TOO FAR TOO EARLY IN THE GROWING SEASON THEN WE'RE GOING TO HAVE INCREASED CHANCES FOR STALK ROTS AND POOR  STANDABILITY AT THE END OF THE HARVEST. SO WHEN I'M IN HERE AT THIS TIME OF BLISTER STAGE I REALLY  WOULD LIKE TO HAVE THREE NODES CLEAN DOWN HERE AT THE BOTTOM OF THE PLANT MEANS THAT I DON'T  SEE ANY OF THIS COTTON PYTHIAN HERE. SO THAT'S ONE WAY TO EVALUATE IT AS YOU GET A LITTLE FURTHER  ALONG AND WE GET INTO THOSE STAGE AND INTO A DEN. I'D STILL LIKE TO AT LEAST KEEP TWO NODE INNER  NODES THAT ARE CLEAN DOWN HERE. THE EARLIER YOU SEE THE PROGRESSION OF THE CANNIBALISATION THE BIGGER POTENTIAL YOU'RE GOING TO HAVE FOR POTENTIALLY DOWN CORN LATER IN THE SEASON. A GOOD LESSON THERE. 

TEASE
UP NEXT A FARM SENSE LESSON ON DEALING WITH FOLKS OUTSIDE OF  AGRICULTURE. 

IN THE COUNTRY
IN THE COUNTRY - BROUGHT TO YOU BY KUBOTA'S M5 SERIES - BRINGING NEW  LEVELS OF COMFORT TO HARD WORK.  LEARN MORE AT KUBOTA.COM, OR VISIT  YOUR LOCAL KUBOTA DEALER TODAY. ITS NO SECRET THAT TODAY, AGRICULTURE TAKES ARROWS FROM ALL ANGLES  OF PUBLIC OPINION.  ONE OF THE BIGGEST SUPPORTS OF THE FARMING PROFESSION IS MIKE ROWE -- FROM THE TV SHOW DIRTY JOBS.  TODAY HE SHARES A LITTLE FARM SENSE ON DEALING FOLKS OUTSIDE OF THE  INDUSTRY. I GREW UP WITH AN APPRECIATION OF WHERE MY FOOD COMES FROM AND AND A  CURIOSITY ABOUT HOW IT GOT THERE. AND LIKE MOST EVERYBODY ELSE I'VE EVER MET I'M ADDICTED TO  CHEWING AND SWALLOWING. SO YOU KNOW I ALWAYS JUST THOUGHT IT WAS SORT OF A NATURAL THING TO BE CURIOUS ABOUT FOOD. WHAT I FOUND OUT AND. MY AGENDA IS DIFFERENT THAN YOURS AND MY INDUSTRY. I  NEED TO KEEP THE CONVERSATION LIVELY AND I NEED TO BE PERSUASIVE. AND THE ONLY WAY I CAN BE  PERSUASIVE IS TO ARGUE FROM THE MIDDLE. AND SOMETIMES WHEN PEOPLE REALLY COME AT YOU WITH ALL THAT ANGER AND VITRIOL THERE IS AN OPPORTUNITY FOR THE PRODUCER TO TAKE A TRULY HIGH ROAD AND  PRESENT THE ACCUSATION REASONABLY AND THEN RESPOND TO IT POLITELY AND THEN JUST I THINK LOOK  THERE'S THIS THING THAT HAPPENS ALMOST ALWAYS WITH REGARD TO THINGS THAT WE RELY UPON THE MORE WE RELY UPON A THING THE MORE LIKELY IT IS WE'RE GOING TO GROW TO RESENT IT. WE RELY UPON  FARMERS. I MEAN WE RELY UPON THREE MEALS A DAY. WE RELY UPON ONE AND A HALF PERCENT OF THE  POPULATION TO TAKE CARE OF THREE MILLION PEOPLE. TIMES THREE. AND I JUST THINK FOR A LOT OF  PEOPLE YOU TAKE THAT FOR GRANTED AND THEN YOU BEGIN TO KIND OF RESENT THE FACT THAT YOU DON'T UNDERSTAND WHERE YOUR FOOD COMES FROM. SO YOU BECOME WEIRDLY PETULANT ABOUT IT. AND THEN  WHEN OTHER PEOPLE WITH OTHER AGENDAS COME ALONG TO SHOW US SAD PICTURES OR DISTURBING  IMAGES THEN THERE'S A RUSH TO JUDGE. YOU KNOW SO PERSONALLY I THINK IT WOULD BE I THINK IT'S DANGEROUS FOR PRODUCERS TO ARGUE THAT THERE ARE NO PROBLEMS THAT THERE ARE NO ISSUES. I  THINK THAT JUST GIVES FUEL TO THE OTHER SIDE. A LITTLE FARM SENSE FROM MIKE ROWE.  

CLOSE
THAT'S ALL THE TIME WE HAVE THIS MORNING. WE'RE GLAD YOU TUNED IN.  FOR ALL OF US AT AGDAY I'M CLINTON GRIFFITHS. HAVE A GREAT DAY.