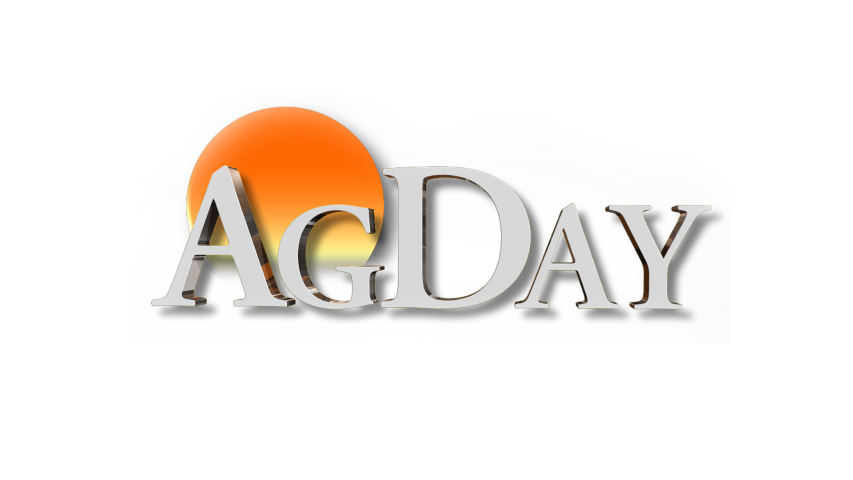 TODAY ON AGDAY
MARCH 15, 2018

HEADLINES
NEW NUMBERS SHOW U-S SOYBEAN ACREAGE COULD   BLOW PAST CORN THIS YEAR.  PLUS, A POSSIBLE FIX TO THE SECTION 199A, BUT DOES  IT COMPLETELY CLOSE THE LOOPHOLE GRAIN BUYERS  ARE FACING TODAY?  IT'S PART 2 OF THE TECHNICAL TALK OF TRADING. AND THE COMEBACK OF AN ICONIC SLOGAN.. PUTTING A FRESH SPIN ON THE NOSTALGIC CAMPAIGN  IN ORDER TO KEEP THE LOVE FOR BEEF ALIVE.  AGDAY-BROUGHT TO YOU BY THE DEPENDABLE, LONG  LASTING CHEVY SILVERADO.

ALLENDALE ACREAGE REPORT
GOOD MORNING I'M TYNE MORGAN. CLINTON GRIFFITHS  IS ON ASSIGNMENT. AS PRESIDENT TRUMP'S TARIFF  THREATS HEAT UP, IT'S THAT UNCERTAINTY WEIGHING  ON THE MINDS OF PRODUCERS. BUT IT MAY NOT BE  ENOUGH TO STOP FARMERS FROM PLANTING A RECORD  NUMBER OF SOYBEAN ACRES THIS YEAR.  JUST TWO WEEKS BEFORE USDA PLANS TO RELEASE  ITS PLANTING INTENTIONS REPORT,  A NEW SURVEY BY THE FIRM ALLENDALE REVEALING  THAT U-S FARMERS COULD BE PREPARING TO PLANT  MORE SOYBEANS AND MORE WHEAT. AND THAT COULD  EAT INTO THE AMOUNT OF CORN THAT GETS PUT IN THE  GROUND THIS YEAR;  ALLENDALE'S ANNUAL ACREAGE SURVEY ASKING  GROWERS FROM 27 STATES WHAT THEY INTEND TO  PLANT. THIS YEAR IT SHOWS FARMERS COULD SEW A  RECORD NUMBER OF SOYBEAN ACRES AT 92 POINT 1  MILLION ACRES. . AND THE SURVEY SHOWS CORN PLANTINGS COULD SEE  A BIG DROP, AT 88 POINT 5 MILLION ACRES.  IF THAT HOLDS TRUE, THAT'S NEARLY A 2 MILLION ACRE  INCREASE FOR SOYBEANS, AND A 1 POINT 65 MILLION  ACRE DROP FOR CORN. ALLENDALE'S RICH NELSON  SAYS WHEN YOU BREAK IT  DOWN STATE BY STATE, IT'S THE FINDINGS IN NORTH  DAKOTA THAT ARE THE MOST INTERESTING.    ALLENDALE'S ALL WHEAT ACREAGE NUMBER SHOWS  WHEAT ACRES GAINING GROUND,  46 POINT 88 MILLION. THE FIRM ALSO ASKING PRODUCERS ABOUT OLD CROP  AND NEW CROP SALES. THEY FOUND ABOUT 13  PERCENT OF NEW CROP CORN HAS ALREADY BEEN  SOLD AMONG THOSE PRODUCERS, AND 29 PERCENT OF  SOYBEANS. NELSON SAYS THAT SOYBEAN SALES  NUMBER IS LOW CONSIDERING HTE RECENT RUNUP IN  PRICES. 

FARM BILL, FARM BILL DELAY
HOUSE AGRICULTURE COMMITTEE CHAIRMAN MIKE  CONAWAY SAYS HE'S DELAYING THE RELEASE OF A  DRAFT FARM BILL THIS WEEK AS HE WORKS TO FIND  BIPARTISAN SUPPORT FOR A LAW THAT TAKES AIM AT  GOVERNMENT FOOD PROGRAMS. THE NUTRITION PROGRAMS, LIKE FOOD STAMPS, ARE  OFTEN THE MOST CONTENTIOUS PART OF THE FARM  BILL WHICH IS RE-WRITTEN EVERY FIVE YEARS. . ACCORDING TO BLOOMBERG NEWS, REPRESENTATIVE  COLLIN PETERSON OF MINNESOTA SAID ADDITIONAL  WORK REQUIREMENTS FOR RECIPIENTS OF "SNAP"  BENEFITS WOULD PULL ANY SUPPORT FROM  DEMOCRATS FOR THE OVERALL BILL. . ILLINOIS CONGRESSMAN RODNEY DAVIS - WHO SERVES  ON THE AG COMMITTEE - SAYS REPUBLICANS ARE  WILLING TO FACE THAT DEBATE, CHAIRMAN CONAWAY PREVIOUSLY SAID HIS COMMITTEE  WOULD SEND A FARM BILL TO THE HOUSE FLOOR FOR A  VOTE BY THE ENOF MARCH. BUT A DELAY IN  RELEASING THE BILL THIS WEEK PUTS THAT TIMELINE  AT RISK. .ON THE SENATE SIDE - AG COMMITTEE CHAIR PAT  ROBERTS SAYS IT'S CRUCIAL TO GET THE FARM BILL TO  GET DONE THIS YEAR BECAUSE OF THE POSSIBILITY  THAT A TARIFF FIGHT MAY TRIGGER RETALIATION THAT  WOULD HIT FARMERS. . AS WE MENTIONED EARLIER, CLINTON IS ON  ASSIGNMENT. HE'S IN WASHINGTON AND MET WITH  SENATOR ROBERTS TUESDAY TO DISCUSS THE FARM BILL. TOMORROW - MORE OF THE EXCLUSIVE CONVERSATION  WITH SENATOR ROBERTS AS CLINTON HOSTS AGDAY  FROM THE NATION'S CAPITOL.

199A FIX
ALSO IN WASHINGTON THERE'S AN AGREEMENT ON THE  TABLE TO ADJUST WHAT SOME GRAIN SELLERS AND  BUYERS CALLED A 'FLAW' TO THE 199A PROVISION OF  THE TAX PLAN.  AND NOW LAWMAKERS NEED TO FIGURE OUT HOW TO  ACTUALLY GET THE NEW LANGUAGE PASSED  LAWMAKERS HAVE REACHED AN AGREEMENT TO  REVISE A PORTION OF THE TAX CODE CHANGED IN THE  TAX REFORM LAW IN DECEMBER.  THE TAX LAW  GAVE  FARMERS A TAX BREAK FOR SELLING TO  COOPERATIVES. BUT PRIVATE GRAIN HANDLERS DID  NOT ECEIVE THE SAME INCENTIVE. . UNDER THIS AGREEMENT, THE TAX PROVISION GOES  BACK TO LANGUAGE SIMILAR TO WHAT WAS UNDER THE  PREVIOUS SECTION 199, BUT ADDS AN ADDITIONAL  DEDUCTION OF UP TO 20 PERCENT OF NET INCOME.  FARM CPA PAUL NEIFFER SAYS ITS ANTICIPATED THIS  DEDUCTION WILL EQUATE TO UP TO 1 PERCENT OF  GROSS SALES, PLUS 11 TO 20 PERCENT OF NET FARM  INCOME FROM THOSE SALES.  IT ALSO ALLOWS DAIRY PRODUCERS TO OFFSET THEIR  CAPITAL GAINS FROM THE SALE OF RAISED BREEDING  STOCK, SOMETHING MANY DAIRY GROUPS URGED  CONGRESS TO ACHIEVE.  WHILE AN AGREEMENT IS IN PLACE, NOW THE HURDLE  MAY BE GETTING IT PASSED IN CONGRESS.  IOWA SENATOR CHUCK GRASSLEY THINKS ATTACHING  IT TO THE SPENDING BILL IS POSSIBLE. 
KNOWING OF THIS COMPROMISE, I DON'T KNOW ANY REASON WHY IT WOULDN'T BE LEGISLATION THAT ISN'T PASSED BY THE MARCH 23 APPROPRIATIONS BILL.  02   TAKE OUT MIDDLE 08 IT DOES WHAT THE LAW WAS BETWEEN THE EARLY 2000S AND 2017 AND I ASSUME SINCE IT WAS WORKING ALL THAT PERIOD OF TIME AND WE GO BACK TO THAT FORMAT, MAINTAIN STATUS QUO THAT WE WON'T HEAR ANY COMPLIANTS ABOUT IT. 30
SENATE MINORITY LEADER CHUCK SCHUMER ISN'T CONFIDENT THE MEASURE WILL GET PASSED, SAYING HE'S OBEJECTING TO ATTACHING THE FIXS TO THE OMNIBUS SPENDING BILL UNLESS REPUBLICANS BUDGE ON OTHER TAX REFORM MEASURES. SENATE MINORITY LEADER CHUCK SCHUMER ISN'T  CONFIDENT THE MEASURE WILL GET PASSED, SAYING  HE'S OBEJECTING TO ATTACHING THE FIXS TO THE  OMNIBUS SPENDING BILL UNLESS REPUBLICANS BUDGE  ON OTHER TAX REFORM MEASURES. 

INFRASTRUCTURE HEARING
IN WHAT YOU MIGHT DESCRIBE AS "UN-CONVENTIONAL",  FIVE MEMBERS OF PRESIDENT TRUMP'S CABINET ALL  TOOK PART IN THE SAME SENATE COMMITTEE HEARING  WEDNESDAY ON THE TOPIC OF INFRASTRUCTURE - THE  FIRST TIME FIVE CABINET SECRETARIES TESTIFIED IN FRONT OF A SENATE  COMMITTEE AT THE SAME TIME SINCE 2001.  AGRICULTURE SECRETARY SONNY PERDUE WAS JOINED  BY TRANSPORTATION, COMMERCE, ENERGY AND LABOR  SECRETARIES TO DISCUSS THE PRESIDENT'S INITIATIVE  TO SPUR PUBLIC WORKS IN THIS COUNTRY. . THE PRESIDENT UNVEILED HIS INFRASTRUCTURE PLAN  IN FEBRUARY. HE SAYS THE MEASURE WOULD NEED 200- BILLION DOLLARS IN FEDERAL FUNDS OVER TEN YEARS.  IT WOULD ACT AS 'SEED MONEY' TO ENCOURARGE ONE- AND-A-HALF TRILLION IN SPENDING BY STATES AND THE  PRIVATE SECTOR. . STILL, IT'S UNCLEAR HOW SUCH A MASSIVE PROJECT  WOULD BE FUNDED. 

CROP COMMENTS
FROM WASHINGTON TO THE FARM, MIKE HOFFMAN JOINING US THIS MORNING FOR CROP  COMMENTS. GOOD MORNING, MIKE.  GOOD MORNING, TYNE.  HERE'S SOMETHING YOU DON'T SEE EVERYDAY - A  SNOW STORM IN KENTUCKY.  LAUREN TURLEY IN UNION COUNTY SENDING US THE  AFTERMATH OF COWS IN THE SNOW.  THANKFULLY, THE WEATHER SHOULD WARM UP OVER  THE NEXT COUPLE OF DAYS.  AND TAKE A LOOK AT THE WIND SPEED FORECASTERS ARE GOING TO BE A  LOT. THIS IS A VOLATILE WEATHER PATTERN AND YOU CAN SEE IN THE  NORTHEAST. EAST CENTRAL STATES INTO THE SOUTHWEST ESPECIALLY THIS  AFTERNOON IN THE FOUR CORNERS REGION BACK INTO CALIFORNIA AND THE  CAROLINAS IT BECOMES VERY WINDY SOME OF THAT WIND WITH THAT  NEXT STORM MOVES INTO THE CENTRAL PLAINS BY TOMORROW MORNING  AND THAT MEANS THE NORTHEAST CENTRAL PLAINS BACK INTO SOUTHERN  CALIFORNIA CONTINUES TO BE VERY WINDY. I'LL OF THE REST OF YOUR  FORECAST BUT FIRST HERE ARE SOME HOMETOWN TEMPS0 (   YOUR NEXT PIECE OF EQUIPMENT IS ON MACHINERY PETE DOT COM.  SEARCH EQUIPMENT FROM DEALERSHIPS ACROSS THE COUNTRY TO FIND  WHAT YOU'RE LOOKING FOR. ONLY ON MACHINERY PETE DOT COM.  )

TEASE
HOW DOES TECHNICAL TRADING WORK? WE'LL  CONTINUE OUR CONVERSATION WITH ONE TRADER  WHO BELIEVES IN THE PROCESS. WHEN YOU HEAR THAT SIGNATURE MUSIC FOR A BEEF  CHECKOFF COMMERCIAL, DID YOU KNOW YOU'RE  LISTENING TO BALLET? . THE HISTORY - AND THE FUTURE - OF THE MARQUEE  ADVERTISEMENT, LATER ON AGDAY.PLUS, A SOUTHERN CITY THAT TOUTS ITS HOSPITALITY  PREPARES TO WELCOME A HALF MILLION PEOPLE TO  CELEBRATE ST. PADDY'S DAY.

FLOOR OF THE CME
THIS MORNING, CLINTON CONTNUES THE  CONVERSATION ON TECHNICAL TRADING WITH ROUND  2. CLINTON.  MIKE FLOREZ, FLOREZ TRADING OUR GUEST TODAY. MIKE, AS WE LOOK AT  SOME OF THESE TECHNICAL TECHNIQUES I GUESS TO TRADING YOU'VE GOT  SEVERAL DIFFERENT THINGS THAT YOU CAN SHOW US AND THIS ONE IS  THEY CALL IT BOLLINGER BANDS. IS THAT RIGHT. YES. THE PREMISE OF  BOLLINGER BANDS FIRST OF ALL WHAT THEY ARE THIS MIDDLE LINE PURPLE  LINE IS A 20 DAY MOVING AVERAGE. OK. AND THE LINES ABOVE IT ARE  TWO STANDARD DEVIATIONS AWAY FROM THAT LINE. AND SO THIS WILL  ENCOMPASS 90 TO 95 PERCENT OF ALL TRADING WILL STAY WITHIN THESE  BANDS OK WHERE YOUR OPPORTUNITIES LIE IS WHEN THEY ESCAPE THAT  5 PERCENT OF THE TIME WHEN THEY'RE BELOW IT. YOU'VE GOT A CHANCE  TO BUY THE MARKET IN A PROBABLY A PRETTY LOW RISK SITUATION. ABOVE  IT YOU'VE GOT A CHANCE TO SHORT IT. OK. SO YOU'LL SEE THAT THESE  THESE THIS INDICATOR WILL WORK ON STOCKS OR FUTURES IT DOESN'T REALLY  MATTER. BUT THE IDEA HERE IS THAT I'D LIKE TO TRADE IT.. I VIEW THIS AS  A MORE OF A SHORT TERM TRADE SYSTEM WORTH LAST A FEW DAYS TWO TO  FIVE DAYS... OK. OK. SO YOU'LL SEE IT DOWN HERE TWO DAYS AND  THAT'S WHERE I'D LIKE TO GET INTERESTED IN IT BECAUSE I KNOW IT'S IT'S  IT'S GONE BEYOND ITS FAIR VALUE. SO I BUY THIS AND THEN IF I DO ENTER  IT I PUT A STOP IN A FEW HUNDRED BUCKS BELOW THOSE LOWS. BUT I  USUALLY WAIT TWO DAYS BEFORE I ENTER THE MARKET. SO YOU SEE IT  HERE YOU SEE IT HERE YOU SEE IT THERE. AND IF YOU GO TO THE NEXT  SLIDE. YEAH WE'LL WE'LL SEE HOW THIS CONTINUES. SO HERE'S HOGS.  SO THIS IS A PRETTY VOLATILE MARKET AS YOU SEE IT. YOU HAD TWO  DAYS HERE AND YOU REALLY RAN UP HERE. YOU ONLY HAD ONE DAY  HERE. BUT IT'S TELLING YOU THE MARKET IS OVERSOLD AND PROBABLY  NEEDS A RALLY YOU REALLY POP TO THE UPSIDE HERE SAME ON THE HIGH  SIDE HERE LOW SIDE HERE. WHERE IT CAN GET YOU IN TROUBLE THOUGH  LIKE RIGHT HERE YOU WERE BELOW THE MARKET FOR SEVERAL DAYS. AND  A KEY THING HERE IS IT. LOOK AT THE SLOPE OF THE OF THE BANDS ITSELF  THE UPPER AND LOWER BANDS WHEN THEY'RE IN VERY STEEP DECLINE  IT'S A WARNING SIGN HEY NOT NOT SO QUICK WHERE THE HIGHER TRADE  PROBABILITIES COME IN IS WHEN THE BANDS ARE NARROW OR START TO  NARROW AND GOING SIDEWAYS. OK. THOSE ARE ALL MUCH HIGHER  PROBABILITY OF BEING RIGHT THAT TRADE. AND I THINK YOU HAVE ONE  MORE CHART HERE ON THIS. GIVE US ANOTHER CONCEPT. THIS IS  NATURAL GAS SAME SITUATION TWO DAYS ABOVE YOUR ONE DAY HERE  YOU'RE A COUPLE OF DAYS HERE. AGAIN THIS WAS A VERY STEEP ONE  SO THAT WAS A WARNING SIGN TO BE CAREFUL. YOU GOT NARROW BANDS  HERE TWO DAYS HERE TWO DAYS HERE. YOU KNOW YOU CAN SEE HOW  THE MARKET IS KIND OF FLAGGING HERE THAT HEY WE'VE GONE TOO FAR  TOO FAST AND WE'RE PROBABLY DUE TO GO BACK TOWARDS THE MEAN.  OK. THAT'S HOW YOU USE THESE. ALL RIGHT. AND A LITTLE SHORTER TERM  SITUATION SOMETHING THAT CAN HELP YOU GET THESE KIND OF SMALLER  PERSPECTIVE OF WHAT THE MARKET ACTION IS GOING TO BE. ALL RIGHT.  YOU BUY SOMETHING ON MONDAY MAYBE YOU'RE OUT OF IT BY FRIDAY.  THAT KIND OF TRADE. ALL RIGHT. GOOD INFORMATION. WE'LL BE BACK WITH  MORE IN JUST A MINUTE0

WEATHER
AGDAY WEATHER - BROUGHT TO YOU BY RESICORE CORN HERBICIDE.   A UNIQUELY POWERFUL FORMULATION.  EXTRAORDINARY POWER OVER  WEEDS.  )WELCOME BACK. TIME NOW TO CHECK WEATHER WITH METEOROLOGIST  MIKE HOFFMAN. MIKE YESTERDAY ON AKTAY WE TALKED ABOUT ALANINE  AND IT'S FADING. AND IN AREAS THAT REALLY COULD USE SOME OF THAT  MOISTURE SO YOU SEE IT IN THE RUTILE MAP. HOW LONG BEFORE MAYBE  THIS WEATHER PATTERN STARTS TO CHANGE. WE GET SOME RAIN IN THE  PLAINS. I DON'T SEE AN END TO THE OVERALL PATTERN BUT THE NEXT  SYSTEM IS GOING TO SPREAD SOME RAIN INTO THE CENTRAL PLAINS. SO  THAT COULD BE VERY GOOD NEWS FOR SOME OF THOSE DRY AREAS YOU'RE  SEEING THERE IN THE ROOT ZONE MOISTURE. YOU CAN SEE THOUGH THAT  THAT DRY AREA EXTENDS SOUTHWARD INTO WEST TEXAS SPECIALLY  SOUTHWEST TEXAS AND BACK INTO THE FOUR CORNERS REGION  ESPECIALLY UTAH WESTERN COLORADO VERY DRY AREAS THERE. BUT  AGAIN WE HAVE MULTIPLE SYSTEMS COMING INTO THE WEST COAST  WHICH IS GOOD NEWS FOR ALL OF THOSE AREAS OVER THE NEXT SEVERAL  DAYS AND THAT PATTERN REALLY LOOKS LIKE IT'S GOING TO CONTINUE A  LITTLE BIT DRY IN EAST CENTRAL OR THE MID-ATLANTIC STATES SEE VIRGINIA  INTO THE NATION'S CAPITAL. BUT OBVIOUSLY TURNED SLIGHTLY WET AFTER  THAT BIG STORM IN THE NORTHEAST AND OF COURSE IT'S STILL SNOWING  FROM THAT STORM SYSTEM. IT IS WINDING DOWN NO. NEXT STORM KIND  OF FEEDING INTO IT INTO THE MIDDLE OF IT WILL SPREAD A LITTLE BIT OF  SNOW THROUGH PARTS OF PENNSYLVANIA NEW YORK AND OHIO TODAY.  THERE'S MULTIPLE SYSTEMS COMING IN OUT WEST THE ONE OVER UTAH  INTO COLORADO PUTTING SOME MOISTURE DOWN WHERE THEY COULD USE  IT AND THEN IT SPREADS THE MOISTURE INTO THE PLAINS STATES WITH  SOME RAIN IN PLACES BUT THIS COULD BE ICE AND SNOW IN MANY  PARTS OF THE NORTHERN PLAINS NEBRASKA INTO SOUTH DAKOTA  ESPECIALLY AND YET ANOTHER SYSTEM COMING INTO CALIFORNIA AND  THE WEST WITH MORE RAIN AND MOUNTAIN SNOWS OUT THERE BY LATER  IN THE DAY TOMORROW AND SEE SOME SHOWERS AND THUNDERSTORMS  ALONG THE GULF COAST BUT THE MOISTURE WITH THAT SYSTEM RIGHT ON  UP INTO THE CENTRAL PLAINS. CHECKING OUR PRECIPITATION ESTIMATE  OVER THE PAST 24 HOURS MOST OF IT'S BEEN IN THE NORTHEAST AND THE WEST ADDING IN THE NEXT 36 HOURS WE'RE GOING TO ADD A FAIR  AMOUNT OUT WEST. BUT ALSO WE'RE GOING TO HAVE SOME AT LEAST  WITH THE BEGINNINGS OF THIS STORM NEBRASKA SOUTH DAKOTA ALL THE  WAY DOWN INTO LOUISIANA. NOW THAT'S GOING TO BE SNOW OVER THE  NEXT 36 HOURS IN NEBRASKA AND SOUTH PARTS OF SOUTH DAKOTA AND  SOME OF THOSE AREAS WE'LL PROBABLY SEE SEVERAL INCHES OF SNOW.  YOU CAN STILL SEE SOME OF THAT SNOW THAT'S BEEN COMING DOWN  BUT AGAIN THAT WHOLE STORM IN THE NORTHEAST IS FINALLY WINDING  DOWN. THOSE ARE SOME HUGE AMOUNTS IN THE SIERRA NEVADA AS  WELL. HIGHS TODAY 70S SOUTHERN PLAINS ONLY 30S FARTHER NORTH. YET  TONIGHT YOU'RE LOOKING AT MAINLY 20S ALL THE WAY DOWN INTO THE  OHIO RIVER VALLEY NORTHERN PLAINS. KIND OF MILD IN TEXAS AND  OKLAHOMA. AND THAT'S THE CASE TOMORROW AS WELL STILL SOME 70S  DOWN THAT WAY. ALL BECAUSE OF THE JET STREAM THE REDS THROUGH  THE MIDDLE OF THE COUNTRY THAT KIND OF BREAKS DOWN A LITTLE BIT IS  THAT NEXT STORM SYSTEM FEEDS THROUGH IT. ANOTHER WIND FEEDING  THROUGH IT AS YOU CAN SEE EARLY NEXT WEEK. SO WE CAN STAY WITH  THAT VOLATILE WEATHER PATTERN RIDGE IN THE MIDDLE TROUGHS ALONG  THE COAST. THAT'S A LOOK ACROSS THE COUNTRY. NOW LET'S TAKE A LOOK AT SOME LOCAL FORECASTS. WE HAD TO SANTA FE NEW MEXICO FIRST OF  ALL PARTLY SUNNY AFTERNOON SHOWERS ARE LIKELY HIGH 55 WAUSAU  WISCONSIN LOTS OF SUNSHINE STILL RATHER COLD HIGH 33 IN MACON  GEORGIA SUNNY AND BECOMING WARMER BY AFTERNOON. HIGH UP TO    68

TEASE
LATER - THE 'SPRAYING OF THE GREEN" IN SAVANNAH  AS THE CITY PREPARES TO CELEBRATE ST PATRICK. BUT FIRST WE CELEBRATE THE SILVER ANNIVERSARY  OF A WELL-KNOWN BEEF COMMERCIAL - THAT'S  BECOME THE GOLD STANDARD FOR MARKETING.

DROVERS TV
BEEF: IT'S WHAT'S FOR DINNER - IT'S A RECOGNIZABLE  CATCH-PHRASE FOR THE BEEF CHECKOFF. . THE MUSIC - FROM THE AARON COPELAND BALLET  ENTITLED "RODEO" - PREMIERED DURING WORLD WAR  TWO. . BUT 75 YEARS LATER THAT MUSIC STILL TOUCHES THE  SOUL, ESPECIALLY OF RANCHERS. . AS THE CAMPAIGN NEARS ITS THIRD DECADE, BETSY  JIBBEN SHOWS US WHAT'S NEXT AND HOW THE  CHECKOFF IS MOVING FORWARD AND CARRYING ON  THE MESSAGE. PERHAPS IT'S THE MUSIC...  THE COMMERCIALS...  OR THE CATCH PHRASE....  THAT BRINGS BACK NOSTALGIA FOR MANY WHO RECOGNIZE IT. "BEEF: IT'S  WHAT'S FOR DINNER." THE IMMENSINGLY POPULAR ADVERTISING  CAMPAIGN CELEBRATING 25 YEARS ON THE AIRWAVES LAST YEAR AND ITS  NOT FINISHED JUST YET.                 NCBA, A CONTRACTOR TO THE BEEF CHECKOFF AND  THE CBB CONTINUING THEIR WORK, STUDYING GHOW  TO PIECE TOGETHER AN INTEGRATED, COMPREHENSIVE  MESSAGE TO SHARE THE STORY OF BEEF AND HOW IT'S PRODUCED.  THEY'RE FINDING TODAY, CONSUMERS WANT A FACE ON  THE PRODUCT.  THEY LAUNCHED RETHINK: THE RANCH LAST YEAR. A MODERN CAMPAIGN WITH A SPIN ON THE BEEF: IT'S  WHAT'S FOR DINNER.  SO FAR, IT'S GETTING A POSITIVE RESPONSE.    AND IT DOESN'T STOP THERE.  THE TEAM RAVELED THE COUNTRY WORKING ON A WAY TO  STRENGTHEN THE MESSAGE.  IT INCLUDED TREKING TO LOCATIONS ACROSS COUNTRY- PUTTING TOGETHER  INDIVIDUAL VIDEOS ON A RANCHER OR PRODUCER.    "I WAS BORN AND RAISED HERE ON THE RANCH. IT'S ENGRAINED. IT'S  WHO I AM. IT'S JUST, MY WAY OF LIFE."> SHARING THEIR STORY... TELLING WHO THEY ARE AND WHAT THEY DO...        GOING EVEN FURTHER, CREATING A CONSOLIDATED  WEBSITE - TO STRENGTHEN THE MESSAGE TO  CONSUMERS.             "WE'VE SEEN OVER A 10 PERCENT INCREASE OF PEOPLE WHO SAY I  TRUST THE PEOPLE BEHIND BEEF AS WELL. AS THE FEELING THAT BEEF IS  RESPONSIBLY RAISED SIMPLY BY WATCHING THAT ANTHEM VIDEO. AND  BEING AWARE OF OUR CAMPAIGNS."> NO MATTER HOW YOU ASSOCIATE WITH THE BRAND... THE SUCCESSFUL INITIATIVE LIVES ON...  BECAUSE, WELL, YOU KNOW THE PHRASE..  "BEEF, IT'S WHAT'S FOR DINNER."> HARRISON SAYS SINCE THERE IS SO MANY PROTEINS  ON THE MARKET TODAY, THE BEEF INDUSTRY HAS TO  CONTINUALLY TELL ITS STORY.  GETTING READY TO CELEBRATE THE LUCK OF THE  IRISH. IN THE COUNTRY IS NEXT.

IN THE COUNTRY
IN THE COUNTRY - SPONSORED BY KUBOTA.  TRACTORS, HAY TOOLS,  UTILILTY VEHICLES, MOWERS AND MORE.  VISIT KUBOTA.COM TODAY. ) WE'RE JUST TWO DAYS AWAY FROM ST. PATRICK'S DAY -  THAT ONE DAY A YEAR WHEN EVERYBODY SEEMS TO  ADD A "MICK" OR AN "O" TO THEIR LAST NAME. PARK FOUNTAINS IN SAVANNAH, GEORGIA ARE GUSHING  WATER THAT'S BRIGHT GREEN – A SIGNAL THAT ST.  PATRICK'S DAY WILL SOON ARRIVE. . ORGANIZERS OF SAVANNAH'S ST. PATRICK'S DAY  PARADE POURED WATERING CANS FULL OF GREEN DYE  INTO THE WROUGHT-IRON FOUNTAIN IN THIS PARK. OTHER FOUNTAINS IN THE CITY RECEIVED THE SAME  TREATMENT. THE SO-CALLED "GREENING OF THE FOUNTAINS" MARKS  THE START OF ST. PATRICK'S DAY FESTIVITIES IN  GEORGIA'S OLDEST CITY, WHICH HAS CELEBRATED THE  IRISH HOLIDAY FOR 194 YEARS. THE COMMUNITY HAD A  LARGE IRISH POPULATION WHEN IT WAS FIRST  FOUNDED. THE MARCH 17TH PARADE FALLS ON A SATURDAY THIS  YEAR. IT USUALLY DRAWS ABOUT A HALF MILLION  PEOPLE.

CLOSE
THAT'S ALL THE TIME WE HAVE THIS MORNING. WE'RE  GLAD YOU TUNED IN.  FOR ALL OF US AT AGDAY. I'M TYNE MORGAN. HAVE A  GREAT DAY.