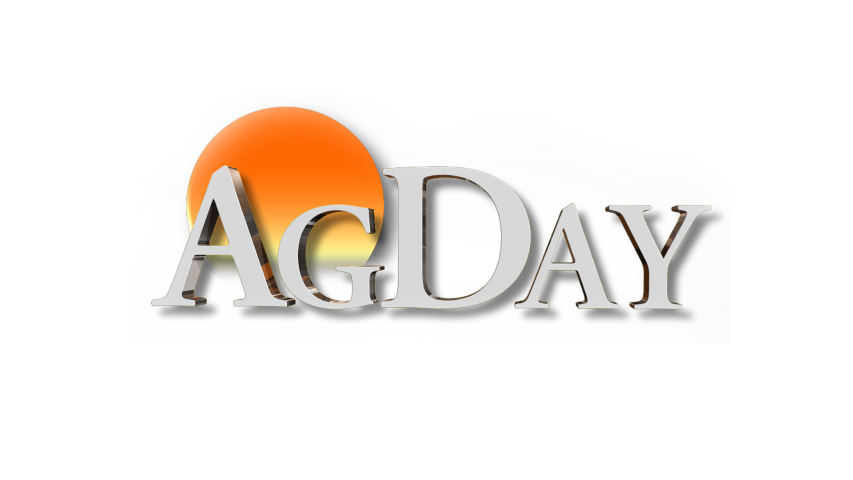 TODAY ON AGDAY
MARCH 30, 2018

HEADLINES
USDA POSTING SURPRISES IN ITS LATEST PROSPECTIVE PLANTING REPORT.  "WOW, THE MARCH 29 REPORT SHOWING CONVERGING VIEWPOINTS." WE'LL BREAK DOWN THE NUMBERS AND IN AGRIBUSINESS.. LOOKING TOWARD  THE FUTURE. FARM JOURNAL COLLEGE TV IS TEACHING YOU HOW TO BUILD MANAGEMENT  ZONES. AND LIFE LESSONS FROM OPENING DAYS. AGDAY - BROUGHT TO YOU BY THE CHEVY SILVERADO, THE MOST DEPENDABLE, LONGEST-LASTING FULL  SIZE PICKUPS ON THE ROAD.

PROSPECTIVE PLANTINGS
GOOD MORNING I'M CLINTON GRIFFITHS. THERE ARE A LOT OF BEANS IN THE BIN - AND PLENTY MORE COULD BE HEADED THAT WAY - IF USDA ESTIMATES ARE ANY  INDICATION. BUT THE GOVERNMENT DATA ALSO SHOWS FEWER ACRES THAN  WHAT ANALYSTS EXPECTED. THE AG DEPARTMENT RELEASING ITS HIGHLY ANTICIPATING PROSPECTIVE  PLANTINGS AND QUARTERLY GRAIN STOCKS REPORTS. USDA EXPECTS SOYBEAN ACREAGE WILL OUTPACE CORN ACREAGE THIS YEAR.  89-MILLION ACRES TO SOY. THAT'S DOWN A PERCENT FROM LAST YEAR. THE LAST TIME SOYBEAN ACRES TOPPED CORN ACRES WAS 1983. NOW TAKE A LOOK AT THIS MAP - ESPECIALLY THOSE STATES IN BLUE. USDA SAYS  SEVERAL OF THOSE STATES, INCLUDING INDIANA, KENTUCKY, PENNSYLVANIA,  AND WISCONSIN WILL PLANT RECORD SOY ACRES THIS SPRING. NORTH DAKOTA - IN GRAY - WILL PLANT SIMILAR SOYBEAN ACRES TO LAST YEAR WHICH TIES THAT  RECORD AMOUNT. PLANTED CORN ACRES COME IN AT 88-MILLION ACRES, DOWN TWO PERCENT OR  ABOUT TWO MILLION ACRES. IN THE MIDWEST - INDIANA, ILLINOIS, NEBRASKA AND MINNESOTA ARE SHOWING  FEWER CORN ACRES AS HIGHLIGHTED IN RED. IOWA AND SOUTH DAKOTA ARE UNCHANGED "MARCH 1 PLANTING INTENTIONS FOR BOTH CORN AND SOYBEANS UNDER A YEAR AGO AND WELL UNDER EXPECTATIONS ESPECIALLY ON THE SOYBEAN SIDE. SO THAT IS THE THE THE DRIVER COMING OUT OF THIS REPORT DATA SOYBEAN PLANTING SHOCKINGLY BELOW WHAT THEY WERE LAST YEAR AND THE TRADE AT LEAST FOR NOW BASED ON THE PRICE REACTION BELIEVES THAT NUMBER​.ALL WHEAT PLANTED AREA FOR 2018 IS ESTIMATED AT 47 MILLION ACRES, UP  THREE PERCENT FROM 2017. THE OTHER PART OF THE EQUATION IS THE QUARTERLY GRAIN STOCKS REPORT. USDA ESTIMATES THERE ARE TWO-POINT-ONE BILLION BUSHELS OF SOYBEANS IN  STORAGE.  THAT'S 21-PERCENT HIGHER THAN MARCH OF 2017. CORN STOCKS REACH EIGHT-POINT-NINE BILLION BUSHELS, THREE PERCENT  ABOVE LAST YEARS LEVELS. "BUT I THINK THAT'S GOING TO BE DISAPPOINTING TO A LOT OF ANALYSTS BECAUSE THE IDEA WAS WITH  THE NUMBER OF HOGS THAT HAVE COME TO MARKET THE NUMBER OF CATTLE THAT NOT ONLY HAVE COME  TO MARKET BUT ARE COMING TO MARKET RIGHT NOW. THE POULTRY NUMBERS OUT THERE I THINK THE  EXPECTATION WAS THAT THE FEED NUMBER WAS GOING TO COME IN BIGGER THAN THEM WHAT THEY  ANTICIPATE ARE THAN WHAT MANY IN THE MARKET ANTICIPATED WOULD PULL THAT MARCH 1 CORN STOCKS  NUMBER DOWN BECAUSE IT DIDN'T." AT THE END OF THE DAY, THESE NUMBERS CAN CHANGE BEFORE PLANTERS  EVEN START TO ROLL IN ERNEST. A WET SPRING COULD FORCE FARMERS TO MAKE A SWITCH. AND WHEN PROFITABILITY BETWEEN THE TWO CROPS IS CLOSE, WHICH CROP  WILL BRING A BETTER RETURN? "AS WE LOOK AT THE MIX OF ACREAGE AND ASK THE QUESTION WELL WHAT WAS GOING ON IN THIS  ACREAGE REPORT. FIRST THING I THINK HAS ENCOURAGING FOR THE U.S. AG SECTOR AND THAT IS THERE  WERE SOME CROPS THAT HAD SOME STRONGER RETURNS THAN CORN AND SOYBEANS. THAT STARTS WITH  OBVIOUSLY THE COTTON SITUATION IN THE SOUTH WHERE WE SAW MORE ACREAGE FROM LAST YEAR AND  EVEN IN RICE PRODUCTION IN THE SOUTH AND IN CALIFORNIA. SO REALLY A VERY POSITIVE TONE IN THE  MARKET TO SAY WE'VE GOT SOME CROPS THAT WERE GIVING BETTER RETURNS THAN OUR CLASSIC CORN  AND SOYBEANS."THE PLANTING ESTIMATES ARE BASED ON SURVEYS FROM A SAMPLE OF 83- THOUSAND PRODUCERS DURING A TWO WEEK PERIOD EARLIER THIS MONTH. BETSY JIBBEN DID SOME OF HER OWN SAMPLING - SHE JOINS US FROM EASTERN  NEBRASKA. BETSY. CLINTON WE'RE CURRENTLY IN ARLINGTON NEBRASKA MAKING OUR ROUNDS FROM EASTERN NEBRASKA  OVER TO WESTERN IOWA AND ALONG THE WAY WE'RE TALKING WITH A HANDFUL OF FARMERS ABOUT THEIR  ACREAGE MIX. NOW DESPITE USDA REPORT THE FARMERS WE TALKED TO SAY THEY'RE GOING TO STICK  WITH THEIR ROTATIONS THAT HAVE HISTORICALLY WORKED FOR THEM. I'M STAYING IN MY SAME ROTATION  AND I HAVE FOR YEARS 50/50 CORN AND I HAVE THOUGHT ABOUT PLANTING A LOT MORE BEANS BUT I'M  NOT GOING TO DO IT. SHOULD'VE DONE IT LAST YEAR. I'M ACTUALLY A LITTLE HEAVY ON CORN ARE WE HAVE SEEN BOTTOM GROUND HERE IS PRETTY HIGH PRODUCING ON CORN SO EASILY TRY TO KEEP IT IN THE CORN  ROTATION. SO LAST YEAR I WAS 50/50. SOME WILL HAVE YOUR CORN THIS YEAR. BUT IN THIS AREA I THINK  IT'S GOING TO BE BACK TO MORE OF A 50/50 ROTATION. WE'VE ALWAYS BEEN A LITTLE HEAVY CORN. WE  HAVE A PROCESSING PLANT NOT TOO FAR AWAY FROM US THAT REALLY ATTRACTIVE BASIS AND GOOD  PRICES. SO WE'VE ALWAYS BEEN A LITTLE YOU KNOW SUBJECTED TO PLAN A LITTLE HEAVIER CORN NOW AN  ABUNDANCE OF LIVESTOCK IN THE ACCESS TO ETHANOL PLANTS ALSO ENTICE FARMERS TO PLANT CORN IN  THIS AREA AS WELL. REPORTING IN ARLINGTON NEBRASKA I'M BETSY JIBBEN> CLINTON, WE'RE CURRENTLY IN ARLINGTON, NE MAKING OUR ROUNDS FROM EASTERN NEBRASKA OVER TO  WESTERN IOWA. ALONG THE WAY WE ARE TALKING WITH A HANDFUL OF FARMERS ABOUT THEIR ACREAGE  MIX. NOW, DESPITE USDA'S REPORT, THE FARMERS WE TALK TO SAY THEY'RE GOING TO STICK WITH THEIR  ROTATIONS THAT HAVE HISTORICALLY WORKED FOR THEM."NOW TO

COTTON ACRES
COTTON WHICH USDA EXPECTS TO SEE HIGHER ACRES THAN LAST  YEAR. TYNE MORGAN HAS BEEN FOLLOWING THAT TREND--SHE JOINS US WITH THE  NUMBERS. THANKS, CLINTON. AS EXPECTED, MORE ENTICING COTTON PRICES ARE BUYING  ACRES THIS YEAR. USDA ESTIMATES ALL COTTON TO HIT 13 POINT 5 MILLION ACRES. THAT'S A 7  PERCENT SPIKE FROM LAST YERA.  NOW BREAKING IT DOWN, USDA EXPECTS UPLAND COTTON TO MAKE UP 13 POINT  2 MILLION ACRES FROM THAT... A 7 PERCENT INCREASE OVER LAST YEAR.  THE BIGGEST INCREASE SHOWING UP IN KANSAS, WHERE USDA PROJECTS  PLANTINGS TO SURGE 40 PERCEN TTHIS YEAR. FLORIDA IS EXPECTED TO SEE A  21 PERCENT INCREASE. AND NORTH CAROLINA COULD SEE COTTON ACRES JUMP  17 PERCENT.  CLINTON I WAS IN OKLAHOMA THIS WEEK. THAT'S WHERE USDA THINKS ACREAGE  WILL INCREASE 16 PERCENT. IN TALKING WITH GROWERS, IT'S THE PERSISTENT  DRY WEATHER EATING INTO A BIGGER INCREASE THERE. BUT THERE WERE SOME  RAINS ACROSS THE STATE THIS WEEK. IF THOSE CONTINUE, WE COULD SEE  COTTON ACRES CLIMB EVEN MORE. CLINTON.  THANKS TYNE. ALSO FROM USDA...

HOGS AND PIGS REPORT
THE NATION'S HOG HERD CONTINUES ITS EXPANSION, BUT SIGNS SHOW IT  SLOWING.  THE LATEST HOGS AND PIGS REPORT SHOWS AS OF MARCH FRST, INVENTORY  WAS UP 3 PERCENT FROM LAST YEAR. BUT AT 72 POINT 9 MILLION HEAD, THAT'S DOWN 1 PERCENT FROM DECEMBER.  BREEDING INVENTORY ROSE 2 PERCENT FROM LAST YEAR, TOTALLING 6 POINT 2  MILLION HEAD. AND MARKET HOG INENTORY ROSE 3 PERCENT YEAR OVER YEAR, BUT FELL OFF  1 PERCENT FROM LAST QUARTER. 

CROP COMMENTS
MIKE HOFFMAN IS ALWAYS HELPING US KEEP A CLOSE EYE ON CROP  CONDITIONS..HE HAS OUR CROP COMMENTS FOR THIS FRIDAY. GOODMORNING MIKE.  GOOD MORNING CLINTON. SPRING IS STARTING TO PUSH ITS WAY INTO CALIFORNIAN'S PISTACHIO CROP. RICHARD KREPS SHARING THIS PICTURE ON TWITTER. HE SAYS THE BLOOMS ARE STARTING TO BUD IN THE GOLDEN STATE.  HE GROWS PISTACHIOS IN THE SAN JOAQUIN VALLEY.  AND TAKING A LOOK AT THE WIND SPEED FORECAST FOR TODAY IS GOING TO START OFF WINDY EASTERN  LAKES ALONG THE EAST COAST. BUT BOY IS IT GOING TO BECOME WINDY OR ACROSS THE NORTHERN  ROCKIES PARTS OF THE NORTHERN PLAINS AND BY TOMORROW. LOTS OF WIND MOVING THROUGH THE  CENTRAL AND NORTHERN PLAINS INTO THE WESTERN GREAT LAKES BY MORNING. AND THAT AREA WILL  CONTINUE TO SPREAD TOWARD THE EAST AND SOUTHEAST AS WE HEAD THROUGH THE DAY. WE'LL HAVE  THE REST OF YOUR FORECAST COMING UP AT FIRST HERE ARE SOME HOMETOWN TEMPS

TEASE
WHEN WE COME BACK WE'LL CONTINUE OUR ACREAGE AND PROSPECTIVE  PLANTINGS CONVERSATION AT THE AGRIBUSINESS DESK. AND LATER, LEARNING THE STEPS IT TAKES TO BUILD A MANAGEMENT ZONE. AND MY THOUGHTS ON OPENING DAY AND LIFE AS A LITTLE LEAGUE BASEBALL  COACH. YOU COULD WIN A 2018 JOHN DEERE GATOR FROM VALENT USA.  VISIT VALENTFULLYLOADED.COM TO ENTER. 

FLOOR OF THE CME
IN AGRIBUSINESS MARKETS TRYING TO DIGEST USDA'S PROSPECTIVE WITH A BIG  TURN TO THE BULLS. BUT DID IT HOLD? LETS GET THE DETAILS FROM THE FLOOR OF THE CME IN CHICAGO. THE IDEA HERE OF THE THOUGHT THAT FARMERS WILL PLANT MUCH LESS CORN ACREAGE THIS YEAR WAS  SEEN AS BEING A VERY VERY FRIENDLY FACTOR. DECEMBER FUTURES CAME WITHIN A HALF CENT OF THEIR  CONTRACT TIE WHICH WAS POSTED EARLIER THIS MONTH UP AT 412. NOW THE OTHER PIECE TO THIS REPORT  WAS A LITTLE BIT NEGATIVE. THE STOCKS NUMBER IN CORN WAS A GOOD 180 MILLION BUSHELS ABOVE  THE AVERAGE TRADE GUESS. THAT IMPLIES THAT DEMAND HAS NOT BEEN QUITE AS GOOD AS WHAT  SOME PEOPLE HAD THOUGHT PERHAPS A STRONG ETHANOL GRIND HAS PUSHED MORE INTO THE SYSTEM  RESULTING IN LOWER FEED USAGE. THE LIVE CATTLE MARKET WAS SHARPLY LOWER HERE ON THURSDAY  AHEAD OF A THREE DAY HOLIDAY WEEKEND. WE WERE LIMIT DOWN IN MANY OF THE LIVE CATTLE AND  FEEDER CATTLE CONTRACTS. SO KIND OF SOME OF THE CAUSES HERE. THESE ARE THE WORST PRICES THAT WE'VE SEEN SINCE JULY AND AUGUST OF LAST YEAR. SO THE CHART READ VERY VERY UGLY HERE AS WE  PLUNGE INTO SOME NEW LOWS. SO IN GENERAL WHEN YOU GET A BIG BIG MOVE IN THE CORN MARKET  YOU'RE GOING TO SEE AN OPPOSITE REACTION IN THE FEEDER CATTLE MARKET AND THAT'S EXACTLY WHAT  WE SAW HERE TODAY. AGAIN JOE VACLAVIK FROM THE FLOOR OF CME GROUP HERE IN CHICAGO.

AGRIBUSINESS
"HERE AT AGROBUSINESS DESK I HAVE JIM MCCORMACK AND CHIP FLORY. ALL RIGHT GENTLEMEN SO  WE KNOW THE NUMBERS. WE KNOW WHAT THE REPORT SAID. LET'S TALK ABOUT WHERE WE GO FROM  HERE AND JIM WE'LL START WITH YOU. WHERE DOES THIS REPORT TAKE US. WELL I MEAN RIGHT NOW  GIVES US A STARTING POINT. NOW THE WORLD TRADE IS GOING TO GO. MARKETS ARE FOCUSING ON  WEATHER BECAUSE THAT IS WHAT THE RULING. THIS IS WHAT WE THINK IS GOING TO BE APPLIED. NOW  WE'RE GOING TO SEE WHAT ACTUALLY GETS PLANTED. JEFF WHAT DO YOU THINK. WELL WEATHER IS EXACTLY  WHERE I WAS GOING TO GO BUT I'LL ALSO GO TO THIS WE NEED THE MARKETS TO SEND THE RIGHT SIGNALS  TO THE PRODUCERS TO GET THE ACREAGE MIX RIGHT. I'M NOT TOO SURE THAT WE'VE BEEN DOING THAT  YET. WHEN WE LOOK AT THAT TOTAL COMBINED OF 179 CORN AND SOYBEANS THERE SHOULD BE MORE  INCENTIVE FROM THE MARKETPLACE TO BOTH CORN AND SOYBEAN PRODUCERS TO PUT MORE SEED IN THE  GROUND. OK SO IF THAT'S ACREAGE SIDE WHAT ABOUT ON THE STOCK SIDE WHERE DOES THAT NUMBER  TAKE US FROM HERE. WELL THAT TAKES US TO THE POINT GIVES US A COMFORTABLE SUPPLY AT THE END OF  THE YEAR I MEAN THE FACT IS THE NEAR TERM SUPPLY IS VERY COMFORTABLE. WE'VE GOT A RECORD  SUPPLY OF BEANS RIGHT NOW. I MEAN WE'RE NOT GOING TO RUN OUT OF BEANS CORN THAT'S GOING TO  HELP CUSHION THE BLOW. BUT THE FACT OF THE MATTER IS THAT 88 MILLION ACRES YOU ARE REALLY GOING  TO LIKE I THINK CHIPS RIGHT. THE MARKET HASN'T GIVEN THE CORN MARKET THE RIGHT SIGNAL MY OPINION  BECAUSE WE ONLY PLANT 88 MILLION ACRES OF CORN. WE'RE JUST A FEW BUSHELS BELOW TREND. YOU'RE  OUT. YOU COULD FALL TO 1 5 VERY VERY FAST WITH A GOOD DEMAND NUMBER AND NOT A LOT OF THEM FOR  170 OR 170 BUSHEL PER ACRE NATIONAL AVERAGE CORNELIAN 18 OF THEM ANY PLANTED ACRES AND  WE'RE UNDER 1 5 OKAY WHICH AS WE GO THROUGH THE NEXT TWO MONTHS CHIP WHETHER ANYTHING  ELSE THAT YOU'RE WATCHING INDICATOR WISE BECAUSE WE'VE LEARNED THAT IT DOESN'T MATTER IF WE  HAVE A WEATHER ISSUE ALWAYS BECAUSE WE CAN GET THIS CROP AND THE GRADE. ARE WE GOING TO  GET OVER THE ANXIETY OVER TRADE AND IF WE CAN DO THAT THEN I THINK WE'VE GOT SOME LIFT. ALL RIGHT  GUYS WELL THANK YOU FOR BEING HERE GIVING US A LITTLE BIT OF PERSPECTIVE AS WE GO THROUGH  WHAT'S SURE TO BE A FUN PLANTING SEASON. APPRECIATE BOTH. WE'LL BE BACK AND MORE AD DAY  JUST A MINUTE.

WEATHER
YOUR VOTE COULD HELP A COMMUNITY ORGANIZATION WIN TWN THOUSAND DOLLARS, AND SEND A  FARMER ON A DREAM SPORTS TRIP.  VOTE NOW AND HELP MAKE DREAMS COME TRUE AT  POWERTODOMORE.COM.  SPONSORED BY RESICORE CORN HERBICIDE.  "WELCOME BACK TO AGDAY METEOROLOGIST MIKE HOFFMAN HERE AND MIKE IT REALLY LOOKS LIKE THE  EAST COAST IS KIND OF A MESS TODAY. COUPLE AREAS OF LOW PRESSURE. COUPLE OF COLD FRONTS AND  THE ONE COMING INTO NORTHERN MONTANA IS GOING TO BE A BIG WEATHER MAKER AS WELL. BUT IT IS  GOING TO REMAIN DRY FROM THE CENTRAL SOUTHERN MISSISSIPPI VALLEY ALL THE WAY TO CALIFORNIA WITH  NO REAL END IN SIGHT TO THAT OVERALL PATTERN. LET'S PUT THE MAPS INTO MOTION DOUBLE COLD FRONT  CONTINUES TO MOVE OFF THE EAST COAST SO BY LATER TODAY A LOT OF THE MOISTURE IS EAST IT'S IN THE  FLORIDA STILL LINGERING IN NEW ENGLAND. THEN WE TURN OUR ATTENTIONS BACK TO THE WEST WHERE  IT'S GOING TO BE A FAIR AMOUNT OF SNOW. THIS AREA OF LOW PRESSURE IS ACTUALLY NORTH OF THE  FRONT'S SOUTH OF THERE YOU'LL GET A LITTLE BIT OF RAINING SEE IT CONTINUES DRY THOUGH THROUGH THE  MIDDLE OF THE COUNTRY INTO THE SOUTHWEST HEADING INTO THE FIRST PART OF THE WEEKEND.  TOMORROW MORNING SOME SHOWERS MOVING INTO THE WESTERN GREAT LAKES PRETTY EARLY IN THE  DAY. IT WILL BE SNOW THOUGH UP ACROSS MUCH OF MINNESOTA AND NORTHERN WISCONSIN NORTHERN  MICHIGAN AS WE HEAD THROUGH THE DAYTIME HOURS TOMORROW AND YOU CAN SEE THAT WHOLE  SYSTEM WILL CONTINUE TO PUSH EASTWARD WITH A FEW SHOWERS AND THUNDERSHOWERS DEVELOPING  DOWN ALONG THE FRONT INTO PARTS OF ARKANSAS AND OKLAHOMA. THE FRONT KIND OF STALLS OUT  ACROSS THE NORTHWEST THAT WILL BE A FEW AREAS OF RAIN AND SNOW SHOWERS IN THAT PART OF THE  COUNTRY AS WELL. SO PRECIPITATION ESTIMATE PAST 24 HOURS. MOST OF IT'S BEEN FROM SOUTHERN  MISSISSIPPI VALLEY UP ACROSS THE TENNESSEE OHIO VALLEYS INTO THE NORTHEAST ADDING IN THE  NEXT 36 HOURS. WE'LL ADD SOME MORE INTO THE NORTHEAST BUT WE'RE ALSO GOING TO ADD SOME  WITH THAT STORM SYSTEM MOVING THROUGH THE UPPER MIDWEST. MOST OF THAT IS GOING TO BE IN THE  FORM OF SNOW PAST 24 HOURS NEXT 36 HOURS SEVERAL INCHES. SOME AREAS ARE PROBABLY GOING TO  END UP WITH MORE THAN HALF A FOOT OF SNOW SOMEWHERE ACROSS NORTH CENTRAL MINNESOTA AND  NORTHERN MINNESOTA INTO NORTHERN MICHIGAN ESPECIALLY MICHIGAN THAT'S WHERE THOSE HEAVY  SNOWFALL AMOUNTS ARE PROJECTED RIGHT NOW. HIGH TEMPERATURES THIS AFTERNOON WARM IN THE  SOUTHEAST SOUTH TEXAS OTHERWISE ON THE COOL SIDE THROUGH MOST OF THE MIDDLE OF THE COUNTRY.  HIGHS BY THE TIME YOU GET TO THE CANADIAN BORDER CLOSE TO 30 LOWS TOMORROW MORNING IN THE  SINGLE DIGITS IN THOSE AREAS. THIS IS COLD AIR FOR THIS TIME OF THE YEAR. HOW FAR SOUTH IT COMES  IS THE BIG QUESTION HEADING THROUGH TOMORROW AFTERNOON. HIGHS ONLY IN THE TEENS IN NORTH  DAKOTA. LOTS OF 70S AND 80S ACROSS TEXAS AND MANY PARTS OF FLORIDA JET STREAM AS WE HEAD  THROUGH THE NEXT SEVERAL DAYS YOU CAN SEE THAT BIG CUTOFF LOW OVER HUDSON BAY WE'VE BEEN  TALKING ABOUT EVERY TIME A PIECE OF ENERGY COMES THROUGH IT BRINGS ANOTHER SHOT OF COLD AIR TO  THE NORTHERN TIER OF STATES BUT DOWN SOUTH YOU STAY A LITTLE BIT WARMER. THAT'S A LOOK ACROSS  THE COUNTRY. NOW LET'S TAKE A LOOK AT SOME LOCAL FORECASTS HEADING TO BOISE IDAHO. FIRST OF ALL  MIXTURE OF CLOUDS AND SUNSHINE. HIGH OF 66 DEGREES SALINA KANSAS LOTS OF SUNSHINE MILD  HIGH OF 65 IN WASHINGTON P.A. COOLER WITH MORNING SHOWERS AROUND OHIO AROUND 46."

WEATHER
UP NEXT WE'LL GO THROUGH THE BASIC STEPS REQUIRED TO BUILD A  MANAGMENT ZONE ON YOUR FARM. AND LATER, THE TEACHABLE MOMENTS FROM AMERICA'S PAST TIME.

FARM JOURNAL COLLEGE TV
MOVING YOUR FARM TO INCLUDE MORE PRECISION EQUIPMENT FIRST STARTS  WITH BUILDING MANAGEMENT ZONES. JUST HOW YOU DO THAT IS THE TOPIC OF TODAY'S FARM JOURNAL COLLEGE TV  SEGMENT. FOR SEVERAL SEASONS NOW WE'VE BEEN TALKING ABOUT SO MANY SPECIAL TODAY. LET'S PUT IT ALL  TOGETHER. STEP BY STEP INSTRUCTIONS ON HOW TO CREATE THOSE ZONES. STEP 1 UNDERSTANDING THE  SOIL. SO WE'VE GOT SOME SOIL TYPES OUT HERE THAT MAYBE HAVE HIGH ORGANIC MATTER OR HIGH  EXCHANGE CAPACITY AS WE CAN SEE IN THIS EXAMPLE HERE. IT'S A LITTLE DARKER IN COLOR VERSUS  OTHER PARTS IN THE FIELD ARE LIGHTER SOILS MORE SAND AND LORIG AND IT MATTERS LOWER CCS. SO A  MANAGEMENT ZONE IS LITERALLY WHAT I CALL A KIND OF SQUIGGLY LINES OUT IN THE FIELD AS FAR AS  CAPTURING THE SOIL TYPES SO I'VE GOT A DARKER SOIL HERE VERSUS A LIGHTER SOIL HERE. START WITH THE  U.S. SOILS OR GEOLOGICAL MAP AS A BASIS FOR EACH FIELD SOIL TYPE THEN GROUND TRUTH. SO NOW  WE'RE UP IN THE AREA OF THE FIELD THAT IT'S SANDIER. YOU CAN SEE THAT IT'S A LIGHTER SOIL HERE AND  IN THE ORGANIC MATTER IS MUCH LESS IN COMPARISON AND THE EXAMPLE I CARRIED UP WITH US THAT  WE WERE AT THREE POINT FOUR ON THE ORGANIC MATTER AND 11 1/2 ON THE EXCHANGE CAPACITY ONCE  YOU'RE IN THE FIELD AND VISUALLY INSPECTED THE TERRAIN AND SOIL TYPES TAKE A SOIL SAMPLE IT'S  PRETTY IMPORTANT FOR SOIL SAMPLES THAT WE DO IT IN A VERY PROPER WAY. ONE THING THAT WE WANT  TO KEEP IN MIND IS THE DEPTH THAT YOU'RE PULLING THE SAMPLE AT AND THAT'S GOING TO BE  DEPENDING ON WHICH LAB YOU'RE USING SO IT CAN BE CALIBRATED TO THE LAB THAT YOU'RE GOING TO  SEND YOUR SAMPLES INTO. ONE OF THE IMPORTANT THINGS IS IS THAT THE DEPTH IS VERY CONSISTENT.  TAKE THAT SOIL DATA AND BEGIN OVERLAYING THE INFORMATION WITH THERMAL IMAGING AND IN BVI  MANZE. AND IN THIS CASE WE'RE LOOKING AT THERMAL IMAGING SO WE'RE LOOKING AT MAPPING  TEMPERATURE CHANGES WITHIN THE FIELD. AND TYPICALLY WHEN A PLANT HAS SOME TYPE OF STRESS IT  GETS WARMER TEMPERATURES BUT IT COULD ALSO BE WEED ESCAPES. IT COULD BE A LOT OF DIFFERENT  THINGS THAT WOULD TAKE PLACE IN THE FIELD. BUT IF YOU CAN PICK UP TEMPERATURE DIFFERENCES IN THE  EARLY SPRING YOU COULD PICK UP DIFFERENCES. FOR INSTANCE A MOISTURE LOAD IN THE SOIL THAT TYPE  OF THING. FINALLY AT HARVEST CALIBRATE THE MONITOR WORKING ON FIVE DIFFERENT CALIBRATION LOADS AT  DIFFERENT FLOWS. WE'VE DONE SOME CALCULATIONS WITH SOME CHARTS AND WE'RE GOING TO RUN  DIFFERENT SPEEDS TO ACHIEVE THE DIFFERENT FLOWS FOR THIS MONITOR TO GO DOWN AND MAKE SURE WE  GET AT LEAST 4000 TO EIGHT THOUSAND POUND LOADS TO DO THAT. SO WE'LL RUN THAT PAST THEN ONCE  WE GET THE WEIGHT FROM THAT WHICH WE'RE CALCULATING OFF OUR GRAIN CART HERE THAT HAS SCALES  OUT IT WE'LL BE ABLE TO PLUG THOSE NUMBERS IN.

TEASE
WHEN WE COME BACK, THE LIFE LESSONS YOU CAN LEARN FROM OPENING DAY. YOUR VOTE COULD HELP A COMMUNITY ORGANIZATION WIN TWN THOUSAND DOLLARS, AND SEND A  FARMER ON A DREAM SPORTS TRIP.  VOTE NOW AND HELP MAKE DREAMS COME TRUE AT  POWERTODOMORE.COM.  SPONSORED BY RESICORE CORN HERBICIDE. 

IN THE COUNTRY
IN THE COUNTRY - SPONSORED BY KUBOTA.  TRACTORS, HAY TOOLS, UTILILTY VEHICLES, MOWERS AND  MORE.  VISIT KUBOTA.COM TODAY.WELL MY HOUSE IS CELEBRATING A VERY SPECIAL DAY THIS WEEK...NO ITS NOT  THE FIRST DAY OF SPRING, NOT A BIRTHDAY, IT'S OPENING DAY OF  BASEBALL  SEASON. I'VE ALWAYS BEEN A BASEBALL FAN, PROBABLY BECAUSE MY DAD WAS A  BASEBALL FAN.  AND IT SEEMS TO BE A TRAIT I'VE NOW PASSED ON TO MY KIDS. AS I'VE MENTIONED I COACH MY OLDEST'S LITTLE LEAGUE TEAM...AND I'VE GOT  THE SCARS TO PROVE IT. HERE'S WHAT THAT LINE DRIVE TO THE FACE REALLY LOOKED LIKE 10 DAYS AGO-- WITHOUT THE GLASSES.  AND WHILE IT'S MY JOB TO TEACH KIDS THE GAME, I THINK I'VE LEARNED PLENTY  OF LIFE LESSONS MYSELF... INCLUDING THAT L SCREENS ARE THERE FOR A  REASON. I'VE ALSO LEARNED-- DON'T QUIT ON A GROUND BALL--ALWAYS RUN THROUGH  THE BAG. IN LIFE ITS EASY TO GIVE UP WHEN SOMETHING IS LESS THAN A  HOMERUN-- BUT YOU NEVER KNOW WHAT DOOR OR WILD THROW MIGHT GET  YOU BACK IN THE GAME. ITS ALSO TRUE THAT ONE GOOD HIT NEGATES 4 GAMES WORTH OF STRIKE  OUTS...BUT YOU HAVE TO KEEP TRYING. AND A POSITIVE, ENCOURAGING ATTITUDE IS MORE LIKELY TO BUILD SUCCESS  THAN BELITTLING AND SCREAMING AT YOUR TEAM.  THE SAME IS TRUE FOR YOUR RELATIONSHIPS AT HOME.  OPENING DAY AND BASEBALL IN GENERAL MAY NOT BE YOUR CUP OF TEA--BUT AT  MY HOUSE, AMERICA'S PASS TIME IS STILL REVERED AS A DAY WORTH  CELEBRATING...AN UNOFFICIAL START OF SPRING AND SUMMER, A STEP CLOSER  TO THE END OF SCHOOL AND A LIFETIME OF TEACHABLE MOMENTS.

CLOSE
THAT'S ALL THE TIME WE HAVE THIS MORNING. WE'RE GLAD YOU TUNED IN.  FOR ALL OF US AT AGDAY, I'M CLINTON GRIFFITHS. HAVE A GREAT DAY AND A  BLESSED EASTER WEEKEND.