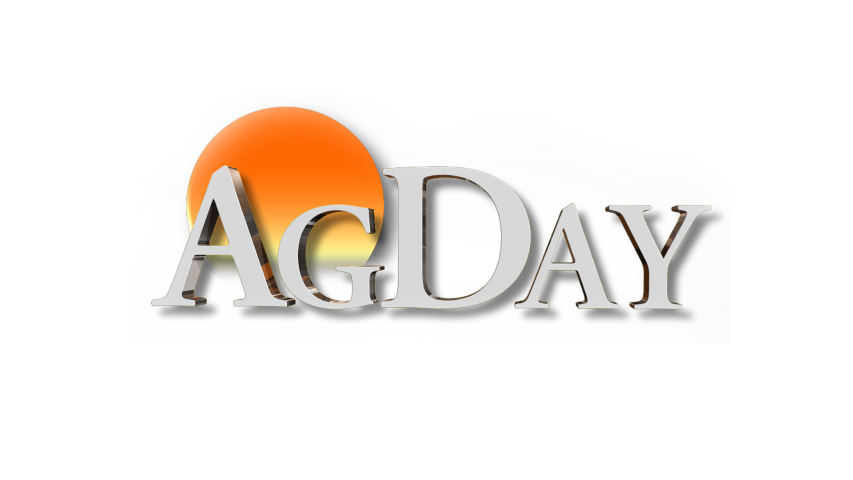 TODAY ON AGDAY
MARCH 9, 2018

HEADLINES
SOYBEAN EXPORT EXPECTATIONS ARE PARED AS USDA RELEASES ITS LATEST  SUPPLY DEMAND REPORT. THE WHITE MOVES FORWARD WITH TARIFFS ON STEEL AND ALUMINUM. IN AGRIBUSINESS...PLANTING DECISIONS. AND KEN FERRIE SHARES TIPS FOR A SUCCESSFUL CROP ROTATION. AGDAY - BROUGHT TO YOU BY THE CHEVY SILVERADO, THE MOST DEPENDABLE, LONGEST-LASTING FULL  SIZE PICKUPS ON THE ROAD.

MARCH WASDE
GOOD MORNING I'M CLINTON GRIFFITHS. THE MARCH SUPPLY-AND-DEMAND REPORT ISSUED BY USDA IS OFTEN  OVERSHADOWED BY ITS BIGGER BROTHER - THE MARCH PROSPECTIVE  PLANTINGS REPORT - WHICH IS SET TO BE RELEASED ON MARCH 29TH. STILL, THERE WERE SOME STATS WORTH NOTING IN YESTERDAYS' REPORT. USDA RAISED ITS FORECAST OF DOMESTIC SOYBEAN ENDING STOCKS TO 555  MILLION BUSHELS BASED ON THE EXPECTATION OF LOWER EXPORTS FOR THE  2017-18 U.S. SOYBEAN CROP DUE TO HIGHER EXPORTS BY BRAZIL.THE REPORT SHOWING HIGHER DEMAND FOR THE U.S. CORN CROP. THE AGENCY  LOWERED THE 2017-18 CORN ENDING STOCKS TO JUST OVER TWO-POINT-ONE  BILLION BUSHELS, BASED ON INCREASED EXPORTS AND ETHANOL PRODUCTION. "THERE WERE MAJOR CHANGES ESPECIALLY ON THE CORN SIDE OF THINGS WHERE THEY LOPPED 225  MILLION BUSHELS OFF DOMESTIC CARRY OVER AND ANOTHER 154 MILLION BUSHELS OFF GLOBAL ANDING  STOCKS. AND THOSE ARE SIGNIFICANT CHANGES ESPECIALLY GLOBALLY BECAUSE NOW ENDING STOCKS  ARE AND ARE PROJECTED TO BE DOWN 14 PERCENT YEAR OVER YEAR. SO A SIGNIFICANT CHANGE THERE." USDA BOOSTED ITS ESTIMATE OF THE BRAZILIAN SOYBEAN CROP TO 113 MILLION  METRIC TONNES.  BRAZIL'S CORN CROP CAME IN SLIGHTLY LOWER TO 94.5 MMT. THE EFFECTS OF DROUGHT ARE WEIGHING HEAVILY ON THE ARGENTINA CROP  WITH USDA LOWERING THE CORN CROP TO 36 MMT, DOWN FROM LAST MONTH'S  39 MMT.  THE SOYBEAN ESTIMATE DROPPED TO 47 MMT FROM LAST MONTH'S 54  MMT. "HOW MUCH LOWER THAT ARGENTINE SOYBEAN CROP DROPS FROM WORD IS CURRENTLY AND THAT WILL  DETERMINE HOW MUCH HIGHER THE SOYBEAN MARKET COULD POTENTIALLY GO ONCE THE MARKET IS  COMFORTABLE WITH THAT THEY HAVE THE ARGENTINE CROP LOSSES FACTORED IN. THAT'S PROBABLY GOING  TO PUT A STOP IN THE SOYBEAN MARKET."

TARIFFS SIGNED
PRESIDENT TRUMP FOLLOWING THROUGH WITH HIS THREAT TO IMPOSE TARIFFS  ON STEEL AND ALUMINUM IMPORTS. BUT HE CUT SHORT THE PLAN TO APPLY THEM ACROSS THE BOARD. THE PRESIDENT SAYS THERE WILL BE EXEMPTIONS FOR THE NAFTA PARTNERS  OF CANADA AND MEXICO INDEFINITELY. THE IMPORTS WILL TAKE EFFECT IN 15 DAYS. PRESIDENT TRUMP SAYS THERE'S FLEXIBILITY TO HIS PLAN. ALL COUNTRIES AFFECTED BY  THE TARIFFS ARE BEING INVITED TO NEGOTIATE FOR EXEMPTIONS, IF THEY CAN ADDRESS THE THREAT THEIR  EXPORTS POSE TO THE U.S. THE ANNOUNCEMENT COMES AMID A LAST-MINUTE LOBBYING EFFORT TO  SOFTEN THE IMPACT OF TARIFFS.

TPP GETS CLOSER TO REALITY
A TRADE PACT SPANNING 11 COUNTRIES -- 13 PERCENT OF THE WORLDS  ECONOMY AND 500 MILLION PEOPLE IS NOW ONE STEP CLOSER TO REALITY. THE TRANSPACIFIC PARTNERSHIP NOW RENAMED THE COMPREHENSIVE AND  PROGRESS AGREEMENT FOR THE TRANS PACIFIC PARTNERSHIP WAS OFFICIALLY  SIGNED IN CHILE THURSDAY. 11 NATIONS--SANS THE U.S.-- AGREEING TO THE TRADE PACT BETWEEN NATIONS  MAKING IT ONE OF THE GLOBES THREE LARGEST TRADE AGREEMENTS. IF THE U.S. HAD REMAINED INVOLVED, THE T-P-P WOULD HAVE COVERED SOME 40  PERCENT OF THE WORLD ECONOMY. REGARDLESS...THOSE IN ATTENDANCE CALL THE DAY MOMENTOUS.  "PROGRESSIVE TRADE IS THE WAY FORWARD, THAT FAIR, BALANCED AND PRINCIPLED TRADE IS THE WAY  FORWARD AND THAT PUTTING CITIZENS FIRST IS THE WAY FORWARD FOR THE WORLD WHEN IT COMES TO  TRADE."THE C-P-TPP STILL NEEDS APPROVAL FROM EACH COUNTRY'S  LEGISLATURE...BEFORE ITS FULLY RATIFIED. ONCE IMPLEMENTED THE U.S. WHEAT INDUSTRY SAYS SHIPMENTS TO JAPANESE  MILLERS -- ONE OF ITS BIGGEST CUSTOMERS-- ARE LIKELY TO BE CUT IN  HALF..SIMPLY BECAUSE OF THE DISADVANTAGE IN PRICE.

MEAT EXPORT NUMBERS
U.S. BEEF AND PORK EXPORTS ARE STARTING OFF THE YEAR STRONG,  AFTER A RECORD-BREAKING YEAR IN 2017.  ACCORDING TO THE U.S. MEAT EXPORT FEDERATION  BEEF EXPORT VOLUME IN JANUARY UP 9 PERCENT YEAR-OVER-YEAR WITH  VALUE SURGING 21 PERCENT.  JANUARY PORK EXPORTS STEADY WITH LAST YEAR'S STRONG VOLUME. WHILE  EXPORT VALUE IS INCREASING 7 PERCENT.  PORK EXPORTS ACCOUNTING FOR A QUARTER OF TOTAL PORK PRODUCTION. "WHEN YOU LOOK AT THAT MAINSTAY MARKETS, THEY'RE REALLY CLICKING FOR BEEF. JAPAN , KOREA,  TIWAN ALSO PRETTY STEADY EXPORTS TO MEXICO. WE'RE ALSO HAVING GOOD SUCCESS IN SOME  EMERGING MARKETS, JANUARY WAS STILL A FAIRLY MODEST TOTAL FOR CHINA BUT IT'S THE HIGHEST VOLUME  WE'VE SHIPPED TO CHINA TO DATE."SCHUELE SAYS BEEF AND PORK DEMAND TO MEXICO AND CANADA IS QUITE  STRONG.  JANUARY PORK EXPORTS TO MEXICO INCREASING ONE PERCENT FROM A YEAR  AGO IN VOLUME AND 4 PERCENT IN VALUE.  SHCUELE SAYS HE HOPES THE MEAT INDUSTRY DOESN'T SEE A REINTRODUCTION  WITH TARIFFS OR BARRIERS WHICH WOULD HURT THE RELATIONSHIP WITH  THOSE MARKETS. 

DROUGHT MONITOR
THE LATEST DROUGHT MONITOR NOT SHOWING MUCH IMPROVEMENT IN THE  AREAS CURRENTLY DEALING WITH DROUGHT AND DRYNESS. THE MOST SEVERE AREAS OF DROUGHT EXPANDING THE SOUTHERN PLAINS,  SOUTHWEST AND FOUR CORNERS REGION. CURRENTLY ABOUT HALF THE COUNTRY IS DEALING WITH SOME LEVEL OF  DROUGHT OR DRYNESS. PARTS OF THE OKLAHOMA AND TEXAS PANHANDLES HAVE NOW GONE MORE  THAN 100 DAYS WITHOUT RAINFALL...SETTING NEW ALL TIME RECORDS IN SOME  PLACES. WINTER WHEAT FIELDS ARE DRY AND BLOWING AS THE CROP STARTS TO BREAK  DORMANCY. CATTLE ARE MOVING OFF PASTURES EARLY AND SOME HAY IS BEING FED TO  SUPPLEMENT. DRYLAND COTTON FARMERS, PLANNING TO INCREASE ACRES NOW SAY THEY'LL  HAVE TO SEE IF THE RAINS RETURN BEFORE PLANTING. AT FIRST PEOPLE WERE LIKE, OKAY IT'S OVER THE WINTER THAT'S OKAY IF IT  STARTS RAINING IN THE SPRING WE'LL BE OKAY. BUT AS WE INCH CLOSER TO  SPRING, OKAY IT STILL HASN'T RAINED WILL WE BE OKAY, 3:04 SO AS PLANTING  8DATES GET NEARER, THAT'S GOING TO REALLY IMPACT A LOT DECISIONS  FARMERS ARE MAKING AS TO WHAT TYPES OF CROPS THEY'RE GOING TO PLANT  AND WHAT THEY MIGHT DO AND THERE IS PEOPLE THAT HAVE IRRIGATION. I'VE  ALREADY SEEN PRE-WATERING START. IRLBECK SAYS PRE-WATERING IS EXPENSIVE. THE LACK OF MOISTURE -- AND THREAT OF CROP FAILURE --MAY MEAN  PRODUCERS TURN TO LESS EXPENSIVE VARIETIES THIS SPRING.

CROP COMMENTS
CINDI IS BACK IN THE STUDIO TODAY AND JOINS US NOW WITH CROP COMMENTS. GOOD MORNING, CLINTON.  IT'S STILL A LITTLE SOGGY IN CLAY COUNTY, MISSISSIPPI BUT DEBBIE HINSHAW SAYS THANKFULLY, THE SUN IS SHINING! THE U.S. DROUGHT MONITOR SAYS NONE OF THE STATE IS CURRENTLY IN A  DROUGHT. IT'S A DIFFERENT STORY IN ORRICK, MISSOURI. JEFF NAIL SAYS PLENTY OF  ANHYDROUS IS BEING PUT ON FIELDS IN HIS AREA.  UNLIKE, MISSISSIPPI, NEARLY 85 PERCENT OF MISSOURI IS CONSIDERED  ABNORMALLY DRY.  LET'S TAKE A LOOK AT THOSE WINDS AS WE HEAD THROUGH THE DAY TODAY THE HEAVIEST WINDS ARE  GOING TO BE PROBABLY IN THE MID-ATLANTIC STATES. BUT WATCH OVER IN MONTANA OVER INTO PARTS OF  WYOMING WE'RE GOING TO SEE THOSE WINDS KIND OF ON THE STRONG SIDE. THEY'RE PICKING UP IN  THE FOUR CORNERS REGION. WE'RE GOING TO SEE THOSE WINDS IN MONTANA WYOMING STARTING TO  TRANSLATE TO THE EAST AND AS WE HEAD THROUGH SATURDAY THOSE ARE REALLY GOING TO BE PICKING  UP IN THE PLAINS STATES IF YOU HAD PLANS BEFORE SPRING. THIS WEEKEND YOU'LL HAVE TO WATCH OUT  FOR SOME OF THOSE STRONGER WINDS ESPECIALLY IN THE CENTRAL AND NORTHERN PLAINS. WE'LL HAVE  MORE ON YOUR FORECAST COMING UP A LITTLE BIT LATER ON THIS SHOW BUT FOR NOW. HERE ARE SOME  HOMETOWN TEMPS

TEASE
SO WHAT WILL FARMERS BE PLANTING THIS SEASON. WE'LL TALK ABOUT THAT  DECISION NEXT IN ANALYSIS. AND LATER, TIPS FROM FIELD AGRONOMIST KEN FERRY ON PLANTING SOYBEANS  AFTER SEVERAL YEARS OF CORN ON CORN. AGDAY - BROUGHT TO YOU BY RESICORE CORN HERBICIDE.  A UNIQUELY POWERFUL FORMULATION.   EXTRAORDINARY POWER OVER WEEDS. 

FLOOR OF THE CME
IN AGRIBUSINESS LETS SEE HOW MARKETS REACTED TO THRUSDAY'S USDA  REPORTS. FOR THAT WE HEAD TO THE FLOOR OF CME IN CHICAGO. THE CORN MARKET TRADED HIGHER ON THURSDAY FOLLOWING A FRIENDLY REPORT FROM USDA. BOTH THE  OLD CROP AND NEW CROP FUTURES TRADED THEIR HIGHEST LEVEL SINCE EARLY AUGUST SO A NICE  PERFORMANCE HERE ON THURSDAY. THE DEMAND SIDE OF THE U.S. BALANCE SHEET IS LOOKING MUCH BETTER USDA TOLD US THAT DEMAND VIA EXPORTS AND ALSO VIA ETHANOL WERE IMPROVED VERSUS  THEIR PROJECTIONS FROM LAST MONTH. AND THAT RESULTED IN A CARRY OUT PROJECT THAT WAS QUITE A BIT  LOWER THAN WHAT WE SAW LAST MONTH SO A FRIENDLY REPORT ON THE U.S. SIDE HERE CERTAINLY THE  LIVE CATTLE MARKET TRADED SHARPLY LOWER HERE ON THURSDAY TRADING INTO SOME FRESH MULTI WEEK  LOWS AS A MATTER OF FACT WE'VE GOT A WIDE BASIS SITUATION THE CASH CATTLE MARKET AGAIN TRADING  NEAR 126 HERE THIS WEEK. AND YOU'VE NOW GOT NEARBY FUTURES GOOD THREE TO FOUR DOLLARS  BELOW THAT. SO WE'RE IN A POSITIVE BASIS SITUATION WHICH IS SOMETHING THAT WE'VE SEEN BEFORE.  WE'VE SEEN THE SITUATION EVEN CHANGE COURSE FROM TIME TO TIME WHERE WE'LL GO FROM A  POSITIVE BASE VERY QUICKLY TO A NEGATIVE BASIS. BUT FOR THE MOMENT HERE THE CASH MARKET NOT  NECESSARILY REFLECTIVE OF WHAT'S GOING ON IN THE FUTURES MARKET OR MAYBE VICE VERSA. AGAIN  JOE VACLAVIK FROM THE FLOOR OF THE CME GROUP IN CHICAGO.
MIKE NORTH WITH COMMODITY RISK MANAGEMENT GROUP OUR GUEST TODAY. ALL RIGHT MIKE LET'S TALK  ABOUT DECISION MAKING TIME AND WE'RE KIND OF STANDING THERE ON THE EDGE OF IT AS WE DECIDE.  WHAT ARE WE GOING TO PUT IN THE GROUND THIS YEAR. A LOT OF TALK WHAT'S CORN SOYBEANS GOING TO  DO. WHAT DO YOU THINK. WELL THE AG FORUM CAME OUT AND SAID 90 MILLION FOR CORN 90 MILLION FOR  BEANS. AND I THINK THAT'S FAIR. AFTER LAST YEAR'S SEASON ESPECIALLY WITH WHERE WE WE FIND  OURSELVES YOU POINT OUT THAT WE'RE IN DECISION TIME AND WE REALLY ARE AND AS WE LOOK AT TEN  THIRTY FIVE ON SOYBEANS AND WE GET ALL GIDDY ABOUT THE POSSIBILITIES WE HAVE TO REMEMBER AT  THE SAME TIME WE JUST BREACHED FOUR DOLLAR CORN AND SO NOW GUYS THAT ARE IN A PRETTY  COMPETITIVE ENVIRONMENT. GOOD PROCESSORS WHO HAVE A TIGHT BID AT SOME POINT IN THE YEAR.  THEY'RE NOW LOOKING AT FOUR DOLLAR CASH WHICH IS THE NUMBER EVERYBODY WANTS. SO AT THIS  POINT IN TIME BECAUSE THERE'S BEEN SUCH A SWING IN THE LAST COUPLE OF YEARS TOWARDS MORE  SOYBEANS THIS MIGHT BE THE WINDOW TO OPEN US BACK UP TOWARDS MORE CORN AND INVITE SOME  MORE ACRES BACK IN. LET'S ALSO REMEMBER WE HAD SOME PRETTY BIG PREVENT PLANT NUMBERS SO  WE HAD SOME MAKERS THAT ARE STILL LOOKING FOR A HOME THAT WE COULD ULTIMATELY PICK BACK UP  INTO BOTH OF THOSE CROPS. AND THAT'S WHERE THE SOYBEAN PRICE MIGHT COME IN. SO I'M  CONVINCED THAT WE MIGHT GET MORE OF BOTH. SO WE LIKE 91 AND WE CAN BE LOOKING AT 91 92 OF  EACH AND THAT WOULD CERTAINLY CHANGE THIS CONVERSATION A LOT AS WE RIDE THE COATTAILS OF THIS  ARGENTINEAN WEATHER STORY. YEAH. SO HOW LONG DO WE HAVE BEFORE WE'RE GOING TO REALLY  KNOW. I MEAN OBVIOUSLY WE'VE GOT AN ACREAGE REPORT COMING OUT IN MARCH. I DON'T THINK WE'LL  KNOW THEN IS IT GOING TO BE A MAY EARLY JUNE DECISION. YEAH. AND ESPECIALLY IF LA NIÑA HOLDS  TRUE AND WE GET A LITTLE BIT OF A NICER PLANTING SEASON I THINK THAT'LL SWAY THE CONVERSATION AS  WELL. SO WE REALLY WON'T KNOW UNTIL THE ACREAGE REPORT COMES OUT IN JUNE. BUT I THINK YOU'LL  START TO GET A BETTER SENSE AS PLANNERS START ROLLING IN APRIL AND THROUGH MAY. OKAY WELL WE'LL  KEEP AN EYE ON. APPRECIATE IT. THANKS MIKE. WE'LL BE BACK WITH MORE AGDAY HERE IN JUST A  MINUTE AGDAY - BROUGHT TO YOU BY CREDENZ SOYBEAN SEED FROM BAYER.  DESIGNED USING SMART  GENETICS WITH TAILORED VARIETIES TO FIT ANY FIELD CONDITION. AGDAY WEATHER - BROUGHT TO YOU BY RESICORE CORN HERBICIDE.  A UNIQUELY POWERFUL  FORMULATION.  EXTRAORDINARY POWER OVER WEEDS.

WEATHER
WELCOME BACK TO AGDAY HERE WITH CINDY CLAWSON LOOKING AT THE DROUGHT MONITOR AND CINDY  WE COULD TELL WHICH AREAS ARE GETTING WORSE. IT'S PRETTY MUCH THE ONES IN RED. YEAH  ABSOLUTELY AND THAT'S SOMETHING THAT WE'VE BEEN WATCHING. SOME AREAS IMPROVING SOME  AREAS NOT AND WE HEARD THAT IN KROP COMMENTS A LITTLE EARLIER IN THE SHOW PARTS OF THE CENTRAL  AND WESTERN THE UNITED STATES CONTINUE TO SEE SOME PROBLEMS OUT THERE. LET'S TAKE A LOOK.  WE'VE SEEN IMPROVEMENT IN THE SOUTHEAST WE'VE BEEN CONTINUING TO SEE THAT OVER THE PAST  MONTH OR SO BUT THE READINESS ALL OF THE REDS THE EXTREME DROUGHT CONTINUES TO SPREAD FROM  THE PLAINS STATES ALL THE WAY INTO THE FOUR CORNERS REGION. AND WE ARE NOW STARTING TO SEE  SOME EXCEPTIONAL DROUGHT POPPING UP RIGHT NEAR THE OKLAHOMA PANHANDLE SOMETHING WE  ARE OBVIOUSLY GOING TO BE CONTINUING TO WATCH OVER THE NEXT SEVERAL MONTHS. ALL RIGHT LET'S  TAKE A LOOK AT HOW THINGS ARE SHAPING UP FOR TODAY. WE'VE REALLY BEEN FOCUSING ON WELL AS  CLINTON MENTIONED YESTERDAY THE TOP CORNERS THE NORTHEAST AND THE NORTHWEST IS WHERE  WE'VE BEEN SEEING MOST OF THE WEATHER AS THE PAST COUPLE OF DAYS. WE'LL CONTINUE TO SEE  SOME OF THAT SNOW IN THE NORTHEASTERN UNITED STATES AND WE'LL HAVE A SYSTEM THAT'S COMING  INTO THE NORTHWEST. WE'LL SEE SOME RAIN AND UPPER ELEVATIONS SNOW AS WE HEAD INTO THE  NORTHWEST AND STARTING TO HEAD INTO THE PLAINS. BUT WHAT WE'RE GOING TO NOTICE IS THAT WE'LL  START TO SEE SOME MORE ACTIVE WEATHER IN THE NATION'S MIDSECTION AS WE GET INTO THE NEXT  COUPLE OF DAYS AS THAT LOW PRESSURE SYSTEM STARTS TO ENTER THE PLAINS STATES WE'RE GOING TO  SEE A LITTLE BIT OF UNSETTLED WEATHER IN PARTS OF THE GULF COAST STATES AND WE'VE GOT THIS  STATIONARY FRONT HERE. SO LOOK FOR SOME KIND OF HIT AND MISS SHOWERS MAYBE EVEN A LITTLE BIT  OF SNOW WITH SOME COOLER AIR IN PARTS OF THE MID-ATLANTIC STATES HEADING THROUGH THE DAY ON  SATURDAY. MORE OF THE SAME. THAT LOW IS GOING TO CONTINUE TO MOVE UP TO THE NORTH AND IN  EFFECT ESPECIALLY NEW ENGLAND WILL SEE THAT LOW MOVING ON TO THE SOUTH AND THAT'S GOING TO  BE BRINGING SOME RAIN SOME SHOWERS EVEN SOME THUNDERSTORMS TO THE CENTRAL GULF COAST  STATES AND SOME RAIN AND SOME SNOW IN PARTS OF THE PLAINS. AS FAR AS PRECIPITATION IT'S MAINLY  AGAIN BEEN THE TOP CORNERS OF THE COUNTRY BUT AS WE HEAD INTO THE NEXT 24 HOURS WE'LL START TO  SEE THAT EXPANDING ESPECIALLY AS THAT LOW PRESSURE SYSTEM MOVES THROUGH THE CENTRAL PART OF  THE COUNTRY. NOW AS FAR AS SNOWFALL SAME KIND OF SITUATION WE'LL CONTINUE TO SEE THAT SNOW  EXPANDING INTO THE NORTHEAST ESPECIALLY AS YOU GET TOWARDS MAINE AND THEN WE'RE GOING TO  START TO SEE SOME OF THAT MOVING INTO THE NORTHERN PLAINS ART AS FAR AS TEMPERATURES ARE  CONCERNED. WE DO HAVE SOME WARMER TEMPERATURES IN THE SOUTH CENTRAL UNITED STATES A LOT  OF 30S AND 40S CONTINUING ACROSS THE NORTHERN TIER OF STATES OVERNIGHT LOWS ARE GOING TO BE  GETTING DOWN INTO THE 20S AND 30S FOR MOST OF THE NORTHERN TIER 50S 60S EVEN SOME 40S  DOWN IN SOUTH AND THEN AS WE HEAD THROUGH TOMORROW. BOY WE REALLY START TO WARM IT UP  ESPECIALLY IN SOUTHERN TEXAS WHERE WE'RE STARTING TO SEE SOME 80S. SO A LOT OF 30S AND 40S  ACROSS THE NORTHERN TIER OF STATES STILL HAVE THAT TROUGH THAT'S AFFECTING THE NORTHEASTERN  UNITED STATES. WATCH AS WE HEAD THROUGH THE WEEKEND AND INTO NEXT WEEK AS THAT BIG RIDGE  DEVELOPS IN THE WEST AND THAT REALLY INCREASES THAT TROUGH IN THE NORTHEAST. WE'RE GOING TO  CONTINUE WITH THE COOL AND STORMY WEATHER THERE THAT RIDGE WILL START TO TRANSLATE TO THE EAST BY THE END OF THE WEEK. THAT'S A LOOK AT YOUR NATIONAL FORECAST. NOW LET'S CHECK ON THE  WEATHER WHERE YOU LIVE. WINSLOW ARIZONA MOSTLY SUNNY AND A LITTLE BREEZY FOR YOU TODAY WITH  A HIGH OF 71 DEGREES. STEWART VILLE MINNESOTA MOSTLY SUNNY WITH A HIGH OF 31 AND DEXTER  MAINE. LOOK FOR SOME SHOWERS WITH A HIGH OF 37. THANKS CINDI. IT'S THAT TIME OF YEAR WHEN WE CHANGE OUR CLOCKS. AND THE SUN STAYS  UP LONGER IN THE EVENING. WHEN YOU GO TO BED THIS SATURDAY NIGHT, BE SURE TO PUSH YOUR CLOCK  FORWARD ONE HOUR. YOUR SMARTPHONE WILL CHANGE ITSELF.

TEASE
IF YOU'RE PLANNING TO PUT SOYBEANS IN THE GROUND THIS SEASON, STICK  AROUND, AGRONOMIST KEN FERRY HAS SOME TIPS ON THIS WEEK'S FARM  JOURNAL COLLEGE TV. AND LATER, SCIENCE AND RESEARCH IS STILL MAKING NEW DISCOVERIES THAT  COULD CHANGE THE FUTURE OF FARMING.

FARM JOURNAL COLLEGE TV
FOR SEVERAL YEARS CORN ON CORN WAS A POPULAR CHOICE IN FARM FIELDS  ACROSS THE MIDWEST. BUT WHAT IF YOU'RE CONSIDERING A CHANGE. AGRONOMIST KEN FERRY WEIGHS IN ON FARM JOURNAL COLLEGE TV. THIS IDEA OF SWITCHING ROTATIONS YOU MAYBE YOU'VE BEEN CORN ON CORN FOR A LOT OF YEARS AND  YOU'RE GOING TO SWITCH THE BEANS YOU WANT TO RUN THE NUMBERS ON THAT. FIND OUT WHAT OUR  TRUE COST TO THE BOTTOM LINE WOULD BE. HOW DO WE DO THAT. THAT'S THAT'S A QUESTION THAT  COMES UP A LOT WITHIN OUR CUSTOMER BASE WHEN THEY'RE TRYING TO MAKE A DECISION AS FAR AS  SHOULD I MOVE INTO CORN ON CORN OR OUT OF CORN ON CORN IN NEW CORN BEAN ROTATION AND MAYBE  FOR A LOT OF DIFFERENT REASONS MIGHT BE COST. MEANING PRICE THE PRICE OF THE COMMODITY THERE  SALAN IT MIGHT BE FOR WEED CONTROL OR DISEASE MANAGEMENT. COULD BE A LOT OF DIFFERENT  REASONS WHY THEY WOULD WANT TO CHANGE THAT ROTATION. THE MAIN THING IS THEY HAVE TO PUT THE  TRUE COST OR EXPENSES OR BENEFITS TO THAT ROTATION WHEN THEY'RE MAKING THOSE CALCULATION.  OKAY BUT YOU'RE SAYING IT'S IT'S NOT JUST OUR INPUT COSTS AND THE COST OF OUR SEED AND THE PRICE  OF WHAT WE'RE GETTING FOR THAT GRAIN AT THE END OF THE YEAR. THERE'S A LOT OF OTHER FACTORS  MAYBE THAT FACTOR INTO THAT LIKE THIS PARTICULAR FIELD HERE. IF THEY WOULD HAVE STAYED IN THE CORN  ON CORN ROTATION FOR INSTANCE MOST LIKELY THIS CORN WOULD HAVE GOT A PLOWED LAST FALL AND THEN  IT WOULD REQUIRE ONE OR TWO PASSES THIS SPRING TO GET IT READY FOR PLANTING BECAUSE THEY'RE SET  UP TO NO TILL THEIR BEANS THEY CAN COME IN HERE AND THEY CAN NO TILL BEANS INTO IT. SO THAT  CHANGES THEIR TILLAGE COSTS. OKAY. RIGHT WE DON'T HAVE THE COST OF THAT CHISEL PLOW RIGHT. IT'S  GOING TO IT'S GOING ADD A HERBICIDE PASS BECAUSE THEY'RE GOING TO HAVE TO BURN DOWN THIS  FIELD NOW USED TO BE THAT WAS A BIGGER COST UNTIL AGE. BUT TODAY WITH A WITHOUT CHEAPER  HERBICIDES ARE FOR BURNED DOWN YOU CAN BURN A FIELD DOWN AND GET RID OF THE WEEDS CHEAPER  THAN YOU CAN DO ALL THAT TILLAGE TO IT SOUTH. SO AGAIN PUTTING THE TRUE COST INTO IT INTO YOUR  INPUTS IS GOT TO BE SOMETHING THAT COMES OUT BECAUSE IT'S GOING TO AFFECT THE BOTTOM LINE.  THANKS KEN.

TEASE
SCIENCE IS EVER CHANGING--I'LL SHARE MY THOUGHTS COMING UP ON THIS  WEEK'S FARM SENSE.

IN THE COUNTRY
IN THE COUNTRY - SPONSORED BY KUBOTA.  TRACTORS, HAY TOOLS, UTILILTY VEHICLES, MOWERS AND  MORE.  VISIT KUBOTA.COM TODAY. I'M ALWAYS AMAZED AT THE NEW RESEARCH THAT FLOATS ACROSS MY DESK ON  NEARLY A DAILY BASIS. THIS WEEK, A NEW INTERNATIONAL STUDY REVEALED SCIENTISTS HAVE FOUND A  WAY TO MAKE CROPS USE 25 PERCENT LESS WATER WITHOUT COMPROMISING  YIELD. THE KEY IS ALTERING THE EXPRESSION OF ONE GENE-- THE GENE THAT  CONTROLS THE PROTEIN RESPONSIBLE FOR OPENING AND CLOSING THE  MICROSCOPIC PORES ON THE PLANTS LEAVES THAT LET WATER ESCAPE. AND GUESS  WHAT THAT GENE IS FOUND IN ALL PLANTS. THIS STUDY WAS FUNDED IN PART BY THE BILL AND MELINA GATES FOUNDATION -- AND THIS WEEK MR. GATES ALSO MAKING HIS OWN ANNOUNCEMENT. DURING AN "ASK ME ANYTHING" INTERVIEW--GATES SAYING QUOTE "GMO FOODS  ARE PERFECTLY HEALTHY AND THE TECHNIQUE HAS THE POSSIBILITY TO REDUCE  STARVATION AND MALNUTRITION WHEN IT IS REVIEWED IN THE RIGHT WAY,"  ADDING THAT HE DOESN'T STAY AWAY FROM NON-GMO FOODS-- BUT IT IS QUOTE-- DISAPPOINTING --THAT PEOPLE VIEW IT AS BETTER. THAT STATEMENT ON THE HEELS OF ANOTHER MAJOR RESEARCH PROJECT. UNIVERSITY TEAMS IN ITALY COMPILING WHAT'S CALLED A META-ANALYSIS OF  STUDIES AROUND GMO- CORN. LOOKING DATA FROM SIX CONTINENTS AND THOUSANDS OF FIELDS OVER TWO  DECADES THE RESULTS SAY GMO CORN DOES INCREASE CROP YIELDS BY ABOUT  25 PERCENT AND CAN ACTUALLY PROVIDE MORE HEALTH BENEFITS THAN  TRADITIONAL CORN...BECAUSE IT DECREASES THE AMOUNT OF FOOD  CONTAMINANTS--LIKE MYCOTOXINS. EVEN SO...ITS UNLIKELY TO CHANGE MANY MINDS OR IMPACT THE BILLIONS OF  DOLLARS IN SALES OF ORGANIC PRODUCTS. AND AFTER 40 YEARS OF DEBATING GMO'S I THINK WHAT I FIND MOST  INTERESTING...IS THAT SCIENCE IS STILL MOVING FORWARD-- AND NEW  INNOVATIONS USING THINGS LIKE CRISPR-CAS AND OTHERS ARE KEEPING THESE  CONVERSATIONS RELEVANT AND TIMELY.  I WOULD ENCOURAGE YOU...TO DO THE RESEARCH, LEARN WHAT SCIENCE IS  FINDING AND JOIN THE CONVERSATION. FARMERS WILL GROW WHAT CONSUMERS DEMAND-- THE NICE THING ABOUT  AMERICA ...WE HAVE A CHOICE. IF WE DIDN'T, THERE WOULDN'T BE ANY DEBATE AT ALL.

CLOSE
THAT'S ALL THE TIME WE HAVE THIS MORNING. WE'RE GLAD YOU TUNED IN.  FOR ALL OF US AT GDAY I'M CLINTON GRIFFITHS. HAVE A GREAT DAY. AGDAY - BROUGHT TO YOU BY RAM COMMERCIAL - AMERICA'S LONGEST-LASTING HEAVY DUTY  PICKUPS.