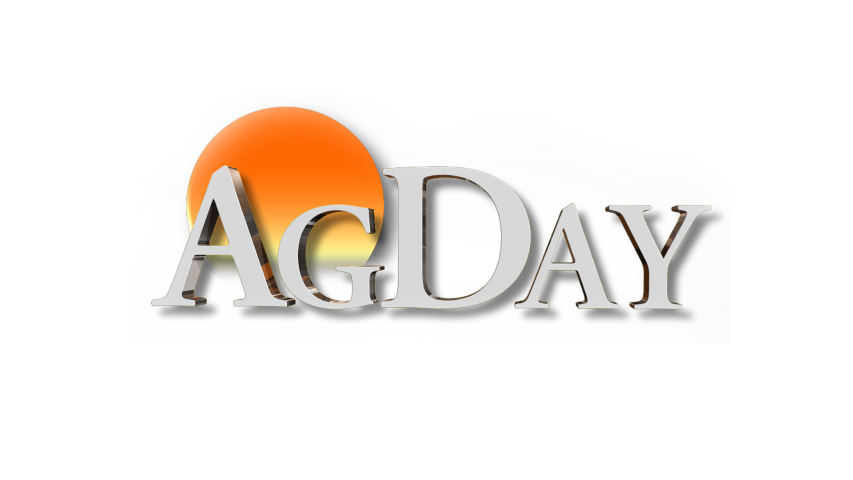 TODAY ON AGDAY
MAY 11, 2018

HEADLINES
SORTING THROUGH THE LATEST SUPPLY-DEMAND DATA FROM USDA. DRAMATIC DISAPPEARANCE - HOW QUICKLY ARE WE LOSING FARMLAND? WHEN IS IT TOO LATE TO APPLY NITROGEN? WE'LL EXAMINE IN FARM JOURNAL  COLLEGE T-V. AGDAY - BROUGHT TO YOU BY THE CHEVY SILVERADO, THE MOST DEPENDABLE, LONGEST-LASTING FULL  SIZE PICKUPS ON THE ROAD. 

WASDE
GOOD MORNING I'M TYNE MORGAN, IN FOR CLINTON GRIFFITHS. USDA'S LATEST WASDE REPORT PROJECTING A LARGE DROP FOR WORLD CORN STOCKS NEXT YEAR, AND A MAJOR BITE OUT OF U-S SOYBEAN CARRYOUT. BUT  THE MARKET SEEMED UNPHASED BY WHAT SOME ANALYSTS VIEWED AS BULLISH  NUMBERS.  WITH PLANTERS STILL ROLLING, USDA PROJECTS THE 2018 CORN CROP AT 14- BILLION BUSHELS BASED ON AVERAGE YIELD OF 174 BUSHELS TO THE ACRE. NEW CROP CORN STOCKS ARE PEGGED AT ONE-POINT-SIX BILLION BUSHELS,  DOWN 500 MILLION BUSHELS. USDA FORECASTING SOYBEAN PRODUCTION AT FOUR-POINT-TWO BILLION  BUSHELS WITH AVERAGE YIELD OF 48-AND-A-HALF BUSHELS AN ACRE. U.S. NEW-CROP ENDING STOCKS FOR 2018/19 ARE PROJECTED AT 415 MILLION  BUSHELS, DOWN 115 MILLION. BUT WHAT CAUGHT THE MARKET'S ATTENTION WAS THE BIG DROP IN GLOBAL  CORN STOCKS. USDA IS EXPECTING A DECLINE IN WINTER WHEAT PRODUCTION THIS YEAR.  THEIR FORECAST IS ONE-POINT-BILLION BUSHELS, DOWN SIX PERCENT FROM A  YEAR AGO. BASED ON CURRENT CONDITIONS, THE AG DEPARTMENT PUTS THE NATIONAL  AVERAGE YIELD AT JUST OVER 48 BUSHELS AN ACRE, TWO BUSHELS LOWER  THAN LAST YEARS AVERAGE. BREAKING IT DOWN - THE KANSAS WINTER WHEAT YIELD COMES IN AT 37 BUSHELS AN ACRE. DOWN NINE FROM LAST YEAR. OKLAHOMA'S WHEAT YIELD IS 26 BUSHELS TO THE ACRE. LOOKING AT COTTON, WHILE USDA IN MARCH SAID IT EXPECTS COTTON ACRES  TO CONTINUE TO CLIMB, THE WASDE REPROT SHOWS A DROP IN THE 2018 TO 2019 PRODUCTION. THAT'S FROM THE ONGOING DROUGHT IN THE SOUTHWEST. USDA ALSO CALLING FOR LOWER YIELDS FROM LAST YEAR'S RECORD HIGH.  

PROTEIN PRODUCTION
THE MARKET ALSO GETTING A LOOK AT U-S RED MEAT AND POULTRY  PRODUCTION NEXT YEAR. TEH AGENCY FORECASTS 2019 BEEF PRODUCTION TO RISE THIS YEAR. THAT'S ON  HIGHER SLAUGHTER NUMBERS, AS WELL AS HEAVIER CARCASS WEIGHTS. PORK PRODUCTION ALSO EXPECTED TO GROW NEXT YEAR. THAT COULD COME FROM MORE FARROWINGS AND PIGS PER LITTER. HOG WEIGHTS ARE ALSO EXPECTED TO CLIMB HIGHER NEXT YEAR.  THERE MAY BE A GLIMMER OF HOPE FOR FARMLAND VALUES IN THE MIDWEST. THE FEDERAL RESERVE DISTRICT IN CHICAGO - WHICH COVERS A MAJORITY OF  THE CORN BELT - SAYS FARMLAND VALUES ARE UN-CHANGED FROM A YEAR AGO...SHOWING SIGNS OF STABILIZATION. 

AGRICULTURAL LAND VALUES
AGRICULTURAL LAND VALUES WERE UNCHANGED IN THE FIRST QUARTER OF 2018  COMPARED TO THE SAME QUARTER OF 2017,  HOWEVER, THEY EDGED UP ONE PERCENT FROM FOURTH QUARTER OF 2017. THE CHICAGO FED SAYS THE INCREASE IN THE DISTRICT MARKED THE FIFTH QUARTER IN A ROW WITHOUT A DECLINE IN SUCH VALUES. STATE BY STATE - INDIANA AND WISCONSIN SAW THREE PERCENT CLIMBS. IN THE ST. LOUIS DISTRICT - WHICH COVERS THE SOUTHERN CORN BELT - QUALITY FARMLAND VALUES FELL ONE-POINT FOUR PERCENT IN THE FIRST  QUARTER FROM A YEAR EARLIER. THIS IS THE FIRST DECLINE SINCE THE SECOND  QUARTER OF 2017.   IN CONTRAST RANCHLAND AND PASTURELAND VALUES ROSE SHARPLY FOR THE  SECOND CONSECUTIVE QUARTER IN THAT DISTRICT. FARMLAND AND RANCHLAND MAY BE DISAPEARING AT AN ALARMING RATE.  TEH ERMICAN FARMLAND TRUST FOUND THE LOSS OF FARMLAND IS SERIOUS AND WILL ONLY ACCELERATE UNLESS ACTION IS TAKING. TEH REPORT FOUND THAT OVER 30 YERAS, NEARLY 31 MILLION ACRES OF FARMLAND WAS LOST. THAT'S EQUIVALENT TO ALL THE FARMLAND IN IOWA.  AND 11 MILLION ACRES OF THAT WAS CONSIDERED SOME OF THE BEST  FARMLAND IN THE NATION.  LOOKING AT WHERE THE FARMLAND IS GOING, AFT FOUND URBAN SPRAY ATE UP ABOUT 59 PERCENT OF THE LOST LAND. 

DROUGHT MONITOR
THE U-S DROGUHT MONITOR SHOWIGN SOME IMPROVEMENT IN TEXAS. BUT THE  DROUGHT STRICKEN AREAS IN WEST TEXAS AND THE PANHANDLE, SEEING HOT  AND DRY CONDITIONS PERSIST. THE U-S DROUGHT MONITOR SHOWS 60 PERCENT OF THE STATE IS COVERED IN DROUGHT. A 6 POINT IMRPOVEMENT FROM LAST WEEK. THE AREA CONSIDRED TO BE IN D1, OR MODERATE DROUGHT, IMPROVING 9  POINTS. BUT THE 2 TO 5 INCHE SOF RIAIN FELL ACROSS CENTRAL AND SOUTHERN TEXAS.  MOVEING TO THE CORN BELT, DROUGHT CONDITIONS INTRODUCED IN PARTS OF  MINNESOTA, MISSOURI AND ILLINOIS. WHILE SOME PARTS OF ILLINOIS ARE COLORED IN THE DROUGHT MONITOR,  OTHERS SAY THEY ARE HOLDING ON JUST FINE FOR NOW.   KIRK COMPLETED HIS SPRING PLANTING EARLIER IN THE WEEK! 

CROP COMMENTS
MIKE HOFFMAN JOINS US NOW WITH A LOOK AT CROP COMMENTS THIS MORNING.  GOOD MORNING, MIKE.  GOOD MORNING, TYNE.  WELL, YOU'VE HEARD OF OUR I-80 PLANTING TOUR...  ROSS PLUMBERG IS SENDING US AN UPDATE OF HIS HIGHWAY 36 PLANTING  TOUR! ROSS IS LOCATED IN NEMAHA COUNTY, KANSAS WHERE HE'S HELPING THE  NEIGHBOR FINISH UP WITH CORN. ACCORDING TO THE DROUGHT MONITOR, MODERATE AND SEVERE DROUGHT  AREAS ARE IMPROVING BUT STILL HIGH. 82 PERCENT OF THE STATE IS UNDER A MODERATE DROUGHT. NEARLY 60 IS  CONSIDERED SEVERE. JEFF FRANK IN SAC COUNTY, IOWA SHOWING US SOME EMERGENCE IN THE FIELD! THE CROP PROGRESS REPORT SHOWS 3 PERCENT OF CORN HAS EMERGED,5  POINTS BEHIND THE FIVE YEAR AVERAGE. AND TAKE A LOOK AT THE WIND SPEED FORECAST. YOU CAN SEE THE PLAINS MAINLY AS WE HEAD  THROUGH THE MORNING HOURS ARE GOING TO BE FAIRLY WINDY AS WE HEAD THROUGH THE AFTERNOON.  IT'S GOING TO SPREAD INTO THE SOUTHWEST A LITTLE BIT OF THE NORTHEAST AS WELL HEADING INTO THE  DAY. TOMORROW IT'LL START OFF ONCE AGAIN WINDY IN THE CENTRAL AND SOUTHERN PLAINS AND BECOME  WINDY IN THE SOUTHWEST A FAIR AMOUNT OF THE COUNTRY ACTUALLY WILL BE A LITTLE BIT BREEZY AS WE  HEAD THROUGH THE AFTERNOON HOURS. TOMORROW WE'LL TALK MORE ABOUT YOUR FORECAST COMING UP BUT FIRST HERE ARE SOME HOMETOWN. TEMPS 

TEASE
STILL AHEAD WE DIG DEEPER INTO THURSDAY'S WASDE REPORT WITH SUE  MARTIN AND NAOMI BLOHM. WHEN IS IT TOO LATE TO APPLY NITROGEN TO YOUR FIELDS?  WE'LL DISCUSS AT  FARM JOURNAL COLLEGE.  

FLOOR OF THE CME
IN AGRIBUSINESS - IT'S A MIXED DAY ON THE GRAIN BOARD. WE HEAD TO CHICAGO FOR AN UPDATE FROM THE CME.
AGRIBUSINESS
HERE NOW ON AGDAY WITH NAOMI BLOHM AND SUE MARTIN JOINING ME TO REALLY BREAK DOWN THIS  WAS THE REPORT THAT WE SAW ON THURSDAY YOU WHEN WE STARTED TALKING REALLY WHAT WAS THE  BIGGEST SURPRISE FOR YOU. YEAH THE MARKET REALLY WAS ABLE TO SEE THE CONFIRMATION THAT 2000  1819 AND STOCKS ARE GOING TO BE SMALLER. AND SO WE'VE BEEN TALKING ABOUT THAT FOR A LONG TIME AND SO WE HAD THAT CONFIRMATION TODAY THE SURPRISE THAT I'M THINKING THE MOST THERE WAS  THE SOYBEANS IN TERMS OF EXPORTS EXPECTED TO BE STRONG INTO NEXT YEAR FOR THE SOYBEAN  MARKET. SO TO ME THAT'S REALLY ENCOURAGING THAT OUR RELATIONSHIP WITH CHINA IS GOING TO BE EVENED OUT AND EVERYTHING IS GOING TO WORK OUT. YEAH AND THERE ARE STILL A LOT OF CONCERNS  ABOUT TRADE BUT WHEN YOU LOOK AT NEW CROP AND YOU LOOK AT THE 1890 MARKETING YEAR THAT  REALLY WAS WHERE WE SAW SOME POSITIVE NEWS. RIGHT. IT WAS. AND I THINK THE CARRY OUT AT ONE POINT SIX SAKE TWO BILLION BUSHELS LARGER THAN THE AVERAGE GUESS BUT WHEN YOU LOOKED AT THE  EXPORTS USDA DIDN'T HAVE OUR EXPORTS UP AS MUCH AS WE THOUGHT THEY WOULD. IN FACT THEY  DECLINED A LITTLE BIT. AND WITH THE PROBLEMS IN BRAZIL AND THE PROBLEMS IN ARGENTINA ON CORN PRODUCTION GOING DOWN AND EVERYTHING ELSE GOING ON IN CHINA AND WHAT HAVE YOU. IT SEEMS  TO ME THAT'S PROBABLY THE SMALLEST OR THE LARGEST CARRY OUT NUMBER THAT WE'RE GOING TO HAVE  ON NEW CROP CORN. SO I SEE IT AS AN EVOLVING THING THAT IS JUST GOING TO KEEP GETTING BETTER AND THAT'S A NEW CROP. WHAT ABOUT OLD CROP. WHAT ABOUT THOSE FARMERS THAT ARE STILL SETTING ON OLD CROP. MEAN WE HAVE PLENTY OF SUPPLY OUT THERE AND THE USDA REPORT CONFIRMED THAT  TODAY. SO ANY TIME YOU SEE THE MARKET RALLY IT IT'S AN OPPORTUNITY TO GET MOVING ON THOSE CASH  SALES AND THE MARKET I THINK DIDN'T RESPOND WITH ANY BIG TRIUMPHANT PRICES TO HIGHER TODAY  BECAUSE WE DIDN'T HAVE THAT TYPE OF NEW BULLISH NEWS THAT THE MARKET NEEDED. CORN IS UP AGAINST A MAJOR RESISTANCE LEVELS THAT DIDN'T HAVE THAT NEWS TO GET THROUGH THOSE RESISTANCE  LEVELS ON THE CHART. SO KIND OF BACK INTO THAT TRADING RANGE WE GO AND HOW WE GET INTO THE  SUMMER WHETHER YOU AGREE WITH THAT. I DO. I AGREE. I DO THINK THAT WE'VE GOT HIGHS COMING  I'M LOOKING FOR HIGHS IN JUNE THIS YEAR AND THEN WE BREAK DOWN AND I'M LOOKING FOR LOWS IN AUGUST. THEN I THINK WE TURN AROUND AND WE WORK OUR WAY BACK HIGHER INTO NEXT YEAR I THINK  WE'RE IN AN EVOLVING MARKET. KEEP IN MIND CORN AGAIN HAD AN INSIDE RANGE YEAR LAST YEAR TOO.  AND I JUST DON'T SEE CORN GOING THROUGH THE LOW SIDE. I THINK IT'S THE HIGHS COMING UP THAT INCLUDES THE OLD CROP AS WELL. ALL RIGHT. NAOMI THANK YOU SO MUCH FOR JOINING US. WE NEED TO  TAKE A QUICK BREAK AND THEN WE'LL HAVE A CHECK OF WEATHER TODAY ON AGDAY

WEATHER
WELCOME BACK TO AGDAY. TIME NOW TO CHECK WEATHER WITH METEOROLOGIST MIKE HOFFMAN BIG WEEKEND MOTHER'S DAY WEEKEND. HOW IS THE FORECAST SHAPING UP. WELL FOR MOST OF THE  COUNTRY IS GOING TO BE OK BUT THERE WILL BE A COUPLE OF SYSTEMS MOVING THROUGH THE NORTHERN  TIER STATES THE WAY IT LOOKS. AND THIS MORNING YOU CAN SEE THERE ARE SOME SHOWERS AND THUNDERSTORMS THROUGH THE NORTHERN MISSISSIPPI VALLEY A LITTLE BIT OF RAIN AND MOUNTAIN SNOW  IN THE NORTHERN PORTIONS OF THE ROCKIES. HIGH PRESSURE DOMINATING THE NORTHEAST AND THE  SOUTHEAST AT THIS POINT BUT IN BETWEEN THERE WILL BE THAT AREA OF RAIN SHOWERS MOVING THROUGH  MAINLY THE SOUTHERN PORTIONS OF THE GREAT LAKES NORTHERN ILLINOIS FAR NORTHERN INDIANA. AS WE  HEAD THROUGH PARTS OF THE DAY TODAY AND THAT WHOLE SYSTEM WILL CONTINUE TO MOVE EAST THE ONE COMING OUT OF THE ROCKIES WILL START TO SPREAD SOME SHOWERS INTO THE BLACK HILLS AND  SOUTHWESTERN PORTIONS OF NORTH DAKOTA AS WELL HEADING INTO TOMORROW MORNING TO START THE  WEEK ENDING SEE SOME SCATTERED SHOWERS. LOWER GREAT LAKES ALL THE WAY INTO LOWER NEW ENGLAND AND NORTH CENTRAL PORTIONS OF THE ROCKIES FAR NORTHERN PLAINS SEEING A LITTLE BIT OF RAIN  SHOWER ACTIVITY SOME SNOW IN THE HIGHEST ELEVATIONS OF THE ROCKIES AND THEN HEADING  THROUGH THE DAY TOMORROW. THAT'S BASICALLY THE FOCUS FROM THE NORTH CENTRAL ROCKIES NORTH  CENTRAL PLAINS ALL THE WAY INTO THE SOUTHERN PORTIONS OF THE NORTHEAST. THERE WILL BE THOSE AREAS OF SHOWERS FROM TIME TO TIME. NOT GOING TO RAIN THE WHOLE TIME AND ANY OF THAT AREA  BUT THERE WILL BE SOME SPOTS IN A FEW SPOTS IN THE SOUTHEAST MAY GET A POP UP SHOWER OR  THUNDERSHOWER DURING THE AFTERNOON BUT HIGH PRESSURE GENERALLY DOMINATING YOUR AREA PRECIPITATION ESTIMATE OVER THE PAST 24 HOURS FROM THE MID-ATLANTIC INTO PARTS OF THE  NORTHEAST THERE HAVE BEEN SOME SPOTTY ACTIVITY. ALSO NORTH CENTRAL PLAINS INTO THE NORTHERN  ROCKIES AND THAT'S GOING TO BE THE FOCUS AGAIN OVER THE NEXT 36 HOURS. IF YOU HAPPEN TO GET  SEVERAL SHOWERS IN A ROW FROM LET'S SAY SOUTH DAKOTA THROUGH SOUTHERN MICHIGAN INTO PENNSYLVANIA YOU MAY END UP WITH AN INCH OR AN INCH AND A HALF OF MOISTURE OVER THE NEXT  48 HOURS OR SO BUT IT WILL BE SCATTERED IT WILL BE THE ENTIRE TIME THE WAY IT LOOKS TO ME. AND  YOU CAN SEE SOUTH OF THAT FRONTAL SYSTEM WE'RE TALKING MOSTLY 80S AND 90S EVEN SOME UPPER  90S SHOWING UP IN THE DROUGHT AREAS OF THE PANHANDLE OF TEXAS. BUT LOOK NORTH OF THE FRONT.  IN THE CHILLY AIR IT'S ONLY IN THE 50S FOR HIGH TEMPERATURES THIS AFTERNOON LOWS TONIGHT GOING TO  DROP INTO THE 40S ACROSS THAT AREA EVEN SOME 30S AND THE NORTHERN PORTIONS OF THE GREAT LAKES BUT PRETTY MUGGY SOUTH OF THEIR 60S AND 70S AND MORE OF THE SAME TOMORROW. YOU CAN  REALLY PICK OUT THAT FRONTAL SYSTEM RIGHT THERE PRETTY EASILY. WHEN YOU LOOK AT THE TEMPERATURES AS FAR AS THE JETSTREAM GOES THERE'S SOME PRETTY CHILLY AIR IN THE NORTHERN AND  NORTHEASTERN PORTIONS OF CANADA. AND MOST OF THAT'S GOING TO STAY THERE BUT WE ARE GOING TO SEE A LITTLE BIT OF ACTIVITY AGAIN KIND OF MOVING ALONG THAT JET STREAM THROUGH THE NORTH CENTRAL  STATES. THAT'S A LOOK ACROSS THE COUNTRY. NOW LET'S TAKE A LOOK AT SOME LOCAL FORECASTS.  SPOKANE WASHINGTON FIRST OF ALL A MIXTURE OF CLOUDS AND SUNSHINE HIGH OF 69 DEGREES. OKLAHOMA SUNNY WINDY AND QUITE WARM HIGH OF 90. AND FINALLY FLINT MICHIGAN COOLER  WITH OCCASIONAL LIGHT RAIN HIGHER AROUND 50> 

TEASE
NEXT WE'RE OFF TO FARM JOURNAL COLLEGE. WE'LL EXAMINE THE TIMELINE  FOR NITROGEN APPLICATIONS. STILL TO COME - USDA PREPARES TO RELEASE ITS PROPOSED PLAN FOR A  NATIONAL FOOD LABEL TO IDENTIFY GMO'S IN THE RECIPE. WE'LL FOLLOW THE BUMPY-PATH OF RULEMAKING, LATER ON AGDAY. 

FARM JOURNAL COLLEGE TV
AS PLANTING RACES ON, WHEN IS IT CONSIDRED TOO LATE TO APPLY NITROGEN.  IN THIS WEEK'S FARM JOURNAL COLLEGE, KEN FERRIE WEIGHS IN.  

TEASE
WE FOLLOW THE RULE-MAKING PROCESS WHEN IT COMES TO GMO FOOD  LABELING. 

IN THE COUNTRY
USDA IS SCHEDULED TO RELEASE DRAFT RULES TODAY FOR A NATIONAL FOOD  LABEL THAT IDENTIFIES BIO-ENGINEERED INGREDIENTS IN FOOD PRODUCTS. CONGRESS PASSED LEGISLATION IN 2016 FOR A FEDERAL LABEL TO PREVENT A  PATCHWORK OF STATE LABELING LAWS. MICHELLE ROOK REPORTS FROM WASHINGTON THAT THE PROPOSED DRAFT  COULD CHANGE BEFORE FINAL RULES GO INTO EFFECT. MICHELLE STANDUP – USDA IS SET RELEASE THE NEW BIOTECH LABELING RULES SOON BUT THERE ARE  STILL MANY QUESTIONS ABOUT JUST WHAT THIS PROGRAM WILL ENTAIL.   USDA JUST OPENED THE COMMENT PERIOD ON THE PROPOSED 106-PAGE RULE, WHICH DEFINES A  BIOENGINEERED FOOD OR INGREDIENT.  7 SEC   JOHN BODE, CORN REFINERS ASSOCIATION CEO, "THIS LAW IS TO REQUIRE DISCLOSURE OF FOODS THAT  ARE BIOENGINEERED.  THAT MEANS THEY CONTAIN GENETIC RECOMBINANT DNA."   RANDY RUSSELL REPRESENTS THE COALITION FOR SAFE AND AFFORDABLE FOOD AND SAYS THE  RULEMAKING PRESENTS SEVERAL POSSIBLE WAYS TO DETERMINE WHAT FOODS WILL BE COVERED BY THE FINAL RULE AND WHAT THE DISCLOSURE WILL INCLUDE AND LOOK LIKE.    RANDY RUSSELL, COALITION FOR SAFE AND AFFORDABLE FOOD, "THE OPTIONS THAT ARE AVAILABLE TO A  FOOD COMPANY ARE GOING TO BE ON PACK WITH WORDS, A SYMBOL THAT IS NON-DISPARAGING, OR ELECTRONIC DISCLOSURE." USDA UNDER SECRETARY GREG IBACH SAYS THE AG MARKETING SERVICE WANTS TO CRAFT REQUIREMENTS THAT ARE STRAIGHTFORWARD.   HE SAYS USDA IS LOOKING FOR PUBLIC INPUT ON A  NUMBER OF THESE KEY DECISIONS BEFORE A FINAL RULE IS ISSUED LATER THIS YEAR.   GREG IBACH, USDA UNDER SECRETARY FOR MARKETING AND REGULATORY PROGRAMS, "WE'LL LOOK  FORWARD TO THE OPPORTUNITY TO LISTEN TO NOT ONLY AGRICULTURE IN THOSE PROPOSED RULES, BUT ALSO TO  CONSUMERS."  FARM GROUPS HAVE ALSO BEEN INVOLVED TO MAKE SURE USDA STAYS TRUE TO THE LAW AND PRESERVES THIS TECHNOLOGY. JOHN BODE, CORN REFINERS ASSOCIATION CEO, "AND THE LAW WAS CLEAR THAT THIS SHOULD NOT BE A LABELING REQUIREMENT THAT HURTS AGRICULTURE BIOTECHNOLOGY." RICHARD WILKINS, AMERICAN SOYBEAN ASSOCIATION, "WE'RE EXPECTING THAT IT WILL BE THE QR  CODE THAT WE HAD WORKED SO HARD TO ACHIEVE,"   WILKINS, "THERE'S FOLKS OUT THERE THAT WOULD  LIKE TO DENIGRATE THIS NEW TECHNOLOGY AND THEY WOULD WANT TO SEE A SKULL AND CROSS BONE REQUIREMENT ON THE PACKAGE." HOWEVER, IBACH SAYS THE LAW ISN'T LIKELY TO PROHIBIT MARKETING GIMMICKS USED TO CLAIM  PRODUCTS ARE NON-GMO THAT WERE NEVER GENETICALLY BIOENGINEERED. IBACH, "I THINK THAT'S SOMETHING THAT MAYBE WE'LL HAVE TO WRESTLE WITH OVER TIME.  IT'S NOT OUR  IMMEDIATE FOCUS WITH THE BIOENGINEERED FOOD DISCLOSURE REGULATIONS."  THE DEADLINE FOR THE DISCLOSURE STANDARD WAS JULY 29, BUT AG SECRETARY SONNY PERDUE SAYS  IT MAY BE DELAYED.  6 SEC  SONNY PERDUE, U.S. AGRICULTURE SECRETARY, "I'M STILL HOPING FOR THIS SUMMER, BUT IT DOES NOT  LOOK LIKE WE WILL MEET THE DEADLINE THAT WE HAD INSISTED UPON."   IN WASHINGTON, I'M MICHELLE ROOK REPORTING FOR AGDAY . UNDER THE PROPOSAL CERTAIN FOODS WILL BE EXCLUDED FROM THE  DISCLOSURE. FOR EXAMPLE, A MULTI-INGREDIENT FOOD, WOULD NOT BE  SUBJECT TO THE STANDARD.  USDA WILL TAKE COMMENTS ON THE RULE  THROUGH JULY 3.   

CLOSE
THAT'S ALL THE TIME WE HAVE THIS MORNING. WE'RE GLAD YOU TUNED IN.  I'M TYNE MORGAN. HAVE A GREAT DAY.