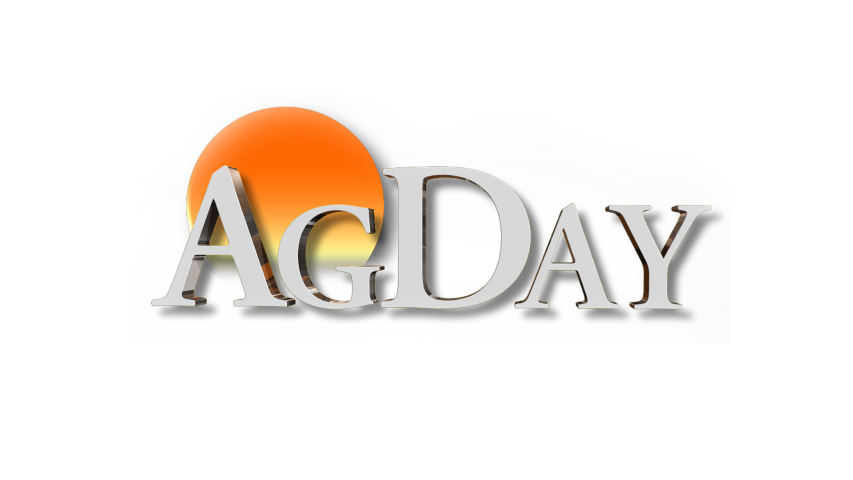 TODAY ON AGDAY
NOVEMBER 8, 2017

HEADLINES
THE PRESIDENT TALKS TRADE IN ASIA. PLUS, TRADE IN NORTH AMERICA. IN AGRIBUSINESS...KEEPING UP WITH CATTLE DEMAND. A PEST HAS SOUTHWEST PECAN GROWERS WORRIED. AND A LITTLE VIRAL VIDEO FUN THIS HARVEST SEASON. AGDAY - PRESENTED BY CHEVY SILVERADO. HIGH-STRENGTH STEEL FOR HIGH-STRENGTH DEPENDABILITY.

TRUMP'S ASIA TRIP
GOOD MORNING I'M CLINTON GRIFFITHS. THE PRESIDENT WITH A SHARP FOCUS ON SECURITY AND TRADE DURING HIS  TRIP TO ASIA THIS WEEK. AS HE PREPARES TO HEAD FOR CHINA, AMERICAN FARMERS ARE GETTING GOOD  NEWS. CHINA COMMITTING TO BUY MORE U.S. SOYBEANS AHEAD OF THE PRESIDENT'S  VISIT TO BEIJING THIS WEEK. REUTERS REPORTING, CHINESE SOYBEAN BUYERS PREPPING TO SIGN A LETTER  OF INTENT WITH THE U.S. SOYBEAN EXPORT COUNCIL. ALTHOUGH WE DON'T KNOW EXACTLY HOW MUCH IT WILL BE IN ADDITION TO A  JULY LETTER PLEDGING TO PURCHASE 12.5 MILLION TONES OF U.S. SOYBEANS. SOURCES SAYING VOLUMES WILL BE MUCH LESS BUT REFLECT AGRICULTURAL  TIES BETWEEN THE TWO NATIONS. U.S. BEEF, BARLEY AND DAIRY PRODUCTS MAY ALSO GET ATTENTION DURING THE  VISIT. CHINA FOLLOWS THE PRESIDENT'S TIME IN SOUTH KOREA, WHERE HE LEAVES A  COUNTRY THAT HAS A GROWING TASTE FOR U-S PORK. THE U-S MEAT EXPORT FEDERATION JUST RELEASING ITS MONTHLY TALLY OF  PROTEIN SHIPMENTS. IT SHOWS PORK EXPORTS TO SOUTH KOREA CLIMBING 33-PERCENT IN VOLUME  IN  SEPTEMBER. THE EXPORT FEDERATION SAYS KOREA IS ON PACE TO SET A  NEW RECORD THIS YEAR. OVERALL PORK EXPORTS REMAINED STEADY FROM AUGUST AND YEAR-OVER- YEAR.

NAFTA NEGOTIATION TALKS AT MILK CONFERENCE
MEANWHILE BEEF EXPORTS DIPPED SLIGHTLY FROM THE PREVIOUS MONTH, IT  ROSE TWO PERCENT YEAR OVER YEAR IN VOLUME. AND INCREASED 16-PERCENT IN VALUE. KEEPING WITH TRADE TALK, ATTENDEES AT FARM JOURNAL'S MILK CONFERENCE  ARE PAYING CLOSE ATTENTION TO NAFTA NEGOTIATIONS, ESPECIALLY AS IT  PERTAINS TO DAIRY TRADE WITH CANADA. TYNE MORGAN HAS DETAILS FROM LAS VEGAS, TYNE. THANKS, CLINTON. AFTER A SHORT BREAK, THE FIFTH ROUND OF NAFTA  NEGOTATIONS ARE SET TO KICK OF NOVEMBER 15TH. THAT'S TWO DAYS EARLIER  THAN ORIGINALLY PLANNED AND ALLOWS NEGOTIATORS TO DISCUSS AND WORK  THROUGH KEY ISSUES. IT'S NOT JUST AUTO AND MANUFACTURING THAT ARE  STICKING POINTS IN THIS DEAL—TENSIONS ALSO SURROUND DAIRY. SHAUN 00:00:26 I THINK FROM A CANADIAN PERSPECTIVE A LOT OF PRODUCERS IN CANADA ARE  WE'RE REALLY DISCOURAGED AFTER ROUND FOR ROUND FOUR JUST WENT YOU KNOW TO BE HONEST NOT  NOWHERE NEAR WHAT WE WANT IT TO BE WE WANT A SPEEDY CONCLUSION TO THESE TALKS THAT WE CAN  GO ON DOING TRADE AND BUSINESS TOGETHER. AND AFTER OUR FOUR PEOPLE REALLY LEFT DISCOURAGED  AND REALLY LACKING SOME HOPE ON WHERE THIS IS GOING FORWARD. 47 SHAUN HANEY SAYS WHILE CANADA'S DAIRY INDUSTRY IS TAKING A HARD  STANCE ON ITS POLICIES, NOT WILLING TO REALLY BUDGE, IT'S OTHER GROUPS  WHO WANT TO SEE MAJOR HEADWAY MADE ON TRADE. SHAUN  WE'VE HEARD PRESIDENT TRUMP TALK A LOT ABOUT HOW YOU KNOW HE MAYBE JUST WANTS  TO WITHDRAW FROM THE AGREEMENT. I THINK THERE WAS A TIME PERIOD WHERE PEOPLE REALLY THOUGHT  HE'S NEVER GOING TO DO THAT. BUT IT SEEMS LIKE THAT IS BECOMING MORE AND MORE OF A REALITY ALL  THE TIME. 59 FARM JOURNAL WASHINGTON CORRESPONDANT JIM WIESEMEYER SAYS IN THE  U-S, DAIRY IS A TOPIC THAT DRUMS UP SUPPORT ON BOTH SIDES OF THE AISLE. WIESEMEYER 00:03:35 U.S. DAIRY POLICY BOTH TRADE AND FARM PROGRAM YOU KNOW DAIRY  POLICY IS PROBABLY GOING TO LEAD BEING ONE OF THE LEADING TOPICS IN BOTH OF THOSE ENTERPRISES. I  SAY THAT BECAUSE FROM A TRADE POLICY PERSPECTIVE LET'S JUST ASSUME THEY DO WORK AN  AGREEMENT FOR NAFTA 2.0. YOU THEN HAVE TO SELL IT TO CONGRESS A NUMBER OF DEMOCRATS HAVE  FOCUSED ON DAIRY AND IN PARTICULAR MARKET ACCESS INTO CANADA. BUT HE SAYS AS NEGOTIATERS RACE THE FINISH LINE, IF THE FINAL OUTCOME IS  NO DEAL, IT WILL BE BAD FOR BUSINESS. IF IT WERE TO COLLAPSE YOU WOULD HAVE A REALLY UPHEAVAL IN THE U.S. DAIRY INDUSTRY BECAUSE  TARIFFS GO UP SIGNIFICANTLY NOT ONLY ON DAIRY BUT ON HAM, ETC.. SO THAT WOULD PLAY INTO A VERY  NEGATIVE TONE FOR AGRICULTURE AND THE NEED FOR YOU KNOW NEW MARKETS WHICH WHICH TAKES  TIME YOU KNOW TO DEVELOP. 48 WHAT'S THE LIKELIHOOD THAT THIS ADMINSTRATION WILL WALK AWAY FROM A  DEAL THAT SOME IN AG ARGUES HAS CREATED JOBS AND BOOSTED THE OVERALL  ECONOMY? I ASK THREE DAIRY LEADERS INCLUDING FORMER SECRETARY TOM VILSACK TOMORROW MORNING ON AGDAY. ) THE LATEST MEASURE OF AGRICULTURAL PRODUCER SENTIMENT SHOWS A  MAJORITY OF FARMERS SURVEYED DON'T EXPECT GRAIN PRICES TO IMPROVE IN  2018.  AND BECAUSE OF THOSE STILL-ANEMIC PRICES, A GROWING NUMBER OF  FARMERS PLAN TO ADJUST THEIR PRODUCTION PRACTICES NEXT SPRING. THE PURDUE-CME AG BAROMETER SHOWS THE OVERALL SENTIMENT TICKED  THREE POINTS HIGHER IN OCTOBER TO 135. DURING THE SURVEY, THE ECONOMISTS ASKED PRODUCERS IF THEY PLAN TO  MAKE ANY SIGNIFICANT CHANGES IN THEIR PRODUCTION PRACTICES IN THE  UPCOMING YEAR IN RESPONSE TO TIGHT MARGINS.  ABOUT 20-PERCENT EXPECT TO REDUCE THEIR SEEDING RATES. AND ABOUT A  THIRD WILL ADJUST THEIR HYBRID TRAIT PACKAGES. THOSE LEVELS ARE COMPARABLE TO RESPONSES A YEAR AGO. BUT WHEN IT COMES TO FERTILIZER, FEWER FARMERS WILL MAKE CHANGES. "AND I THINK PART OF THAT DIFFERENCE IS PROBABLY ATTRIBUTED TO THE FACT THAT FERTILIZER PRICES HAVE COME DOWN  IN THE INTERVENING 12 MONTHS. FOR EXAMPLE ANHYDROUS AMMONIA PRICE IS A PRIMARY INPUT  ESPECIALLY FOR CORN PRODUCTION HERE IN THE CORN BELT ARE DOWN ABOUT 20 OR 25 PERCENT  COMPARED TO WHERE THEY WERE THIS TIME LAST YEAR."> WHEN IT COMES TO FARMLAND RENTAL RATES, THE SURVEY SHOWS 80-PERCENT  OF THE PRODUCERS DO NOT EXPECT ANY IMPROVEMENT IN 2018. BUT MINTERT SAYS WHEN HE ASKED NON-FARMERS THE SAME QUESTION - SUCH  AS BANKERS - HALF OF THAT GROUP SUGGEST CASH RENTS WILL LIKELY DECINE  IN THE NEW YEAR.

I-80 HARVEST TOUR
THE I-80 HARVEST TOUR IS BROUGHT TO YOU BY THE ENLIST WEED CONTROL SYSTEM.  MORE WEED  CONTROL.  LESS DRIFT AND VOLATILITY.  MAXIMUM YIELD POTENTIAL.  AS WE WRAP UP THE I-80 HARVEST TOUR, FINANCES ARE PROVING TO BE A  MAJOR HURDLE AS THE 2017 SEASON HITS THE HOMESTRETCH.  BETSY JIBBEN HAS THE STORY.  FARMERS ALONG OUR I-80 HARVEST TOUR MAY HAVE DIFFERENT THINGS TO SAY  ABOUT THIS SEASON..  "THE YIELDS WERE ABOVE AVERAGE. THE BEST CORN YIELDS WE'VE EVER HAD.""POOR SPOTS WILL DRAG IT DOWN. WE'LL STILL HAVE A GOOD CROP BUT PROBABLY NOT AS GOOD AS LAST  YEAR,"BUT THERE SEEMS TO BE ONE CENTRAL MESSAGE AMONG ROW CROP  "THE LARGEST CHALLENGE, I WOULD SAY, I THINK EVERYONE WOULD AGREE WOULD BE COMMODITY  PRICES RIGHT NOW.""THEY'RE PRETTY MUCH AT BREAK EVENS RIGHT NOW IF NOT BELOW THE COST OF PRODUCTION,""IT'S WHERE WE CAN FIT AS GRAIN FARMERS AND HOW WE CAN ADD DIVERSITY. I'VE HAD  CONVERSATIONS WITH SOME NEIGHBORS THAT KIND OF WISH THEY HAD HOGS AGAIN.""WE ARE DEFINATELY SEEING PEOPLE THAT ARE GOING THROUGH SOME STRESS FINANCIALLY, NO  QUESTION. I THINK ONE OF THINGS WE ARE REALLY LOOKING FOR IS THE STRESS OF WORKING CAPITAL,"PERCENT OF AGRICULTURAL LENDERS NOTED AN INCREASE IN OPERATING  LOANS BUT NO NOTABLE CHANGE IN THE DEMAND FOR AG REAL ESTATE LOANS.  "THERE ARE A LOT OF FARMERS OUT THERE WHO ARE BELOW BREAK EVEN OUT THERE, PARTICULARILY IF  YOU'RE CASH RENTING. CASH RENTS HAVE NOT COME DOWN NEARLY AS MUCH AS FARM LAND PRICES. WE  ASKED BANKERS ABOUT LOOKING AHEAD AT HOW MUCH THEY EXPECT FARMLAND PRICES TO CHANGE  OVER THE NEXT YEAR? THEY SAID STILL A NEGATIVE THREE PERCENT,"THE RURAL MAINSTREET INDEX FROM OCTOBER SAYS PRICES ARE BELOW  BREAK EVEN FOR FARMERS CASH RENTING. ALTHOUGH REALLY SERIOUS  FINANCIAL T ROUBLE IS LIMITED FOR NOW. "WE ASK THE BANKERS ABOUT WHAT THEY EXPECT TO INCREASE AS FAR AS DELIQUENCIES,  FORECLOSURES AND BANKRUPTCIES. THEY EXPECT  A 5 PERCENT INCREASE. AND SO THAT'S SURPRISING TO  ME THAT YOU WOULDN'T HAVE MORE OF THAT.""I DON'T THINK THE BOTTOM IS IN TERMS WHEN IT COMES TO FOR EXAMPLE,  FORECLOSURES,  DELIQUENCIES OR BANKRUPTCIES." MANY FARMERS WHILE FAR FROM FORECLOSURE ARE EXPERIENCING TIGHT  CREDIT.  AS EVEN EXCELLENT MANAGERS STRUGGLE TO  GET A LOAN APPROVED.  "THEY KNOW IN THEIR MIND THEY'RE A GREAT OPERATOR AND THEY LOVE HAVING THEM AS A CUSTOMER  BUT THEN AGAIN, THEY HAVE TO ANSWER TO THEIR CREDIT OFFICER, WHEN THE NUMBERS AREN'T THERE. IT  MAKES THINGS TIGHT ON PEOPLE THEY ACTUALLY WANT TO DO LOANS FOR SOMETIMES,"THE PROCESS NOWTAKING LONGER AS CREDIT OFFICERS WANT MORE  INFORMATION.  ARRINGTON ENCOURAGES FOR PRODUCERS TO GET AHEAD OF THE CROWD THIS  RENEWAL SEASON  SUGGESTING BRINGING PAST, PRESENT AND EVEN POTENTIAL FUTURE PLANTS  TO THEIR BANKER.  "JUST BECAUSE IT DOESN'T WORK ON PAPER THE FIRST TIME, DOESN'T MEAN YOU CAN'T FIND A WAY TO  MAKE IT WORK. I'M NOT SAYI\NG FORCE THE PROCESS TO MAKE IT WORK BUT IF IT'S NOT, DON'T BE  DISCOURAGED IF YOUR FIRST TRY YOU CAN'T DO IT. BECAUSE THERE ARE OTHER THINGS YOU CAN DO WITH  YOUR BUDGET AND YOUR DEBT AND OTHER THINGS YOU'RE GOING TO HAVE TO HASH OUT FOR YOUR PLANS  TO POSSIBLY WORK IF YOU DIG INTO IT."AS THIS SEASON COMES TO A CLOSE, FARMERS ARE LOOKING TO MAKE THEIR  OWN OPPORTUNTIES.  "I DO PREMIUM STUFF WITH NON-GMO AND THINGS LIKE THAT, WHICH GIVES ME SOME OPPORTUNITIES  BUT IT'S TOUGH TO LOCK IN A PROFIT,"WHILE THEY HOPE FOR A PRICE POST HARVEST.  REPORTING FOR AGDAY, I'M BETSY JIBBEN.  THANKS BETSY.  USDA ANNOUNCING IN SEPTEMBER ITS FORECASTING POSITIVE NET FARM  INCOMES FOR THE END OF THIS YEAR.  HOWEVER, THAT'S MOSTLY DUE TO HIGHER REVENUE IN THE LIVESTOCK  SECTOR. 

CROP COMMENTS
LETS CHECK IN ON HARVEST AROUND THE COUNTRY WITH TODAY CROP  COMMENTS AND OUR OWN MIKE HOFFMAN. GOOD MORNING CLINTON. THANKS TO BRIAN EGOLF FOR SENDING US THIS PHOTO OF HARVEST IN  NORTHEAST INDIANA. HE SAYS HE HAS 100 ACRES OF CORN AND 400 ACRES OF SOYBEANS LEFT TO GO. USDA SAYS 70 PERCENT OF CORN AND 85 PERCENT OF SOYBEANS ARE HARVEST  IN THE HOOSIER STATE. AND RANDY SENT THIS PHOTO THROUGH TWITTER OF HARVEST IN NORTHEAST  NEBRASKA. HE SAYS HARVEST IS DONE!  USDA SAYS ABOUT 70 PERCENT THE NEBRASKA CORN CROP IS NOW SHELLED. ON THE PRODUCTION FRONT, RANDY SAYS SOYBEAN YIELDS WERE GOOD. THE EARLY HARVESTED CORN WAS GREAT BUT, THERE WAS A LOT OF WIND  DAMAGE ON THE LATE HARVEST CORN. AND MATT CARTER IN SULPHUR ROCK, ARKANSAS SAYS FALL CALVING IS ABOUT  DONE ON HIS OPERATION.  HE SAYS IT'S BEEN DRY WHICH MAKES CALVING MUCH EASIER.  AND NOW HERE ARE SOME HOMETOWN TEMPS. FARM JOURNAL ON AIR IS THE GO-TO APP FOR AMERICAN AGRICULTURE.  AGDAY, AGRITALK, U.S.  FARM REPORT AND MORE - 24/7 ACCESS TO ALL OF YOUR FAVORITE SHOWS. TV AND RADIO...IN YOUR  HANDS, ON DEMAND.  FARM JOURNAL ON AIR - DOWNLOAD THE APP TODAY. 

HEADLINES
WHEN WE COME BACK, WE'LL DIG INTO THE RECENT STRENGTH IN CATTLE  MARKETS. AND LATER, I THINK I COULD JOIN THIS SINGING TRIO-- IOWA FARMERS TURNED  VIRAL VIDEO SUPER STARS FOR HARVEST 17.  AGDAY - BROUGHT TO YOU BY JOHN DEERE.  WHERE CAN YOU FIND THE MOST COMPREHENSIVE  INVENTORY OF JOHN DEERE CERTIFIED PRE-OWNED TRACTORS, COMBINES AND SPRAYERS?   MACHINEFINDER DOT COM.  SOMETIMES THE BEST NEW ADDITION TO YOUR FLEET ISN'T NEW."

AGRIBUSINESS
HERE NOW WITH ALAN BRUGLER ALAN LET'S TALK ABOUT THIS CATTLE MARKET I MEAN YOU LOOK SINCE  OCTOBER 23RD THE IMPRESSIVE CLIMB THAT CATTLE PRICES HAVE BEEN ON. DOES THAT WORRY YOU AT  ALL. IT DOES. WE'VE WE'VE HAD A LITTLE BIT OF A HOLE IN THE SUPPLY READY CATTLE AND WE'VE HAD A  VERY STRONG EXPORT PROGRAM. BUT AS WE GO INTO MID NOVEMBER OR EARLY DECEMBER WE'RE  GOING TO SEE A BIG INCREASE IN THE NUMBER OF CATTLE THEY'RE GOING TO BE AVAILABLE AND THE  MARKET IS VERY OVERBOUGHT TECHNICALLY. SO I'M A LITTLE CONCERNED THAT THIS THING'S ON ITS LAST  LEGS AND WE'RE DUE FOR A LITTLE BIT OF A CORRECTION HERE. BUT WE ARE HEADING INTO SEASONAL  DEMAND IF WE SEE DEMAND PICK UP. DO YOU THINK THAT THAT BALANCE WITHIN THIS MARKET  CONTINUES. DO YOU THINK SUPPLY AND DEMAND CAN KIND OF MESH IN AND KEEP PRICES SUPPORTED.  WELL I THINK WE'RE GOING TO BILL BEEF STOCKS A LITTLE BIT WHICH MEANS WE'RE NOT QUITE KEEPING UP  WITH WITH THE CONSUMPTION IN THE PRODUCTION. BUT ON THE OTHER HAND AS NORMAL THIS TIME OF THE  YEAR SO YEAH I THINK THE KEY IS REALLY THE EXPORT MARKET AND BEEF EXPORTS HAVE BEEN RUNNING  DOUBLE DIGITS PERCENTAGES AHEAD OF YEAR AGO. THAT NEEDS TO CONTINUE BECAUSE THAT'S  ABSORBING THE EXCESS PRODUCTION. SO WHAT COULD HURT EXPORTS. I MEAN WHEN WE LOOK AT THE  U.S. DOLLAR WE LOOK AT SOME OTHER FACTORS WHAT COULD HURT EXPORTS THAT ULTIMATELY WOULD DRIVE  DOWN THE PRICES WHILE THE DOLLAR RALLY IS CERTAINLY A CONCERN. WE'VE WE'VE HAD AN UPSIDE  BREAKOUT ON THE DOLLAR THE LAST WEEK. WE'VE KIND OF CONSOLIDATE A LITTLE BIT THIS WEEK BUT THAT IF  THE DOLLAR CONTINUES TO STRENGTHEN THAT HURTS OUR COMPETITIVE POSITION AGAINST BRAZIL OR  ARGENTINA OR OTHER EXPORTERS. SO AS WE CLOSE OUT 2017 AND HEAD INTO 2018 HOW MUCH  DOWNSIDE RISK DO YOU THINK WE HAVE IN THIS CATTLE MARKET OR DO YOU THINK MAYBE IT COULD HOLD  THROUGH SPAIN. I THINK WE CAN HOLD MOST OF THE GAINS THROUGH SPRING LONG TERM AND I'M STILL  CONCERNED. I THINK WE WILL GO BACK BELOW A HUNDRED DOLLARS AT SOME POINT BECAUSE OF ALL THE  PRODUCTION THAT WE'RE HAVING ON BEEF PORK AND CHICKEN ON THE SAME TIME. I'M I'VE KIND OF  UPPED MY TARGETS FROM WHAT I WAS THINKING A YEAR AGO FOR THE NEXT CYCLE LOW BUT I THINK  THERE'S STILL SOME DOWNSIDE RISK HERE. YOU KNOW WE DEFINITELY HAVE A PROTEIN OVERLOAD TO  KEEP THAT DEMAND GOING AND HOPEFULLY THAT'LL SAVE PRICE IN ANOTHER STATE. GOT IT. YOU DON'T  HAVE TO TELL ME TWICE. THANKS SO MUCH ALLAN WE APPRECIATE IT. STAY WITH US. WE NEED TO TAKE  A QUICK BREAK BUT WE'LL BE BACK WITH MORE.AGDAY IN JUST A MOMENT.  AGDAY WEATHER - BROUGHT TO YOU BY KAWASAKI AND THE NEW MULE PRO-FXR™ SIDE X  SIDE. RIDE LIKE A BOSS WITH HIGH-END STYLING AND RUGGED CAPABILITY.

WEATHER
WELCOME BACK TO AGDAY HERE WITH METEOROLOGIST MIKE HOFFMAN AND THE ROOT ZONE MOISTURE  MAP MIKE A COUPLE OF BIG CHANGES HERE OVER THE LAST WEEK OR SO. YEAH. MONTANA CONTINUES  TO GET MOISTURE OBVIOUSLY THE ROOT ZONE SHOWS THE MOISTURE BUT STILL UNDER A DROUGHT THERE  AND IT'S DRIER IN ARIZONA AND SOME OF THE SURROUNDING AREAS. AND YOU HAVE TO REMEMBER THIS  ROOT ZONE MOISTURE AS COMPARED TO NORMAL. SO EVEN THOUGH IT'S ALWAYS KIND OF DRY IN THE  SOUTHWEST THIS IS DRIER THAN THAT. AND YOU SEE ALL THE MOISTURE IN INDIANA AND OHIO FROM  THOSE STORMS THIS PAST SUNDAY. LOOKING AT THE WEATHER MAP TODAY. HIGH PRESSURE  DOMINATING MOST OF THE CORN BELT COLD FRONT ALONG THE GULF COAST ALONG WITH AN AREA OF LOW  PRESSURE IN WEST TEXAS THAT'S GOING TO BE A PRETTY GOOD RAINMAKER AS IT MOVES EASTWARD  THROUGH TEXAS SNOWMAKER THEN WITH THE AREA OF LOW PRESSURE MOVING ALONG THE FRONT ALONG  THE CANADIAN BORDER IN A VERY SLOW MOVING SYSTEM OUT WEST IS GOING TO DUMP A LOT OF RAIN  BECAUSE IT'S GOING TO BE SUCH A SLOW MOVER IT WILL JUST KIND OF BE SITTING OVER SOME AREAS BY  TOMORROW MORNING SNOW THROUGH THE UPPER GREAT LAKES RAIN THROUGH THE SOUTHEAST WITH BOTH  OF THOSE AREAS OF LOW PRESSURE. AND YOU CAN SEE AS WE HEAD THROUGH THE REST OF THE DAY  TOMORROW BOTH COLD FRONTS CONTINUE TO COME SOUTHEAST. THIS IS A SHOT OF THE COLDEST AIR OF THE  SEASON WE'VE SEEN SO FAR INTO THE UPPER MIDWEST PRECIPITATION ESTIMATES PAST 24 HOURS. YOU  CAN SEE THE MID-ATLANTIC AND PARTS OF THE SOUTHWEST ADDING IN THE NEXT 36 HOURS. WE ARE  DEFINITELY GOING TO SEE A FAIR AMOUNT OF RAIN. AND THE COMPUTER IS NOT REALLY GOING THROUGH IT  UNFORTUNATELY BUT A FAIR AMOUNT OF RAIN THROUGH THE SOUTHERN TIER OF STATES. SNOWFALL ESTIMATE  PAST 24 HOURS A LITTLE BIT. IN COLORADO THEY'RE ADDING IN THE NEXT 36 WE'LL SEE A FEW STRIPS OF  SNOW THROUGH THE UPPER MIDWEST INTO THE NORTHERN GREAT LAKES. THAT WILL BE THE MAIN AREA  THAT OCCURS OVER THE NEXT COUPLE OF DAYS THURSDAY AFTERNOON. TEMPERATURES MUCH COLDER AIR  POISED TO COME SOUTHWARD FROM THE CANADIAN BORDER IT'S ALREADY HIGHS IN THE 40S AND 50S  FOR MOST OF THE MIDWEST. YOU CAN LOOK AT LOWS TONIGHT DOWN TO 11 IN BISMARCK AND YOU CAN  SEE TEMPERATURES GENERALLY LOWS IN THE 30S ALL THE WAY DOWN INTO THE SOUTH CENTRAL PLAINS  AND HIGHS TOMORROW ONLY IN THE 50S IN THE NORTHERN PORTIONS OF THE SOUTHEAST. HIGHS ONLY IN  THE 20S IN THE FAR NORTHERN STATES. THERE'S A JET STREAM AND YOU CAN SEE THAT TROUGH BRINGING  IN THAT SHOT OF COLD AIR BUT THEN THE COMPUTER MODELS KIND OF JUST SHOW THINGS GOING BACK TO  ZONAL WITH RIPPLES COMING FROM WEST TO EAST. SO BIG CHANGES THROUGH THE NORTHERN TIER STATES  KIND OF STAY IN MILD FARTHER SOUTH. THAT'S A LOOK ACROSS THE COUNTRY. NOW LET'S TAKE A LOOK AT  SOME LOCAL FORECASTS. FIRST OF ALL EL PASO TEXAS PARTLY SUNNY SHOWER IN SOME AREAS HIGH  TEMPERATURE AROUND 70. IRON MOUNTAIN MICHIGAN A MIXTURE OF SUNSHINE AND CLOUDS ON THE  COLD SIDE. HIGH AROUND 38. AND FINALLY LAKE CITY FLORIDA. TIMES OF CLOUDS AND SUNSHINE AND  WARM HIGH 84. 

TEASE
NEXT ON PACKER TV, PRODUCE AND A PECAN PEST. AND LATER--HERE WE GROW! THESE IOWA FARMERS CHRONICLE HARVEST 17 IN  A MUSIC VIDEO. SOCIAL MEDIA GOLD ON IN THE COUNTRY.

PACKER TV
IN NEWS FROM OUR REPORTING PARTNERS AT THE PACKER - U-S AVOCADO  GROWERS HAVE SOME ADDED COMPETITION. THE FIRST SHIPMENT OF COLOMBIAN HASS AVOCADOS HAS ARRIVED IN FLORIDA.. TWO MONTHS USDA GAVE APPROVAL TO COLOMBIA TO EXPORT AVOCADOES TO  THIS COUNTRY. THE SHIPMENT WILL HEAD TO ATLANTA WHERE IT'LL BE  DISTRIBUTED. MEANWHILE AVOCADO VOLUME OUT OF MEXICO SHOULD REACH NEARLY 2  BILLION POUNDS DURING THE CURRENT SEASON. 15-PERCENT HIGHER IN  VOLUME. FRUIT SIZE IS SMALLER, BUT THE NUMBER OF AVOCADOES BEING PICKED IS  GREATER. PRICES ARE 25-PERCENT HIGHER THAN A YEAR AGO. MEANWHILE ONE OF THE BIGGEST CASH CROPS IN NEW MEXICO - AND A  POPULAR INGREDIENT AROUND THE HOLIDAYS - IS AT RISK FROM A TINY BUG. THE PECAN WEEVIL IS THREATENING THE STATE'S 180 MILLION DOLLAR PECAN  INDUSTRY. THE BUG WAS FIRST DETECTED IN EARLY 2017 IN THE STATE. AND QUARANTINES  WERE PUT IN PLACE. QUARANTINE IMPACTS PRODUCERS ABILITY TO SHIP THE TREE NUT OUT OF  STATE. NEW MEXICO IS SECOND IN PECAN PRODUCTION TO GEORGIA. UP NEXT-- YOU'RE NEVER TOO YOUNG TO TRY YOUR HAND A VIRAL VIDEO! WE'RE  OFF TO HARVEST IN IOWA. AGDAY - BROUGHT TO YOU BY THE ENLIST WEED CONTROL SYSTEM.  MORE WEED CONTROL.  LESS  DRIFT AND VOLATILITY.  MAXIMUM YIELD POTENTIAL. 

IN THE COUNTRY
IN THE COUNTRY - SPONSORED BY KUBOTA.  SEE THE HARDEST WORKING  TRACTORS IN AG AT KUBOTA.COM.  OR VISIT YOUR LOCAL KUBOTA DEALER  TODAY. HARVEST CAN BE A REALLY STRESSFUL TIME AS MONEY SITS IN THE FIELD WHILE  MOTHER NATURE DOES HER BEST TO SLOW THINGS DOWN. BUT THESE DAYS-- THERE'S MORE THAN ONE WAY TO PASS THE TIME. A LITTLE HERE WE GO REWORK OF AN NSYNC SONG BY THE BEHN BROTHERS OF  HAMPTON IOWA. THESE SEASONED AG PROFESSIONALS PROVING SOCIAL VIRAL VIDEOS AREN'T  JUST FOR THE YOUNG. THE TEAM PULLING TOGETHER SOME PRETTY IMPRESSIVE VIDEO--INCLUDING  NIGHT SHOTS-- IN THIS CHRONICLE OF HARVEST...WHICH THEY SAY IS WRAPPING  UP IN THEIR AREA. THEY HOPE TO FINISH UP THIS WEEK. BRUCE IN THE RED SHIRT DOES THE FARMING, HIS BROTHERS LARRY AND KEVIN  COME TO HELP EACH FALL. KEVIN ALSO SHARING SOME AERIAL DRONE FOOTAGE. IT SAYS ITS AMAZING THE OPPORTUNITY DRONES PROVIDE FOR A BIRDS EYE  VIEW OF THE OPERATION. SING IT FELLAS--PRETTY COOL STUFF. 

CLOSE
THAT'S ALL THE TIME WE HAVE THIS MORNING. WE'RE GLAD YOU TUNED IN.  FOR ALL OF US AT AGDAY. I'M CLINTON GRIFFITHS. HAVE A GREAT DAY. AGDAY - BROUGHT TO YOU BY RAM COMMERCIAL - AMERICA'S LONGEST-LASTING HEAVY DUTY PICKUPS.