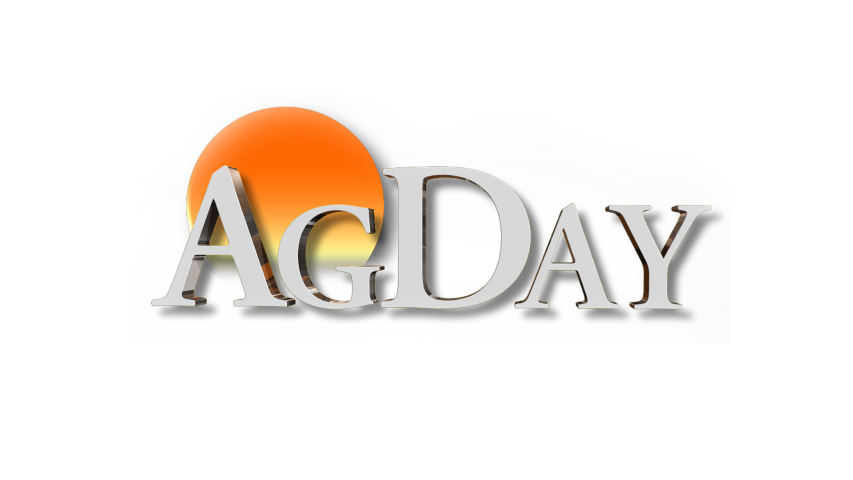 TODAY ON AGDAY
OCTOBER 16, 2017

HEADLINES
EPA ANNOUNCES NEW LABEL RESTRICTIONS FOR DICAMBA IN 2018. PLUS, THESE MEGA MERGERS MEAN MORE MOVING FOR FAMILIAR PRODUCTS. IN AGRIBUSINESS...LOOKING AT THE WEEK AHEAD. MACHINERY PETE STICKS TO THE UNIQUE AT AUCTION. AND SMALL RUMINANTS CAN PAY OFF BIG ON SMALL FARMS. AGDAY - PRESENTED BY CHEVY SILVERADO. HIGH-STRENGTH STEEL FOR HIGH-STRENGTH DEPENDABILITY.

EPA AND DICAMBA CHANGES
GOOD MORNING I'M CLINTON GRIFFITHS. AFTER BACK AND FOURTH DISCUSSIONS,  THE ENVIRONMENTAL PROTECTION AGENCY AND CHEMICAL MANUFACTURERS  HAVE COME TO AN AGREEMENT ON LABEL CHANGES FOR DICAMBA USE IN 2018.  MANUFACTURERS VOLUNTARILY AGREED TO LABEL CHANGES TO REDUCE THE  POTENTIAL FOR DRIFT DAMAGE WITH OVER THE TOP USE OF DICAMBA.  BETSY JIBBEN JOINS US NOW WITH MORE.  CLINTON, BASF, DUPONT AND MONSANTO HAVE VOLUNTARILY AGREED TO LABEL CHANGES  FOR OVER THE TOP DICAMBA USE NEXT YEAR.  THOSE CHANGES INCLUDE: -LETTING ONLY CERTIFIED APPLICATORS WITH TRAINING AND THOSE UNDER  THEIR SUPERVISION TO USE DICAMBA BY LABELING THE PRODUCT AS  'RESTRICTED USE.'  -REQURING FARMERS TO KEEP RECORDS OF DICAMBA USE. -LABELING DICAMBA PRODUCTS CAN ONLY BE APPLIED WHEN WIND SPEEDS ARE  BELOW 10 MILES PER HOUR TO REDUCE DRIFT POTENTIAL.  -LIMITING WHEN THE PRODUCT MAY BE USED DURING THE DAY -PREVENTING CROSS CONTAMINIATION BY INCLUDING TEXT ON THE LABEL ABOUT  CLEANING OUT TANKS. -AND, THERE'S HEIGHTENED AWARENESS ABOUT CONTAMINIATING  SENSITIVE  CROPS LIKE  BY USING MORE LANGUAGE AND RECORD KEEPING.  "UT EXTENSION, UT RESEARCH, WE ARE EDUCATORS, WE ARE NOT REGULATORS. SO, WHEN WE GET  CALLED IN, WE'RE NOT GOING TO HELP PALCE BLAME ON WHO DID WHAT. WHAT WE'RE GOING TO DO IS  HELP THESE GROWERS ASSESS WHAT PROBLEM THEY HAVE,"MONSANTO ALSO RESPONDING TO THE NEWS - SCOTT PARTRIDGE, MONSANTO  VICE PRESIDENT OF GLOBAL STRATEGY SAYS THE COMPANY IS PLEASED WITH  THE RESTRICTED USE SAYING QUOTE "I DON'T BELIEVE THIS WILL LIMIT FARMER  ACCESS TO TECHNOLOGY. IT CERTAINLY PLACES NEW REQUIREMENTS BUT  RESTRICTED USE ISN'T NEW TO FARMERS. " FROM THERE, THE EPA WILL CONTINUE TO EVALUATE WHETHER THE CHANGES  WILL BE ENOUGH.  THE LABELS WILL 2018, JUST IN TIME FOR THE NEW GROWING SEASON.  MONSANTO ALSO RESPONDING TO THE NEWS - SCOTT PARTRIDGE, MONSANTO  VICE PRESIDENT OF GLOBAL STRATEGY SAYS THE COMPANY IS PLEASED WITH  THE RESTRICTED USE SAYING QUOTE "I DON'T BELIEVE THIS WILL LIMIT FARMER  ACCESS TO TECHNOLOGY. IT CERTAINLY PLACES NEW REQUIREMENTS BUT  RESTRICTED USE ISN'T NEW TO FARMERS. "

BAYER SELLING SEEDS TO BASF
IN BUSINESS NEWS,CHIPS ARE STARTING TO FALL INTO PLACE FOR BAYER  BUYING OUT MONSANTO. THAT'S AFTER ANOTHER MAJOR ACQUISITION ANNOUNCED LAST WEEK COULD  CLEAR THE WAY FOR REGULATORS TO SIGN OFF ON THE MAJOR DEAL.  BAYER ANNOUNCING FRIDAY IT'S SELLING ITS ROW CROP SEEDS AND TRAITS  BUSINESS TO B-A-S-F.  THE BUY INCLUDES THE LIBERTY LINK BRAND AND TECHNOLOGY, INCLUDING THE  RESEARCH AND DEVELOPMENT TIED TO IT.  THE PRICETAG--7 BILLION DOLLARS,  BLOOMBERG REPORTING THAT'S 15 TIMES  BASF'S EARNINGS BEFORE INTEREST, TAXES AND DEPRECIATION.  THE COMPANIES SAY THE TRANSACTION NOT ONLY INCLUDES THE INTELLECTUAL PROPERTY AND FACILITIES, BUT ALSO THE MORE THAN 18 HUNDRED EMPLOYEES  AROUND THE WORLD TIED TO THE BUSINESS.  REPORTS SAY ALL THREE COPMANIES WILL OPERATE 'BUSINESS AS USUAL' UNTIL  THE BAYER, MONSANTO ACQUSITION GOES THROUGH.. WHICH IS EXPECTED TO  HAPPEN EARLY 2018. 

NAFTA SUNSET CLAUSE
U.S. NEGOTIATORS OFFICIALLY OFFERED THE "SUNSET CLAUSE" PROPOSAL  DURING NAFTA NEGOTIATIONS.  THE SUNSET CLAUSE WOULD BRING NAFTA TO AN END AFTER FIVE YEARS  UNLESS THE THREE COUNTRIES INVOLVED AGREE TO EXTEND IT.  SECRETARY ROSS WAS ASKED ABOUT THE SUNSET CLAUSE DURING AN EVENT  LAST WEEK SAYING QUOTE, "THAT'S OUR PROPOSAL."

AG GAG LAW
A COALITION OF ANIMAL-RIGHTS AND FOOD SAFETY GROUPS FILED A FEDERAL  LAWSUIT THIS WEEK AGAINST IOWA'S "AG-GAG" LAW. THE LAW MAKES IT A CRIME TO CONDUCT UNDERCOVER INVESTIGATIONS OF  FARMS AND SLAUGHTERHOUSES.  GROUPS, LIKE PETA, SAY THE LAW IS UNCONSTITUTIONAL.  A SPOKESMAN FOR THE STATE ATTORNEY GENERAL SAID THEY'D JUST RECEIVED  THE COMPLAINT AND WEREN'T ABLE TO COMMENT ON IT YET. A NEW REPORT FROM THE RABOBANK SHOWS THE PORK SECTOR COULD GROW  11 PERCENT BETWEEN 2017 AND 2025.  THAT GROWTH SUPPORTED BY INCREASING PRODUCTION EFFICIENCY AND  ADDITIONAL PROCESSING CAPACITY.AND RELIES ON EXPORTS.  STERLING LIDDELL OF RABOBANK SAYS MEXICO IS ONE OF THE BIGGEST EXPORT  MARKETS FOR U-S PORK. ADDING THAT "MEXICO CONTINUES TO GROW ITS SOW INVENTORY AND  SLAUGHTER PLANTS, WHICH MEANS IT'S ONLY A MATTER OF TIME BEFORE THEIR  DOMESTIC PRODUCTION GROWS."

CROP COMMENTS
LETS TAKE A LOOK AROUND FARM COUNTRY. CINDY CLAWSON JOINS US FOR TODAY'S CROP COMMENTS. GOOD MORNING CLINTON. CRAIG SWENSON NEAR RIVER FALLS, WISONSIN SENDING THIS PICTURE.  HE IS JUST GETTING STARTED AT CHOPPING CORN. CRAIG SAYS AS YOU CAN SEE,  THE STALKS ARE STILL GREEN AND THE FIELDS ARE WET IN HIS AREA OF  WISCONSIN.  USDA SAYS 58 PERCENT OF THE STATE'S CORN CROP IS MATURE, 16 POINTS  BELOW THE FIVE YEAR AVERAGE.  AND THIS TOUCHING PHOTO COMES FROM KATIE SAFLEY OVER IN WESTERN  MISSOURI. SHE SAYS WHEN PAPA SHOWS UP, IT'S TIME FOR A RIDE TO THE  EVEVATOR AND A TREAT AT THE MINI MART. IT'S A FARM GIRL AT HER HAPPIEST!  AND NOW HERE'S A LOOK AT SOME HOMETOWN TEMPS.  THIS IS MACHINERY PETE - INVITING YOU TO CHECK OUT MY NEW WEBSITE - MACHINERYPETE.COM - OFFERING FARMERS TENS OF THOUSANDS OF USED EQUIPMENT LISTINGS TO SEARCH.  LET MACHINERY  PETE HELP YOU FIND AND VALUE YOUR NEXT PIECE OF USED EQUIPMENT. 

TEASE
WE'LL GET YOU STARTED FOR THE MARKETING WEEK AHEAD WITH A PANEL  DISCUSSION AT THE AGRIBUSINESS DESK. AND LATER MACHINERY PETE STOPS BY. STAY TUNED FOLKS COMING UP WE'RE GOING TO TALK ABOUT AN INTERESTING COMBINE SOLD IN A SOUTHERN MICHIGAN AUCTION LAST WEEK.AND SMALL IN SIZE, BUT CAN BE PLENTY BIG IN PAYOFF. RALLYING BEHIND  RUMINANTS, LATER ON AGDAY.

FLOOR OF THE CME
IN AGRIBUSINESS PLENTY OF GREEN IN MARKETS TO END THE WEEK. LETS GET DETAILS FROM THE FLOOR OF THE CME IN CHICAGO. SOYBEANS WERE UP YOU JUST BROKE OUT TO RESUME THAT UPTREND NOVEMBER BEANE'S HIT THAT $10  MARK. WHEN WE SAW THE DEFERRED MONTHS ALREADY GET THERE RIGHT AFTER THE USDA REPORT. THE  MARKET IS VERY STRONG AND I EXPECT THAT TO CONTINUE TO CONSOLIDATE HERE AND PERHAPS EVEN  MOVE HIGHER. WE'RE GOING TO BE WATCHING CLOSELY ON MONDAY FOR THAT CROP PROGRESS REPORT  AND THEN WE'RE STARTING TO GET MORE INFORMATION AS THE HARVEST COMES IN THE YIELD NUMBERS  ARE GOING TO DICTATE REALLY WHICH WAY THIS MARKET IS GOING TO GO. AS FOR NOW THOUGH LOOKS  REALLY STRONG AND IT'S BRINGING ALONG CORN AND WHEAT WHEAT WAS ALSO ON THE RISE. NOW IT  REBOUNDED OFF OF RECENT LOWS AFTER THAT USDA REPORT. IT JUST SEEMS LIKE THE MARKET HAS BEEN  SINKING FOR SO LONG AND STAYING IN THOSE LOWS AND HAD NOWHERE ELSE TO GO BUT UP. BUT WE GOT  TO BE CAREFUL BECAUSE THE SHORT TERM TREND IS REALLY TO THE DOWNSIDE. SO IT REMAINS LOWER  RIGHT NOW JUST TECHNICALLY SPEAKING. SO MAYBE THE MARKET CAN BE VULNERABLE BUT LET'S NOT  TAKE AWAY THE FACT THAT WE LOOKED REALLY GOOD TODAY. SO ALL THE GRAINS WERE HIGHER HERE AT  THE END OF THIS WEEK. TODAY IN CATTLE IT WAS A STEADY REALLY TRADED ON BOTH SIDES OF THE  MARKET. THE HOG MARKET ESPECIALLY HAS REALLY TAKEN ON A TREND IT HASN'T LET GO. IT IS ON THE  DOWNSIDE AND THE UPSIDE AND IT LOOKS LIKE THE UPSIDE IS STARTING TO WIN NOW. SO THE BULLS ARE STARTING TO GAIN CONTROL OF THIS MARKET AND PUSHING IT HIGHER AND CERTAINLY AT THE END OF THIS  WEEK THE MARKET LOOKS VERY GOOD. THAT'S ALL FROM THE FLOOR AT THE CME GROUP. I'M VIRGINIA  MCGATHEY

AGRIBUSINESS
HERE AT THE AGRIBUSINESS DESK WE HAVE. BRIAN BASTING ADVANCE TRADING AND NAOMI BLOOM  STEWART PETERSON THANK YOU BOTH FOR BEING HERE. ALL RIGHT GETTING READY TO START THE WEEK.  LAST WEEK WE KIND OF HAD SOME BIG REPORTS FROM USDA. HOW DOES THAT PLAY INTO YOUR  THOUGHT PROCESS THIS WEEK. BRIAN I'LL START WITH YOU. PROBABLY THE BIGGEST THING CLINTON IS THE  MARKET WAS SURPRISED LAST WEEK BY THOSE CORN YIELD LARGER THAN EXPECTED. SURE. AND A BIT  SURPRISED WITH THE BEAN YIELD DROPPING DOWN. WELL WE WANT TO SEE NOW HOPEFULLY WITH AN  OPEN WEEK OF HARVEST HERE IS WILL THOSE NUMBERS FROM THE FIELD CONFIRM THOSE NUMBERS FROM  THE USDA. AND SO THE MARKETS CAN BE VERY ATTUNED BECAUSE WE'RE PROBABLY GOING TO HAVE  ABOUT HALF THE BEING HARVESTED YET TO GO NATIONWIDE IN ABOUT TWO THIRDS OF THE CORN. SO REALLY  THE FOCUS IS ON YIELDS NOW FOR THE U.S. THIS WEEK WEATHER PERMITTING. YEAH WEATHER  PERMITTING THAT'S A BIG PART OF IT RIGHT NAOMI. ABSOLUTELY. JUST TO SEE THE HARVEST PROGRESS AND  SO LOOKING TODAY WE'RE GOING TO HAVE CROP PROGRESS NUMBERS COMING OUT THIS AFTERNOON AND  THEN WE'RE ALSO GOING TO BE HAVING EXPORT INSPECTIONS. SO FOR THE GRAIN MARKETS THEMSELVES  WE DON'T HAVE A LOT ACTUALLY MOVE THE MARKET THIS WEEK. HOWEVER WE HAVE ENOUGH TO RANGE  TRADE THE MARKET AND KEEP THE MARKET JUST KIND OF MOVING MOSTLY SIDEWAYS A LITTLE BIT HIGHER BUT IN AND OF ITSELF WE NEED TO MAKE SURE THAT WE GET THE EXPORTS GOING. AND THEN ALSO AS HE  SAID KEEPING AN EYE ON HARVEST AND SEEING WHAT THE YIELDS TRULY ARE. YEAH. AND BRIAN IT'S  THAT TIME OF YEAR WHERE WE STILL HAVE A LOT OF WORK LEFT IN THE FIELD BUT YET SOME OF THAT ABILITY  TO PROTECT OUR CROP IS STARTING TO DWINDLE. RIGHT. I THINK THAT'S ONE THING THAT WE ARE  EMPHASIZING WITH REGARDS TO CROP INSURANCE CLINTON CROP INSURANCE HARVEST PERIOD RUNS  THROUGH THE MONTH OF OCTOBER. SO AS THE MONTH OF OCTOBER IS COMPLETED THERE IS NO LONGER  ANY CROP INSURANCE PRICE PROTECTION AS SUCH. OKAY MOVING IN NOVEMBER OBVIOUSLY THE  MARKETS WERE TO GO HIGHER THAN CROP INSURANCE BECOMES A MOOT POINT. BUT REMEMBER ON  NOVEMBER 1ST THERE'S NO MORE CROP INSURANCE PROTECTION SO GROWERS JUST WANT TO KEEP THAT  IN MIND TERMS YOUR STRATEGY. KEEP THAT IN MIND. THERE'S A COUPLE OF OTHER BIG REPORTS THIS  WEEK THOUGH. CATTLE DAIRY RIGHT. YEAH FRIDAY WE'RE GOING TO SEE A CATTLE ON FEED REPORT. AND  THEN WE ALSO HAVE A MILK PRODUCTION REPORT ON FRIDAY. SO HEADING INTO THAT FRIDAY WE'LL  PROBABLY SEE LIVE STOCK MARKETS HAVE SOME VOLATILITY AND JUST FINISH UP TRADING RANGES AHEAD  OF THOSE REPORTS. BOTH ARE PROBABLY EXPECTED TO NOT BE ANYTHING BULLISH. I WOULD SAY THAT. SO  JUST BE MINDFUL OF PROTECTING VALUES THAT ARE THERE AND IT WOULD BE A PLEASANT SURPRISE OF BOTH  OF THOSE REPORTS GAVE US SOMETHING POSITIVE. ALL RIGHT WELL I APPRECIATE YOU BOTH BEING HERE  TO GET STARTED ON THE RIGHT FOOT THIS WEEK. WE'LL BE BACK MORE AGDAY IN JUST A MINUTE.  AGDAY - BROUGHT TO YOU BY THE ENLIST WEED CONTROL SYSTEM.  MORE WEED CONTROL.  LESS  DRIFT AND VOLATILITY.  MAXIMUM YIELD POTENTIAL. 

WEATHER
AGDAY WEATHER - BROUGHT TO YOU BY KAWASAKI AND THE NEW MULE PRO-FXR™ SIDE X  SIDE. RIDE LIKE A BOSS WITH HIGH-END STYLING AND RUGGED CAPABILITY. WELCOME GET BACK TO AGDAY HERE WITH CINDY CLAWSON IN LOOKING AT RAINFALL OVER THE PAST  WEEK AND YOU CAN SEE REALLY SOME DISTINCT SPOTS GETTING MOST OF THE RAIN. YEAH AND NOTICE  IT'S MAINLY IN THE EAST. YEAH. CHECK THIS OUT LET'S TAKE A LOOK AT SOME OF THESE AMOUNTS AND  WE'LL START OFF DOWN IN THE SOUTHEAST WHERE OBVIOUSLY LOTS OF RAIN FELL. AS NATE WAS MOVING UP  ONSHORE AND SO A LOT OF IT OVER INTO SOUTHERN PARTS OF MISSISSIPPI ALABAMA AND EVEN INTO THE  PANHANDLE OF FLORIDA. THE OTHER COUPLE OF SPOTS THAT WE HAD A FAIR AMOUNT OF RAIN ARE RIGHT  HERE IN PARTS OF KENTUCKY AND THEN OVER IN IOWA. A LOT OF RAIN FELL THERE WHERE WE WERE SEEING  TWO TO THREE INCHES OR EVEN MORE IN SOME SPOTS. NOW WHAT THAT DID TO THE DROUGHT MONITOR  NOT A TON. WE ACTUALLY DID SEE SOME IMPROVEMENT IN THE NORTHWESTERN PARTS THERE MONTANA  INTO THE DAKOTAS BUT WE'VE ACTUALLY SEEN THAT DRYNESS SPREADING A LITTLE BIT FURTHER TO THE  EAST. LET'S TAKE A LOOK AT THE JETSTREAM AS WE HEAD THROUGH THE WEEK. WE DO SEE KIND OF A  WEAK TROUGH MOVING THROUGH THE NORTH EAST. SOME WARMER TEMPERATURES FOR THE WEST. BUT  WATCH WHAT HAPPENS AS WE GET INTO THE MIDDLE PART OF THE WEEK ANOTHER TROUGH DIGGING INTO  THE WEST. THAT'S GOING TO BRING SOME COLDER AIR SOME PRETTY WARM AIR IN THE EAST AS THAT  RIDGE REALLY STARTS TO BUILD. AND THEN AS WE CONTINUE ON THROUGH THE WEEKEND WE'LL SEE THAT  TROUGH MOVING ACROSS THE ENTIRE U.S. SO THEY'LL BRING SOME STORMY WEATHER MOVING IN THERE.  WE'LL SEE SOME HEAT BUILDING INTO THE SOUTHWEST. LET'S TAKE A LOOK AT THE TEMPERATURES OVER  ALL THIS WEEK WE'RE EXPECTING FAIRLY WARM TEMPERATURES ESPECIALLY IN THE NORTHEASTERN PART OF  THE COUNTRY ABOVE NORMAL FOR MOST OF THE COUNTRY A LITTLE BIT ON THE COOL SIDE AS WE DO THAT  TROUGH IN THE NORTHWEST. PRECIPITATION WISE WE'RE GOING TO BE SEEING ABOVE NORMAL OVER IN  THE GREAT LAKES AND IN THE NORTHWEST BUT KIND OF NORMAL TO BELOW NORMAL IN MOST OF THE REST  OF THE COUNTRY A LITTLE BIT WET IN MUCH OF SOUTHERN FLORIDA. NOW AS FAR AS THE 30 DAY OUTLOOK  LOOKS LIKE IT'S GOING TO BE ON THE WARM SIDE IN THE EASTERN HALF OF THE COUNTRY AS WELL AS PARTS  OF THE SOUTHWEST. COOL AND WET OF COURSE IN THE PACIFIC NORTHWEST AND AS FAR AS PRECIPITATION  GOES. OBVIOUSLY THAT'S A BIG ONE AS WELL A LOT OF US ARE TRYING TO GET THAT HARVEST DONE. LOOKS  LIKE WE'LL HAVE SOME DRIER WEATHER FROM THE NORTHEAST DOWN INTO PARTS OF THE OHIO TENNESSEE  VALLEY AND PARTS OF THE SOUTHERN PLAINS WHERE THAT'S NOT A BAD THING FOR THE DROUGHT OVER IN  SOME OF THOSE DRIER AREAS IN THE DAKOTAS AND MONTANA. BUT IF YOU ARE TRYING TO GET SOME  FIELD WORK DONE MAYBE NOT SO THAT'S GOOD THING. BUT ABOVE NORMAL IN FLORIDA AS WELL BUT FAIRLY  NORMAL AS YOU GET TO THE SOUTHWESTERN UNITED STATES AND OVER TOWARDS THE GREAT LAKES.  THAT'S A LOOK AT YOUR NATIONAL FORECAST. NOW LET'S CHECK ON THE WEATHER WHERE YOU LIVE.  YELLOWJACKET COLORADO SUNNY AND WARMER FOR YOU TODAY WITH A HIGH OF 66 DEGREES. BOWLING  GREEN MISSOURI IS SUNNY AND WARMER WITH A HIGH OF 64 AND BLUE BELL PENNSYLVANIA SUNNY  AND COOLER WITH A HIGH OF 64. 

TEASE
NEXT MACHINERY PETE CHECKS IN - PLUS - WANT TO RAISE LIVESTOCK BUT DON'T HAVE A LOT OF AVAILABLE LAND? CHUCK DENNEY HAS A SOLUTION. " I'M CHARLES DENNEY. SMALL IN SIZE, BUT A BIG PART OF TENNESSEE  AGRICULTURE. WE'RE TALKING SMALL RUMINANTS LIKE GOATS AND SHEEP AND  HOW YOU NEED JUST A FEW ACRES TO RAISE THEM. THAT STORY FROM HICKMAN COUNTY, TENNESSEE COMING UP ON AGDAY."

MACHINERY PETE
"MACHINERY PETE IS BROUGHT TO YOU BY JOHN DEERE…WHERE CAN YOU FIND THE MOST  COMPREHENSIVE INVENTORY OF JOHN DEERE CERTIFIED PRE-OWNED TRACTORS, COMBINES AND  SPRAYERS?  MACHINE FINDER-DOT-COM … SOMETIMES THE BEST NEW ADDITION TO YOUR FLEET ISN'T  NEW!" TIMING IS OFTEN EVERYTHING WHEN IT COMES TO BUYING AND SELLING  EQUIPMENT. MACHINERY PETE EXPLAINS FROM HIS HOME OFFICE IN MINNESOTA. AN INTERESTING TREND I'VE BEEN WATCHING ON THE AUCTION MARKET THE LAST 18 MONTHS BEEN  DEVELOPING IS FOLKS PAYING A PREMIUM FOR THE NICEST CONDITIONS STUFF BUT THE AVERAGE  CONDITION STUFF PRICES ARE SLIDING NOW. GOOD EXAMPLE THIS WAS A FARM AUCTION LAST THURSDAY  IN SOUTHEAST MICHIGAN BY OUR FRIENDS AND MEDIUM AUCTIONEERING. AND HERE'S A PICTURE OF THE  COMBINE ON THE SALE OF SUPER CLEAN 2010 JOHN DEERE 9770. STS. EIGHT HUNDRED EIGHTY ONE  ENGINE HOURS OVER A HUNDRED $123000. YOU MIGHT ASK WELL HOW DOES THAT COMPARE. WELL SO  FAR THIS YEAR THE AVERAGE AUCTION PRICE ON A 2010 MODEL 9770 $93279 AND THAT AVERAGES  ACTUALLY DOWN 8.1 PERCENT FROM THE AVERAGE LAST YEAR 2010 MODEL. BUT AGAIN 123000 ARE  VERY STRONG FOR THE NICEST ONE FACT THAT'S THE SECOND HIGHEST AUCTION PRICE I'VE SEEN THIS YEAR.  THE 2010 MODEL 9770 IN THE U.S. THE ONLY HIGHER ONE CAME ON AN AUGUST 10TH FARM AUCTION  IN NORTH CENTRAL IOWA WHERE 2010 MODEL WITH ONLY 1451 ENGINE HOURS ON IT'S SOLD FOR  $130000. AN INTERESTING NOTE ON THAT SALE. THAT WAS THE DAY THE USDA CROP REPORT CAME OUT THAT DROVE COMMODITY PRICES DOWN. SO A TOUGH DAY TO HAVE A FARM AUCTION. BUT EVEN SO THE  PRICE ON THE COMBINE 130000 VERY STRONG. THE OTHER PRICES WERE A LITTLE SOFT. SO AGAIN WITH A  VERY NICE CONDITION STUFF STILL SEEING PRETTY STRONG AUCTION PRICES. THANKS GREG.

NEW CHEVY TRUCK
ROLLING DOWN TO THE TEXAS STATE FAIR, CHEVY CELEBRATING 100 YEARS OF  TRUCK BUILDING. THE COMPANY SHOWING OFF IT'S 2018 CHEVY SILVERADO. CALLED THE  CENTENNIAL EDITION, THESE CUSTOM BOWTIE AND CUSTOM  TRIMMED TRUCKS COME WITH PLENTY OF ADD-ONS. UNIQUE PAINT CENTENNIAL BLUE UNIQUE BADGING ON THE DOORS THE SPRAY AND BED LINER FEATURES THE CENTENNIAL LOGO THE ALL WEATHER MATS INSIDE FEATURE THE CENTENNIAL LOGO A CHROME SILVER  BOW TIE IN THE STEERING WHEEL AND BASICALLY FULLY LOADED OUT TRUCKS. AND WE THINK OUR CHEVY  TRUCK LOYALISTS ARE GOING TO BE VERY EXCITED ABOUT THIS. AND CHEVY TRUCK WANTS TO MAKE SURE  WE DELIVER THE PRODUCTS THEY NEED WHETHER IT'S A SMALLER LARGE FARM WHATEVER YOUR LIVESTOCK  NEEDS ARE WE ARE GOING TO DELIVER A CHEVY TRUCK THAT LETS YOU GET THAT JOB DONE.  THE SPECIALTY SILVERADO AND COLORADO TRUCKS ARE AVAILABLE STARTING  THIS MONTH AND IN NOVEMBER RESPECTIVELY.

TEASE
MAYBE YOU DON'T HAVE ROOM OR TIME FOR CATTLE, BUT STILL WANT TO RAISE  SOME ANIMALS? NEXT THE BENEFITS OF SMALL RUMINANTS.

IN THE COUNTRY
IN THE COUNTRY - BROUGHT TO YOU BY KUBOTA.  LEARN MORE ABOUT  KUBOTA SSV SERIES SKID STEERS AT KUBOTA.COM. OR DEMO ONE AT YOUR  LOCAL KUBOTA DEALER TODAY. TENNESSEE IS A LEADING STATE IN PRODUCING GOATS AND SHEEP – AND HERDS  OF THESE GRAZING ANIMALS ARE A FAMILIAR SITE IN MANY PASTURES. THESE SMALL RUMINANTS WORK WELL ON SMALL FARMS. IN THIS REPORT FROM U-T INSTITUTE OF AG CHARLES DENNEY SHOWS HOW A LITTLE LAND CAN STILL  BE A SUCCESSFUL AGRICULTURAL ENTERPRISE.  ON A RAINY DAY WHEN THE REMNANTS OF HURRICANE IRMA BLOW THROUGH - THIS GOAT HERD SMARTLY  PREFERS A BARN INSTEAD OF A FIELD - THOUGH A FEW HUNGRY SOULS VENTURED OUT TO PASTURE. THIS  HICKMAN COUNTY FARM IS JUST 33 ACRES, ABOUT HALF IN FORAGE AND HALF IN PRETTY WOODS. BUT THAT WORKS JUST FINE FOR THESE ANIMALS. (TANIEL TYNER) "I CROSS THEM BACK AND FORTH. THEY LOVE TO GO IN. EVERY SO MANY WEEKS I LET  THEM GO IN TO EAT THE LEAVES AND SMALL BUSHES, AND THEN BACK OVER ON THE GRASS SIDE IN THE  MEANTIME. SO I HAVE BOTH SIDES PRODUCING SOMETHING." TANIEL TYNER SAYS GOAT FARMING IS LIKE A HOBBY WHERE SHE MAKES A LITTLE MONEY. SHE RAISES A MIX OF MEAT AND MILK GOATS – 37 HEAD IN ALL - INCLUDING THIS BEAUTY NAMED 'WILD THING." (NAT) TYNER USED FUNDS FROM A TENNESSEE DEPARTMENT OF AGRICULTURE ENHANCEMENT GRANT TO BUILD  THIS CATCH PEN AND A HAY BARN. FOR HER, OVERALL HERD HEALTH IS A PRIORITY. (TANIEL TYNER) "THE BIGGEST PROBLEM WITH RAISING GOATS IS PARASITES. SO LIKE I SAID, BEING ABLE  TO PUT THEM UP AND CATCH THEM, CHECK THEIR EYE LIDS AND GUMS IS WHAT WE LOOK AT FOR HEALTH." (CHARLES DENNEY) "SMALL RUMINANT PRODUCTION HAS CERTAINLY BECOME MORE ADVANCED IN  MODERN FARMING. IT USED TO JUST TURN ANIMALS LOOSE TO EAT WHATEVER'S GROWING IN THE GROUND.  NOW A SMART PRODUCER IS CONCERNED WITH NUTRITION AND ALSO MARKETING." "THEY'RE LOOKING AT THIS CERTAINLY TO MAKE SOME MONEY. THERE'S AN OPPORTUNITY NOW. THE  MARKET IS PRETTY GOOD." UT EXTENSION'S TROY DUGGER HAS SEEN A SPIKE IN THE NUMBER OF GOAT AND SHEEP PRODUCERS IN  HICKMAN COUNTY IN RECENT YEARS. THE HILLS AND HOLLOWS IN THESE PARTS MAKE THIS TYPE OF AGRICULTURE POSSIBLE. (TROY DUGGER) "THE WAY OUR LAND IS HERE, IT IS WELL SUITED FOR ALL KINDS OF LIVESTOCK, AND  ESPECIALLY ON SOME SMALL AVERAGE TYPE THINGS FOR GOAT PRODUCERS AND SHEEP PRODUCERS AS WELL." DUGGER WILL SOON LEAD A UT AND TSU EXTENSION MASTER SMALL RUMINANT WORKSHOP  WHERE PRODUCERS CAN LEARN MORE ABOUT FORAGE, FOOD SAFETY AND GENETICS. SMALL ANIMALS ON  JUST A LITTLE LAND. IT'S A COMBINATION THAT WORKS HERE, AND SMART HERD MANAGEMENT IS KEY TO ITS  CONTINUED SUCCESS. THIS IS CHARLES DENNEY REPORTING. > U-T AG RESEARCH IS HOSTING A WORKSHOP ON SMALL RUMINANTS LATER THIS  MONTH. 

CLOSE
THAT'S ALL THE TIME WE HAVE THIS MORNING. WE'RE GLAD YOU TUNED IN.  FOR ALL OF US AT AGDAY. I'M CLINTON GRIFFITHS. HAVE A GREAT DAY. AGDAY - BROUGHT TO YOU BY RAM COMMERCIAL - AMERICA'S LONGEST-LASTING HEAVY DUTY  PICKUPS.